Sex Offender Registry of SC—Keep Perpetrators Away With DoNotPay!
There are 16,058 individuals listed in the Sex Offender Registry of SC, according to a research report published by Safehome.org in May 2021.
It is natural to be worried about the well-being of your loved ones—whether it's your wife at home or your children playing on the streets—but it can be stressful and time-consuming to keep checking the official registry for new information.
DoNotPay can explain how you can look up perpetrators using your state's sex offender registry. We can also for you and send you comprehensive weekly reports so you can map out the sex offenders in your vicinity.
Rules the Registered Sex Offenders in South Carolina Have To Follow
The South Carolina Sex Offender Registry has clear-cut rules on what registered individuals are and are not allowed to do, as explained in the table below:
Terms for Sex Offenders
South Carolina Law
How long after being sentenced or released from prison do sex offenders have to register?
Sex offenders sentenced to probation have one business day from sentencing to register
How long will sex offenders be registered?
Offenders need to be registered for life
How often do sex offenders need to update the registration?
Tier III offenders should register every three months and Tier II offenders every six months
What information about sex offenders is available to the public?
The following information about sex offenders is available to the public:

Name
Photograph
Physical description
Residential address
School address
Employer address
Vehicle license plate number and description
Current and previous offense

Are there any residential restrictions for sex offenders in SC?
If charged with a crime involving a minor, sex offenders cannot live or approach within 1,000 feet of a:

School
Daycare center
Children's recreational facility
Park
Public playground

Can sex offenders from other states visit SC?
If sex offenders from other states want to visit South Carolina for more than ten days, they should register with the county sheriff
What is the penalty if a sex offender doesn't register?
Unregistered sex offenders will face criminal charges
Can I Share the Information I Find on the Sex Offender Registry of South Carolina?
According to Megan's Law, information about sex offenders has to be made available to the public. You can share information about sex offenders on a need-to-know basis. You should not use the information for unlawful actions, such as harassment and discrimination.
Navigating the South Carolina Sex Offenders Registry
You can search for sex offenders using the official South Carolina Public Sex Offender Registry. If you are looking for a specific offender, you can hit the Name Search tab and type in their first and last name.
To find a list of the sex offenders around your neighborhood, children's school, playground, or place of work, you can:
Select the Geographic Search tab
Provide your address details
Specify the mile radius (one, two, or three) that you'd like the search results to cover. Alternatively, you can choose to search within your ZIP code area
Click the Search button
You can also choose to receive notifications by email every time a sex offender registers a home or work address in your vicinity. To register for the mailing list, you should do the following:
Select the Community Notifications tab
Fill out the form with your address details
Specify the mile radius that you'd like the search to cover
Agree to the terms
Click Register
Emails will be sent from SOR@sled.sc.gov, so you need to check that this email is not blocked by your provider.
Is the South Carolina Sex Offender Registry Reliable?
Unfortunately, the Sex Offender Registry of SC is notoriously inaccurate—it has been for years. The system is known to malfunction, release juvenile offender data inadvertently, and even display false information! Some counties have succumbed to introducing paid subscription services to make up for the inefficient official database.
The issues with the State's Registry have caused many residents to mistrust the reliability of official information and have reintroduced insecurity and fear in their lives. Fortunately, there is a more efficient way to stay in the loop on the registered sex offenders in any state—DoNotPay.
Stay on Top of the Sex Offenders in Your Area With DoNotPay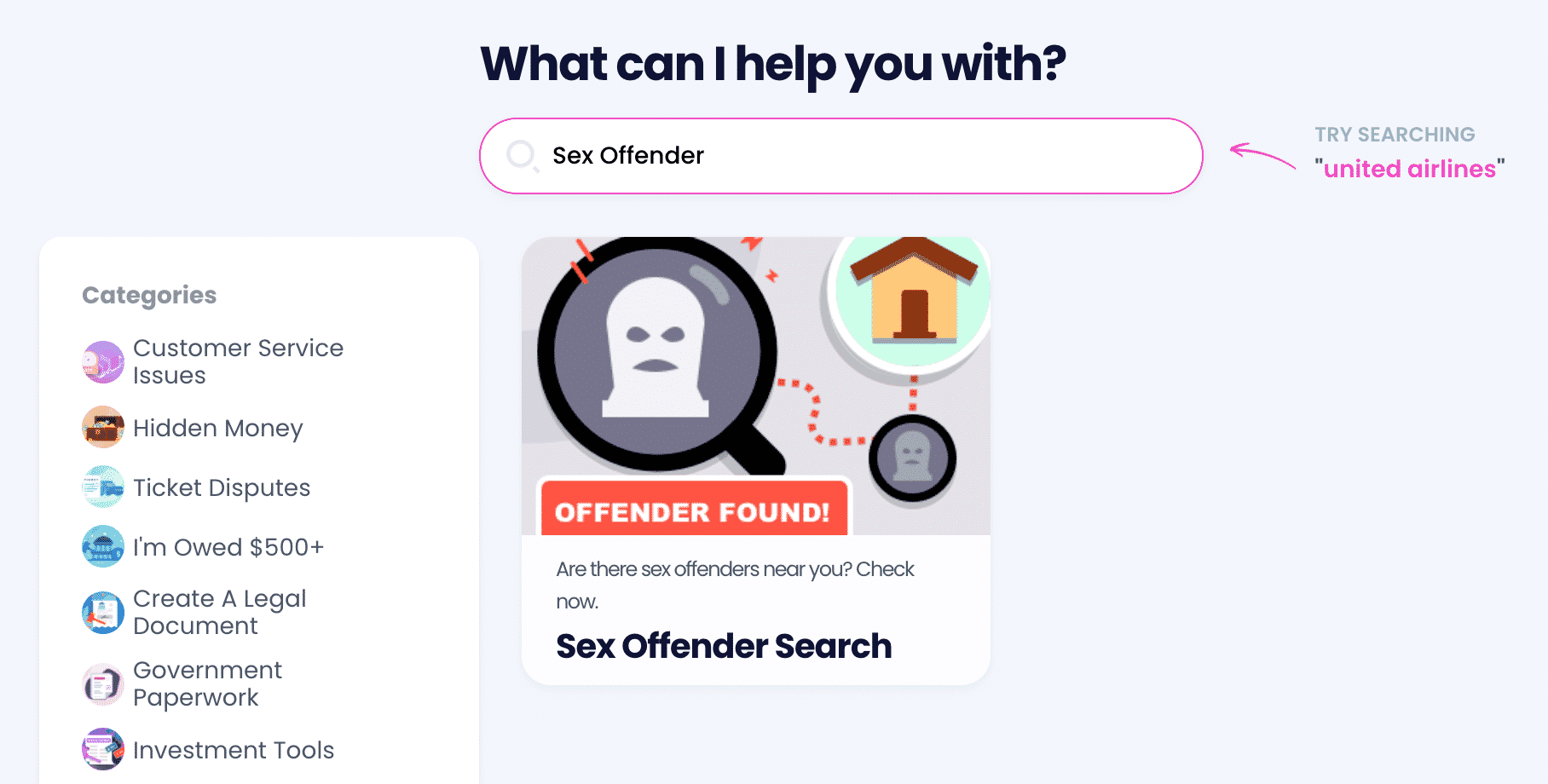 DoNotPay has designed a feature that can run a sex offender search for you and keep you up to date with registered individuals in your vicinity. To use DoNotPay to receive information about registered sex offenders in an organized and timely way, here is what you need to do:
Type in Sex Offender in the search box
Include your address and specify the mile radius (one, two, or three) you would like to search
Select the weekly check option
DoNotPay will automatically search for sex offenders near you and generate a full report that you can rely on. You can also choose to receive weekly updates with information on newly registered sex offenders near the address you specified. That way, you'll always feel informed about how safe or potentially dangerous the people around you are.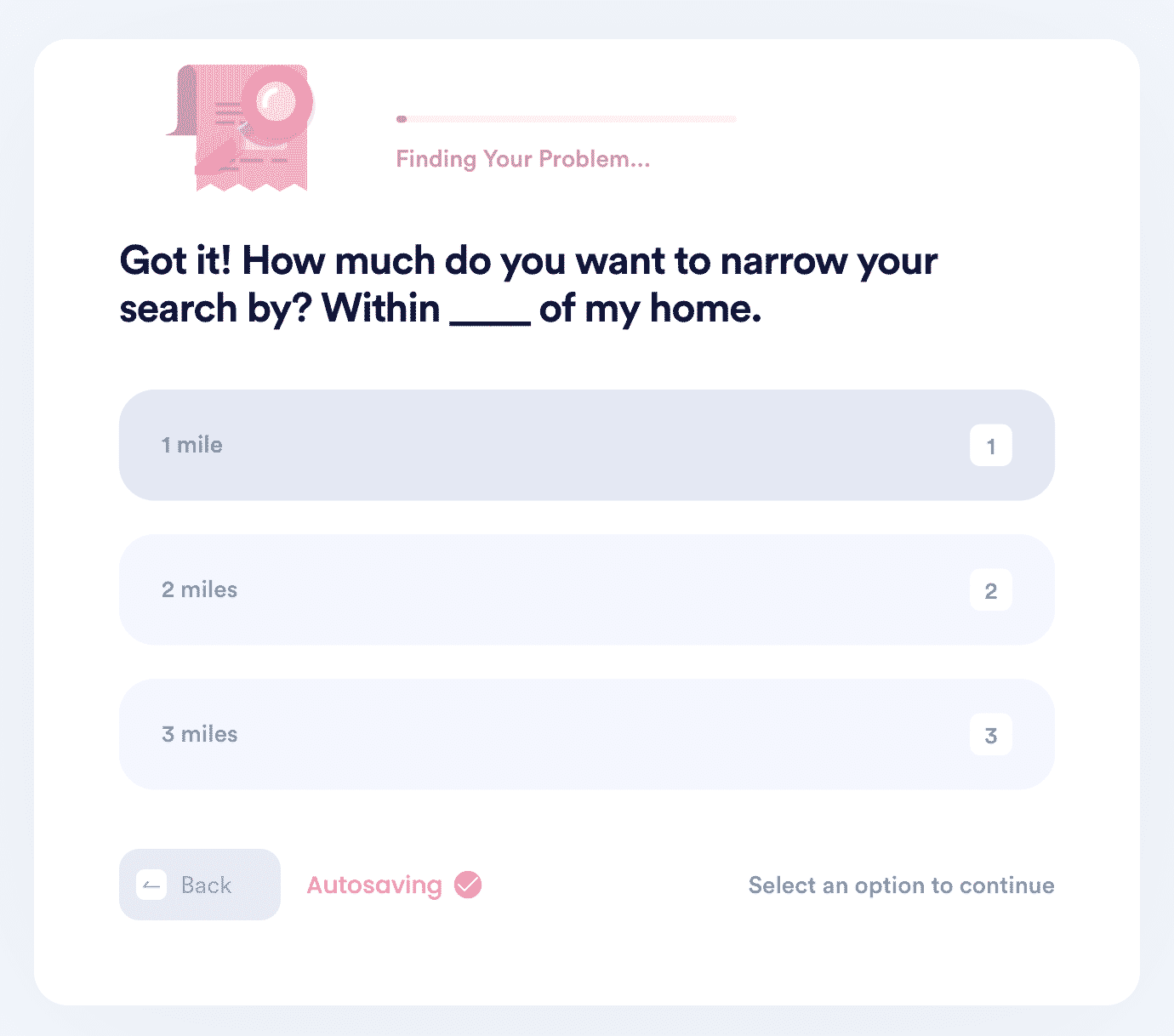 To Sue or Not To Sue?
Hiring a lawyer to help you sue a company can be helpful, but it can also cost you an arm and a leg. Luckily, you can avoid wasting hundreds of dollars and use our robot lawyer to sue any company in small claims court instead!
DoNotPay offers you a variety of other features you will find quite useful when dealing with bureaucratic issues. Check out the list below to see what else our app can help you with:
Shopping Without Dropping
Whoever said you should shop until you drop didn't have access to DoNotPay's various features. With our app, you can make your shopping experience smooth sailing and stress-free!
Here's a fragment of what you can accomplish by using our neat features: