Need To See Who's on the Oklahoma Sex Offender Registry? Get Organized Reports With DoNotPay
There are 5,781 registered sex offenders in Oklahoma. Any one of them can be living close to you, giving you a reason to worry about the safety of your loved ones.
With Megan's Law, information on sex offenders became publicly available. You can find the perpetrators who are close to you on the Sex Offender Registry of Oklahoma. to learn how to use the official Oklahoma Sex Offender Registry and get the information you need to protect your loved ones.
Oklahoma Sex Offender Laws
Oklahoma sex offenders need to register with the Oklahoma Department of Corrections and the local law enforcement agency after incarceration or after receiving a suspended or differed sentence.
Sex offenders also need to follow a set of restrictions in the interest of public safety. Below are answers to questions frequently asked about the Oklahoma sexual offender registration rules:
Question
Answer According to Oklahoma Law
When should a sex offender register?
Sex offenders have to register within three business days of being released back into society
How often do sex offenders need to update the registration?
Sex offenders need to update their information based on the severity of their crime:

Level 1—yearly for 15 years

Level 2—every six months for 25 years

Level 3—every 90 days for life

What if the offender fails to register?
Punishments are harsh for a sex offender who breaks the rules. Those who fail to register in Oklahoma will be convicted of a felony and sentenced to up to five years in prison
What information on the sex offenders is available to the public?
The following information on sex offenders is made available:

Name
Alias
Date of birth
Sex
Race
Weight
Eye color
Social Security number
Driver's license number
Address
Description of offense

Are there any residential restrictions for sex offenders in Oklahoma?
Sex offenders cannot live within 2,000 feet of any of the following:

Schools
Playgrounds
Daycare facilities
Parks

What if an offender from another state visits Oklahoma?
If a sex offender is traveling to Oklahoma for more than five days, he or she needs to register within three days of arrival
How Can I Search the Oklahoma Sex Offender Registry?
To search the government database, go to the Oklahoma Sex and Violent Offender Registry. You then have the following search options:
| | |
| --- | --- |
| Search Option | Parameters |
| Basic | Name, address, or ZIP code of the offender |
| Appearance | Physical characteristics of the offender |
| Offense | Type of the offense |
| Map | Your address |
You can scroll through the lists from the side menu bar by clicking on Delinquents, Offender Roster, or Transient Offenders.
You also have the option to register for email updates that will be sent every time a sex offender registers an address that's close to you. You can do this by doing the following:
Select Notifications on the side menu
Type in and confirm your email address and name
Click Submit
Can I Share the Information I Find on the Oklahoma Sex Offender Registry?
Information can be shared on a need-to-know basis and should be used only as a safety measure to prevent a person from being the next victim of a sex crime. It should not be used for any acts of violence, harassment, or discrimination against a sex offender.
DoNotPay Has Faster, More Efficient Alerts on Sex Offenders Close to You
You can use DoNotPay as your pocket-sized assistant to keep you and your family safe from sex offenders in your neighborhood. To use DoNotPay, here is what you need to do:
Type in Sex Offender in the search box
Enter your address and specify the proximity (one, two, or three-mile radius)
Select the weekly check option and hit Submit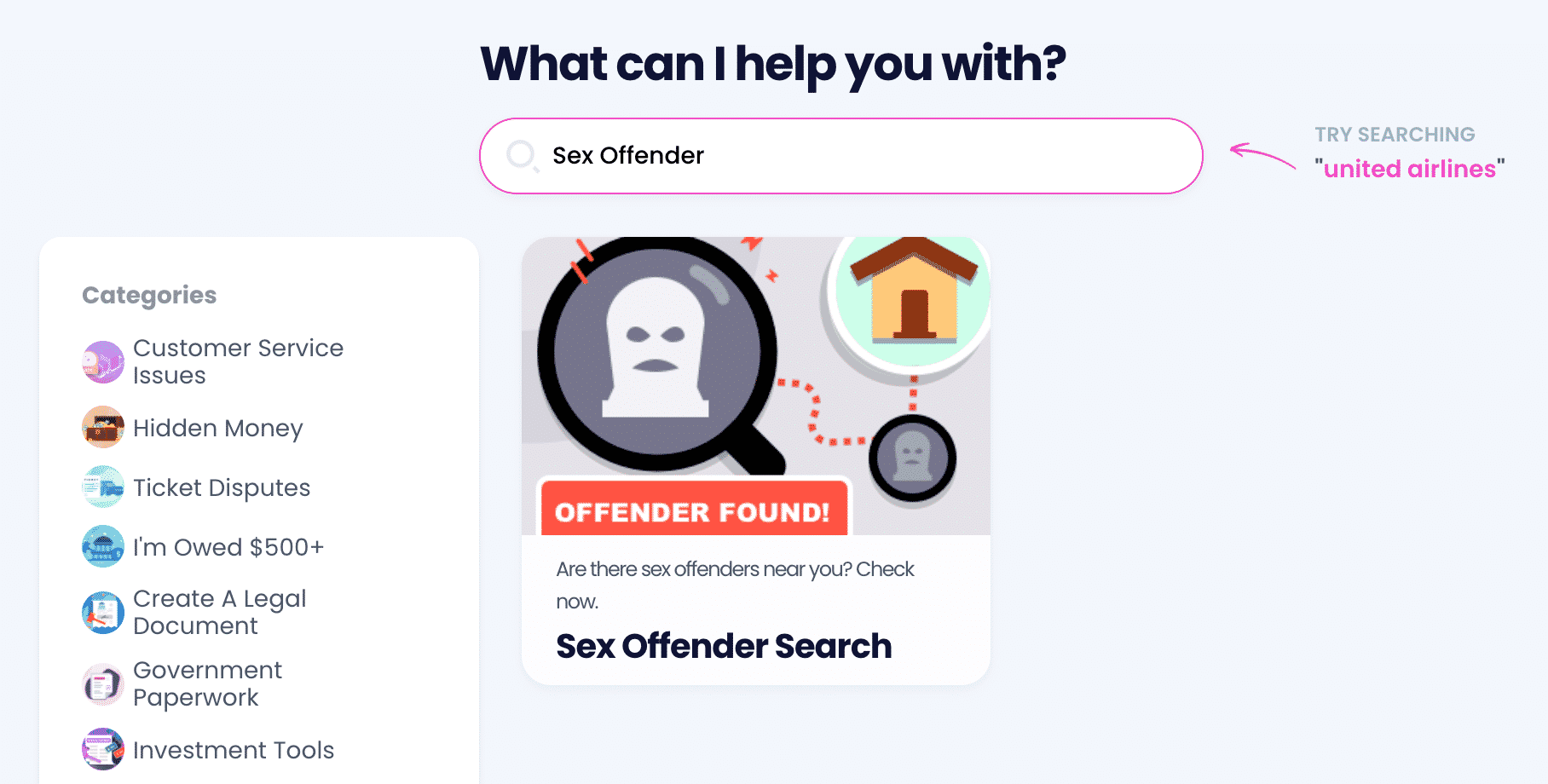 DoNotPay will automatically search for sex offenders and generate a full report. You will also receive comprehensive weekly reports with information on newly registered sex offenders near you.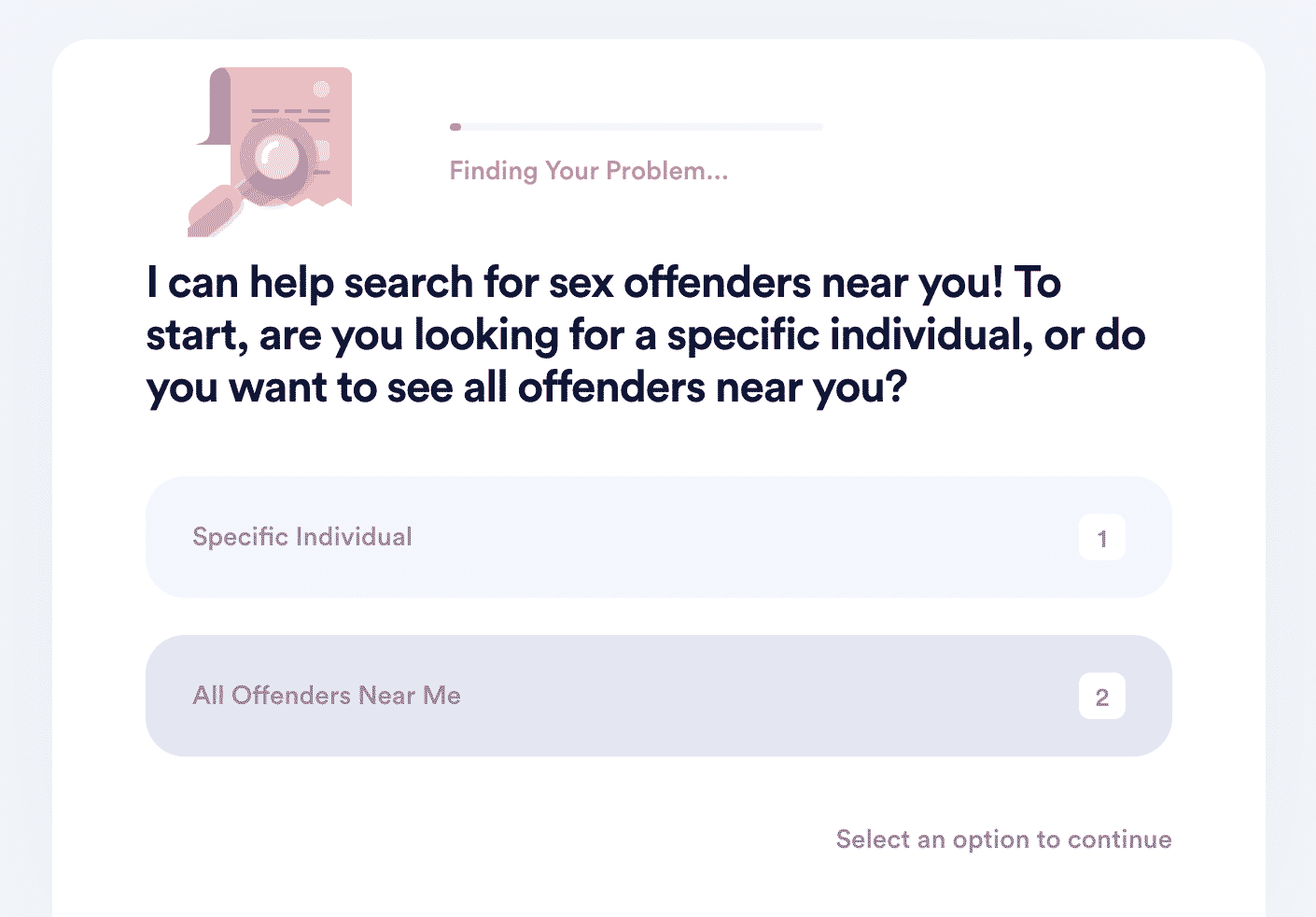 How To Keep Your Family Safe if There's a Sex Offender Living Nearby
If you find out that a sex offender has moved close to you, here is what you can do:
Do not panic—It is important to remain calm and collected before proceeding with any other actions
Talk to your children—Teach your children the signs of a pedophile they should look out for and how to avoid suspicious individuals
Create a plan—Instruct your children on what to do in case they are around someone who makes them uncomfortable. Ensure that they know the emergency numbers they can call
Hold community meetings—Present the information and maintain that everyone must remain calm but cautious
Report any suspicious activity to the police—Even if you are not sure, it's better to be safe than sorry
Drowning in Paperwork? DoNotPay Comes to the Rescue!
Dealing with administrative procedures is never a fun experience. Not only is it time-consuming, but it's also extremely inconvenient and impractical. Luckily, we have a practical solution!
Use DoNotPay to cut through the red tape and handle any bureaucratic issue that comes your way stress-free! Check out the list below to see a fragment of tasks you can tackle with our help:
Explore DoNotPay's Other Services
DoNotPay provides you with a ton of other services you can find useful when completing your everyday tasks.
You can contact customer service support without waiting for hours, request refunds from various companies, file a missing package claim, and get compensation for missed or delayed flights in a few clicks!
If you want to earn some money, we can help you with: