Hawaii Sex Offender Registry—The Applicable Regulations and New Offender Alert Setup
Every 488th resident of the Aloha State ends up on the Hawaii Sex Offender Registry. With the offender population this dense, you need to do everything you can to protect yourself and your loved ones.
Staying up to date became easier thanks to Megan's Law of 1996. This piece of legislation requires all local law enforcement agencies to record sex offender location details and share them through an online sex offender registry.
The registry has flaws, the most prominent one being that the search takes up too much time. to simplify the sex offender search. Our new tool cuts the browsing time and automates regular neighborhood scans.
How To Search the Hawaii Sex Offender Registry
You can search the Hawaii sex offender list by the following categories:
Offender type
Offender status
First name
Last name
Street name
City
Radius
ZIP code
You don't have to fill out all the fields—i.e., none of them are mandatory—so you can do your search based on the info you have.
Unlike most state registries, the Hawaii list does not have the sex offender map search option. The state's Sex Offender Registry website does allow you to sign up for email notifications if you set up an account on the website. It includes filling out three lengthy personal data sections of the signup form. The process seems unnecessarily drawn out and detailed, and you are likely to give up halfway through.
What Are the Hawaii Sex Offender Laws?
Hawaii's sex offender laws differ from other states' when it comes to the offender classification. Other requirements are similar, so all registered offenders need to verify the reported personal data, inform the police of their whereabouts, and honor specific restrictions.
Classification of the Hawaii Sex Offenders
Most U.S. sex offender local registration laws use the three-level or -tier distinction based on the recidivism rate. Level/Tier 1 offenders usually don't appear on the public registry, while Level/Tier 2 and Level/Tier 3 are listed.
In Hawaii, all offenders will appear on the public registry, except for persons convicted of a single offense, provided it's a misdemeanor. Juveniles adjudicated in Family Court proceedings are also unavailable to the public eye.
If the offenders required to register disregard the obligation, they will be prosecuted for a class C felony.
Hawaii Sex Offender Data Verification Requirements
Hawaii registered sex offenders must update and verify all their data with the authorities. Check out the details in the table below:
Data To Verify/Update
Allowed Time Frame
Personal details and a current photo
Annually, within 30 days of the offender's birthday
Address verification
Ten days from receiving the verification documents by mail
Address update
Three days from changing the residence
Traveling update (for out-of-state offenders)
Three days from arriving in Hawaii from the home state if the offender is staying longer than:

Ten consecutive days
30 collective days in a year
How Long Do Offenders Need To Be Registered on the Hawaii Sex Offender List?
All offenders are listed for life by default unless they file a plea for removal from the registry. Here are the minimum registration periods after which the offenders have the right to file a plea:
| | |
| --- | --- |
| Crime | Minimum Registration Period |
| Class A felony/Non-Hawaii equivalent | 25 years |
| Class B felony/Non-Hawaii equivalent | 25 years |
| Class C felony/Non-Hawaii equivalent or a misdemeanor | 25 years |
Limitations for Hawaii Registered Sex Offenders
There are no sex offender rules and regulations imposing default work or residential restrictions on offenders registered in Hawaii.
They are only subject to particular restrictions while still under supervision and only if the judge's ruling says so. While on probation—and depending on their crime—offenders may be prohibited from communicating or living with a minor.
In case any restrictions apply, failing to comply with them entails strict legal consequences.
Look Up Hawaii Sex Offenders in Your Neighborhood—Rely on DoNotPay To Automate Your Search
Since the Aloha State does not impose residential limitations on convicted predators, scanning your block for sex offenders is a necessary precaution—DoNotPay can help you do that in no time.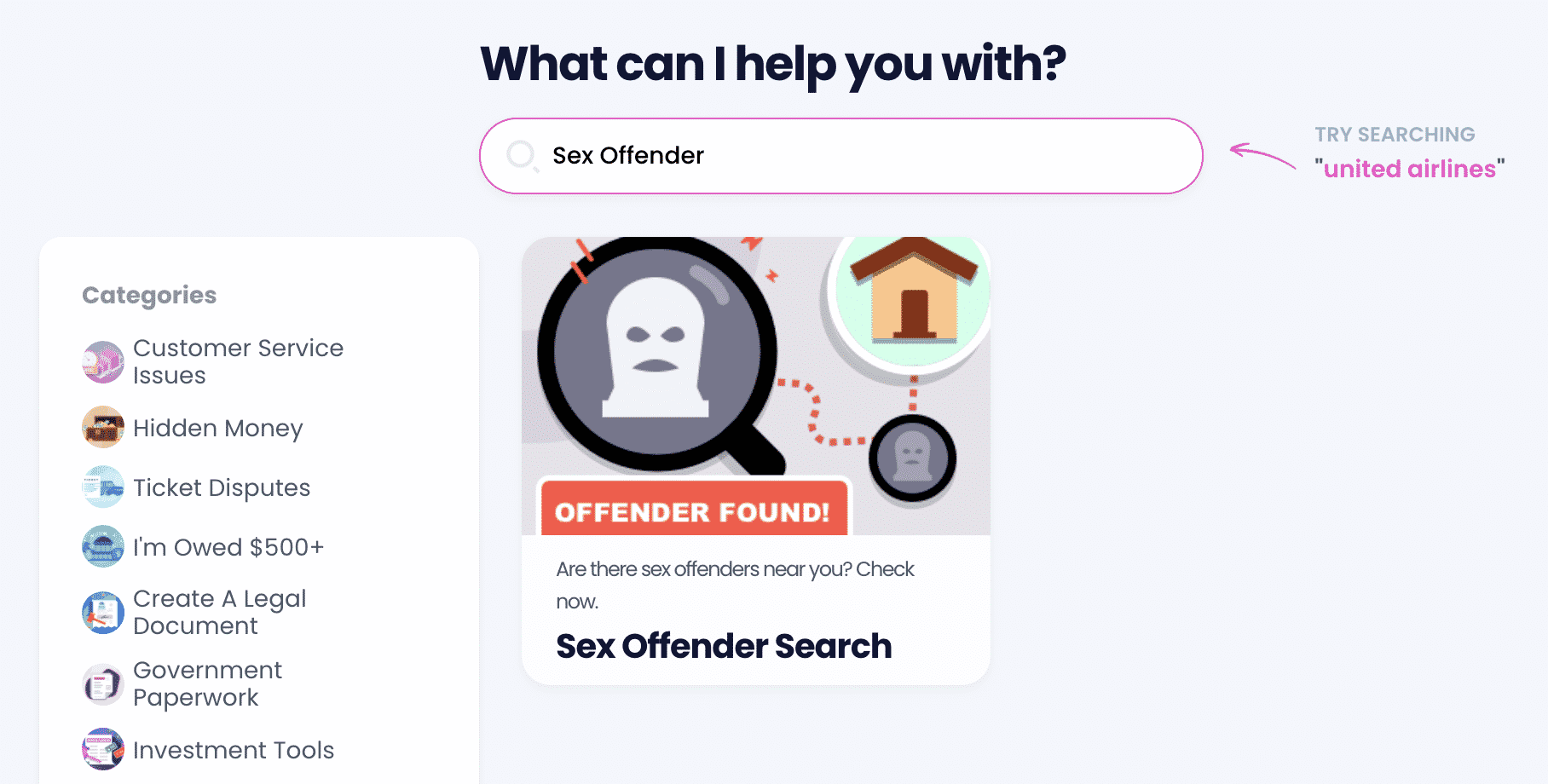 Our Sex Offender Search tool allows you to conduct one-time searches for sex offenders or set up regular reports for your area. It boasts numerous upsides, like:
Speed
User-friendliness
Different search options
Adjustable search radius
Customized weekly reports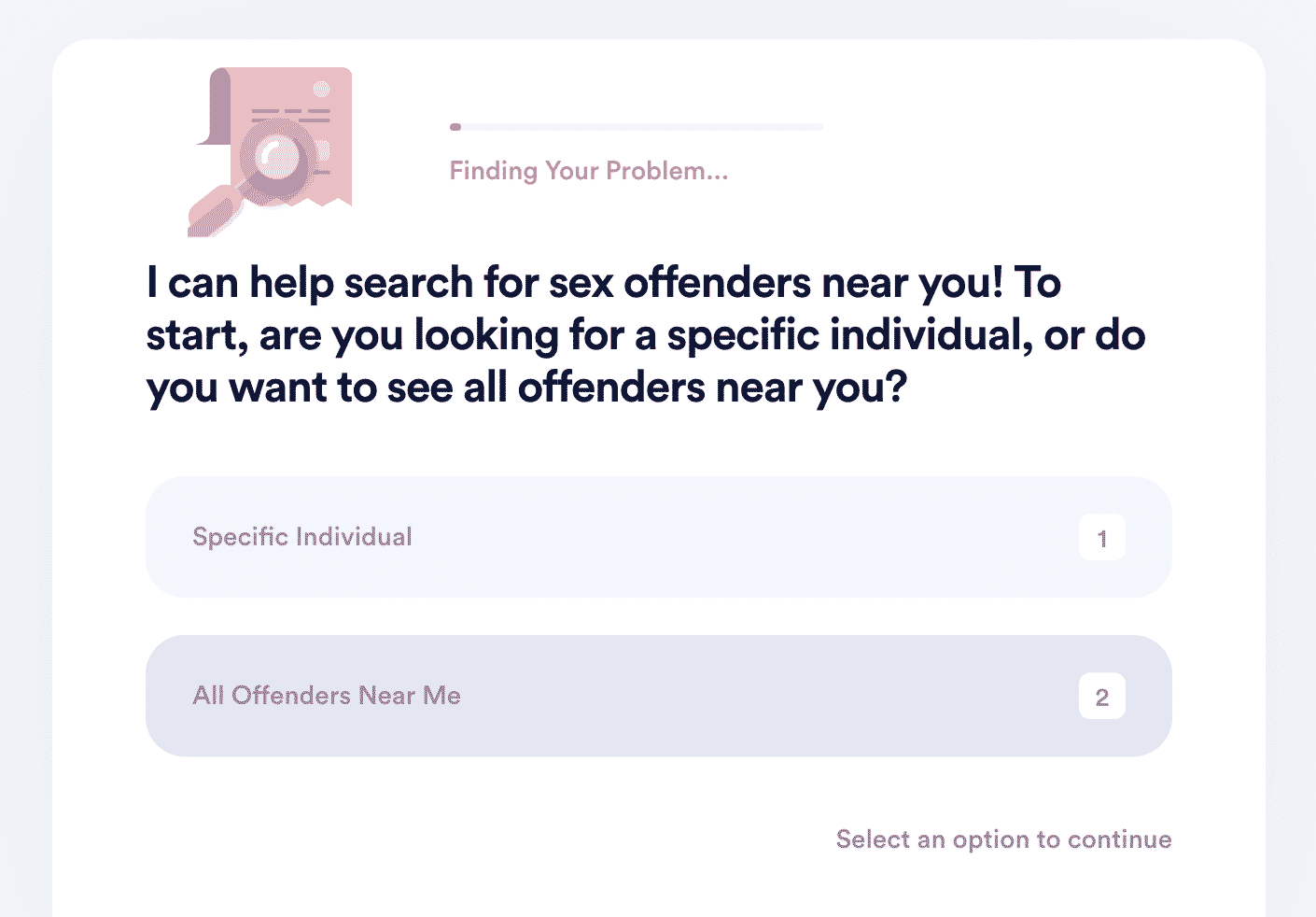 Using our product is easy:
and find Sex Offender Search
Search by name or scan of the entire area
Pick the search radius (one, two, or three miles)
Sign up for weekly reports based on your criteria
Our app will run regular automatic sweeps of your area and report any changes in the offender locations. This way, you can introduce new and timely safety measures to your routine if necessary.
DoNotPay Makes Administrative Hurdles a Piece of Cake
If you ever needed to deal with an administrative task, such as drafting a valid legal document or paying property taxes, you know that it's a struggle. The good news is—it doesn't have to be!
With a bit of assistance, you can draft a POA document and learn how to reduce your property taxes in a jiffy!
DoNotPay will also show you how to tackle any of the following tasks like a pro:
We Offer More Helpful Tools!
Helping you deal with bureaucratic hurdles isn't everything we got in store for you! DoNotPay boasts various other nifty tools that you can use to deal with everyday tasks. You can: