Keep Tabs on the Alaska Sex Offender Registry With DoNotPay!
Having a sex offender neighbor is not so uncommon, which can be scary, especially if you have kids. One of the ways to keep you and your family safe is to be aware of sex offenders in your area. DoNotPay is here to tell you all about the Alaska sex offender registry and help you perform a sex offender search in a few clicks.
Your family's safety is a priority, which is why DoNotPay can help you automate the task and stay up-to-date about newly registered offenders close to you. All you need to do is , and we will help you look for sex offenders in your vicinity and keep you in the loop about recently registered ones with weekly reports.
Alaska Sex Offender Laws Explained
Alaska has over 1,849 registered sex offenders. Although the categorization and the nature of their wrongdoings make all sex offenders ill-famed, their crimes are not the same. Sex offenders in Alaska are categorized as follows:
Tiers
Explanation
Tier One

Low risk of recidivism (i.e., reoffending)
Guilty of voyeurism, sexual imposition, stalking, or pandering obscenity

Tier Two

Moderate risk of recidivism
Convicted of child endangering, compelling prostitution, and gross sexual imposition with victims younger than 13

Tier Three

High risk of recidivism
Guilty of rape, sexual battery, murder with sexual connotations, kidnapping for sex trafficking, and violent pregnancy termination of others
State of Alaska Sex Offender Registry From A to Z
Alaska has strict sex offender registration laws that strive to prevent convicts from reoffending.
All released sex offenders must provide their personal info to the sex offender registry the next day following their release from prison.
Offenders are required to report to local law enforcement regularly after the initial registration. Sex offenders who committed their crimes after January 1, 1999, have to report quarterly, based on a ruling from the Alaska Supreme Court. Prior offenders need to register annually and stay on the registry for life if they have two or more convictions. They must provide valid, current home address information. If they move, change jobs, or similar, they must update their registration the following day.
Registered Sex Offenders Alaska—Restrictions
Registered sex offenders face many residential, employment, and other restrictions—they:
Are prohibited from spending time near parks, bars, schools, and many other public places
Can't live near public places and facilities frequented by children
Undergo serious background checks when applying for jobs and typically can't get a job that requires them to be near children
Must follow the registration rules of their destination state when traveling
Many sex offenders avoid placing themselves on the registry to avoid these strict rules.
How To Search the Sex Offender Registry in Alaska
You can browse the Sex Offender/Child Kidnapper Registry of the State of Alaska on the Department of Public Safety website since the registry was made public after the passing of Megan's Law.
There are several search options on the registry website, namely:
Search by name—Enter the name of the offender in the Search bar above the table on the first page
Search by address—Use the registry Search page and enter the address, ZIP, and city to pinpoint the offender
Search with map—The sex offenders map of Alaska shows you the geolocation of every registered offender in the state. You may use the satellite view, choose the zoom-in option, and set different search parameters
Use DoNotPay's Sex Offender Search for Your Area
The official sex offender registries are far from perfect—they can be slow, full of unnecessary info, and they are not always accessible to everyone. There is a better alternative—DoNotPay. We can help you track any sex offenders in the area easily or send you weekly updates if you choose to receive them. The info we provide is up to date and helps you have peace of mind.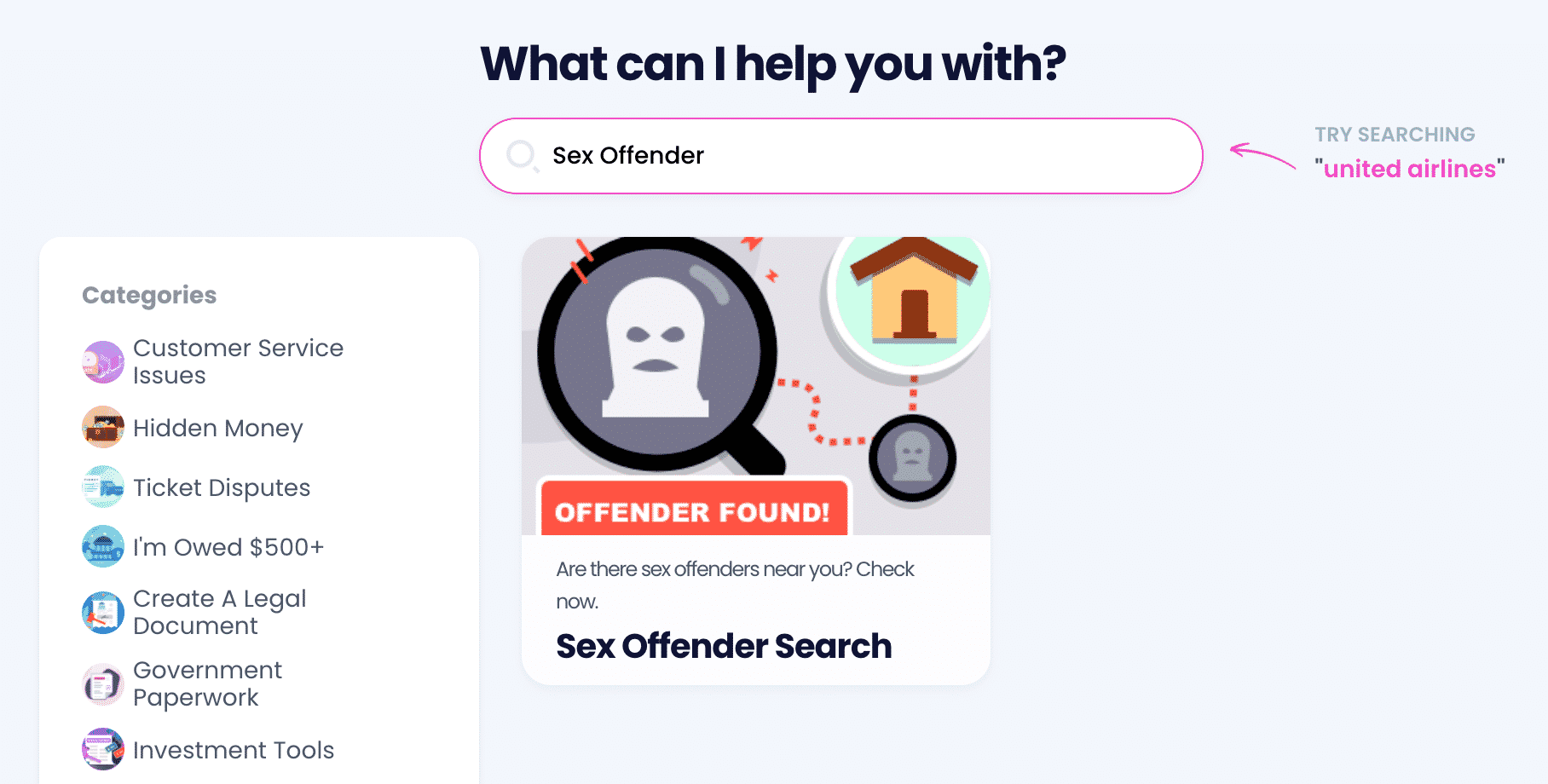 Follow the instructions below to use our service:
using your preferred web browser
Click on the Sex Offender Search and tell us whether you want to search for a specific offender or all of them near you
Enter the radius for the scan and choose whether or not you want to enable weekly notifications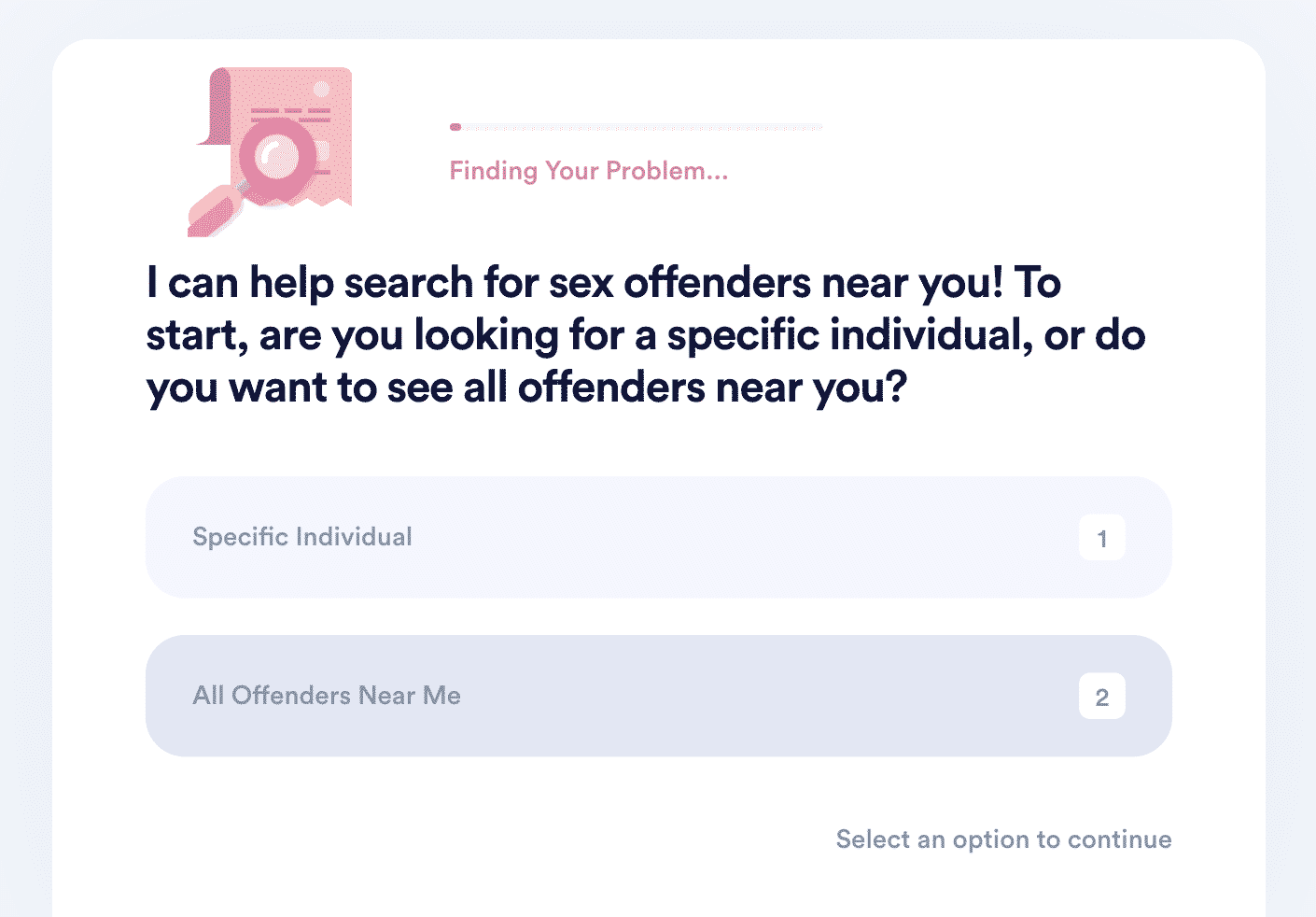 How To Keep Your Family Safe if There Are Sex Offenders in Your Area
Has your Alaska sex offender registry check uncovered that there's an offender living near you? If you are concerned about it, you can take some precautions to keep yourself and your family and friends safe:
Talk to your family and be transparent, especially when talking to your children, younger cousins, or siblings
Tell your kids to inform you if a stranger tries to engage with them
Join or form a neighborhood watch
Report any suspicious activities to the police, but don't confront the offender on your own
Tackle Any Legal Task With Our Lawyer App Like a Pro!
Why bother with tedious legal tasks on your own when you can let DoNotPay cut your work in half? No more worrying about how to draft legal documents or sue a company in small claims court—we'll guide you through it effortlessly!
There is no shortage of tasks our Al-powered app can help you with. Once you sign up, you'll learn how to:
Fight Scammers in a Few Clicks!
Is your phone buzzing incessantly, and you can't take it any longer? Use DoNotPay to stop annoying robocalls and fight scammers with ease!
Having a company spam you with unwanted emails about their products isn't uncommon, but that doesn't mean you have to put up with it. DoNotPay helps you create a burner phone number, fight email spam, and stop spam text messages in a snap!
You can also find our features super useful when requesting a refund, filing insurance claims, and locating your missing USPS, UPS, or other parcels.