All You Need To Know About the NC Sex Offender Rules
Getting acquainted with the NC sex offender rules and laws is important to keep yourself and your loved ones safe from sex offenders. With us, you can learn all about the North Carolina sex offender registry.
to perform a sex offender search and find out whether you live close to one.
North Carolina Sex Offender Registry Laws Explained
Sex offenders in NC are divided into three groups (tiers) according to the risk they pose and the offenses they committed. Check out the following table for more details:
Tier
Crimes
Tier I

Possession of child pornography
Voyeurism

Tier II

Use of minors in prostitution
Sexual contact with minors
Production or distribution of child pornography

Tier III

Sex trafficking
Coercion and enticement of minors
Transportation with intent to engage in criminal sexual activity with minors
Abusive sexual contact
Kidnapping of minors
People who are convicted of aggravated or repeated offenses are labeled as sexually violent predators.
Under North Carolina law, every person who commits a sexual offense has to register with the authorities after serving their sentence. The sex offenders have to provide their names, aliases, addresses, photographs, and vehicle descriptions. All the information that the offenders provide upon registering is accessible to the public, as implied by Megan's Law that came into effect in 1996.
How Long Do Sex Offenders Have To Stay Registered by North Carolina Sex Offender Laws?
How long someone stays on the NC sex offender registry depends on the severity of the committed crimes, as follows:
Sexually violent predators—for life
Other sex offenders—30 years, but they can file a petition for registration termination after ten years
Sexually violent predators and tier III offenders have to register every three months, while tier I and II offenders usually need to do it once a year.
NC Sex Offender Laws—What Restrictions Do NC Offenders Face?
Registered sex offenders in North Carolina face the following restrictions:
Residential—Offenders in NC aren't allowed to reside within 1,000 feet from a school or any child safety zone
Travel—An offender can travel to another state, but they have to register with the local authorities of that state
Employment—Job positions that include caring for or supervising minors, such as babysitting, are off the table for registered sex offenders
Driving—A registered offender can't have a commercial driver's license with a P (passenger) or S (school bus) endorsement
Due to these restrictions, there is a number of unregistered sex offenders lurking around. Such offenders in NC may face fines or even serve time behind bars.
How To Search for Registered Sex Offenders in North Carolina
You can conduct a North Carolina sex offender search online by following the next steps:
Visit the North Carolina Sex Offender and Public Protection Registry website
Decide if you want to search for offenders by name, address, or registration number or to map the offender's location
Start the search
Once you conduct the search, you'll gain access to the info about registered sex offenders close to you, including their names, aliases, and addresses.
Note that these websites and sex offenders maps are usually updated once a year, so they may not be your most reliable option. If you want to get weekly updates about sex offenders, we suggest you subscribe to DoNotPay.
Searching for NC Sex Offenders With DoNotPay
You can stop worrying about an offender moving to your area without you knowing and use DoNotPay to search the NC sex offender registry with ease! The best part is that we do most of the work! All you need to do is answer a few questions and let us handle the rest! Here's how to get started:
and choose the Sex Offender Search feature
Say whether you want to locate a specific sex offender or get a list of all the registered ones in your proximity
Tell us if you would like to get weekly reports from us
DoNotPay will start the search right away and provide you with a full sex offender report in no time!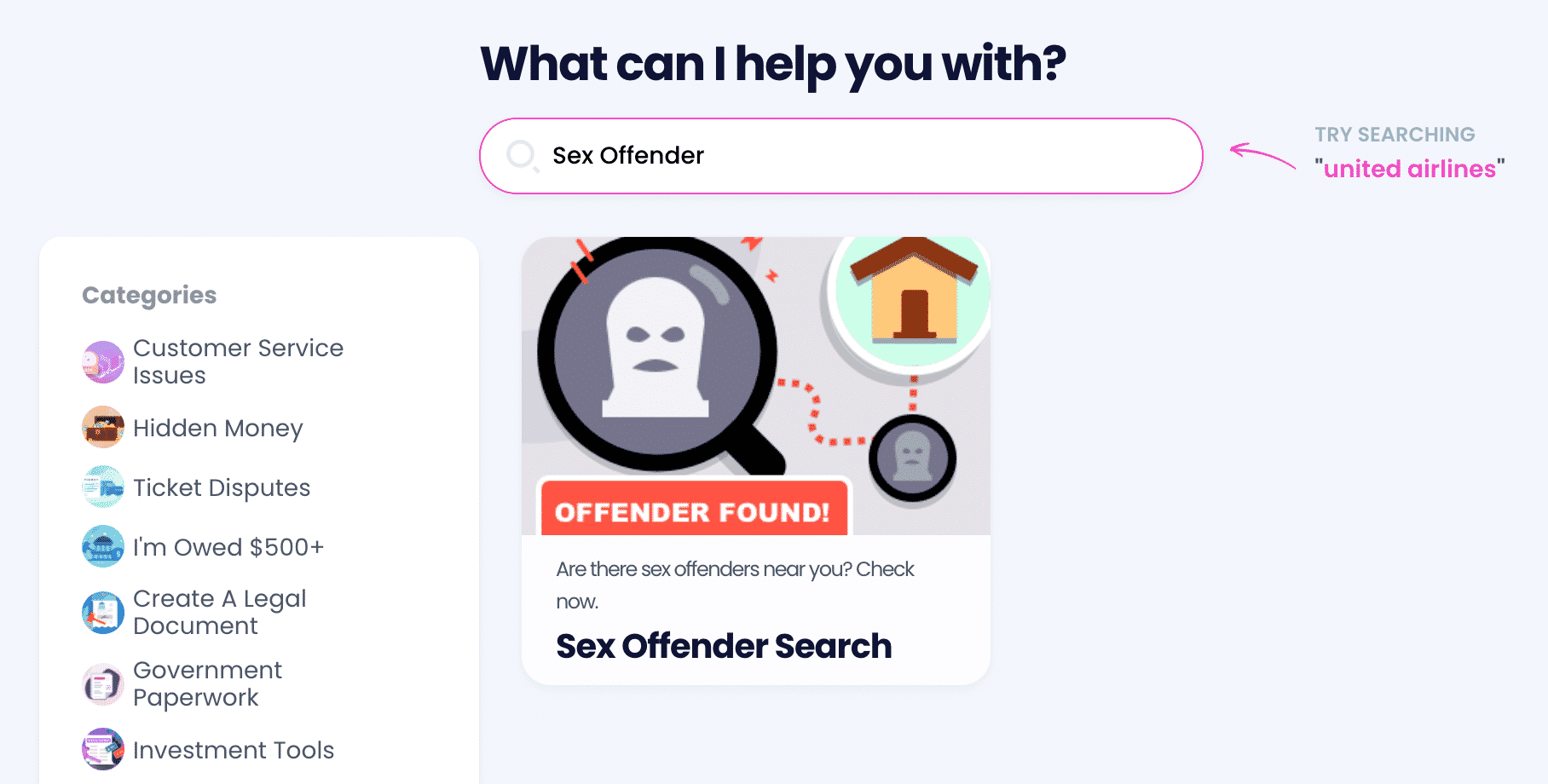 How To Stay Safe From Registered Sex Offenders in North Carolina
It's always better to be safe than sorry, so we offer you a few tips on what to do to protect yourself and your loved ones from NC sex offenders. Check out the list below for details:
Explain the situation to your loved ones—You can make sure family and friends are aware of the potential danger by providing them with the info you found on registered sex offenders in the area
Talk to a police officer—You should inform local authorities about the situation and voice your concerns. It will help you have peace of mind, and you may even be able to stop a future crime if you report any suspicious activity immediately
Have a safety plan—Make sure you come up with a plan about what to do and where to go in case you run into a sex offender. That can help you act quickly without panicking
DoNotPay Helps You Deal With Any Administrative Issues Effortlessly
Tedious administrative tasks are always headache-inducing, but they don't have to be if you use DoNotPay. With our AI-powered app, you will be able to:
Solve Any Issues Like a Pro With DoNotPay
DoNotPay is an AI assistant that is able to solve almost all issues you're facing. Whether that be your noisy neighbors, the annoying text and email spam you're receiving, or the frustrating robocalls that won't leave you alone. We'll even cancel your unneeded subscriptions and get you a few extra bucks you've been cheated out of.
The world's first robot lawyer app can help you get: