Searching the Ohio Sex Offender Registry Has Never Been Easier!
Why bother following confusing online instructions when searching the Ohio sex offender registry when you have a simpler solution at your fingertips? DoNotPay can provide all the info you need about registered sex offenders and show you how to find the ones near you in a few clicks!
, and learn how to stay safe from sex offenders at any time!
Registered Sex Offenders in Ohio—Risk Levels
In Ohio, registered sex offenders are classified into three categories based on the crimes they committed. The table below contains all the specifics regarding the risk levels and severity of offenders' crimes:
Tier
Crimes
Tier 1 (low risk)

Unlawful sexual conduct
Importuning
Gross sexual imposition
Promoting prostitution
Illegal use of minor in nudity-oriented material
Stalking
Public indecency

Tier 2 (moderate risk)

Compelling prostitution
Child pornography
Kidnapping
Human trafficking
Any sex crime that occurs after an offender has been classified as a tier 1 offender

Tier 3 (high risk)

Rape
Sexual contact with a victim under 12 years old, with the intent of abuse or harm
Aggravated murder, murder, or voluntary manslaughter with sexual motivation
Felonious assault with sexual motivation
Sexually violent predator classification
Sex Offender Registration Laws in Ohio
By Ohio law, everyone who commits a sexual offense has to register with the Ohio sex offender registry and provide personal info about themselves. Here's what a sex offender has to do after being released from prison:
Register with the sheriff within three days of arriving in a county to live, work, or go to school
Provide updated contact information, including email addresses
Notify the sheriff if they plan on being away from home for more than seven days
Sex offenders in Ohio are required to provide the following information to their local sheriff's office:
Home and work address
Identifying characteristics
Criminal history
Photo
Fingerprints
Vehicle information
Under Megan's Law, all of the info regarding a sex offender must be shared publicly and accessible to everyone.
Check out the list below to see how long an offender has to stay on the registry depending on classification:
Tier 1 sex offenders have to register once a year and stay registered for 15 years
Tier 2 sex offenders must register every six months and stay registered for 25 years
Tier 3 sex offenders need to register every three months and stay registered for life
Sex offenders who refuse to register face serving long prison sentences if caught.
What Are the Ohio Registered Sex Offenders Not Allowed To Do?
There are certain restrictions that registered sex offenders in Ohio can face, and we provide you with the details:
| | |
| --- | --- |
| Restrictions | Explanation |
| Residential restrictions | Ohio prohibits registered sex offenders from living near places frequented by children. Registered sex offenders aren't allowed to live within 1,000 feet of school premises |
| Travel restrictions | If they wish to travel, the offenders have to obtain a travel permit and register with the appropriate local law enforcement agency in their destination state |
How To Conduct the Ohio Sex Offender Search
There are around 18,656 registered sex offenders in Ohio. The best way to keep yourself and your loved ones safe is to search the sex offender registry and find out where the offenders are and what they look like.
You can search the Ohio sex offender registry online by following the next steps:
Visit the Registered Offenders List website
Enter your ZIP code
Select Search Now
Prove you're not a robot
Click on View Offenders
You will get a list of registered sex offenders and details about their appearance, address, and offenses they committed.
While searching the registry can be useful, it only allows you to see the current situation. An offender could move into your area at any time, and you wouldn't be aware of it unless you performed the search daily.
One of the solutions is to get weekly updates about the registered sex offenders near you by relying on DoNotPay.
Find Registered Sex Offenders in Ohio With DoNotPay Quickly!
Forget about struggling to figure out the confusing sex offenders' maps and following instructions found online. You should rely on DoNotPay instead! We'll use the info you provide to set the search parameters and provide you with a full report on offenders in your neighborhood in a snap!
and follow these steps to get started:
Choose the Sex Offender Search feature
Say if you're looking for a specific offender or all the registered ones near you
Type in the proximity you want to check (one, two, or three miles)
Indicate whether you would like to get weekly updated reports from us
After you complete the above-listed steps, DoNotPay will search the Ohio sex offender registry and provide you with all the details in no time!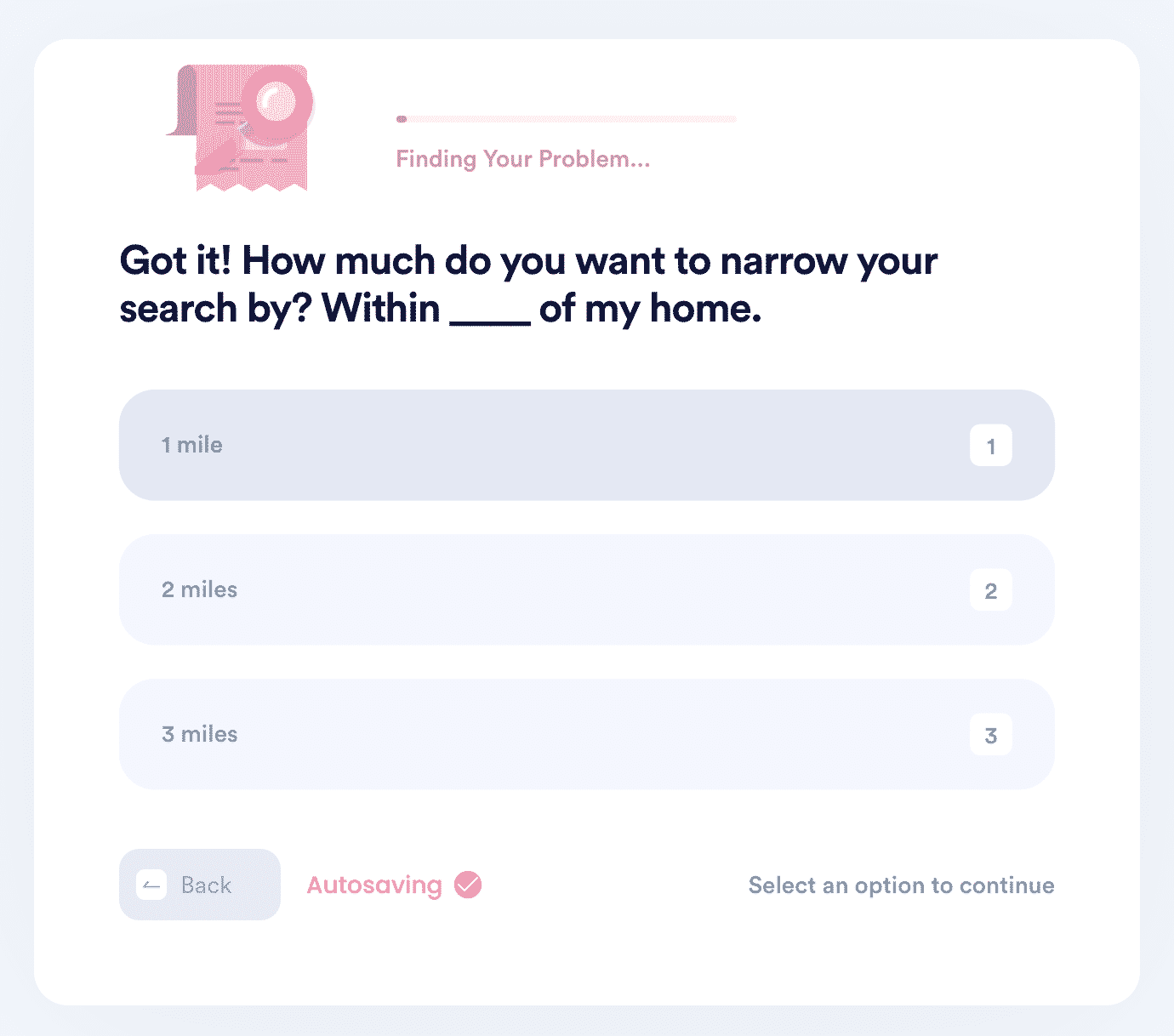 Am I Allowed To Share the Info About Ohio Sex Offenders?
If you want to share the info you found about the registered sex offenders in Ohio, you're allowed to do so. You have to refrain from harassing and discriminating against the offenders since such actions can lead to legal consequences.
You can use the info you found to inform your friends and family about the offender being close by. You can also show them the photos of the offenders that you found during your research. That way, they will know who to stay away from.
Subscribe to Various Services Hassle-Free With DoNotPay
Did you ever get charged by a subscription service after using their free trial? DoNotPay can put a stop to that once and for all! We can get you a virtual credit card or a burner phone number, which you can then use to subscribe to any service stress-free! When you want to cancel a subscription, turn to your virtual assistant for help, and we'll do it for you in seconds!
If the company is giving you a headache, we'll hook you up with their customer support or even sue them in small claims court. Possibilities with DoNotPay are endless!
DoNotPay can also turn mailing into a piece of cake and save your inbox from email and text spam!
Solve All of Your Bureaucratic Issues With DoNotPay
Do you need to file an insurance or warranty claim? Need help with setting up DMV appointments or appealing parking tickets around the U.S.? Don't worry because your AI-based helper can step in!
We can help you get professional powers of attorney and divorce agreements, so you don't have to waste money on expensive lawyers! Once we draw up these documents for you, we'll set you up with an online notary, and you can get them notarized in no time!