Check the Alabama Sex Offender Registry With DoNotPay and Stay Informed
The thought of having a sex predator near your loved ones is disturbing. There are more than 16,000 sex offenders on the Alabama Sex Offender Registry, but are any of them in your proximity?
We will show you how to search the Alabama sexual offender list and make sure you stay protected. If you want to receive weekly reports and timely alerts, you can and have peace of mind knowing that you're informed at all times!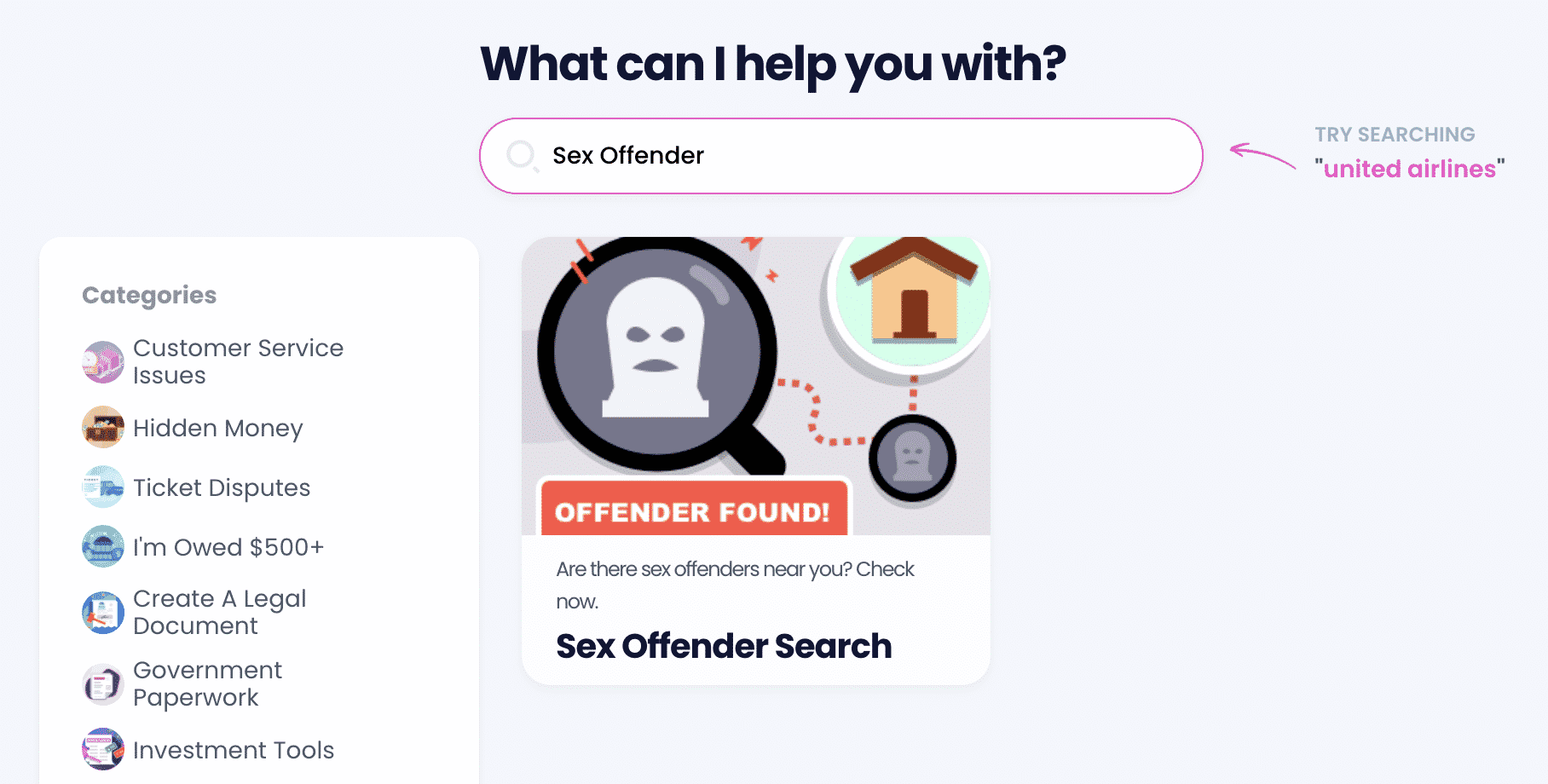 Searching the Alabama Sex Offender Registry
Thanks to Megan's Law, all states are required to update their sex offender registries regularly and make the information public. OffenderWatch is the nation's leading registered sex offender management tool, and Alabama relies on its efficiency to monitor the perpetrators' whereabouts, conduct, and compliance status.
You can search for sex offenders in Alabama by:
Area
Name
City
Compliant status
Internet names or email
How To Search the Alabama Sex Offender List by Area
If you want to see all registered sex offenders within a specific radius of your home, workplace, school, or some other address, you can rely on the area search. Note that searches based on geographical location don't show offenders whose addresses cannot be electronically mapped.
To discover the registered sex offenders in Alabama by area, you have to:
Access the Alabama Sex Offender Registry
Accept the disclosure agreement
Enter the address, city, state, and ZIP code in the dedicated fields
Select the offender address type—home, work/volunteer, or some other address
Click on Search
Searching for Alabama Sex Offenders by Name, City, Compliant Status, Internet Names, and Email
Although the map search shows the most accurate results, you can also search for predators by other parameters. If you know the offender's first and last name, use the name search. You can also enter known aliases or partial names.
Alternatively, you can enter the city where you reside and see a full list of predators working, attending school, or living in your vicinity. Searching by city may not produce a reliable list of all offenders near you because the results are too broad.
To locate non-compliant offenders, select the Non-compliant tab from the Registry and press Click Here. You can't filter the results, but you will see a full list of offenders who don't report to the police regularly.
If you know the offender's internet name or email address, you can make good use of the internet name/email search. Keep in mind that the predator may change this info and not notify the authorities.
Alabama Sex Offender Laws
When someone is convicted of a sex crime, they are ordered by the judge to register as a sex offender. Aside from this, they are subject to other laws and restrictions they must abide by. If you're wondering what sex offenders are not allowed to do, we'll address all questions below.
Which Sex Crimes Require Registration?
The following crimes require registration:
Rape
Sodomy
Sexual misconduct
Indecent exposure
Promoting prostitution
Obscenity
Incest
Any act of sexual perversion
No sex offender in Alabama goes unregistered, except those who were never reported. Depending on the severity of their crimes, sex offenders are categorized into three levels or tiers. Sex offenders in Alabama have to register each year during their birth month and every three months thereafter.
What Information Does the Alabama Sex Offender Registry Provide?
When looking up sex offenders using the Registry, you can see their:
Name, including any aliases or nicknames
Address of residence
School address
Workplace address
License plate number
Current photograph
Physical description
Any prior sex offense
Status (including whether the sex offender has been absconded)
Are There Any Employment, Travel, or Residency Restrictions?
Yes, sex offenders in Alabama face certain restrictions, as shown in the table below:
Employment
Travel
Residency
Sex offenders can't work or volunteer at:

Any school
Childcare facility
Amusement or water park
Mobile vending business that provides service to children
2,000 feet radius of schools or childcare facilities

If registered as Alabama pedophiles, they can't accept jobs within 500 feet of a playground, park, athletic fields or facilities, or any other business that looks after, educates, or entertains minors

Sex offenders can travel freely, but if they:

Leave the county of residence temporarily for three or more consecutive days, they must report in person to the sheriff in their county of residence
Travel to another country, they need to report in person to the sheriff at least 21 days prior to travel

Sex offenders can't reside within 2,000 feet of any:

School
Childcare facility
Resident camp facility

They are also not allowed to live in their former victim's proximity
Will You Receive a Notice When an Alabama Sex Offender Moves Into Your Neighborhood?
By default, no. You can sign up for email alerts, though. To receive updates, you have to:
Navigate to the Register for Email Alerts tab on the Sex Offender Registry website
Enter your address, city, state, and ZIP code
Provide your email address
Accept the Notification Contract
Click on Submit
The Alabama law enforcement agency that's in charge of registering offenders doesn't guarantee that you will receive alerts at all costs. It can't be held responsible if the system fails to send out an email, the email gets stuck in your bulk or junk folder, or you block the law enforcement office's email address by accident.
Run a Quick Scan of Your Neighborhood With DoNotPay
If you care about your family's safety, you must stay informed about sex predators lurking in your neighborhood. You can always check the Alabama Sex Offender Registry, but the task is time-consuming and somewhat complicated.
In comes DoNotPay! We will check the database for you and keep you updated on sex offenders in your proximity. All you have to do is:
and locate our Sex Offender Search product
Choose whether you'd like to see a specific offender or all of the registered ones near your home
Select the proximity you want to check—one, two, or three miles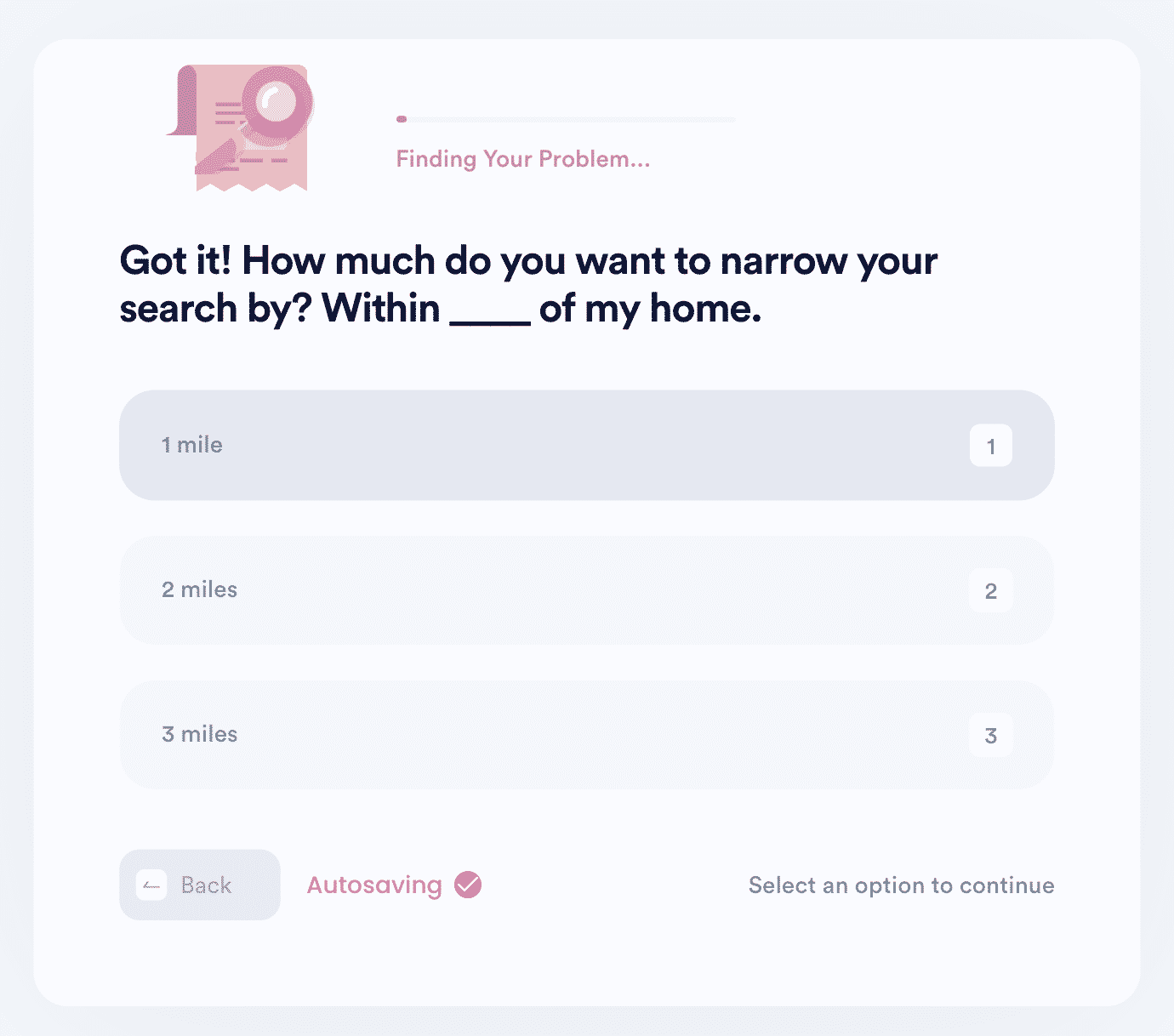 DoNotPay's efficiency knows no limits—we will send out weekly reports and timely alerts so you never miss out on crucial information!
DoNotPay Is an App for Everyone
Whether you need help with drafting paperwork, searching through government databases, or managing your bills, DoNotPay has a feature that'll make your life easier. The number of features keeps growing, and you can check out a table showcasing some of them:
Get More Done With Our Do-It-All Platform
DoNotPay can take care of any daily hurdle you come across. For a small yearly subscription fee, you get access to various features that you'll find handy on a daily basis. Besides everyday chores, signing up for DoNotPay will help get you:
The list could go on for days. You can even get in touch with an inmate or fight for discrimination at your workplace!