Predators vs. Offenders—Who Are They and How To Stay Safe From Them?
Learning the difference between a predator and a sex offender is super important if you want to keep yourself and your loved ones protected. Knowing how to search the sex offender registry and map the whereabouts of the offenders will help you find out whether there's one in your area.
Performing a sex offender registry search the traditional way can be complicated, and you could end up with incomplete info. Luckily, once you , you'll be able to locate any registered sex offender or predator in your vicinity with ease!
Sexual Offender vs. Sexual Predator
According to the research conducted in 2016 by The National Center for Missing & Exploited Children (NCMEC), there are around 859,500 registered sex offenders in the U.S. Some of them are labeled Tier I, II, or III (based on the risk they pose), and some are referred to as sexually violent or predators.
What Is a Sex Offender?
A sex offender is a person who was convicted of any of the following sexual crimes:
Prostitution acts (consensual)
Indecent exposure
Aggravated sexual assault
Sexual acts involving a minor
Frequent violent sexual acts
Kidnapping or human trafficking
What Is a Predatory Sex Offender?
A predator is a sex offender who was convicted of the following crimes:
A first-degree felony sex crime
Two second-degree felony sex crimes (with offenses, convictions, or release from court sanctions happening within 10 years) which occurred after October 1, 1993
A predatory offender is characterized as a person who "hunts" for his or her victims. This type of sex offender is considered a Tier III (high-risk) offender and regarded as one of the most dangerous kinds.
In some states, sex offenders who commit certain sex offenses frequently and repeatedly are labeled as sexual predators.
Predator and Sex Offender Registration Laws Explained
By law, every sex offender has to register with state authorities. How long they have to stay registered and how frequently they should register depends on the severity of their crimes. Sex offenders in most states have to stay registered for either 15 to 20 years or for life. Consult the table below for details:
Offenders Registering for 15 to 20 years
Offenders Registering for Life

Tier I offenders
Tier II offenders

Offenders labeled as sexually violent or predators
Tier I and II offenders normally have to register once a year, while Tier III offenders need to do it every three months.
Every registered sex offender, including predators, faces certain restrictions, such as:
Residential restrictions—Sexually violent predators or serious paroled sex offenders aren't allowed to live within one-fourth of a mile of schools, parks, playgrounds, or other places where children congregate
Travel restrictions—In most cases, there is no law that prevents a sex offender or a predator from traveling to another state, but he or she will have to check the rules of the destination state and register upon arrival accordingly
Employment restrictions—Offenders aren't allowed to get jobs that involve getting into contact with children in any way
Offenders sometimes try to avoid these restrictions by not registering. Since registering is required by law, unregistered sex offenders end up getting fined or serving time behind bars.
How To Search for Predators and Sex Offenders
Ever since Megan's Law came into effect, all the info about registered sex offenders was made public in an attempt to keep people safe. You can search the sex offender registry and find registered ones in your area by following these steps:
Go to The National Sex Offender Public Website (NSOPW)
Pick if you want to search for offenders by name or location
Enter the necessary information
Select Name Search/Location Search
After you conduct the search, you'll see the info about the offenders and predators near you (names, aliases, and addresses).
Apart from the NSOPW, every state (and sometimes even county) has its sex offender registry that you can search to find registered offenders near you.
The main issue is that these online registries aren't updated frequently—most of them get updated once a year—so if a predator or a sex offender moves to your neighborhood, you'll have no way of knowing about it.
If you want to stay in the loop at all times, DoNotPay can provide you with weekly updates about newly registered offenders in your neighborhood!
Search for Predators and Offenders With DoNotPay!
You don't have to struggle with locating nearby sex offenders and predators or spend hours trying to figure out how to use a sex offenders' map! With DoNotPay, you can skip the hassle and conduct the sex offender registry search in a jiffy! All you need to do is follow our quick three-step guide, and let us handle the rest:
and pick the Sex Offender Search feature
Decide whether you want to search for a specific offender or obtain a list of all the registered ones in your area
Choose whether you want to get weekly updated reports from us
We'll conduct the sex offender registry search and provide you with all the information promptly!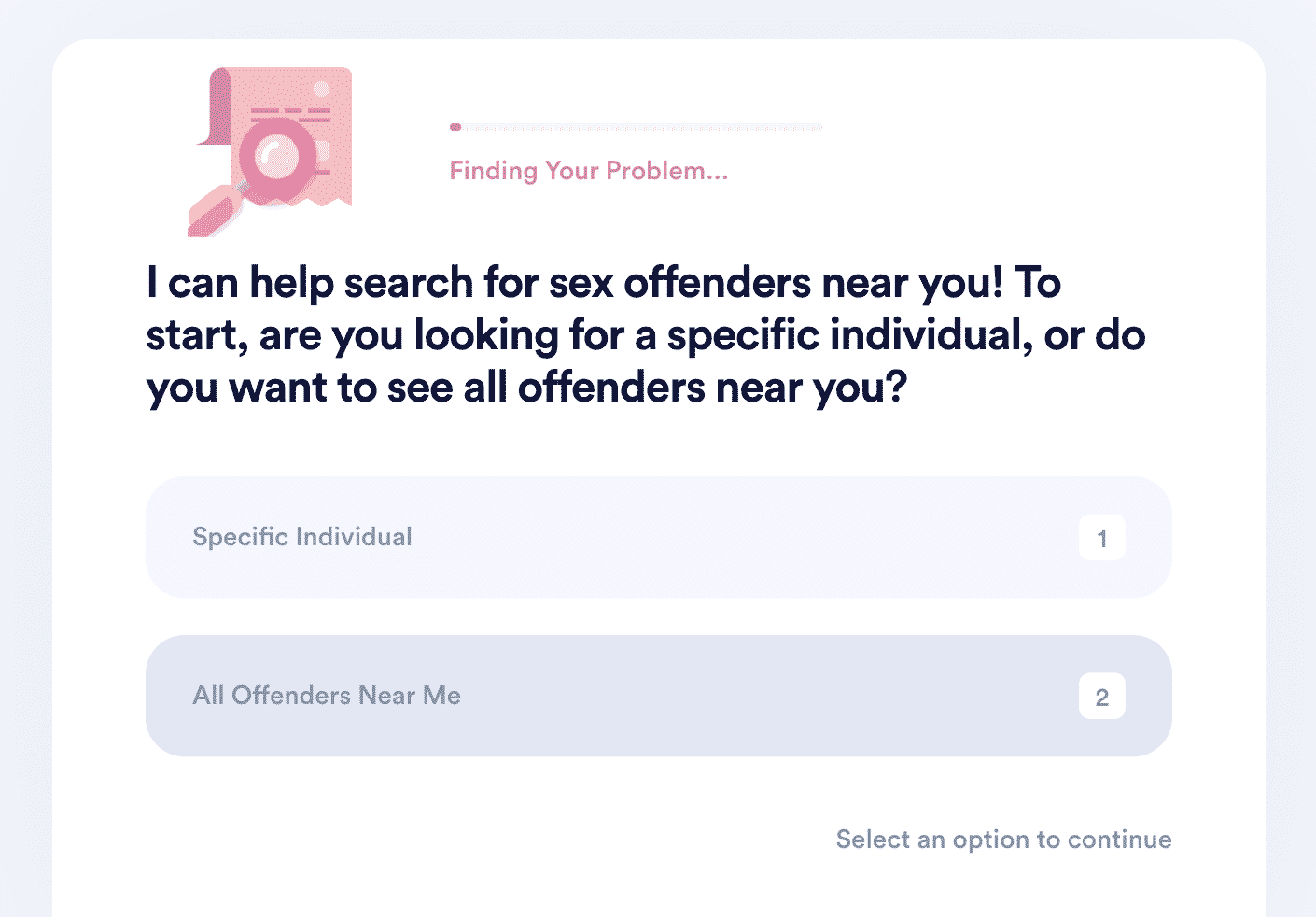 Want To Save Money on Lawyers? Use DoNotPay
Most people spend big bucks on expensive lawyers to overcome their bureaucratic obstacles. Don't waste your money on unnecessary fees—use DoNotPay and take care of any legal matter in a few easy clicks! Check out some of the issues the world's first robot lawyer can help you with:
DoNotPay Turns Your Everyday Hurdles Into a Piece of Cake
Did you receive a faulty or damaged item? Why not return it with your virtual assistant? We can also help you get a late delivery refund and jump the queue if the customer service phone keeps ringing to no avail. The list of handy DoNotPay features that make your everyday life easier goes on.
By subscribing to our platform, you won't have to worry about your tedious neighbors or parking tickets. We can do it all!