The T.J.Maxx Holiday Return Policy Made Easy
Making a return during the holiday season can be a challenge. This is where the T.J.Maxx holiday return policy comes in.
So what exactly does their policy say? This guide will walk you through everything you need to know about returning items to T.J.Maxx during the holidays. If you're unable to—or don't want to—handle the hassle on your own, use DoNotPay and leave it to us!
What Should I Know About the T.J.Maxx Holiday Return Policy?
The T.J.Maxx holiday return policy is quite similar to the regular one. You can return items that you are unhappy with within 30 to 40 days of purchase, although the company accepts returns that fall outside that window.
The policy contains information about items that were purchased:
In store
Online
Products purchased from T.J.Maxx can only be returned to an official T.J.Maxx outlet. Sister stores such as Marshalls cannot process these returns.
Returning In-Store Purchases to T.J.Maxx
For items purchased in store, the T.J.Maxx return policy states that the return window is 30 days. If you are able to return items within this time frame, T.J.Maxx will issue you a refund. You will get store credit or a gift card if you:
Request to return a product after the 30-day window has closed
Are unable to show a receipt
Want to return an item with a gift receipt
To return a product without a receipt, you will need to show a government-issued photo ID and provide a signature. These details will be used to issue you merchandise credit, and only the person whose ID matches the name on the credit receipt will be able to use it.
You will not be able to return products bought in a store by mail.
Returning Online Purchases to T.J.Maxx
You can return items bought online to a T.J.Maxx store or by mail. The key points to know about returning an online order by mail are:
The package must reach a T.J.Maxx warehouse within 40 days from your order date, or you will get store credit
You are required to include a receipt or the order confirmation email in the package
Shipping is not free
The rules for returning online purchases to a store are similar to the ones for the store-bought products—you will have to show a receipt, email confirmation, or a valid photo ID to make a return. The only difference is, you have 40 days to return an item, and you must provide a signature to return your online order to a store.
Items That Can't Be Returned to T.J.Maxx Stores
T.J.Maxx has a few policies in place that prevent a customer from returning certain items.
You will be unable to exchange an item or request a refund or store credit if the item in question is used or damaged—regardless of whether the purchase was made online or in store.
The following table shows a breakdown of when an item will be considered ineligible for an in-store return:
| Item | Cannot Be Returned If |
| --- | --- |
| Handbags | The bag costs more than $499.99 |
| Makeup and other beauty items | The package is opened, or the item is used |
| Other items | The product costs $1,000 or more |
You will also not be able to return long occasion gowns to stores.
Getting a Refund From T.J.Maxx
If you want to return an item bought in store, you can receive a refund to the original payment method as long as you have a receipt and make a return within 30 days of purchase.
If your payment was made through check, you might have to wait ten working days to receive a cash refund.
These are the general rules that are followed for refunds for online purchases:
Form of Payment
Method of Return
Refund Type
Refund Is Issued
Credit card
In store
Charge credit
Within 10–14 working days
By mail
Immediately—may take a few days to reach you depending on your bank
PayPal
In store
Store credit
Immediately
By mail
Charge credit
Immediately
If you return a product by mail, $9.99 will be deducted as shipping and handling fees.
Feeling Confused by T.J.Maxx's Return Policy? DoNotPay Can Help
Making returns is time-consuming and requires a lot of effort. If you want to cut down the time spent on trying to decipher T.J.Maxx's return policy, we have the perfect solution!
You can use our app to initiate return requests in just a few clicks! Log in to DoNotPay and:
Look for the Return My Purchase feature
Tell us about the item you want to return and include pictures, if possible
Submit your request
We will generate a custom-made return request letter and send it over to T.J.Maxx on your behalf. The letter will detail the product you want to return, explain why you want to return it, and include a deadline to speed up the process. We will also get you a free return label so that you don't have to pay extra for shipping!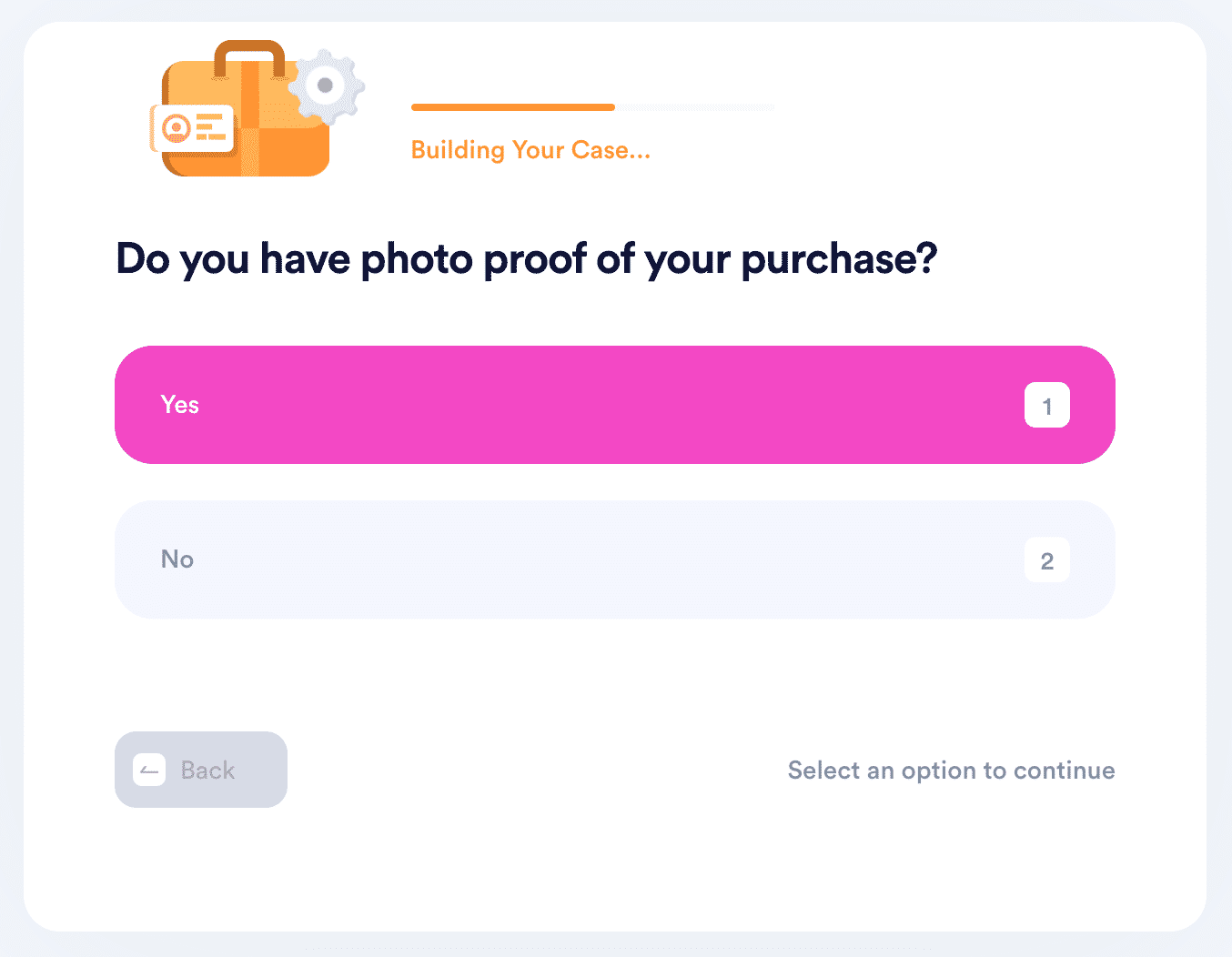 Discover Other Companies We Can Help You Make Returns To
DoNotPay can help you make returns to numerous other retailers, including:
Is the Situation With the Merchant Getting Messy? Take Them to Small Claims Court!
If you feel like the merchant has wronged you, our AI-driven app recognized by the ABA Brown Award will help you sue them in small claims court! You don't need to worry about filling out lengthy court forms or collecting evidence for your case—we'll step in and do it for you!
You can use DoNotPay to generate any legal document you may need for the lawsuit, add legal weight to it through online notarization, and fax it to the court—all in a matter of mere minutes.
Facing any other legal issues? Check out how our app can assist you in:
We Can Help in Many Other Ways!
No matter what kind of assistance you need DoNotPay to provide, you can rely on it to solve any admin or legal issues you may have.
You can use our app to jump the phone queue when contacting any support team, skip the line at the DMV, get cash back on gift cards, create a valid passport photo, appeal any banned account, file an insurance or warranty claim, and get in touch with a loved one in prison in a snap.