What Is the Chewy Return Policy—Digestible Information and Return Guide
Did you bite off more than you can chew? If you ordered more pet food than necessary or received the wrong item, you can return it to the retailer. It's best to read about the company's return policy first, ensuring the return process is as painless as possible.
DoNotPay can help you learn everything you need to know about the Chewy return policy. We can also assist you in returning the items, canceling Chewy Autoship, and more if you sign up for our service!
All You Need To Know About the Chewy.com Return Policy
The Chewy online retail store accepts mail-in returns of all unused and expired items and prescribed medication. The prescribed medication policy is overruled if you receive a wrong or damaged product.
The items need to have the original box and packaging, and you have a full year (365 days) to return them if they are eligible for a return.
Chewy doesn't take title to returned items until they arrive at the fulfillment center. The company may even issue a refund without requiring returns, at their discretion.
How To Initiate a Return Request Following the Chewy Return Policy
You can start the Chewy returns process using any of the following options:
| | |
| --- | --- |
| Can You Request a Return Via | Yes/No |
| Email | No |
| Online Chat | Yes |
| Website | Yes |
| Phone | Yes |
| DoNotPay | Yes |
Use the Chewy Online Chat To Start the Return Process
If you're feeling impatient and can't wait for the Chewy support team to answer you via other means, you can try their online chat feature. To request a return, you must:
Open the Chewy website
Scroll to the bottom of the page and click on Chat Now
Enter your full name and email address
Tap on Submit
Explain your issue to the customer support agent via instant messaging
Follow their instructions to start the return process
Use the Official Chewy Website To Start the Return Process
You can initiate a return process with Chewy using their website. Follow the instructions below:
Open the Message Us page
Enter your email address in the field
Click on the dropdown menu and choose Issue With an Order or a Product
Select your issue from the menu
Type in your order number, which can be found on the Orders page of your account
Explain why you want to return a product
Click on Submit and follow the prompts
Call the Chewy Customer Support Service To Start the Return Process
If you're more comfortable reaching out to the Chewy customer service by phone than online, you need to do the following:
Call the customer support team at 1-800-672-4399
Explain that you want to request a return
Ask them for a return merchandise authorization number
Follow their instructions regarding returning your items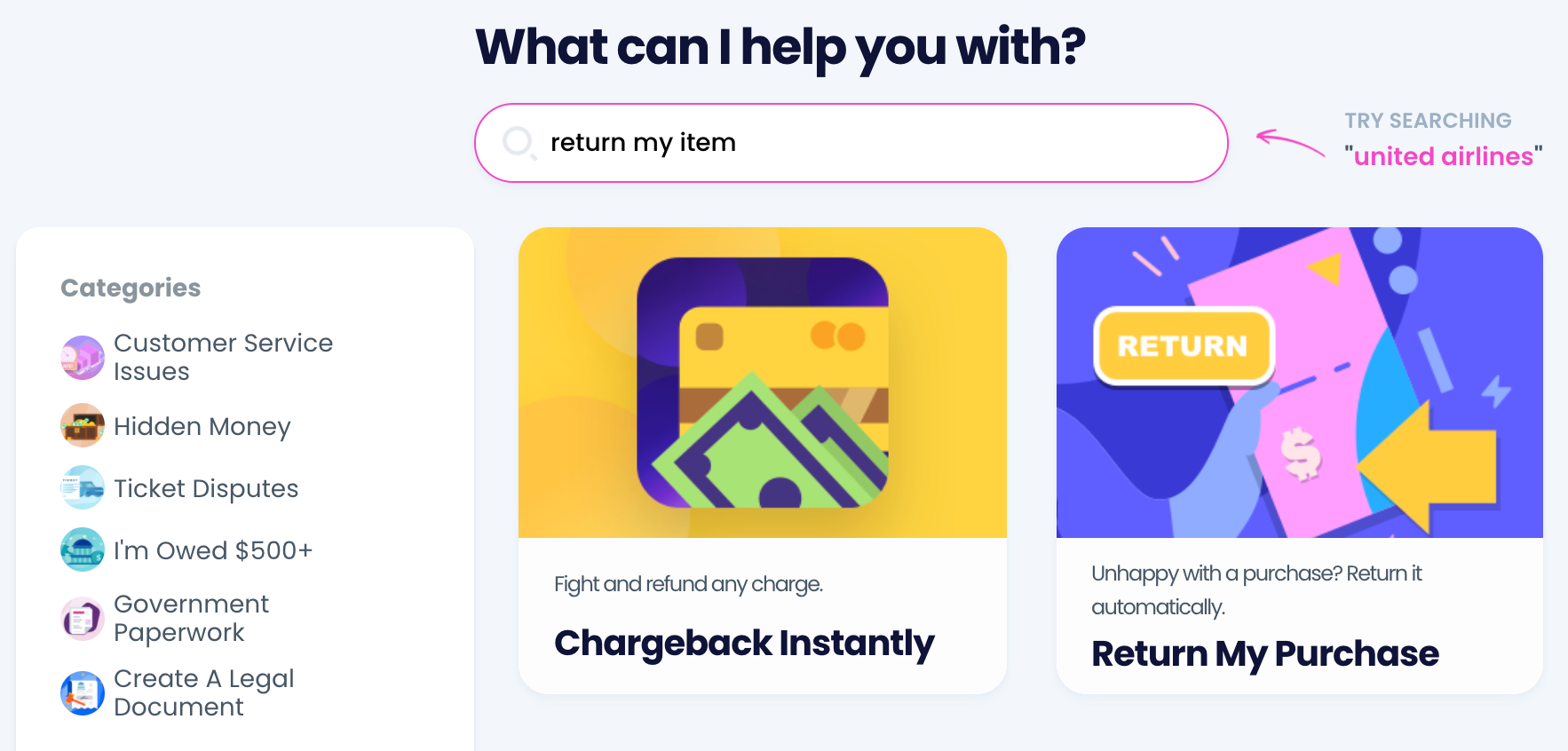 Sit Back and Let DoNotPay Request a Return for You
If you think that returning products is overly complicated, we feel you. That's why we created a feature that helps people get the fastest item return experience.
It's a three-step process, and you only need to:
Click on the Item Return Request product
Answer our questions regarding your purchase and submit your request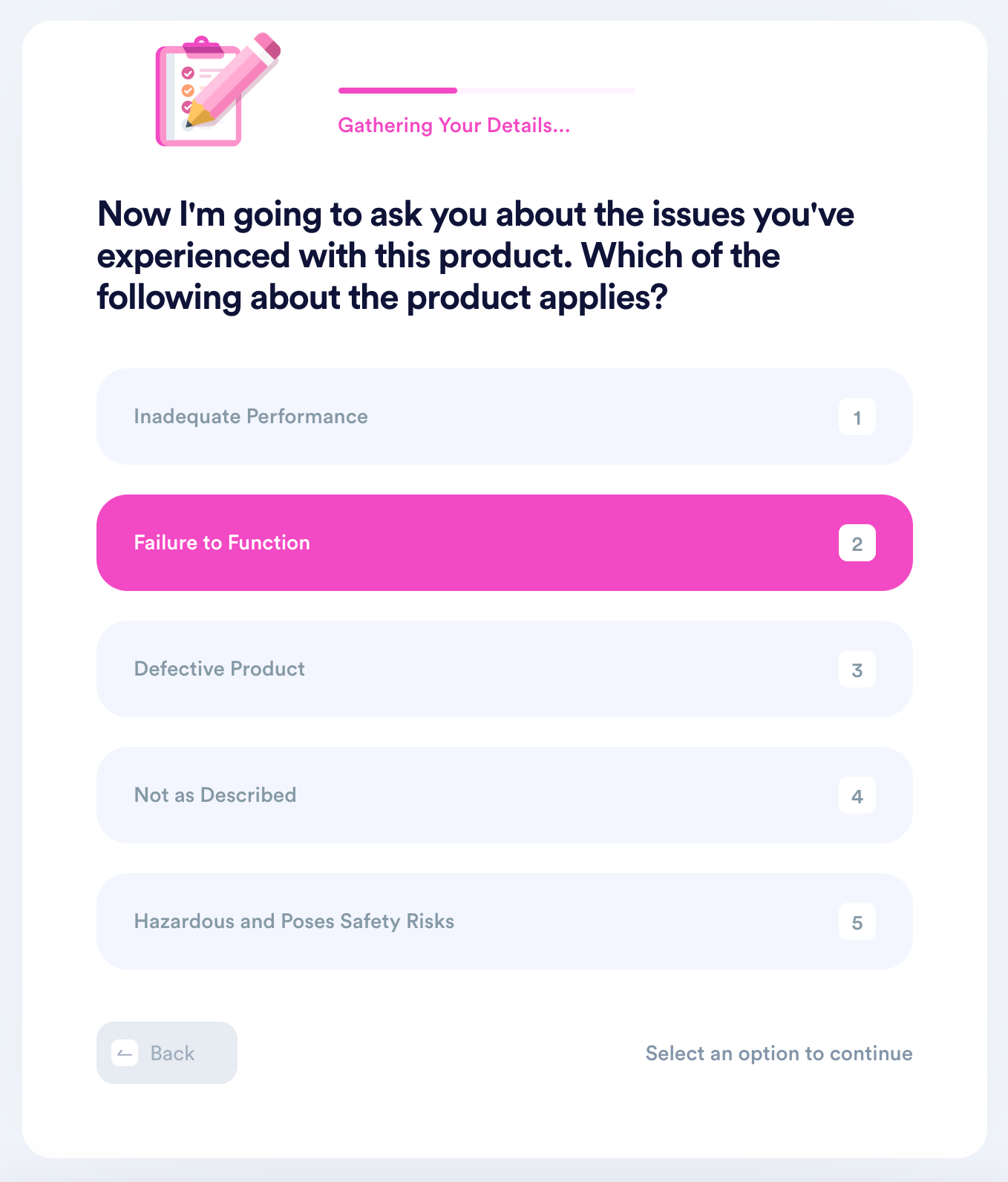 Your part of the job is done—after this, we will:
Create a customized return request letter for you
Send it to the merchant in question and give them a deadline for the return
Give you a free shipping label you can attach to the package
Chewy is not the only company we can help you with. Our return policy guides cover most major brands, such as:
How Long Does Chewy Take To Process Returns?
Chewy takes three to five business days to issue refunds for returns after they receive the items. The amount is fully refunded to the original payment method, even accounting for the shipping fees. If you're asking for an exchange, you should receive it in one to three days.
Demand Your Refund From Chewy With Our Instant Chargeback Feature
If a company is stubborn and refuses to refund your purchase, DoNotPay has a solution. Use our refund feature by following the instructions below:
Click on the Chargeback Instantly feature on our website
Hit Get Protected
Provide our chatbot with the details of the purchase
Sign the form and click on Submit
Did Chewy Wrong You? Sue Them in Small Claims Court!
You shouldn't take injustice from big companies, especially when we offer you our assistance. We can help you sue anyone in small claims court by:
Preparing the paperwork
Completing court forms
Creating a demand letter
Filing your complaint
Providing you with strong arguments you can use in court
Don't Tolerate Corporate Attitudes—Request What's Rightfully Yours
DoNotPay is known for being the champion of customer advocacy because we help our users claim what's rightfully theirs, and we don't tolerate big corporations taking people's hard-earned money.
No matter if you want to request a refund, insurance, extended warranty, or compensation from airlines, our AI-powered lawyer will fight for your right.
If you feel like you're overpaying certain subscription services, we can help you cancel them. Also, if you want to test a subscription before you start paying money for it, don't connect your credit card to the free trial page! You can sign up for free trials using our virtual credit card. That way, companies won't be able to charge you auto-renewal fees because the card has no funds.
Wait! DoNotPay Can Help You in Many Other Ways
DoNotPay has many different areas of expertise—helping you return your faulty items is only one of them.
Check out how our app can assist you in: