Adidas Return Policy—How To Return a Faulty Product Effortlessly
Have you recently bought Adidas gear that doesn't live up to your expectations? Whether the size isn't right or you've received the item damaged, you shouldn't hesitate to return it. You have to follow specific rules that may seem too complicated (for a good reason).
We're going to cover every single aspect of Adidas return policy and show you how it works. To avoid unnecessary hassle, let DoNotPay handle the entire return process for you.
Adidas Return Policy From A to Z
Adidas return policy stipulates that you have 30 days from the day on the receipt to return any item you are not happy with, but only if you play by these rules:
Send the package from any location within the United States
Ship the item back undamaged and in its original packaging
Keep all original tags on the apparel
Don't wear the shoes
Return the items in their original shoe box
Ship all accessories with the item
Keep in mind that the following restrictions apply:
You can't return personalized products
Face Covers are not eligible for returns
During holidays, Adidas occasionally offers an extended 90-day return policy
How Can I Return Adidas Products?
Take a look at all the ways to return Adidas merchandise:
| | |
| --- | --- |
| Can You Initiate Return Via? | Yes/No |
| | Yes |
| Phone | No |
| Email | No |
| Website | Yes |
| In person | Yes |
Starting the Return Process on the Website
When shopping at Adidas.com, you either shop through your Adidas account or as a guest. If you placed your order through your account, you have to:
Log in to your Creators Club Account
Click on Order History
Select Return Items or Free Size Exchange for the product you want to return
Explain the return reason
Choose your preferred refund method
In case you purchased Adidas merchandise as a guest, follow these steps to submit a return request:
Go to the Order Tracker at the top of the page
Enter your order number
Provide your email address to find your order details
Select Return Items or Free Size Exchange
Choose the product you wish to return, select the return reason and the payment method for your refund
Whether you followed the member or guest procedure, Adidas will provide a return label at the end of the process. To successfully send your order back, you should print the return label or the return FedEx QR code or save them on your smartphone and show them at the package drop-off.
Returning Your Adidas Gear in Person
You can also return your online orders in any Adidas retail store within the return window for that particular product. The employee may ask for the:
Original form of payment and confirmation email
Return sticker from the shipping box
Receipt
In case you don't have a receipt, you'll receive in-store credit in the value of the current product price. If you purchased Adidas products at an Adidas store, you can return them for a full refund at any location across the United States, but you must show your original receipt.
Does Adidas Offer Free Exchange?
Yes. When following the return steps explained above, please select Free Size Exchange instead of Return Items. You should be aware of the following facts:
Your item can only be exchanged if it is in stock
The exchange order is valid for seven days, and you need to ship back the original item within that timeframe
In case you don't ship the items you want to return within seven days, your exchange order will automatically be canceled
You can't exchange Adidas merchandise bought from other retailers
You are eligible for free exchange only if you send the package from within the United States
How Long Does It Take To Get My Refund?
Once you drop off the parcel at the return location, it shouldn't take more than 10–14 business days for you to receive a full refund. The exact time depends on your original form of payment and your bank's processing times.
If you don't get your refund in 14 days, don't hesitate to reach out to Adidas customer support. Shipping and seasonal surcharges are non-refundable.
If you paid with an Adidas gift card and want a refund, you will be refunded with a new digital gift card.
Spare Yourself the Trouble and Return Your Products With DoNotPay
Returning your gear to Adidas can be a tedious task, especially if you don't have the receipt. Our AI-powered app offers a helping hand when things get complicated. To start the return process with DoNotPay, you should:
Select our Item Return Request feature
Tell us why you want to return the product in question
Provide photographs of the item (if applicable)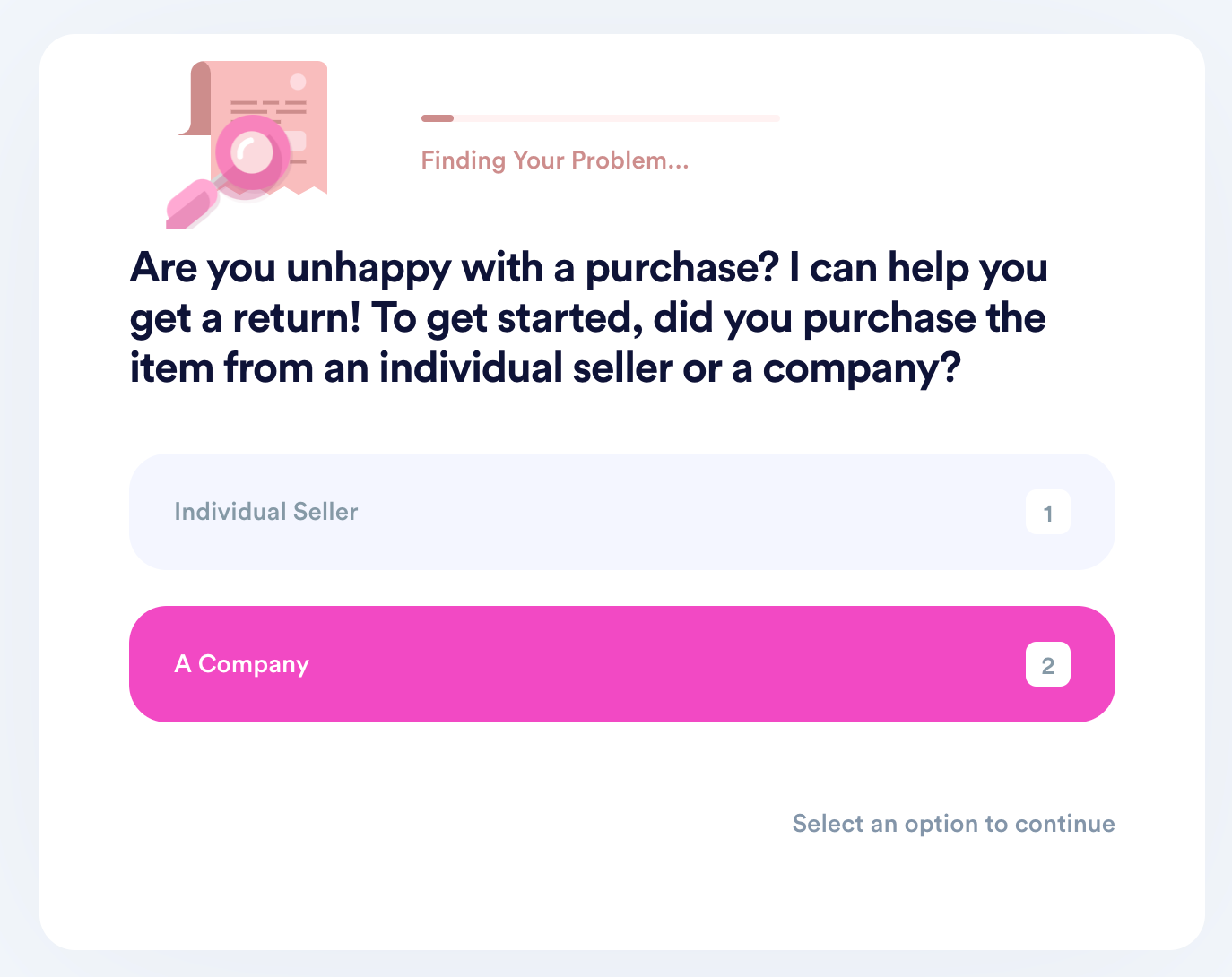 Within minutes, we will:
Generate a custom return request letter
Set up a deadline in your stead and ensure your request gets processed promptly
Provide you with a return label, so you can ship the return package back
In case you need help with the return procedures of other well-known retailers, check out our handy guides in the table below.
Don't Tolerate Corporate Attitudes—Request What's Rightfully Yours
DoNotPay is known for being the champion of customer advocacy because we help our users claim what's rightfully theirs, and we don't tolerate big corporations taking people's hard-earned money.
No matter if you want to request a refund, insurance, extended warranty, or compensation from airlines, our AI-powered lawyer will fight for your right.
If you feel like you're overpaying certain subscription services, we can help you cancel them. Also, if you want to test a subscription before you start paying money for it, don't connect your credit card to the free trial page! You can sign up for free trials using our virtual credit card. That way, companies won't be able to charge you auto-renewal fees because the card has no funds.
Wait! DoNotPay Can Help You in Many Other Ways
DoNotPay has many different areas of expertise—helping you return your faulty items is only one of them.
Check out how our app can assist you in: