Learn How To Use the Dyson Return Policy and Return Products Hassle-Free
Have you bought a Dyson device that doesn't get the job done as advertised? If that's the case, we'll show you how to return it! Follow our Dyson return policy guide to discover the simplest way to send products back to the company. Aside from providing you with step-by-step instructions, DoNotPay also offers to complete the process in your stead!
Deciphering the Dyson Return Policy
According to the Dyson return policy, you can return most items within 30 days of the delivery date. Some of the products can be returned in 90 days, such as:
Dyson V15 Detect cordless vacuums
Dyson Outsize cordless vacuums
Lightcycle task lights
Lightcycle Morph lights
Dyson Omni-Glide vacuums
Thanks to the money-back guarantee, you will receive a full refund.
Make sure the products you're returning are undamaged and in resalable condition. All sales on refurbished devices are considered final and, as such, are not eligible for returns unless you received a faulty or wrong product.
If you can't return the products, you can make good use of the Dyson warranty. You can have Dyson's team repair or replace the device you bought even past the return window.
How To Return Dyson Products
Although Dyson recently opened several demo stores, you can shop but not return items to any of the locations. The only way to make a return to Dyson is by mail. To initiate the process, you can:
Fill out the Return Request Form on the website
Call the toll-free contact center at 1-866-693-9766
Text Dyson
Let DoNotPay take charge
Requesting a Return on the Website
When initiating a return online, you have to:
Access the Return Form
Enter the order number and your email address
Select the type of return from the dropdown menu (Dyson Technology, Dyson Part/Accessory, or Both)
Set the quantity you're returning
Provide your first and last name
Enter the ZIP code
Specify whether the package is sealed or has been opened
Choose the reason(s) for returning the product
Click on Submit
You should receive a confirmation email containing the reference number and a free return shipping label. Take the item(s) along with the reference number and shipping label to the nearest UPS store and send the parcel back to Dyson. The company won't accept unauthorized or COD returns.
If you're returning more than one order, you have to send a separate return request for each order number.
Initiating a Return Over the Phone or via Text
To request a return over the phone, you have to call Dyson at 1-866-MY-DYSON (1-866-693-9766). Alternatively, you can text the word Return to 48121 from your cell phone to start the process. Once you get in contact with a Dyson representative, explain the reason for calling or texting and follow the provided instructions to complete your return.
As simple as the process sounds in theory, the reality is different. According to Dyson customers, initiating a return over the phone is complicated and time-consuming, and there's a fair chance you won't be able to complete the process.
DoNotPay Simplifies Overcomplicated Return Policies
If you don't want to get frustrated trying to return products to Dyson, you can rely on our AI-powered app to get the job done. Once you , you will enjoy fast returns and quick refunds and also avoid possible disturbances down the road.
All you have to do is:
Navigate to our Item Return Request product
Provide answers to several purchase-related questions
Click on Submit
We will send a custom return request letter to Dyson, notifying it about your dissatisfaction with the product. When submitting the request, we will let you choose if you'd like a refund or an exchange and will make sure you get it as soon as possible by setting a deadline for the merchant.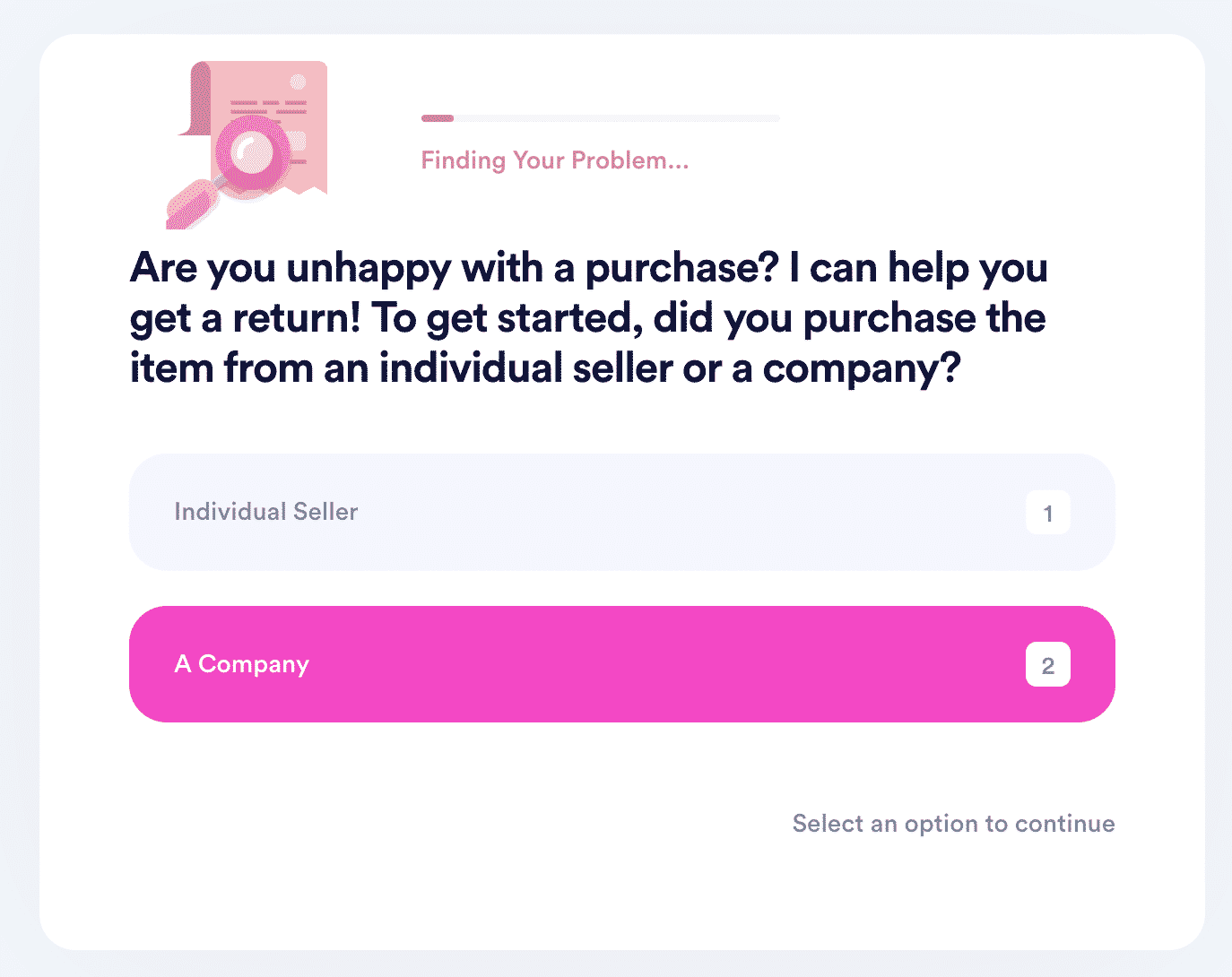 DoNotPay is always on your side.
We have deciphered the return policies of other popular retailers, including:
Tired of Waiting for a Refund From Dyson? DoNotPay Can Help You Get It
According to Dyson, all returns and refunds are processed within 14 to 21 days. Many customers state that they haven't received a refund even after a full month or more after shipping the products back to Dyson. There are more than 400 complaints on Better Business Bureau regarding Dyson's unprofessionalism when it comes to issuing refunds.
If you've already made a return on your own but now need help getting a refund, rely on DoNotPay. Here's what you need to do once you :
Find the File a Chargeback option
Press Get Protected
Answer a few questions
Click on Sign and Submit
Returned Your Faulty Item? Discover Other Nifty DoNotPay Products!
Apart from being your shortcut through returning your faulty items to merchants, our app can do so much more! From helping you request a refund, get extended warranties, file insurance claims, and find clinical trials in your vicinity to assisting you in creating legal documents, getting them notarized, and faxing them—DoNotPay can do it all.
Do you think you're eligible for a victims of crime compensation program? Our app can help you apply for it. Do you want to get revenge on persistent robocalls, report someone for stalking or harassment, or get your noisy neighbors to be quieter? We got your back!
You Don't Have To Waste Time in Endless Lines
Returning an item may require you to wait in endless lines, but if you sign up for our AI-driven app, you will be able to skip all kinds of queues! You won't have to spend ages waiting in lines at the DMV or in customer support phone queues because DoNotPay will provide an easier way to get what you need.
If you want to skip the hassle of waiting on the phone when canceling a service, requesting refunds or compensation from airlines, requesting a college fee waiver, or connecting with a loved one in prison, you can count on DoNotPay to provide easy solutions.