The Best Walmart Return Policy Guide
How much time do you have to return dissatisfying products to Walmart? Can you return any item, or are there any exceptions? What's the easiest way to take the goods back? Find the responses to these and many other questions in our detailed guide to deciphering the Walmart return policy! We will also show you how to deal with returns to eBay, Target, Costco, and many other companies without administrative hurdles by !
What Is Walmart's Return Policy?
Walmart offers you to return the items that aren't what you are looking for by mail or to a store. Whichever method you opt for, make sure you have the original sales receipt or your Walmart order number when starting the process.
The company provides a 90-day return window for most offered products. The exceptions to this rule are listed below:
Product Category
Return Deadline
Wireless phones
14 days

Hoverboards
Electric scooters
Product care plans
Consumer electronics

30 days

Hearing aids
Contact lenses
Prescription glasses

60 days

Outdoor play
Oversized furniture

90 days but only if mailed by freight shipping
A year
The products you can return within the standard time frame but under special conditions include:
Tires—can't be mounted or installed
Unopened tobacco and alcohol—must be returned to the original store where it was purchased
Home and garden gear—can be returned only if you drain gasoline or flammable materials before you take the gear back
Personalized gifts and items—can't be returned by mail
Are There Any Exceptions to the Walmart Returns Policy?
Yes, there are. Due to safety reasons, the company won't accept the returns containing the following product categories:
Firearms
Snow tires
Crossbows
Ammunition
Trading cards
Pepper sprays
Air and BB guns
Hygienic medical gear
Diabetic supplies
Sex toys
Pregnancy and ovulation tests
Home diagnostics testing kits
Gas-powered recreational vehicles
Prescription devices and medications
Used or opened RV sewer lines
Items bought from dealers or resellers
Products containing ephedrine, pseudoephedrine, and phenylpropanolamine
How Does the Walmart In-Store Return Policy Work?
One of the quickest ways to take the goods back is in-store returns. Before you bring the items to the nearest shop, you must submit an online return request in the following way:
Click on your initials in the top right corner and choose Account
Locate the specific item you want to return and tap on Start a Return
Pick the reason for returning the product and click on Return
Choose Return to Store and then Continue
Tap on Finish
Hit Print Barcode
You can also perform this procedure by starting the Walmart app and scanning the store receipt code.
After getting the store return receipt, pack the products and visit the shop to confirm the return and get a refund. Make sure you also bring the original order invoice or the sales receipt, depending on the purchase method you used.
You should know that Walmart stores can't issue replacements. This means that you must return the products by mail if you want to replace your purchased item.
How To Return Items to Walmart by Mail
The first steps of the mail-in return procedure are the same as with in-store returns. You only need to pick Return by Mail instead of Return to Store and choose if you want a refund or replacement.
You will receive an email from the company containing a Walmart return shipping label. Once you print it out, stick it on the box in which you placed the unwanted items and ship it with FedEx or USPS. The procedure will take two to three weeks from the reception date to be finalized.
| | |
| --- | --- |
| Can You Return Products to Walmart Via | Yes/No |
| DoNotPay | Yes |
| Mail | Yes |
| In person | Yes |
| Phone | No |
| Email | No |
| Chat | No |
Can You Return Items to Walmart Without a Receipt?
Yes, you can. If you lose your proof of purchase or forget it at home, you can disclose other information to help the shop staff locate the order or store purchase in question. They can:
Check your credit or debit card transactions
Find your order using your phone number or email address
Handle Walmart Returns Like a Pro With DoNotPay
Does the Walmart return policy seem like a real nightmare to you? Too many details and unclear explanations can make the procedure even more difficult. If you want to skip such inconveniences, subscribe to DoNotPay and have your return request created in up to five minutes!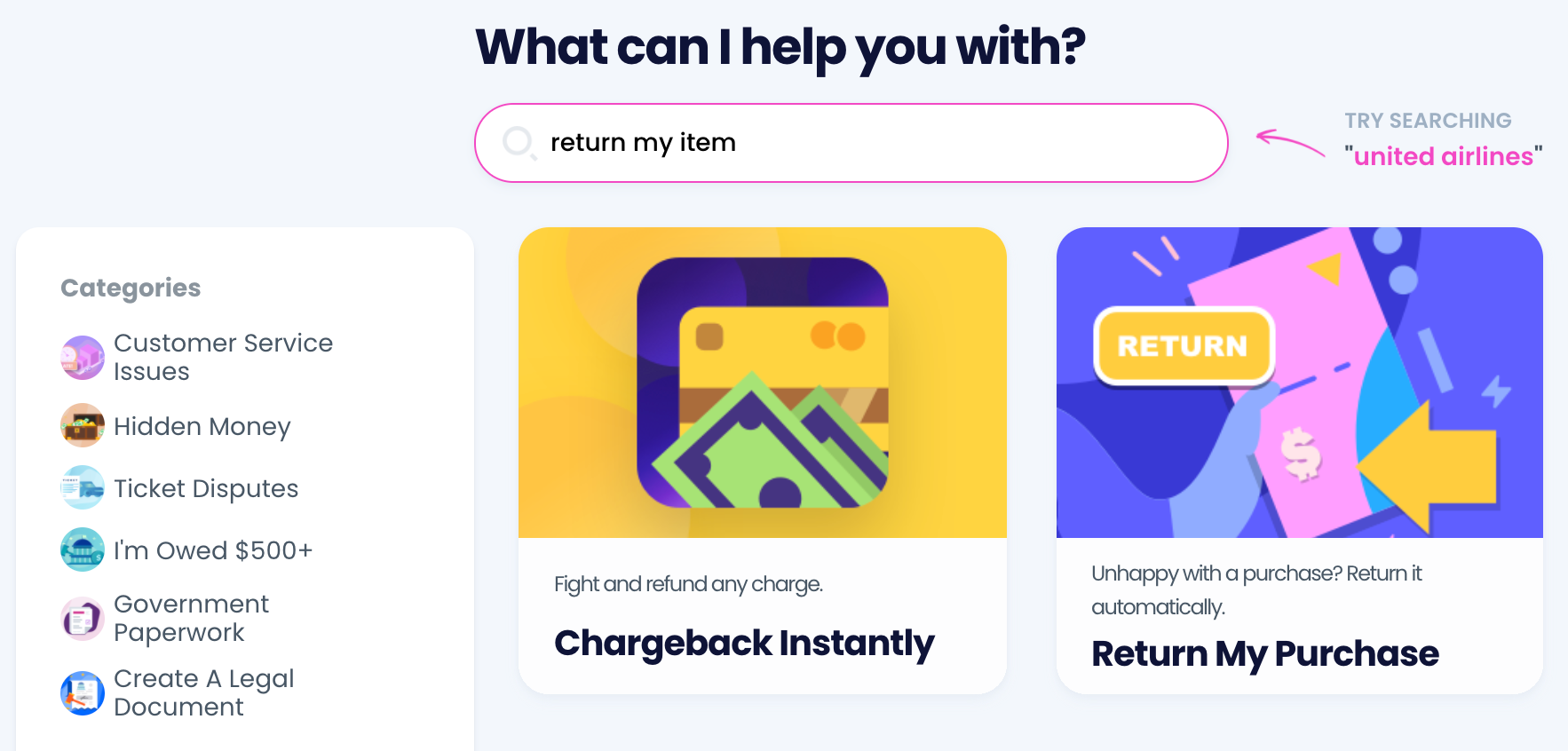 We raise a return claim in your stead by forwarding your purchase details and photo evidence to the merchant. Here's what you need to do:
and log in to your account
Search for Item Return Request
Add the necessary information about the product(s) you want to return
Attach the photos showing the damage or reason for returning the item(s)
Upon creating a return request letter, our system will forward it to the retailer in a matter of minutes with a special demand for limited-time processing.
Here's a table showing some of many other companies we can help you demand returns from:
| | |
| --- | --- |
| Retailer Type | Companies |
| Clothing | |
| Cosmetics | |
| Home | |
| Other | |

Don't Tolerate Corporate Attitudes—Request What's Rightfully Yours
DoNotPay is known for being the champion of customer advocacy because we help our users claim what's rightfully theirs, and we don't tolerate big corporations taking people's hard-earned money.
No matter if you want to request a refund, insurance, extended warranty, or compensation from airlines, our AI-powered lawyer will fight for your right.
If you feel like you're overpaying certain subscription services, we can help you cancel them. Also, if you want to test a subscription before you start paying money for it, don't connect your credit card to the free trial page! You can sign up for free trials using our virtual credit card. That way, companies won't be able to charge you auto-renewal fees because the card has no funds.
Wait! DoNotPay Can Help You in Many Other Ways
DoNotPay has many different areas of expertise—helping you return your faulty items is only one of them.
Check out how our app can assist you in: