Tire Rack Return Policy Made Easy
Tire Rack offers wheels, tires, and accessories at wholesale prices, serving customers throughout North America. With so many orders crossing the continent, a few are bound to be incorrect or damaged.
Navigating the Tire Rack return policy is complicated because it has unique rules for each product. With our simplified Tire Rack return guide, you can skip the complications and get back on the road quickly.
DoNotPay also offers a convenient way to process your return in a few simple steps!
Getting To Know the Tire Rack Return Policy
The Tire Rack return policy allows customers to return tires, wheels, and accessories within 30 days of delivery.
All returns are thoroughly inspected for damage or wear. For a product to be deemed returnable, it must appear unused and undamaged.
Most returns are facilitated through customer service by calling 1-888-981-3953. Once you get in touch with a customer support rep, you will be provided with a return authorization number and will have to describe your reason for the return.
All tires being returned must be:
Wrapped together
Individually labeled with return information
Unmounted from wheels
Intact in original strapping
All returns are credited the amount spent minus freight return charges. In the case of tire and wheel packages, an additional $60 is deducted for dismount labor charges.
You will get your money back through a credit card or by mailed check, depending on your purchase method.
Ways To Initiate a Tire Rack Product Return
There are several ways to initiate a return to Tire Rack, such as:
| Return Initiation Methods | Yes/No |
| --- | --- |
| DoNotPay | Yes |
| In person | Yes |
| Phone | Yes |
| Online | No |
to return tires and avoid long phone queues, complicated customer support conversations, and confusing return restrictions.
Returning a Distribution Center Order
If you purchased and picked up your tires and wheels directly from a distribution center, your return must be processed the same day.
If you fail to return to the distribution center on the same day, a return specialist will first need to review the return order before any exchange takes place or credit is sent.
Credits for distribution center returns occur within 2–3 days of the return.
Returning Through Your Tire Warranty
Tires covered by a manufacturer's warranty require you to process your return through the manufacturer. Tire Rack helps facilitate these exchanges.
To initiate a warranty return, you must access the information on each individual tire from the company's product page. Select the Warranty tab, and search for your tire by brand. Use the Tire Rack return phone number to organize your warranty return with an agent.
Explore the Return Power of DoNotPay
Rather than going through an otherwise lengthy return process with Tire Rack, use our app to simplify returns and tackle a variety of other tedious issues!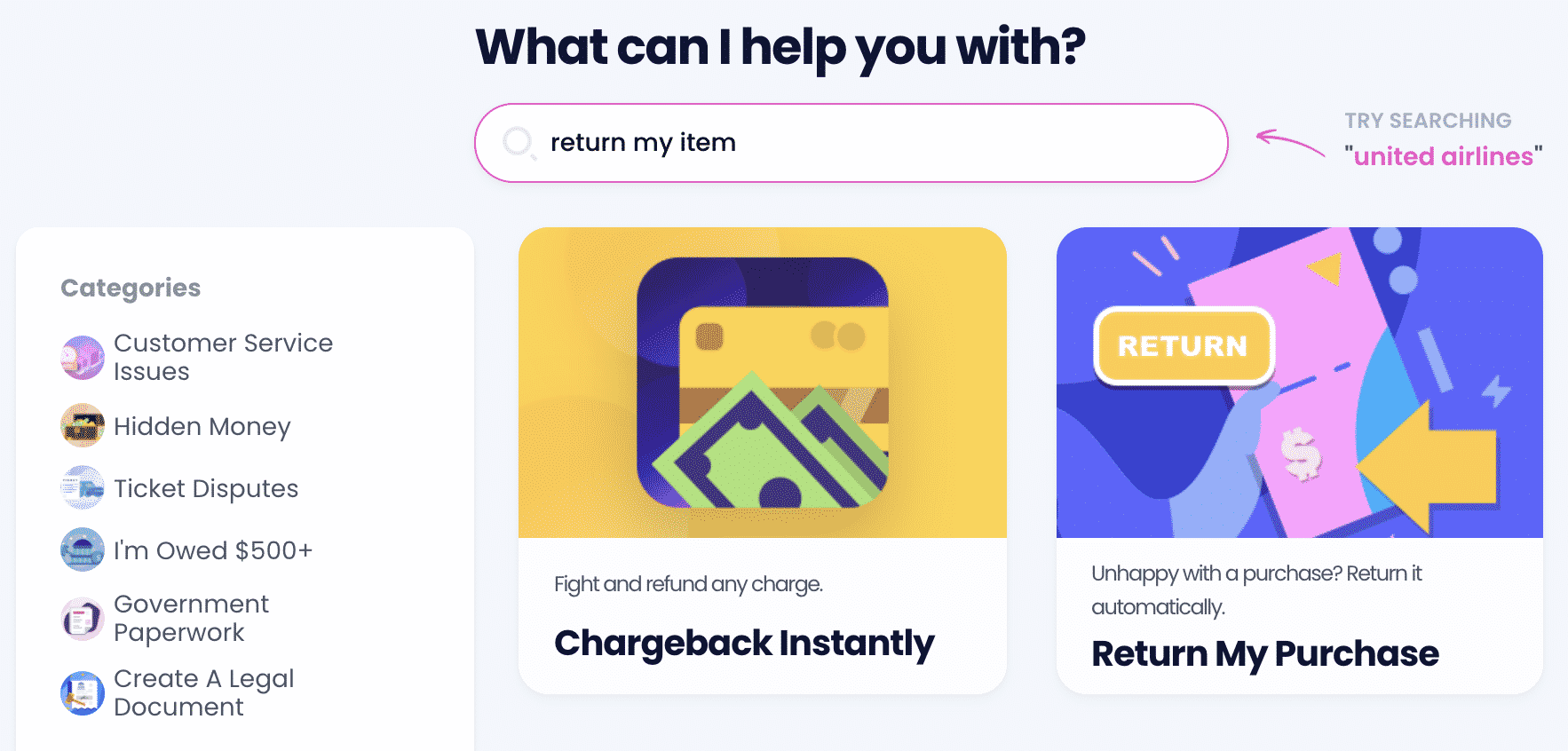 To use the app, you must:
Select the Item Return Request product
Tell us about your purchase
Submit the request form
As you submit your request, DoNotPay creates a bespoke letter to be sent to Tire Rack on your behalf, including a deadline to expedite the return and refund processes.
DoNotPay also creates a free return shipping label, ensuring your product gets where it needs to go quickly and efficiently.
Our platform provides simplified guides to a wide assortment of brands' return policies, including:
Use DoNotPay To Demand a Refund for Problematic Products
If you have returned tires or wheels to Tire Rack and want to request a refund, our app can help. Once you have signed up for DoNotPay, follow these steps to make your request:
Click Chargeback Instantly
Choose Get Protected
Answer our chatbot's questions
Select Sign and Submit
If tire damage occurred during shipping, Tire Rack reports it to the shipper on your behalf and ensures a replacement or exchange.
You can get in touch with Tire Rack's customer service at 1-888-981-3953 to report shipping damage.
Feel Wronged by Tire Rack? DoNotPay Helps With Small Claims Court Lawsuits!
What do you do if your Tire Rack products arrive damaged, the wrong product arrives, or the product is in the wrong size? Waiting for yet another shipment takes time away from work and other duties made simple by a moving vehicle.
If you feel you have been wronged somehow and require legal help, DoNotPay can assist you.
Our app not only facilitates returns but also files a wide selection of legal documents.
Recognized as the world's first robot lawyer, DoNotPay will assist you in your legal efforts by:
Drafting a demand letter
Filling out court forms
Collecting the required documents
Filing an official complaint
Scripting top argument for your court appearance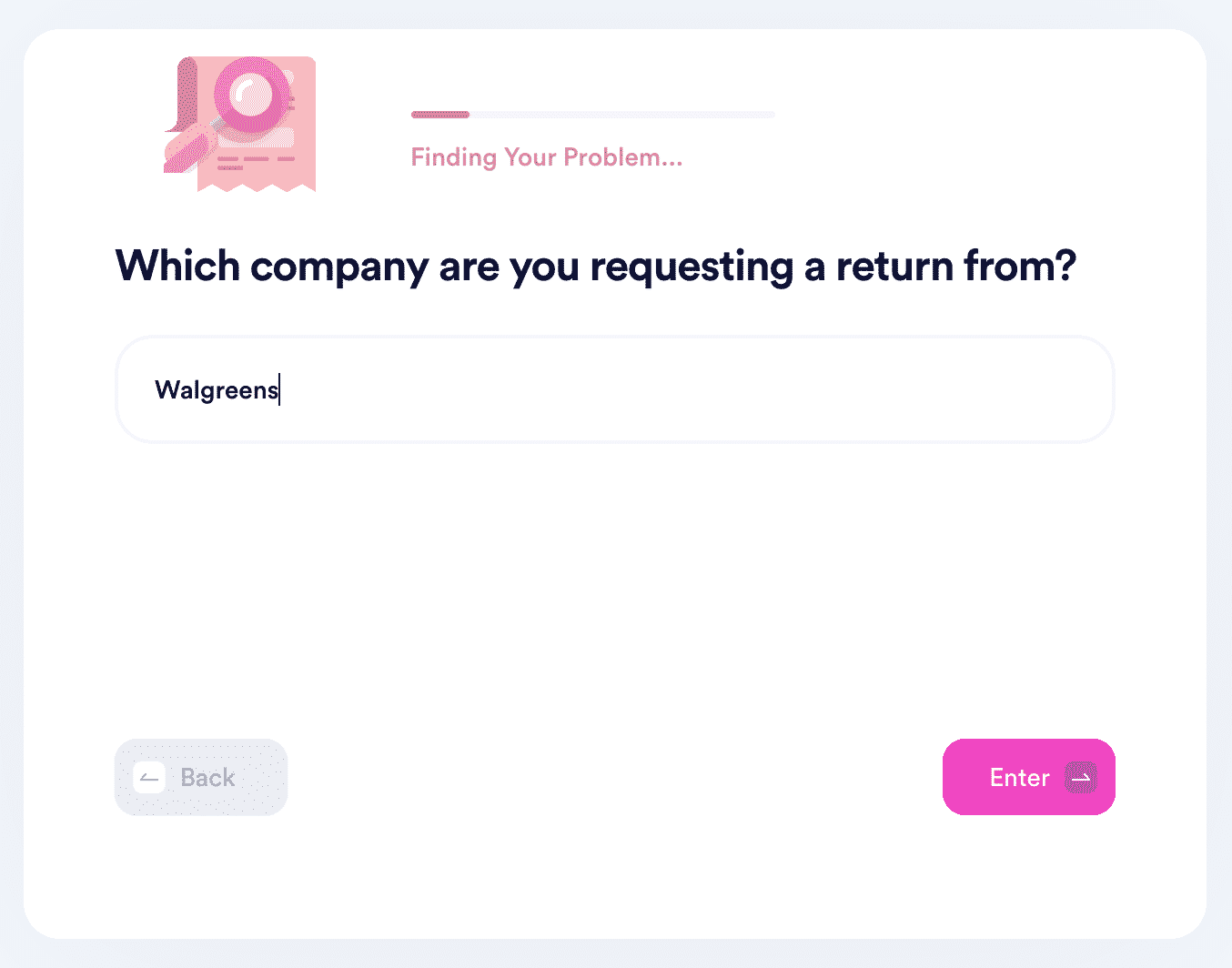 Wasted Your Money on a Non-Returnable Purchase? There Are Other Methods To Earn It!
Don't feel down if the item you got isn't returnable—DoNotPay has many more tricks up its sleeve that will help you earn some money!
From helping you enter sweepstakes, decrease your property taxes, and lower your utility bills to assisting you in earning off email or text spammers and robocalls, waiving your college application fees, submitting a college financial aid appeal letter, and getting a refund from any company or airline, we can do it all!
DoNotPay Is Always at Your Disposal
Our app's mission is to take everyday admin and legal tasks off your plate so you don't have to waste any of your precious time. If you want to appeal your parking tickets, draw up a legal document, get any agreement notarized, get a tourist visa, keep a sex offender at bay, mail anything without waiting in line, or get in touch with a loved one in prison, DoNotPay will resolve any of these with ease.
Too busy to track your memberships? You don't need to worry about canceling your free trial on time before it turns into a paid subscription if you use our virtual credit card.
With DoNotPay, you can tackle any otherwise annoying chore stress-free.