Learn To Use the ASUS Return Policy to Your Advantage
Despite ASUS' impeccable reputation, some of its devices don't work as advertised. If you got one that doesn't get the job done, we will show you how to make good use of the ASUS return policy and send it back in a few simple steps. DoNotPay can pick up the slack and send a return request in your stead if you don't feel like going through the trouble!
ASUS Return Policy Explained
If you wish to return ASUS products for any reason, you have 30 days from the order date to ship them back. The following exceptions apply:
Software, driver disc, or damaged items are ineligible for return
Warranty card returns must be initiated in less than 14 days from purchase, while cards with the code scratched can't qualify for a return
Items received after the 30-day return window won't be accepted, and your refund request will be declined. If you're returning non-defective items or if the product is opened or missing any of the original accessories it came with, ASUS will charge a 15% restocking fee.
You're responsible for all return shipping fees unless you're returning items that are:
Defective
Dead on arrival
Damaged due to the carrier's fault
Missing accessories
If you received a different product from the one you ordered, ASUS will take care of the return shipping costs.
In case the 30-day return window has passed and your product is not working properly, you can make good use of the ASUS warranty.
How To Initiate a Return to ASUS
ASUS doesn't offer in-store returns, so you have to mail your item to the ASUS warehouse. To do so, you'll need to request an RMA (Return Merchandise Authorization) number by:
Logging in to your account as a member
Calling ASUS customer service
Asking for help via live chat
Member Returns
If you placed your order as an ASUS member, you can generate the RMA number by following these steps:
Log in to your account
Navigate to Order Details
Select the item(s) you wish to return
Submit your request
The system will provide you with further return instructions along with an RMA number and shipping label. Once you're done, print the shipping label, attach it to the parcel, and take it to the nearest FedEx location.
Initiating a Return Over the Phone or Live Chat
If you're not a member or you just don't feel like going through all the steps to initiate a return through your account, you can call ASUS customer service at 1-855-755-2787 and let them know that you need help submitting your request. You can reach them over the phone every weekday from 6 a.m. to 6 p.m. PST.
Another way to start the return process is by contacting ASUS via live chat. All you have to do is write a message, let the company know you want to return your product, and provide it with the order number. A representative will guide you from there. ASUS live chat agents are available Monday to Friday from 6 a.m. to 9 p.m. PST and Saturday to Sunday from 6 a.m. to 5 p.m. PST.
Here are all the ways you can begin the return process:
| Can I Initiate a Return Via: | Yes/No |
| --- | --- |
| DoNotPay | Yes |
| Website | Yes |
| In store | No |
| Email | No |
| Phone | Yes |
ASUS Returns Made Simple With DoNotPay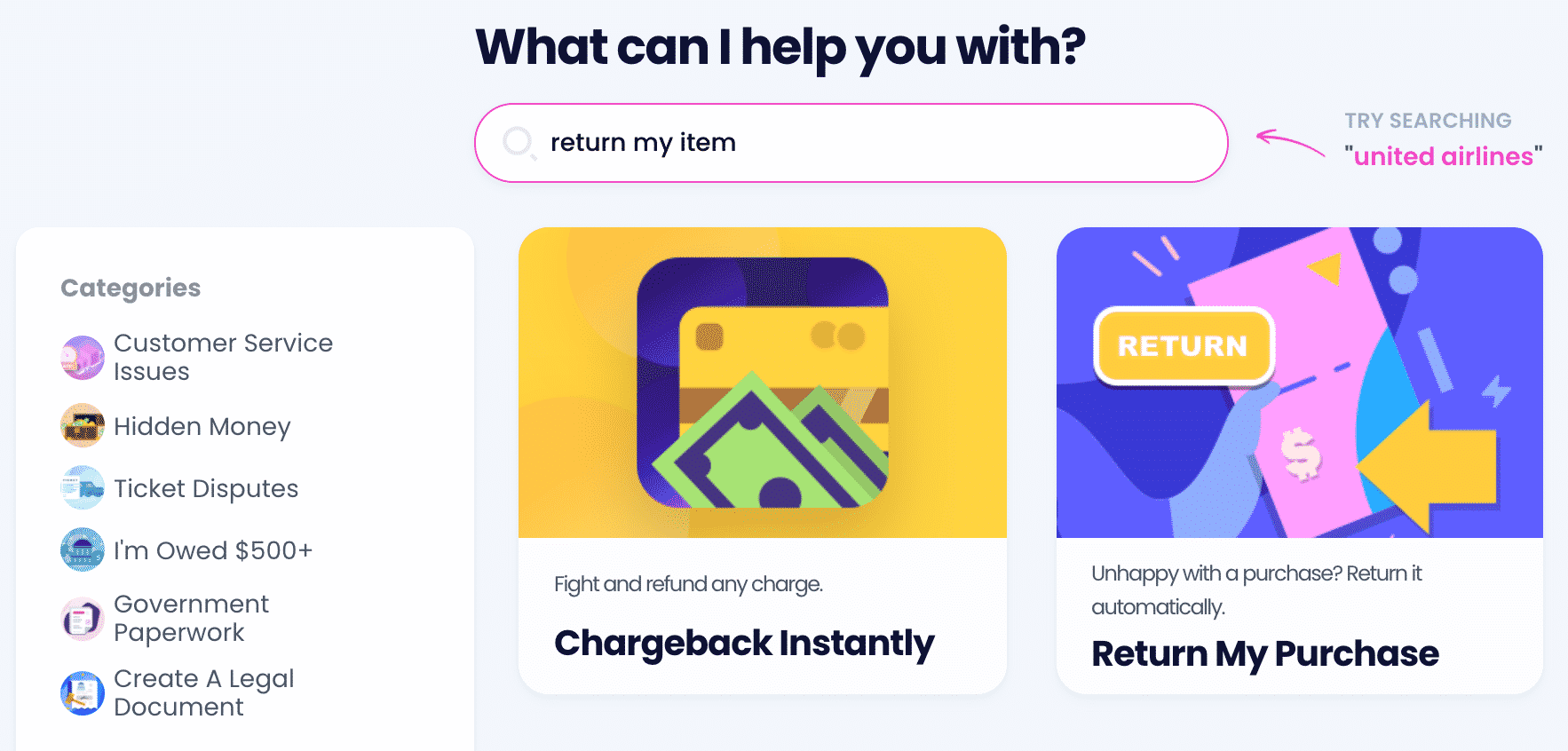 With little to no information regarding returns on the ASUS website, it's easy to get confused and give up on your refund. Not when you have DoNotPay on your side! Our AI-powered app will handle the return process for you and get you a refund or an exchange promptly. All you have to do is:
Locate our Item Return Request feature
Answer a few questions
Click on Submit
Within minutes, we will draft and send a return request to ASUS informing the company of your decision to exchange your product or get a refund. By setting a deadline for the merchant, we guarantee that your request will get processed promptly. We will also provide you with a return shipping label so you can send the parcel back!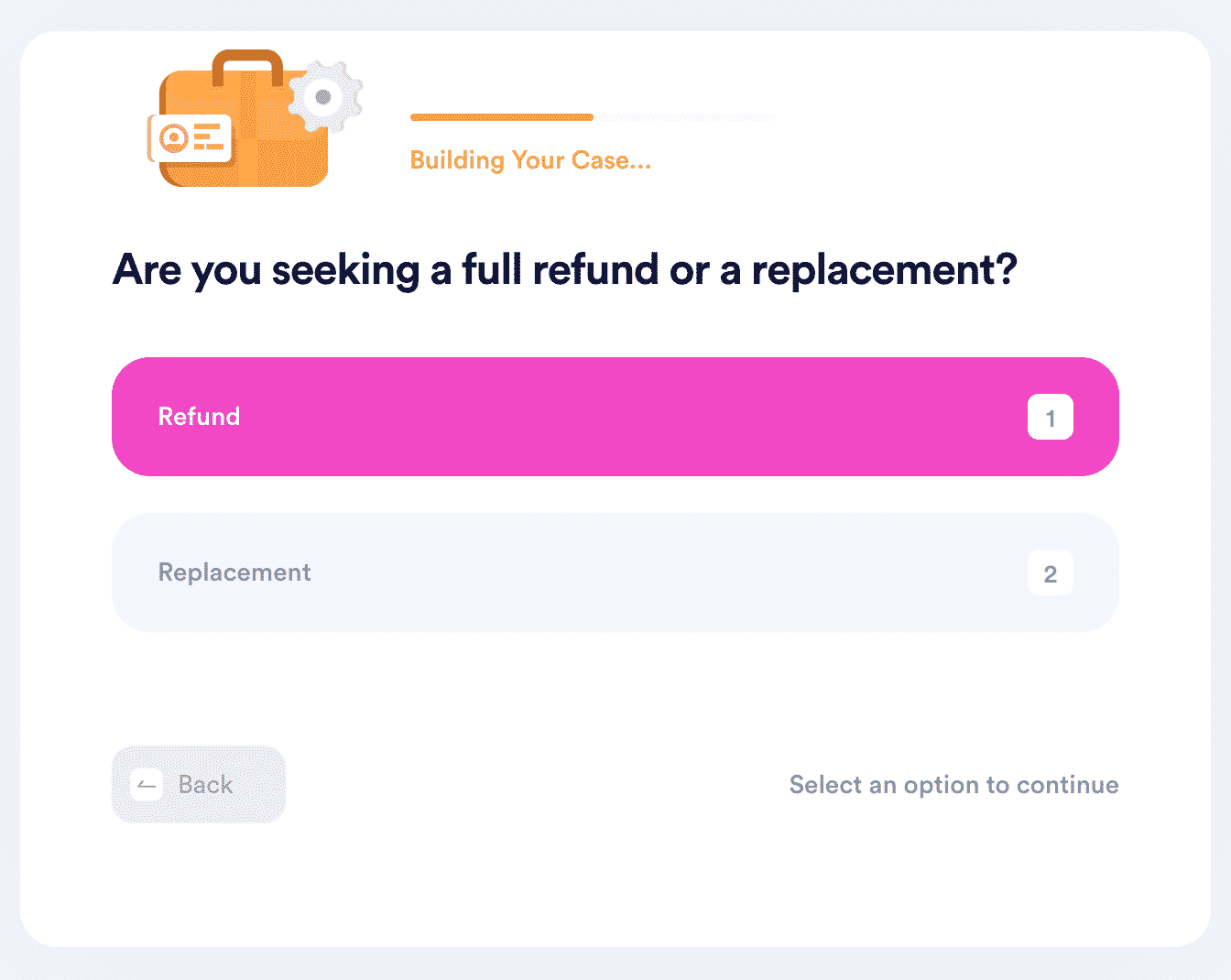 To learn how to return items to other popular retailers without breaking a sweat, check out our guides.
Is ASUS Taking Too Long To Issue You a Refund? Let DoNotPay Demand It in Your Stead
Even if you managed to send the unwanted items back to ASUS on your own, the worst is yet to come—the company may refuse to give you your money back. To get a refund without having to contact the customer service agents a hundred times, rely on DoNotPay. Here's what you need to do:
Find our File a Chargeback product
Click on Get Protected
Answer several questions
Once you click on Sign and Submit, we will take it from there and notify you about your refund status.
Don't Tolerate Corporate Attitudes—Request What's Rightfully Yours
DoNotPay is known for being the champion of customer advocacy because we help our users claim what's rightfully theirs, and we don't tolerate big corporations taking people's hard-earned money.
No matter if you want to request a refund, insurance, extended warranty, or compensation from airlines, our AI-powered lawyer will fight for your right.
If you feel like you're overpaying certain subscription services, we can help you cancel them. Also, if you want to test a subscription before you start paying money for it, don't connect your credit card to the free trial page! You can sign up for free trials using our virtual credit card. That way, companies won't be able to charge you auto-renewal fees because the card has no funds.
Wait! DoNotPay Can Help You in Many Other Ways
DoNotPay has many different areas of expertise—helping you return your faulty items is only one of them.
Check out how our app can assist you in: