Explore the PartsGeek Return Policy and Get the Parts You Need
Obtaining the right auto parts is important. With PartsGeek, you can get individual parts and accessories at the touch of a button, but what do you do if the wrong part arrives?
DoNotPay has the solution—a digital tool that takes the stress out of the return process.
Forget the complex procedures and focus on getting back on the road. Our easily digestible PartsGeek return policy guide will guide you through the process with ease.
DoNotPay also assists with a variety of other brand product returns, including:
Getting To Know the PartsGeek Return Policy
The PartsGeek return policy offers returns on all parts and cores within 30 days of the original sale. When you file a return request, you will receive an RMA (Return Merchandise Authorization). You should receive your RMA number within one or two days of submission.
The RMA must be included in your return, or the part will be deemed non-returnable. There are no exceptions to this rule.
If your RMA is not delivered to you by email within five business days, contact PartsGeek for further instruction.
Other rules associated with the PartsGeek return policy include:
Keep all RMA numbers organized to accompanying parts as each return has a unique RMA number
Return individual parts to the correct location as parts are returned to different PartsGeek locations
Leave all electrical parts unopened and unused as items with broken seals may not be returned
You can minimize the stress and cost of the PartsGeek return policy by !
Shipping PartsGeek Parts Back
Returning unwanted auto parts to PartsGeek requires you to pay for and ship all returning parts and cores. PartsGeek does not reimburse return costs, no matter the issue with the part or the party at fault.
The PartsGeek return policy suggests you should follow these steps to ship your items back:
Select Manage my Order from the PartsGeek website
Enter your email address or order number in the space provided
Check your email for your RMA number
Ensure all the parts being returned are included in the RMA email
Choose a shipper with tracking access
Fill out the return shipping address with the correct RMA number
Prepay for freight return
Send the unwanted item back to PartsGeek
As you prepare your product for return, do not write on product packaging—it will be deemed unfit for resale.
If you are unable to access the Manage my Order page, you can submit a support ticket to obtain your RMA number.
PartsGeek Return Policy Timeframe
If you do not receive the RMA in the allotted time, it could mean a delay in your return process.
The PartsGeek return policy also varies in timing based on the shipping method you choose. As PartsGeek leaves the return process at the discretion of the customer, you may decide to spend more on expedited shipping or save money on a basic shipping rate.
You can expect a refund within 14 days of your returned item being received at the PartsGeek warehouse.
All refunds are supplied in the manner paid. Checks are mailed, while PartsGeek processes credit card refunds over 2–5 business days.
When your refund is processed, PartsGeek sends an email confirmation.
Ways To Process a Return Through the PartsGeek Return Policy
Some companies—like Target, Macy's, Sephora, and Walmart—offer a variety of return initiation methods, but those of PartsGeek are limited.
| Can You Initiate a PartsGeek Item Return Via: | Yes/No |
| --- | --- |
| DoNotPay | Yes |
| Website | Yes |
| By phone | No |
| In person | No |
| Snail mail | No |
Forget the Messy Returns and Try DoNotPay!
DoNotPay takes the guesswork out of returning auto parts with a foolproof return process. Rather than searching for the correct forms, RMA numbers, and appropriate return documents, DoNotPay streamlines your efforts through four simple steps:
and log in
Select Item Return Request
Enter information regarding your auto parts
Submit the return request
DoNotPay handles all the heavy lifting from here, generating a bespoke return request with PartsGeek, including a seller deadline to speed the process along. You will also receive a free return label for easy, mess-free return shipping.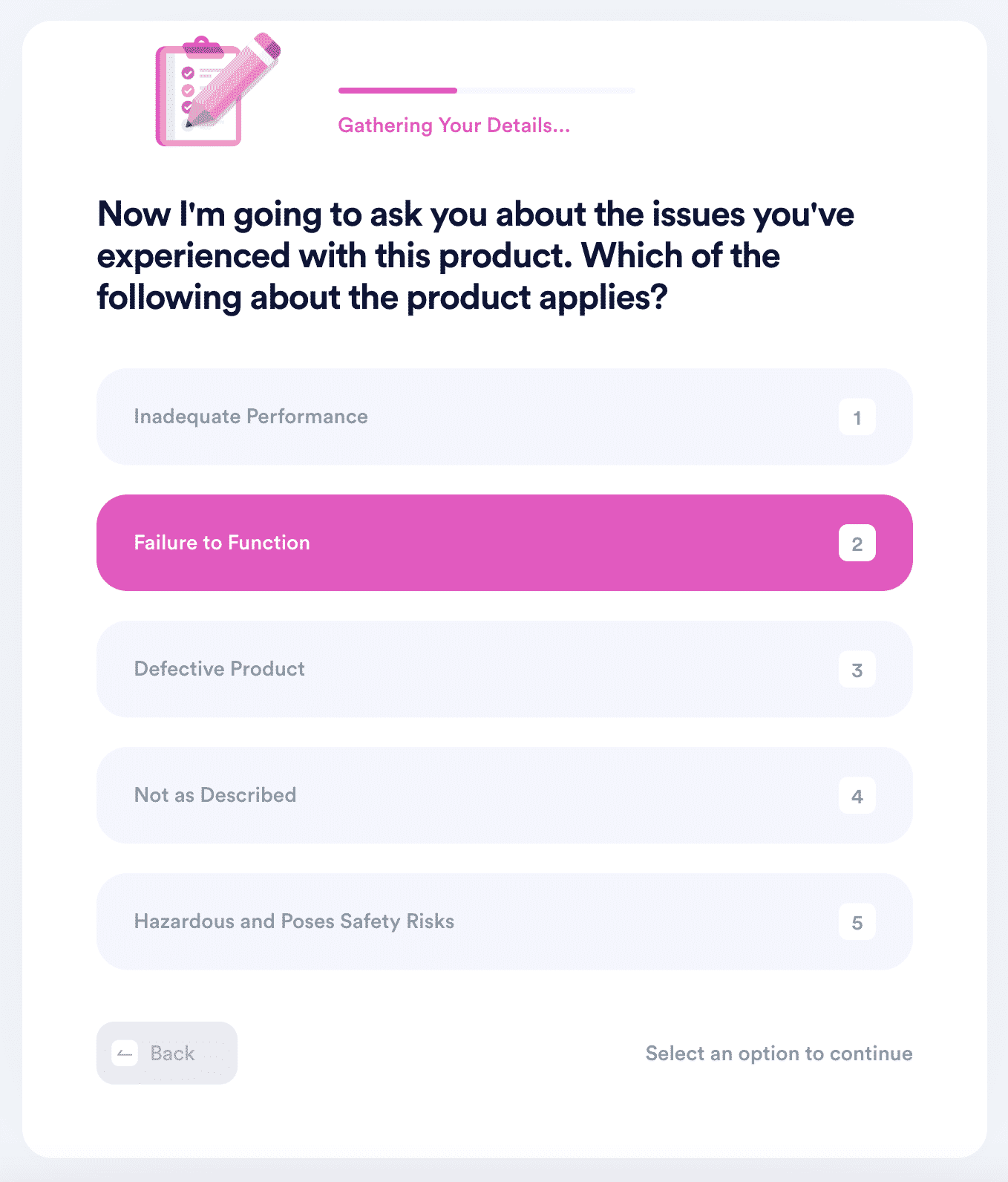 The information you enter in the question fields of your item return request will let PartsGeek know what's wrong with the product you received. This eliminates much of the back and forth required during your return.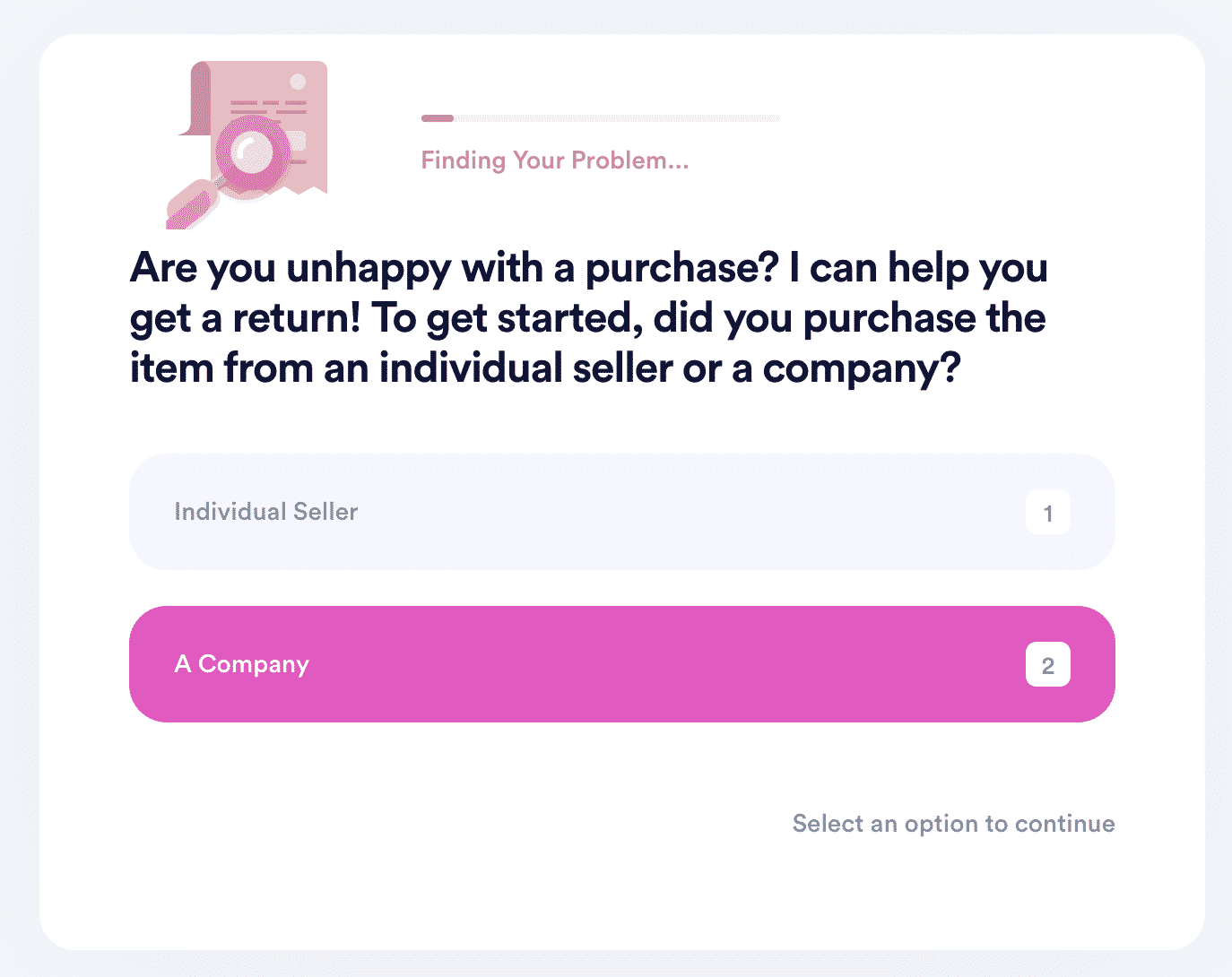 DoNotPay is experienced in navigating all types of returns, assisting customers with the Adidas, Office Depot, ASUS, and even AutoZone return policies. If an item needs to go back, DoNotPay can help.
DoNotPay Is a Master at Getting What's Rightfully Yours
Are you dealing with a company that refuses to approve your return? Once we submit a refund request in your stead, we can also prepare all the paperwork you need to sue the merchant in small claims court and win your case.
Need a legal document for the lawsuit? Draw it up with our handy tool. Want to get any document notarized and fax it to someone? We have products that can do that for you as well.
Has an airline rescheduled your flight, or is your package damaged or missing? Demand compensation with DoNotPay!
Do you believe that you may have some unclaimed assets? Count on us to find and get them for you.
It Doesn't End There!
Use DoNotPay whenever you need to tackle any sort of mundane task. If you're sick of wasting your time in long phone queues or the ones at the DMV, we'll help you skip them. Do you want to apply for a college fee waiver or clinical trial? Are you looking to enter a sweepstake or get a passport photo or a tourist visa? We'll do it all in your stead!
If you want to send a letter of warning to a persistent harasser or loud neighbor or want to get compensation for victims of crime, workplace discrimination, or robocalls, let us know and we'll tackle the issue momentarily.