Understanding the Stein Mart Return Policy After Acquisition
Retail Ecommerce Ventures acquired Stein Mart in early 2021, which resulted in Stein Mart transitioning to an online-only model. This change means that the company now accepts returns by mail only.
We will explain everything about the Stein Mart return policy after the acquisition. If you need more help, we'll show you how to use our powerful AI product to make the return process faster and easier so that you can get your money back more quickly.
Unveiling the Stein Mart Return Policy
Stein Mart allows 30 days after the purchase for customers to return their items. Only original purchases can be returned. You can return your order to Stein Mart only if the items:
Are unworn and unwashed
Still have the original tags
Are returned in the original packaging
How To Return Stein Mart Items via Mail
To return your items, you have to follow the steps outlined here:
Contact Stein Mart's Customer Support Team at 1-800-447-8346 or support@steinmart.com
Print out the shipping label you will receive from the support representatives
Affix it to the parcel containing the items you wish to return
Ship the parcel back via any of your local carriers
Keep your tracking number and postage proof since Stein Mart is not liable for any returned items until they reach the warehouse.
How Long Does It Take To Get a Refund From Stein Mart?
Stein Mart does not issue refunds to your credit card—except in rare cases. All refunds come as online store credit, which you can use for any kind of purchase. This refund does not include the original shipping charges.
The Stein Mart return policy quotes 5–7 working days for processing returns and another 5–7 working days for issuing refunds. Due to the complications brought on by the COVID-19 pandemic, the processing may take 14–21 days.
Are All Stein Mart Purchases Returnable?
Some items on Stein Mart's website are non-returnable. These include:
Clearance items
Personalized purchases
Undergarments and swimsuits
Face masks
Already assembled items
Luxury vintage products
Products labeled "non-returnable" on the product page
Discounted bundle sales—unless all the items in the bundle are returned
Pre-owned items
Speed Up the Return Process With DoNotPay's AI Solution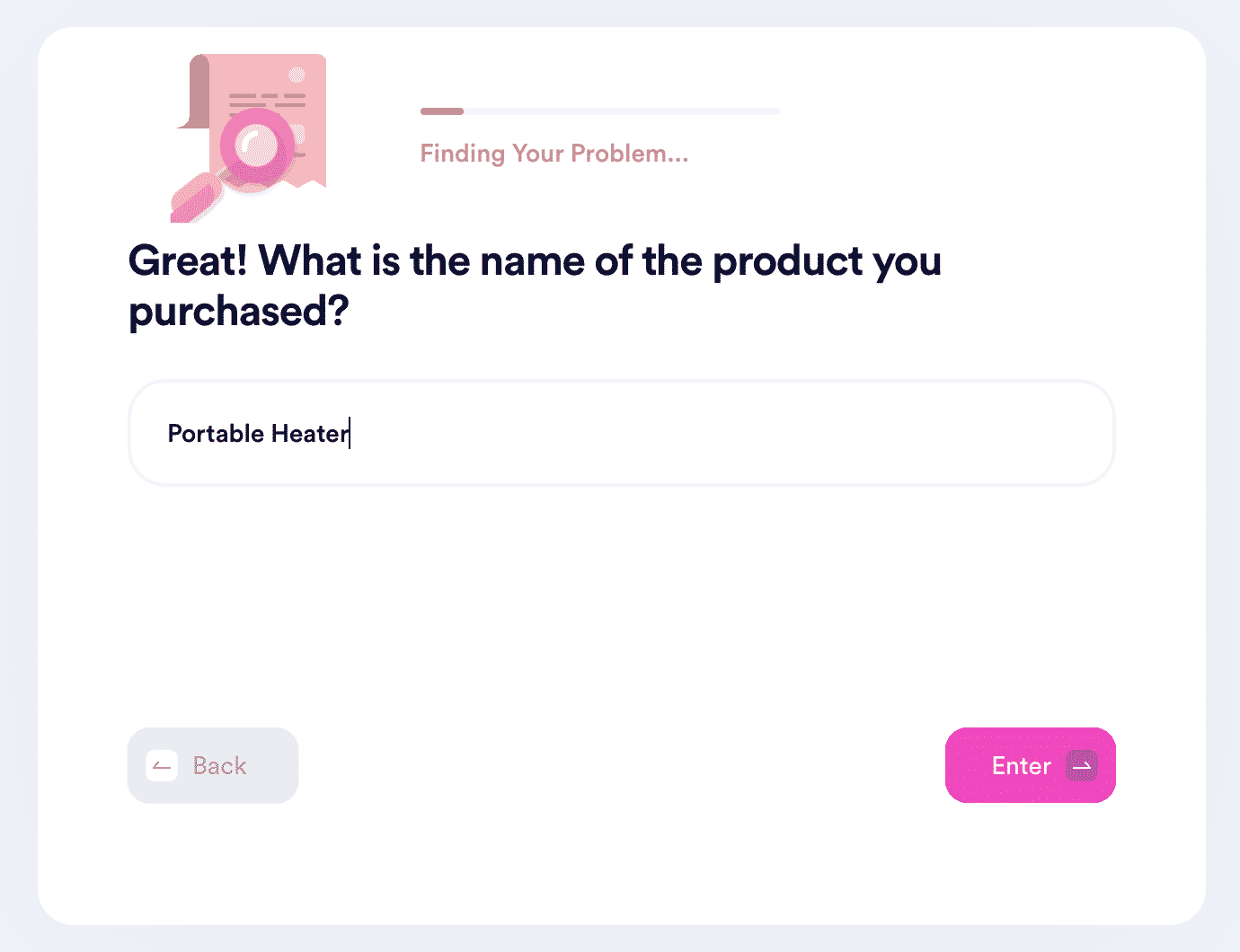 Sometimes a company's return process can be cumbersome and take too much time. DoNotPay's AI-powered tool is designed to urge the merchant to process your return as quickly as possible. All you have to do is:
Sign in to your DoNotPay account using a web browser
Look for the Return My Purchase product
Answer a few questions about your purchase and upload photos if applicable
Submit the request
That's all you have to do. DoNotPay will craft a request return letter and send it to any merchant of your choice on your behalf. This letter will give the merchant all the necessary details of your return and specify a deadline for the merchant to process your return. DoNotPay also gives you a free return label, so you don't have to pay for shipping.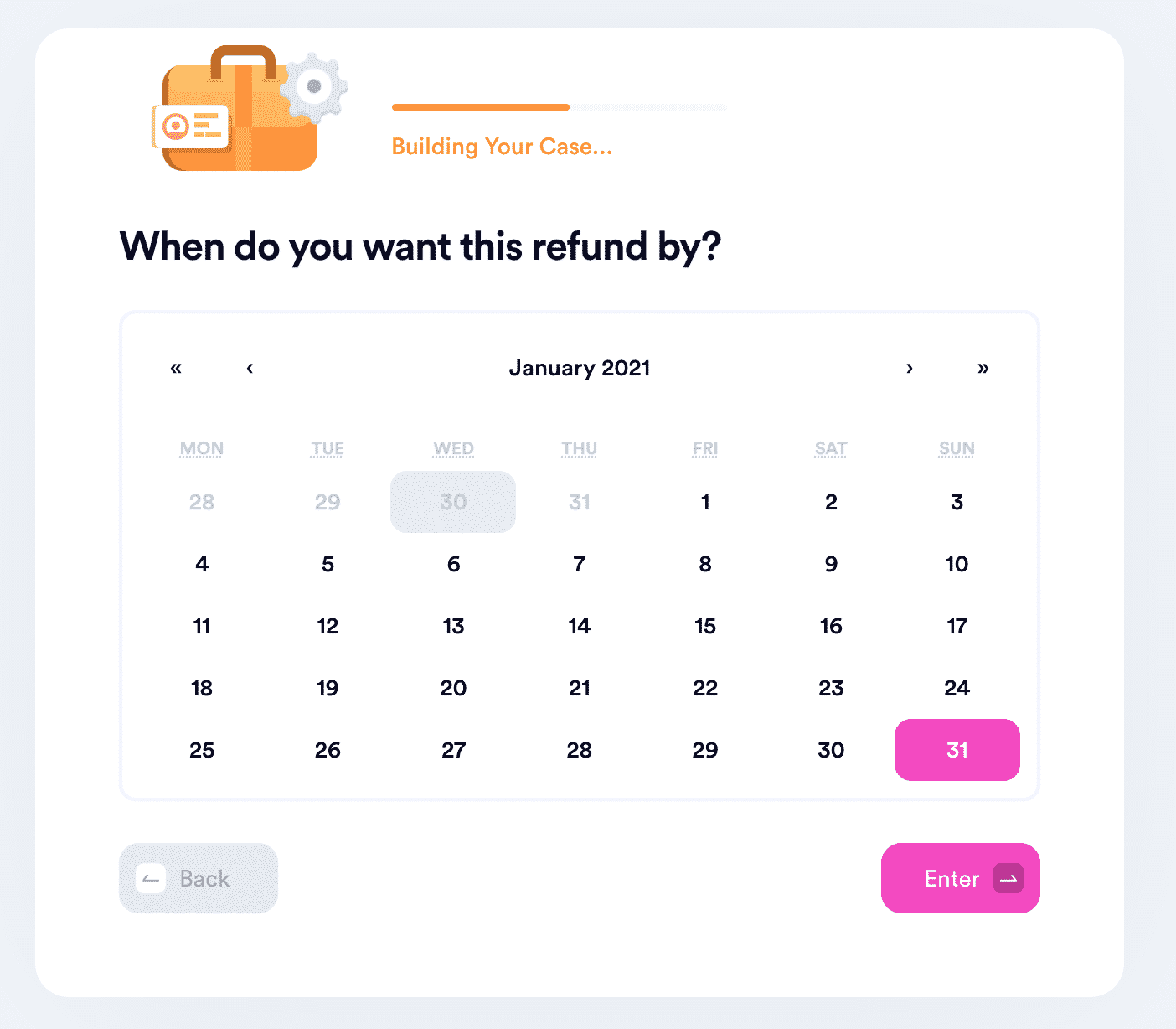 We can help you return disappointing purchases to companies across the country. This table contains guides on the return policies of some of the brands we can help you with:
Has Stein Mart Mistreated You? DoNotPay Can Help You Sue the Company in Small Claims Court
DoNotPay dispels the need for lawyers when it comes to consumer rights issues. We have many AI-powered products that can help you protect your consumer rights when going up against big brand names. This includes suing them in small claims court if you feel hard done by.
If you've been treated wrongly by Stein Mart or any other brand, DoNotPay can help with the following:
Crafting a demand letter
Completing all necessary court forms
Gathering all the necessary paperwork
Filling a complaint
Drafting a script for you to use in court for the best results
Say No to Bad Purchases—DoNotPay Will Help You Get Back What's Rightfully Yours
Have you finally returned that damaged item thanks to DoNotPay's nifty product? Our app's capabilities don't stop there—we can assist you in doing so much more!
Do you believe you have some missing money? Use the world's first robot lawyer before the government claims your assets! Are you feeling lucky and want to enter sweepstakes without purchasing anything? DoNotPay will sign you up for them automatically! Looking for ways to save on property taxes or utility bills? We'll show you the way. Don't want to get charged for free trials that auto-renew into paid subscriptions? We'll help you cancel them on time.
No matter the issue you're facing, DoNotPay is here to resolve it in a split second.
Need Help With Anything Else? Your Robot Lawyer Will Provide!
Aside from sending return request letters to a myriad of companies in your stead, we can also help you get refunds from airlines, earn off robocalls, appeal parking tickets, protect your intellectual property, claim insurance and warranty, and so much more!
Are you dealing with rude neighbors or mean coworkers that discriminate against you? DoNotPay will help you fight for your rights!