Ann Taylor Return Policy—A Perfectly Tailored Guide To Help With Returns
Returning items to a fashion company can be exhausting, whether it's Ann Taylor, Sephora, or Macy's. All these companies receive too many orders, so it's no surprise that some of them end up being wrong or unsatisfactory.
Read about the Ann Taylor return policy in our guide, and you'll stand a better chance at making a return. For the best chance possible, and let us send the company a customized return request letter for you!
The Ann Taylor Return Policy Clarified
Ann Taylor accepts returns of defective, unworn, and unwashed merchandise in person and by mail. You must return the items with proof of purchase within 30 days to get a refund. The return processing takes up to 30 days from the date the company received the item.
You can only exchange an item or get store credit for it if you:
Return it after 30 days
Don't have a valid proof of purchase
Return a gift
Ann Taylor does not accept returns of final sale items, which have the .77 or .88 cent price ending. You can get a one-time price adjustment on full-price store purchases within seven days of purchase.
Ann Taylor Online Return Policy Explained in Detail
You can return your online purchase to any Ann Taylor location. The company's subsidiaries, LOFT, LOFT Outlet, and Ann Taylor Factory stores, do not accept online purchase returns.
If you return a gift that was ordered online, you'll receive an online gift certificate in the original amount spent. You need to provide your email address, and Ann Taylor support will email the certificate to you.
You can't get price adjustments for items bought online.
How To Start the Return Process With Ann Taylor
Before you can return Ann Taylor products to the company, you need to start the return process using one of the following methods:
| | |
| --- | --- |
| Can You Request a Return Via | Yes/No |
| Phone | Yes |
| Online Chat | Yes |
| Email | No |
| Website | Yes |
| DoNotPay | Yes |
Start the Return Process by Phone
If you want to call Ann Taylor customer support, know that it is available 24/7 at 1-800-342-5266. You should ask the customer service representative for return instructions.
Start the Return Process via Online Chat
You can reach the Ann Taylor customer service agents via the Online Chat page. They work from 9 a.m. to 9 p.m. EST on weekends and from 8 a.m. to 11 p.m during workdays. Opting for this method to initiate a return only requires you to input your name and email address and press the Start Chatting Now button.
Start the Return Process on the Website
If you don't want to rely on customer service for your returns, you can fill out an online form on the official Ann Taylor website by following the instructions below:
Open the Ann Taylor Returns page
Enter your order number and email address used for the order
Click on Next
Follow the on-screen instructions to retrieve the return label and the return invoice
How To Return Items to Ann Taylor
You can return the products to the company either in-store or by mail. Follow the instructions from the table below for the respective return methods:
Store Returns
Regular Mail Returns
Mail Returns With the Pre-Paid Label
To find nearby Ann Taylor stores, refer to the official Store Locator tool for assistance.

Bring the items you want to return, with the receipt, to the nearest Ann Taylor shop. A shop assistant will attend to your return demand

If you want to ship the package without the return label, pay the postage and send it to:

Ann Taylor Online Store

1901 East State Road 240

Greencastle, IN 46135

Print the return label, pack the items in original condition, and add the printed return invoice. Attach the shipping label to the package and ship it via your preferred carrier.
Let DoNotPay Help You Make a Return to Ann Taylor Painlessly
Making a return request can be exhausting. Why go through so much trouble when there is an easier method at your disposal? With DoNotPay, you can initiate a return request in three easy steps:
Select the Item Return Request feature
Disclose the info about your purchase and add photo proof if you have it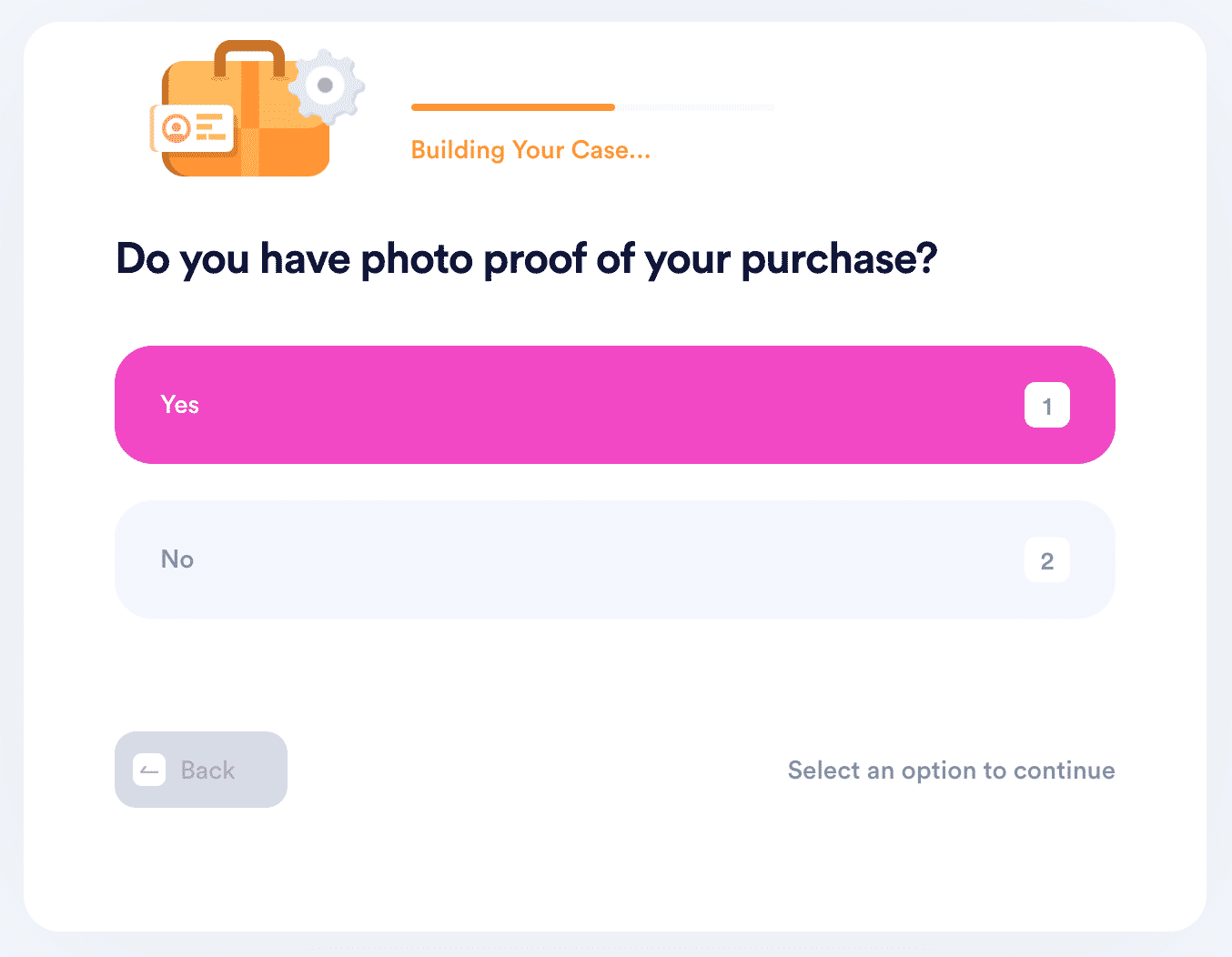 We'll take it from there! Thanks to the info you provide, we can create and send a customized return request letter to Ann Taylor. The letter will include a deadline for the return and inform the company of your demands—e.g., whether you want a refund or a replacement. We will also give you a return label for free shipping, while the Ann Taylor label only saves you $7.95.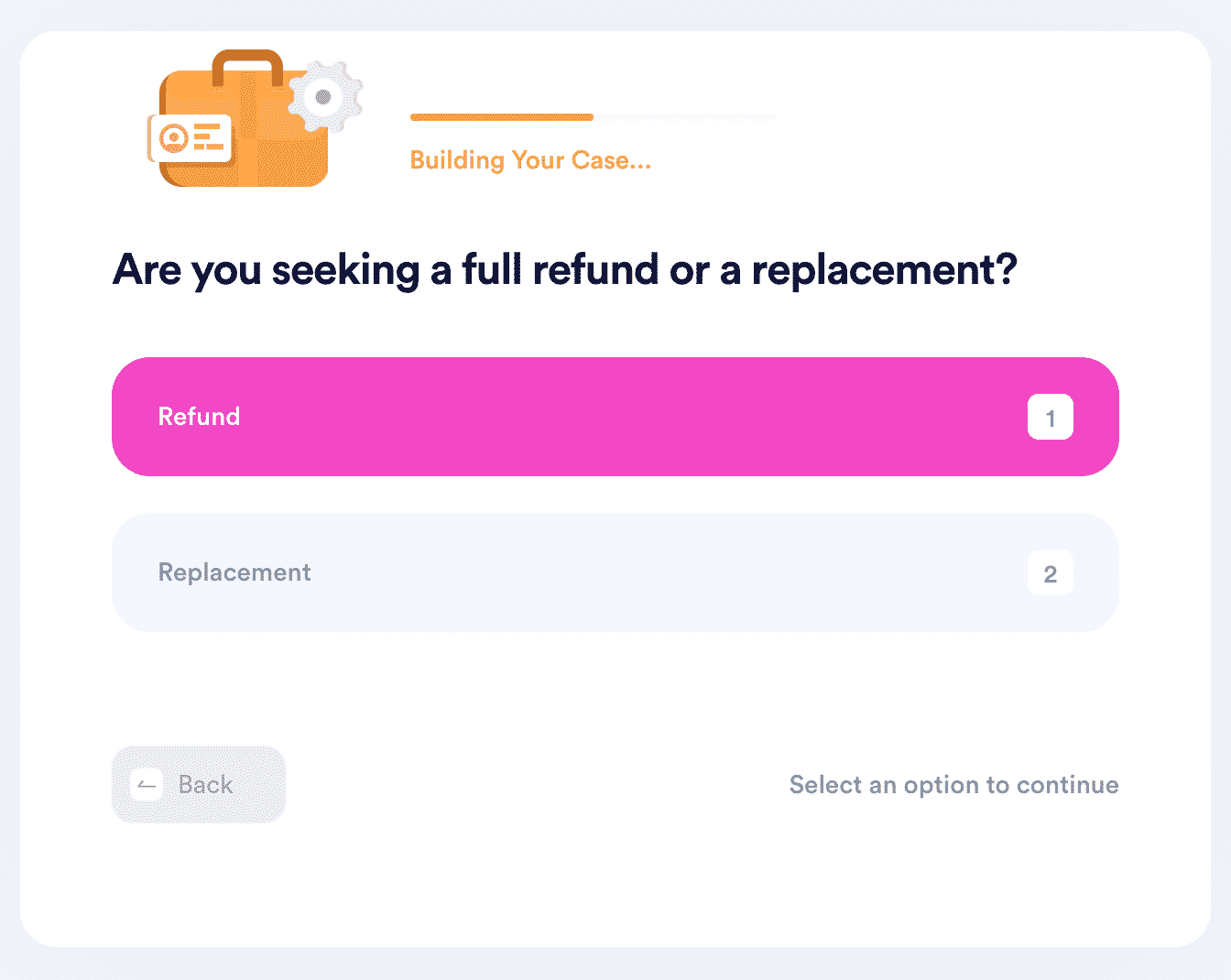 Are other retailers causing you trouble with their complicated return policies? We can help with returning items to them as well. You can read some of our other return guides for many companies, such as:
Is the Company Refusing To Cooperate? We Can Help You Get Justice
Is whatever company you're dealing with not being a good sport? Don't worry—the world's first robot lawyer is here to help. Our app can prepare all the necessary paperwork and provide guidance if you want to sue the company in small claims court.
We can also help you draw up any legal document you need for the case, have it notarized by an online notary, and fax it to anyone in a matter of minutes.
If you want to get revenge on tiresome robocalls or report a stalker or harasser, you can rely on DoNotPay.
Anything Else We Can Do for You?
Our AI-powered app is versatile—you can complete many tiresome, daunting tasks that you wouldn't want to tackle by yourself. You can use DoNotPay to:
If you want to get access to all of our nifty products, sign up now!