American Eagle Return Policy—Be Bold Like an Eagle and Request a Return!
Are your new jeans a bad fit or stained? You can try returning them, but it's often hard to exchange products or get a refund because of poor or confusing return policies.
Our detailed guide is here to help you better understand the American Eagle return policy. We will gladly help you initiate a return request without the hassle of contacting American Eagle customer service and convincing them your claim is valid.
Dissecting the American Eagle Return Policy
To return an American Eagle product, you should get familiar with the company's return policy. Here's what you need to know:
You must have proof of purchase—an invoice, receipt, order email, order history, or a printed order confirmation
You can get store credit in the form of an American Eagle gift card in the item's current value or exchange the product for something else in case you lost your proof of purchase
Sale or clearance items, damaged items, items without original tags, and items you don't like can be returned, as well as products from Aerie and Tailgate
In-store returns are also available for online purchases on the American Eagle website or app, even when items are labeled as online only
It's best to return the purchased items in their original packaging
There is no American Eagle return policy time limit, which means you can return your items at any time for a:
Full refund
Credit card chargeback
Item exchange
AE Return Policy Restrictions You Should Keep in Mind
Before starting the returns process, know that American Eagle has a few restrictions regarding returned items:
Items may not be returned if the company is suspicious of abuse or fraud
You cannot return bikini bottoms or swimsuits that have their hygienic liner removed
Shipped items can be returned, but the shipping fee is non-refundable
Item exchange is only even in price if the item you are returning is the same color and style as the new item you're getting
Item exchanges through the mail are currently unavailable. You need to return the items and make a new order instead
How To Return an American Eagle Product
The available methods for requesting American Eagle product returns are:
Visiting a store
Making the request online and mailing your item
Returning Items to American Eagle Stores
If you want to return an item to an American Eagle store, you need to follow these steps:
Navigate to the American Eagle Store Locations page
Give access to your location or enter your ZIP code to find the nearest store
Go to the store and ask any shop representative for assistance with returning a product
Returning Items via Mail
You can start an online return request by following the instructions:
Open the Returns page on the American Eagle website
Enter your Order Number and Email address in the given fields
Press Next
Follow the on-screen instructions to get the details of your mail-in return
| | |
| --- | --- |
| Can I Request an American Eagle Return Via | Yes/No |
| Email | No |
| Phone | No |
| Website | Yes |
| In Person | Yes |
| DoNotPay | Yes |
American Eagle Return Policy—How Long Does It Take To Approve a Request?
If you visit an American Eagle store to request a return, it will be handled immediately, but it may take a while if you make an online request for a mail return. Mail returns take between two and four weeks, but the process will last an additional five to seven days if you want a refund.
Returning any product is faster and easier if you —we'll add a special demand to the return request that speeds up the entire process.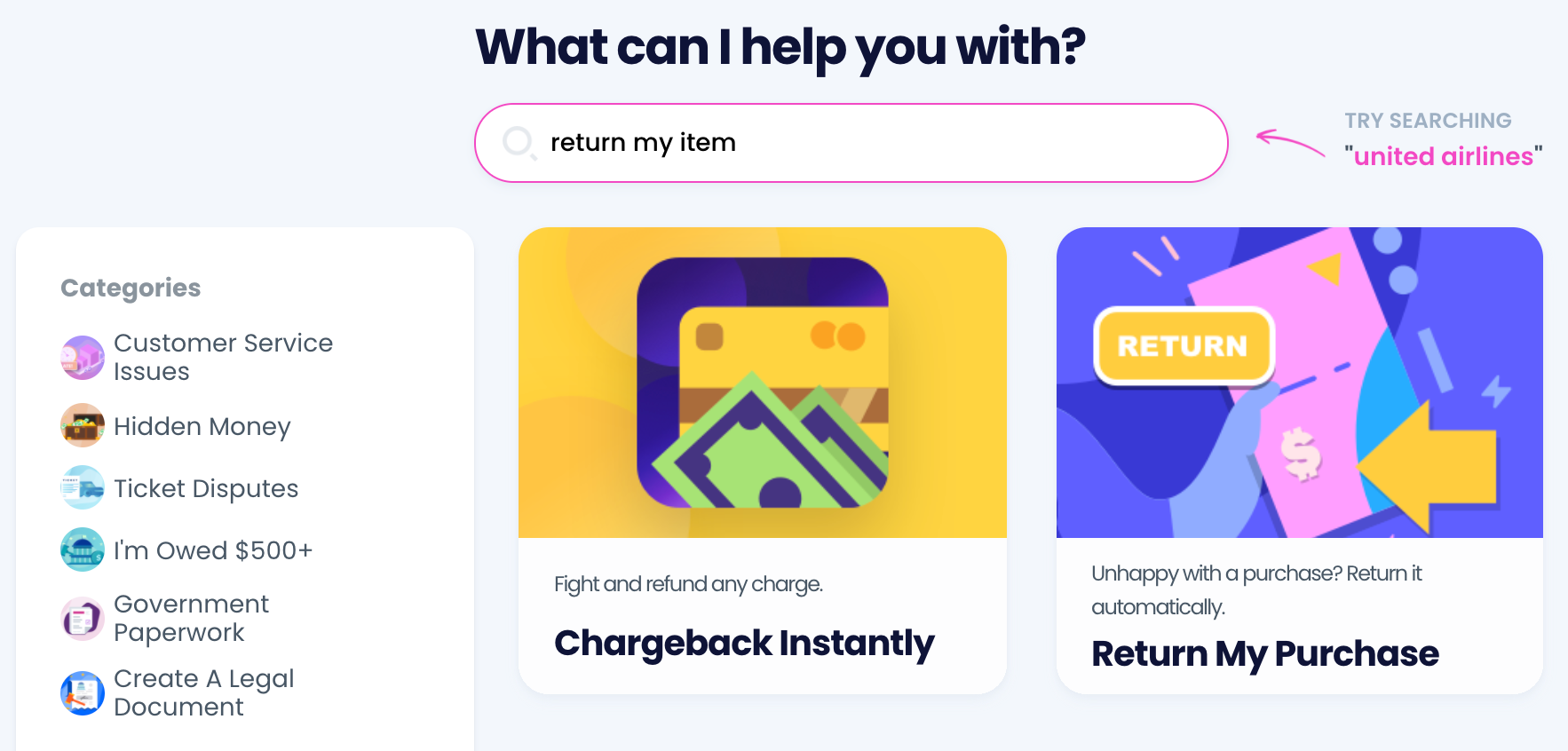 Return an American Eagle Product With Ease Using DoNotPay!
Returning products is draining if you're doing it yourself. It takes time, and there's a lot of unnecessary waiting. DoNotPay can help you out and expedite the return significantly!
Here's how to request an American Eagle return with our app:
Click on the Item Return Request feature
Provide the necessary purchase details and the reason for returning the products

Not only will the merchant be warned with a deadline to emphasize the urgency of your request, but you will also get a return label to ship the return package without extra charges.
If you need help requesting returns from other companies, we have you covered! Check out some of the companies we can help you with in the table below:
DoNotPay Can Help You Request a Refund for Your Items
Returning items can be exhausting, but getting a refund can be even more challenging. DoNotPay can help you get a refund fast by following these instructions:
Open our website
Select the File a Chargeback product
Click on the Get Protected option
Answer our questions and hit Sign and Submit
Getting Rid of Bureaucratic Procedures Has Never Been Easier
The process of composing a return request letter is tiring, which is why you should turn to DoNotPay for help. Our app will assist you if you want to avoid similar bureaucratic hassles, such as:
Sign up for DoNotPay to utilize all of our nifty products!
Want To Save Money and Avoid Bad Purchases? Look No Further!
Aside from helping you send a return request to any company, DoNotPay can also assist you in getting a refund in a flash! We can also help you request a refund for any late, missing, or damaged delivery.
Do you want to stop wasting your money on useless services? Our app can help you cancel them and provide you with a virtual credit card that terminates free trials before companies get to charge you!
If you want to discover some forgotten assets you may have, we can help you find them in just a couple of minutes. With DoNotPay, you can both save money and earn it!
Once you sign up, you can report text and email spammers, annoying robocalls, and real-life stalkers and harassers and earn off them. We can also help you sue any company or individual in small claims court if you feel like they did you dirty.