Master the Total Wine Return Policy With Our Simplified Guide
With more than 8,000 wines and 3,000 spirits in stock, it's unsurprising that Total Wine processes several returns.
Having trouble navigating the Total Wine return policy? DoNotPay has answers.
Whether you choose the wrong red or the rosé is spoiled, our app is here to facilitate an exchange or a refund.
now and return items to any retailer stress-free and in the blink of an eye!
Discovering the Total Wine and More Return Policy
The Total Wine return policy differs depending on state law. In California and Georgia—for example—Total Wine only accepts returned items that are spoiled or bought by accident. In Wisconsin, you can initiate a return only if what you bought is unsafe to drink. Alcohol may not be returned in these states for any other reason, leaving you in a lurch if you've changed your mind and want to try something different.
The Total Wine and More return policy also depends on the purchase method. With so many rules and restrictions, navigating a simple return is not so simple anymore.
To skip the confusion, use the DoNotPay app to return drinks in a flash!
No Step-by-Step Returns at Total Wine
It isn't just the multitude of rules that makes Total Wine's return policy tough to follow. Total Wine also leaves customers guessing with vague directions on how to process your return. Rather than offer step-by-step instructions, customers are told to return to a store or contact customer service. You need to get in touch with the support team if you placed your order online.
If you purchase your Total Wine products in store, you need to return them to that retail location.
The return policy also fails to mention the return timeframe. This leaves you wondering whether you need to return your Total Wine purchase immediately, within 30 days, or any other timeline.
Avoid unclear return instructions by opting for DoNotPay!
Ways To Initiate a Return With Total Wine
Unlike other companies—such as Walmart, Ulta, Costco, and eBay—Total Wine doesn't provide many methods for return initiation.
Wondering how to initiate your Total Wine return? Check out this table:
| Can You Initiate a Return to Total Wine Via | Yes/No |
| --- | --- |
| DoNotPay | Yes |
| In store | Yes |
| Online | No |
| Email | No |
| Phone | Yes |
Use DoNotPay To Beat the System
Returning alcoholic beverages is complex. Rather than spending time and energy arguing with Total Wine, let DoNotPay complete the return for you.
Our app offers so much more than assistance with returns. As the only robot lawyer recognized by the American Bar Association, DoNotPay helps with a variety of tedious admin and legal tasks.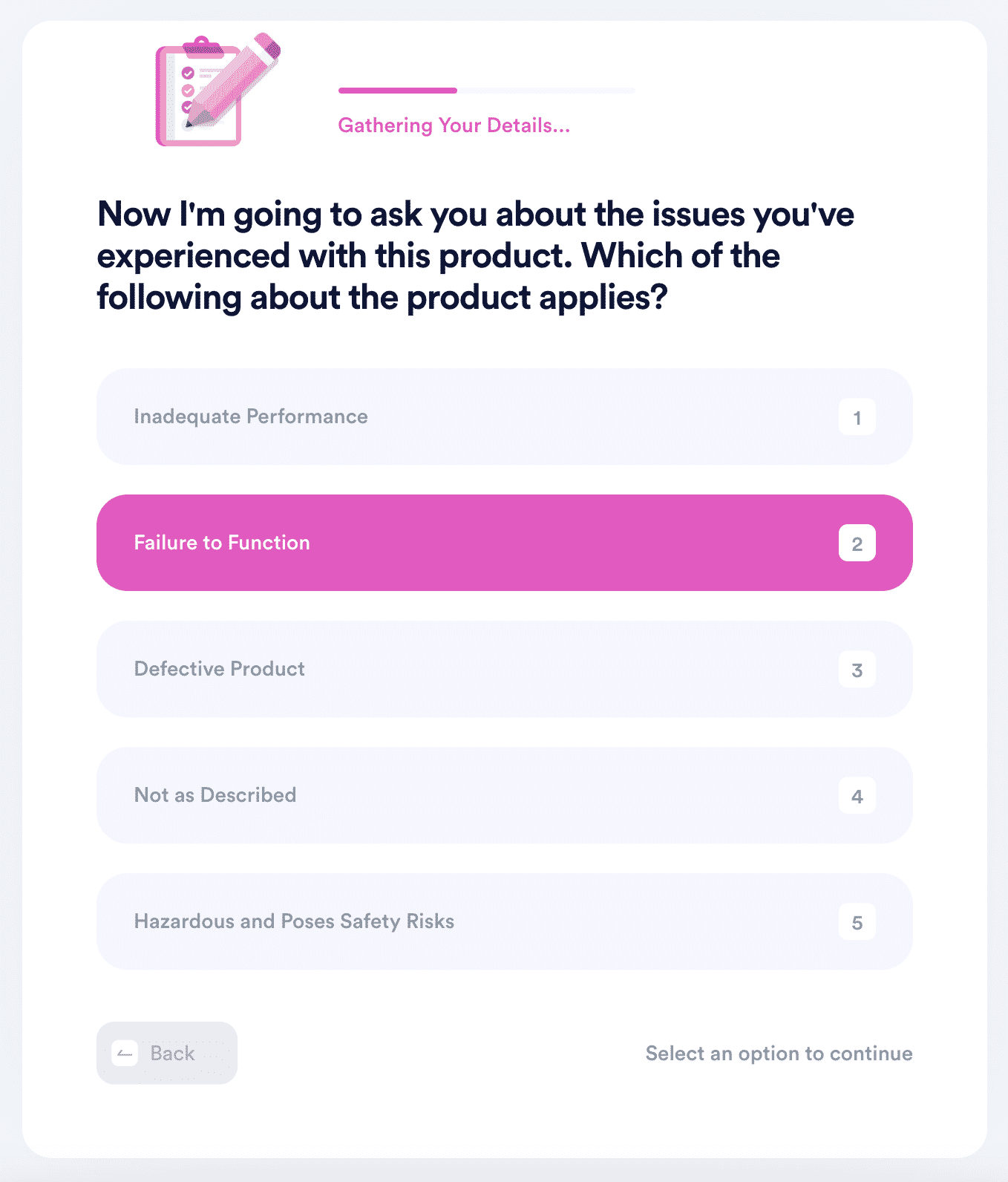 To return your Total Wine products with our app, follow these easy steps:
Find the Item Return Request feature
Answer our chatbot's questions about your product
Submit your request
DoNotPay will draft a customized request letter, proposing an expedited refund deadline. Our app will also provide you with a free return shipping label if required.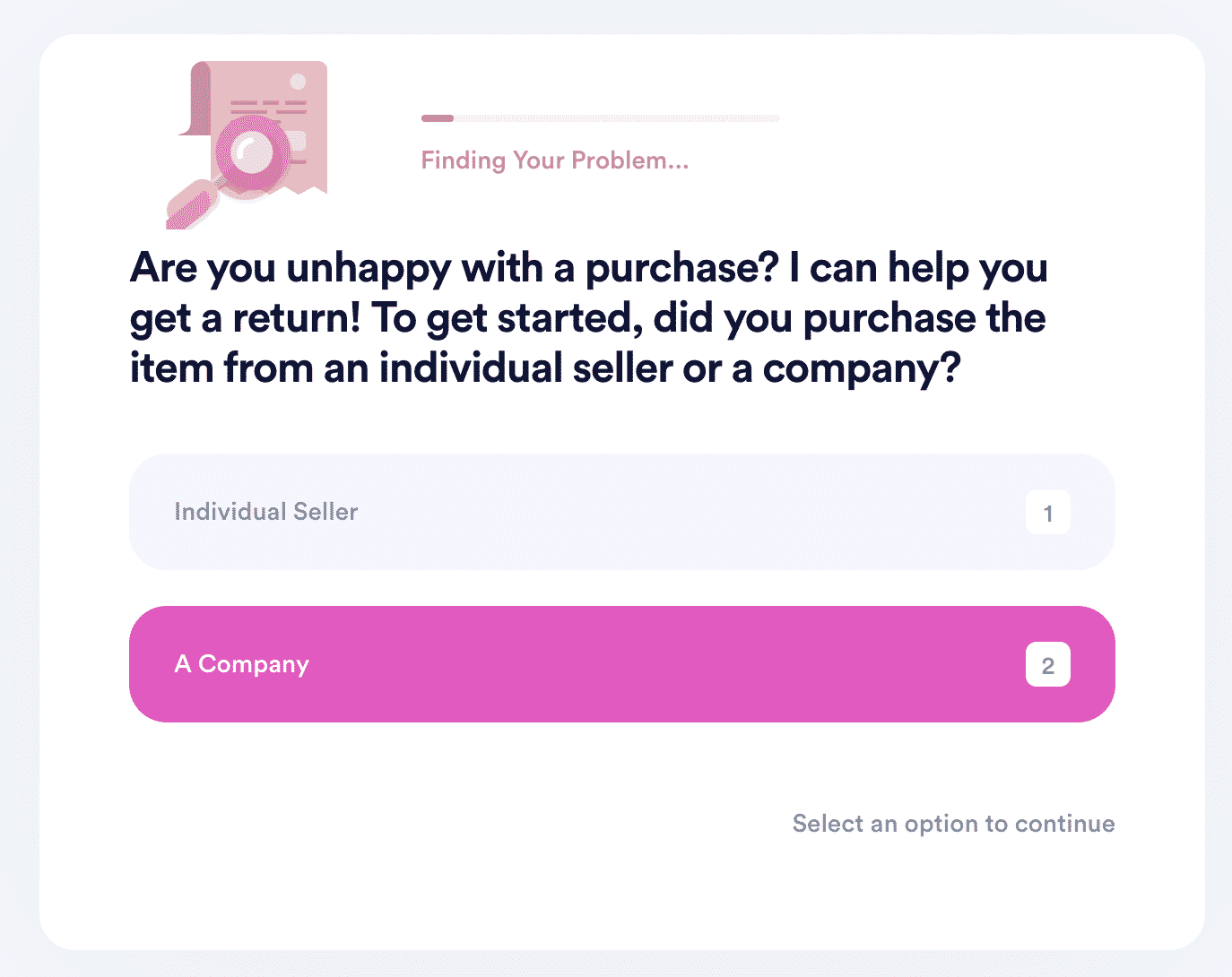 DoNotPay can help with returns to other retailers, such as:
Beat the Total Wine Return Policy and Get Your Refund Fast With DoNotPay
If Total Wine refuses to give you your money back, turn to DoNotPay for assistance! We'll help you avoid the back and forth and compose an airtight refund request in a split second!
Once you have logged in to your DoNotPay account, follow these steps:
Select File a Chargeback
Choose Get Protected
Answer our chatbot's questions about your purchase
Click Sign and Submit
Using this option, you:
Reduce time spent talking to Total Wine
Avoid sifting through complicated refund policies
Receive your refund in a timely manner
Our assistance doesn't stop there—we can also help you find your lost shipment!
According to the Total Wine return policy, if you want to receive retribution for lost items, you must file a report within 60 days of your shipping confirmation email. This means waiting two months before the company will help. DoNotPay will help you avoid long waits and complex policies.
Show Total Wine You Mean Business in Small Claims Court
Has Total Wine left you feeling wronged? As a leading robot lawyer, DoNotPay will help you right these wrongs in small claims court.
Our app will ensure your argument is heard and all required documents are in order.
DoNotPay can assist you with:
Drafting forms
Filling in court documents
Collecting all the required papers
Filing the claim
Designing speaking points for your court hearing
With every angle covered, you can rest easy knowing DoNotPay has the experience and know-how to solve your issue.
Going Back and Forth With Companies Is a Thing of the Past
Have you been trying to contact the company you want to return your faulty item to with no success? No more—use DoNotPay's nifty product to jump the phone queue of any company's customer service line.
Waiting in any sort of line is dreadful, which is why we can also help you schedule a DMV appointment from the comfort of your home.
There are many more tiresome chores you no longer have to leave your bed to complete:
Make the Most of Your DoNotPay Subscription
Our app comes with a large selection of products—for one low monthly fee, you can use them all to complete dreadful admin tasks in a split second. Check out how you can:
Draw up a divorce settlement agreement