Discover the Inner Workings of the Topshop Return Policy and Shop Risk-Free
Topshop is a well-known fashion retailer serving customers from around the world through ASOS online. With a global consumer base, it's unsurprising that products sometimes arrive damaged, in the wrong size, or not as expected. The Topshop return policy allows customers to return these items for a refund or a gift voucher.
Returning an item, especially through an online service, can be daunting. There are policies to observe, forms to fill, and specific customer service channels to contact.
While Topshop continues to grow and evolve, it has a complex return process.
DoNotPay will help you discover the ins and outs of the Topshop return policy and file your return request stress-free as soon as you
Topshop Return Policy and Restrictions
Now owned by ASOS, Topshop adopted the same return policy. This provides U.S. customers with 45 days to return unwanted products, but there are several restrictions to consider.
Returned items must be received within 28 days of sale for a full refund
Unwanted purchases returned between 29 and 49 days qualify for gift vouchers only
Faulty items may be returned but will not result in replacements
Damaged items may not qualify for a refund if the cause is overuse
Final sale products are ineligible for return
Incorrect items may be returned and refunded, but the original item must be reordered if you wish to purchase it
Gift card purchases may only be returned for an ASOS account credit.
Wondering which return initiation methods apply to the Topshop return policy? Check them out:
| Can You Initiate a Topshop Return Via: | Yes/No |
| --- | --- |
| DoNotPay | Yes |
| Online | Yes |
| In person | No |
| Phone | No |
| Mail | No |
Step-by-Step Topshop Return Procedure
To return a product to Topshop, follow these steps:
Log in to your ASOS user account and select My Orders through the My Account tab
Select Create Return and click the items listed which are being returned
Express your reason for returning through the provided drop-down menu
Find the most convenient UPS ground post shipping location
Select Create Return and check your email for a shipping label
Check your junk mail filters if you do not receive your shipping label in your primary inbox
Print and adhere the label to the shipping bag
Bring your package to the UPS site specified in your return document for shipping
Packages shipped through UPS for a Topshop return must be under 44lbs.
In the past, ASOS offered multiple return options, but currently, each item being returned must be shipped individually.
How Long Does a Topshop Return Take?
UPS oversees all Topshop returns within the United States and ships seven days a week. Your return request is processed within 14 days from the date of arrival at the Topshop sorting facility.
Topshop and ASOS Recycled Packaging
As you plan around the Topshop return policy, it's nice to know that ASOS uses 100% recyclable packaging, minimizing its carbon footprint on the planet. When you send your product back, you can also return any unwanted packaging to be recycled.
The materials themselves are crafted using 65% recycled ingredients, perpetuating the system of eco-friendly packaging.
ASOS encourages consumers to return packaging to continue green initiatives.
Streamlining the Topshop Return Policy With DoNotPay
DoNotPay facilitates your return to Topshop, letting you avoid complications relating to company restrictions. Rather than spending your time investigating the Topshop return policy, DoNotPay does the legwork for you.
Requesting a return through DoNotPay is as simple as ABC:
and log in
Find the Item Return Request product
Type in some information about your purchase and add photographic evidence if necessary
Submit the request form
Once you submit the form, we will forward your request to Topshop. DoNotPay includes a seller deadline to ensure you get what's rightfully yours in a snap!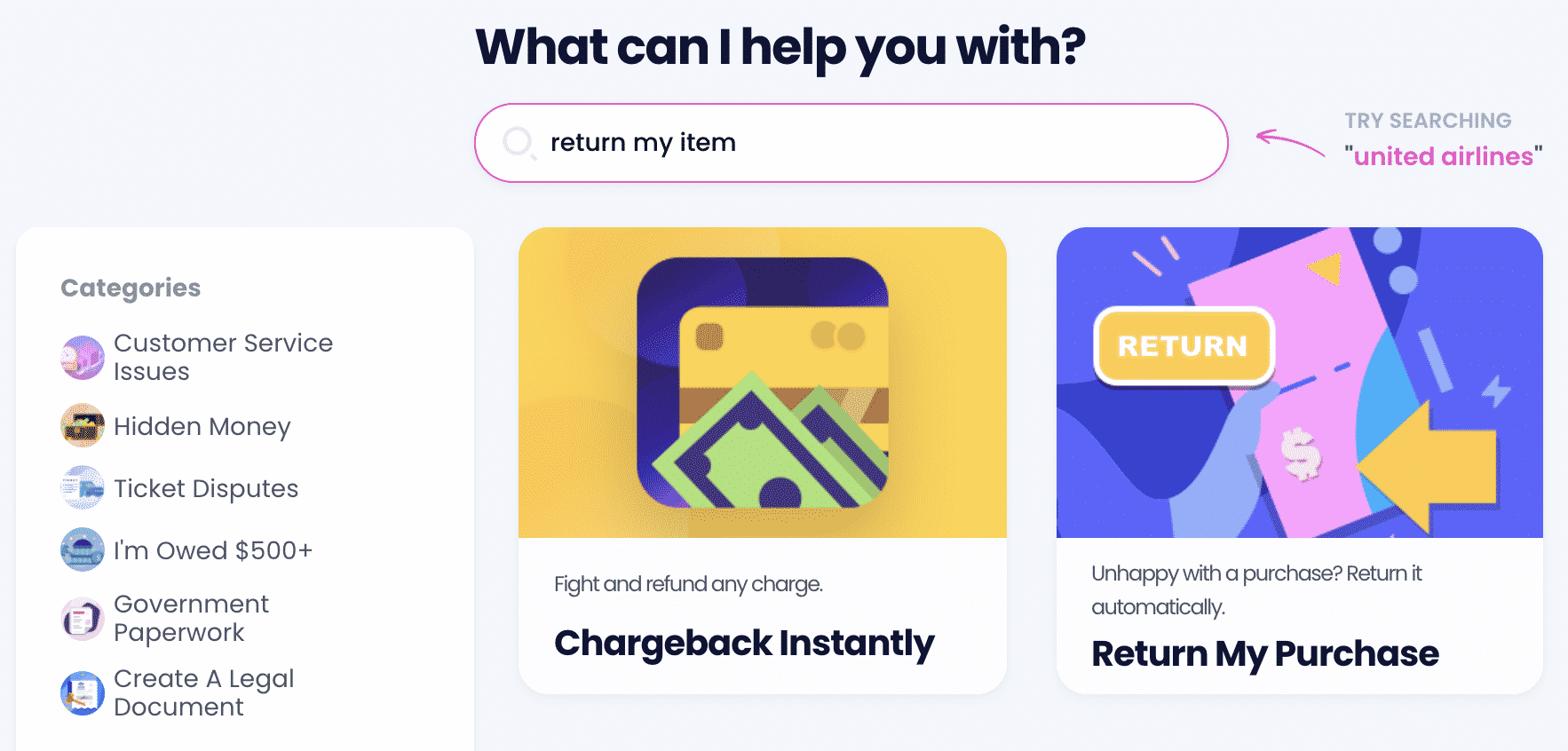 DoNotPay then sends your return request to Topshop on your behalf. Our app can also provide a return shipping label free of charge. Check out how we can also help you return items to: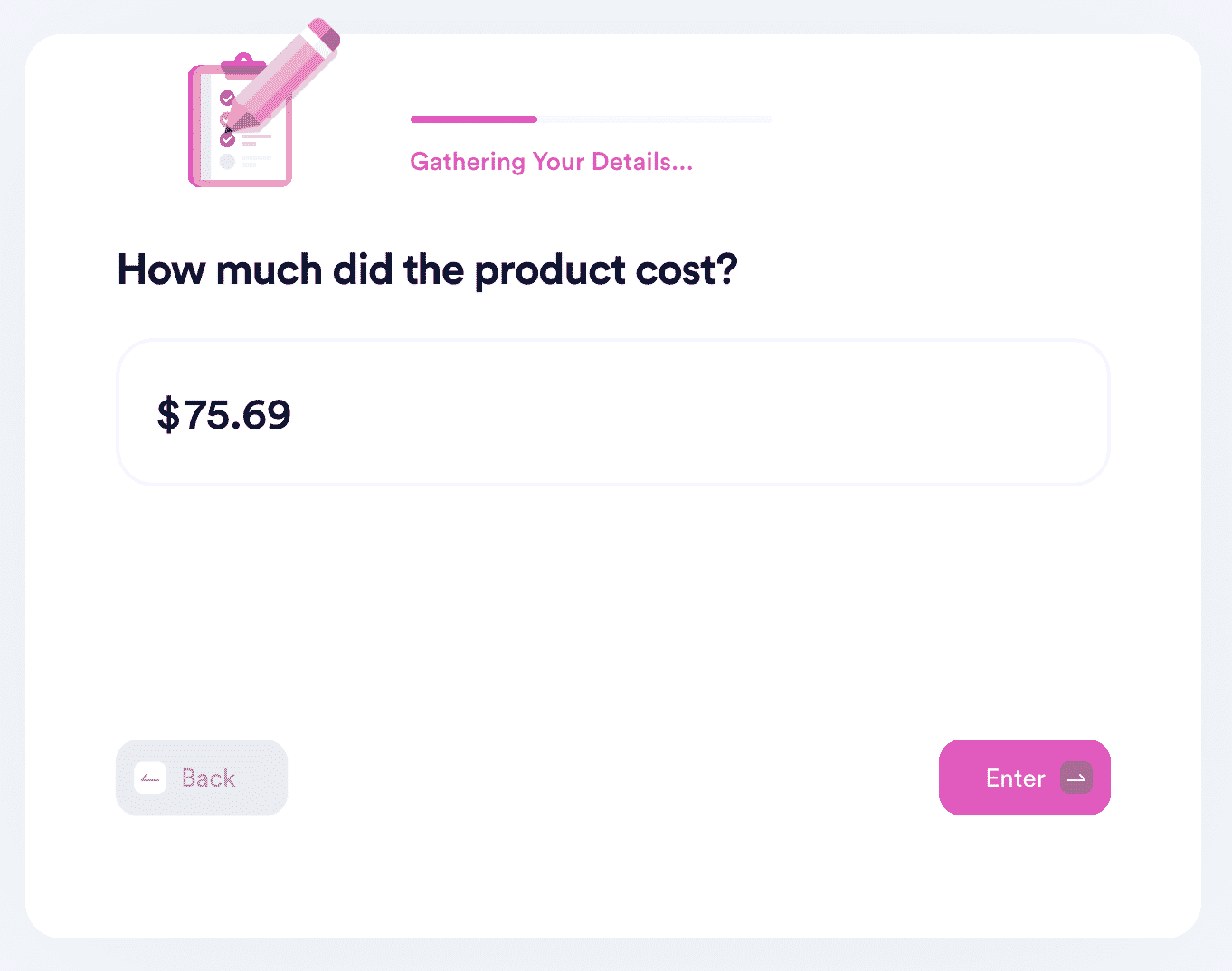 DoNotPay's scope of advantages consists of more than expedited returns. You can benefit from a variety of our service perks, such as:
No more searching through websites and policies
Less contact with merchants
Free return labels
With so many rules to consider, using a return service like DoNotPay streamlines the process, reducing room for confusion and minimizing steps needed to get rid of unwanted items.
DoNotPay also helps with returns from a variety of other stores and brands, including:
Item Returns and Other Annoying Tasks Take but a Minute With DoNotPay
Looking into resolving other tedious bureaucratic tasks with the help of our app? Check out a fraction of our product range that can assist you with:
Don't Stop There—See How We Can Help You Even Further
You can count on our app's assistance if you need to cancel any subscription, demand a refund from a company or airline, get help with utility bills, reduce your property taxes, get a tourist visa, appeal banned accounts, contact embassies, or get cash back on gift cards.
Think you have some missing money? Claim it before the government does it in your stead! Need help preparing for a government test? Skim through our guides! Want to schedule a DMV appointment in a snap? We'll do it for you! Have any other obstacles? We'll get rid of them in the blink of an eye.