The Complete Best Mattress Return Policy Guide
Did you buy a mattress recently, but it isn't as comfortable as you thought it would be? Would you like to return or exchange it? Read our guide to find out about the ins and outs of making use of the Best Mattress return policy.
If you would rather save time when returning disappointing products to merchants, and let us speed up the process!
What Is the Best Mattress Return Policy?
Best Mattress has a somewhat strange return policy. They believe it takes time for a body to get used to a new mattress. To make sure you have the one that suits you, they require that you sleep on the mattress for thirty days. You can return the mattress within 120 days of purchase, given that you meet their 30-day requirement.
All returns are inspected by their pick-up person, and you cannot return a product if:
The item is soiled or damaged
The item gives off a foul odor (e.g., from food, pets, etc.)
You can also choose to exchange a mattress for another of the same or higher value and pay only the transportation fee (minimum $79). Once you make an exchange, you become ineligible for additional returns or refunds.
If you want to exchange a box foundation, you can only do so for another brand, and you will have to pay a 20% restocking fee and a transportation fee starting at $79. The full price of promotional, discounted, and "free with purchase" items will be taken off your refund amount as well.
Can You Return Other Items to Best Mattress?
The short answer is no. Best Mattress will not accept returns for the following products:
Floor models
Pillows
Mattress toppers and protectors
Sheets and other accessories
Special order purchases
Power/electric or adjustable bases
Can I Get a Full Refund From Best Mattress?
Best Mattress will send you a refund once the returned items reach them, but a full refund is unlikely since you have to cover at least the transportation fee. Here's how refunds are made:
| Method of Payment | Return Method | How Long Does the Refund Take? |
| --- | --- | --- |
| Cash or check | A check is sent to the address of the original order | 15 working days |
| Credit card | The amount is credited back to the original card used to make the purchase. Store credit may also be offered | 10 working days |
Best Mattress will also not issue refunds for the following items:
Adjustable beds and daybeds
Headboards
Mattress covers and pillows
Orders that have not been picked up or left open for more than ninety days are automatically deemed non-refundable. Customers in this situation may opt for in-store credit that stays valid for up to one year.
How To Return Items to Best Mattress on Your Own
Best Mattress does a good job of hiding their returns procedure on their website. While you are unlikely to find a form or an email address to initiate your returns with, you can choose to contact their customer service. You can call them at 887-759-8155 or email them at service@bestmatt.com.
You can also locate a store near you and go over to talk to someone about making a return. They have a query option on their contact page that you might find helpful as well. Enter your name, phone number, email address, and type in your order details and return request in the message box.
How To Use DoNotPay To Initiate a Return Request
If any return policy and process seem vague and confusing, you can skip the hassle and use DoNotPay to initiate a return request. Here is what you need to do:
for a DoNotPay account and locate the Item Return Request product
Answer a few questions
Click Submit
DoNotPay will create a custom return request letter and send it over to the company in question. The letter will let the merchant know the details of your return—such as why you are returning the product—and include a deadline to speed up the review-and-respond process. We will also get you a free shipping label so you don't have to worry about paying extra.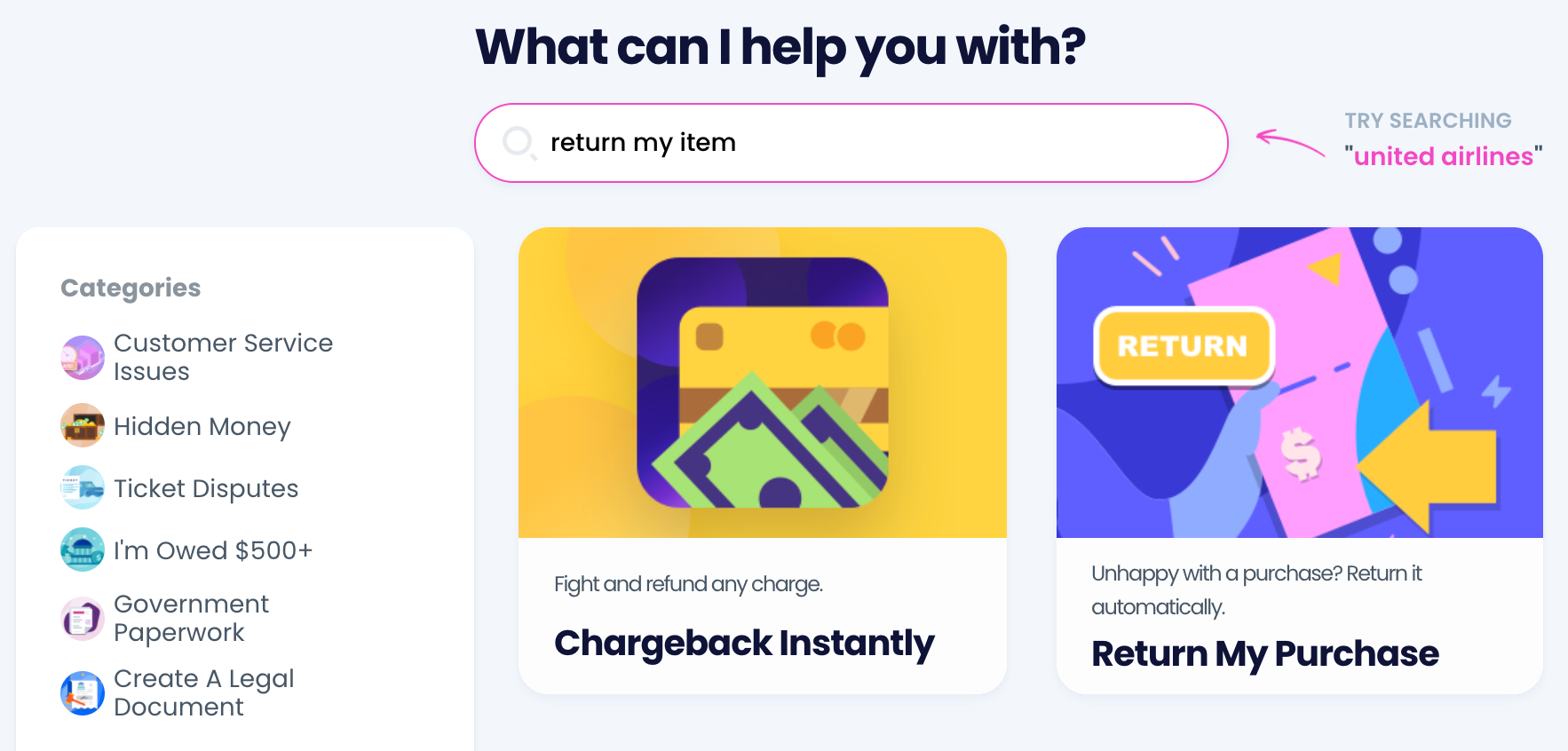 Want To Return Products to Other Retailers?
If you're having trouble sending return requests to other retailers, our learning center has a full list of stores we can help you with. Here's a glance at a few of the most popular retailers DoNotPay can help you return products to:

Make Refunds Easier With DoNotPay
Worried you won't get a refund? You can use DoNotPay to file a refund request as well! Here's what you have to do:
Find the Chargeback Instantly option and click on Get Protected
Answer a few questions
Click on Sign and Submit
Item Returns and Other Annoying Tasks Take but a Minute With DoNotPay
Looking into resolving other tedious bureaucratic tasks with the help of our app? Check out a fraction of our product range that can assist you with:
Don't Stop There—See How We Can Help You Even Further
You can count on our app's assistance if you need to cancel any subscription, demand a refund from a company or airline, get help with utility bills, reduce your property taxes, get a tourist visa, appeal banned accounts, contact embassies, or get cash back on gift cards.
Think you have some missing money? Claim it before the government does it in your stead! Need help preparing for a government test? Skim through our guides! Want to schedule a DMV appointment in a snap? We'll do it for you! Have any other obstacles? We'll get rid of them in the blink of an eye.