The Most Burning Questions About the Target Return Policy Answered
Whether you got a damaged item from Target or realized that the item bought in its store is faulty, you should get familiar with the company's return rules. This retailer allows you to send the products back but only if you follow the rules proposed in their terms and conditions. We will break down the Target return policy for you and give you some excellent tips for sending a return request in minutes by !
What Is Target's Return Policy?
Not all the products you buy in Target can be returned to the retailer. This option is unavailable if your items are:
Software
Opened video games
Opened music CDs and movies
Unboxed airbeds
Defective or unboxed collectibles
Digital downloads
Personalized gifts and items
Target gift cards
Deadlines for reporting dissatisfying Target orders or in-store purchases and returning the products depend on the type and condition of the items you bought. Most products—opened or unopened—must be returned within 90 days from the purchase date to be eligible for compensation, but there are certain exceptions. You can see them in the table below:
| | |
| --- | --- |
| Product Type | Return Deadline |
| Mobile phones | 14 days |
| Apple products | 15 days |
| Electronics and entertainment items excluding Apple products | 30 days |
| Items purchased with a Target RedCard | 120 days |
| Target-owned brand items | One year |
This return policy applies only to the products purchased in U.S. Target branches.
Ways To Return Unwanted Target Products
You can report poor quality products and submit a return request to Target in the following ways:
Online
In person
Via mail
Filing a Return Request Online
To check whether your purchase is eligible for an online return request, do the following:
Log in to your Target account
Navigate to the Orders section or to Purchases if you are using the Target app
If the items are eligible, the Fix an Issue option will show up next to them. You should select it and follow the prompts to finalize your return request. Once the company processes it, it will send you more detailed instructions and a return mailing label.
Filing a Return Request in Person
If you prefer to return the products directly to the store, follow the steps below:
Sign in to your Target account
Select the Orders or Purchases section
Pick the order and click on the Return an item option next to it
Choose Return to store
Download the barcode and show it to the shop assistant once you bring the goods to the nearest Target
Filing a Return Request via Mail
Returning an unwanted item via mail starts the same way as an in-store return request procedure. Once you click on Return an Item, you should pick Return by Mail and do the following:
Pick the return reason from the drop-down menu
Click on Continue
Choose whether you want to have the item refunded or replaced
Set the shipping address and submit your request
Go to Print Mailing Label
Attach the printed label to the box that should be returned
Take the package to the nearest UPS location and send it to the retailer
| | |
| --- | --- |
| Can You Initiate a Return Request Via | Yes/No |
| Online | Yes |
| Phone | No |
| Email | No |
| In Person | Yes |
| Mail | Yes |
Can I Return an Item to Target Without a Receipt?
It's always recommended to keep the original purchase receipt if you want to get the goods refunded or exchanged, but what if you don't have it? Target provides a few options in such cases:
If you want to return an item from an online order, disclose the following instead of the receipt:

Shipping confirmation email
Delivery confirmation email
Order-related barcode from your Target profile or app

In case you bought the goods in store, visit the particular shop and ask the staff to look for the receipt for the purchase in question. They will be able to find it if you paid with:

Checks
Target gift cards
Target RedCard (MasterCard, Debit Card, or Credit Card)
Credit cards (Visa, MasterCard, Discover, and American Express)
My Return Request Was Turned Down—Why?
Your return request can get denied if:
The return deadline has expired
The items have been worn or used in any other way
The products you want to return belong to non-returnable item categories
Target can't locate your purchase by the information you provided
The products haven't been bought in Target in the USA
DoNotPay Will Help You Return Target Products Hassle-Free
Returning products to Target can be quite overwhelming as it involves too many confusing steps. It's no wonder many people give up sending faulty products back even though they are entitled to receive compensation.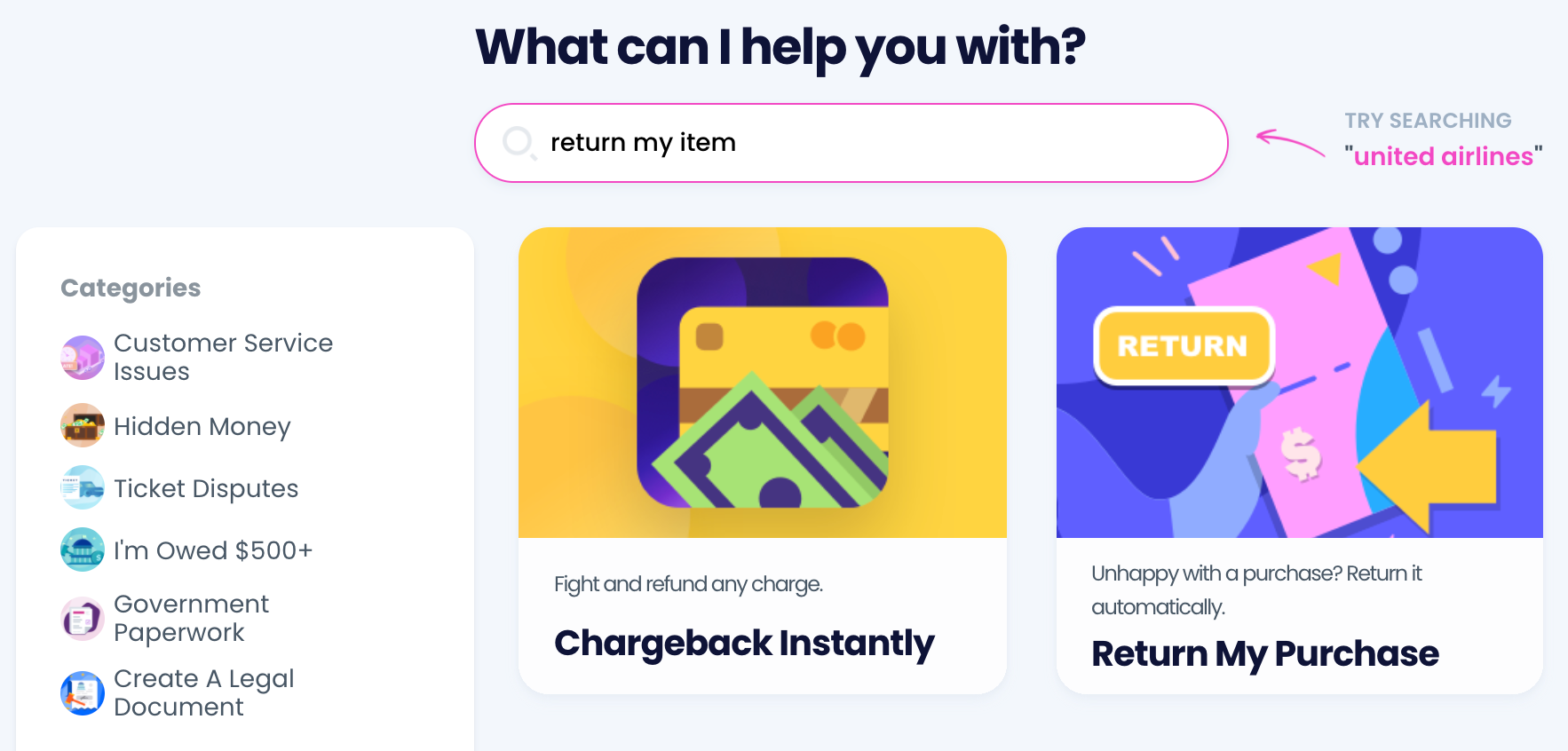 We can simplify returns procedures by creating and sending a return request letter in your stead. No need to go through complicated processes or go back and forth with customer support—the help is a few clicks away!
Here are the instructions you should follow:
and sign in to your account
Navigate to the Item Return Request section
Provide a few basic details related to your purchase
Add some photos as evidence if possible
We will create a personalized return request and submit it to the company in question. If you are worried that it will process your claim for too long, keep calm—DoNotPay will set a deadline and prevent the retailer from prolonging the procedure!
Our app also has other super handy features that can help you request a refund or gift card cash back from Target and many other companies.
Our learning center features a bunch of practical guides you can use to return items to various retailers, including the ones shown in the following table: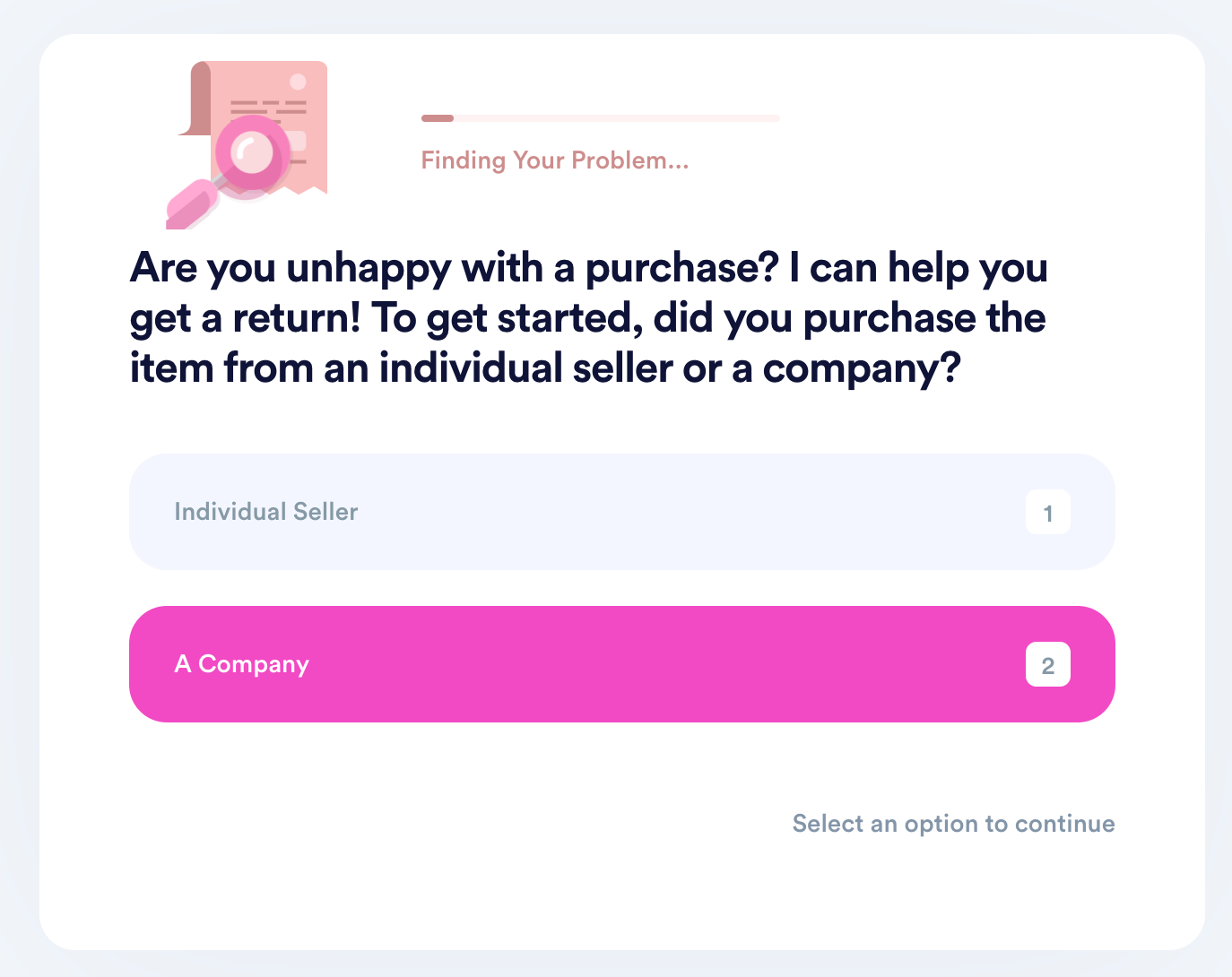 Want Your Money Back? Rely on DoNotPay!
The world's first robot lawyer can help you get your hard-earned money back in several ways. Are you dissatisfied with a product or service you paid for and want to request a refund? Do you want to request a late delivery refund? No problem—DoNotPay will do that in your stead! Do you think that you may have missing money and want to claim it? We can assist you in finding it!
No matter the issue, DoNotPay is your shortcut through bureaucratic hurdles. Our AI-driven app can help you dispute your parking tickets, get refunds and compensation from airlines, cancel any subscription service in a flash, and so much more!
What Else Is DoNotPay Capable Of?
Being your personal AI-powered assistant, DoNotPay can help you get rid of:
Are you sick and tired of big companies not taking their customers seriously? Our app will lend you a helping hand in the process of suing them in small claims court.
Do you want to skip waiting in lines at the DMV, jump the phone queue when reaching customer service, get help with paying your bills, or get copyright protection for your work? Sign up for DoNotPay to complete these tasks and so much more!