EZContacts Return Policy From A to Z
If you ever receive a faulty product, you should make sure to inform the company you bought it from right away. This step will help you return the product and exchange it or receive a refund more easily.
DoNotPay is here to help you understand the EZContacts return policy. We can also start the return request process for you without trouble!
What Is the EZContacts Return Policy?
EZContacts allows you to return items that are faulty under certain conditions. The rules might differ slightly depending on the type of item you bought—more precisely if they are:
Contact lenses
Eyeglasses and sunglasses
EZContacts Return Policy for Contact Lenses
You can return contact lenses within 30 days of the order delivery date. The company will only accept contact lenses that are:
In unopened boxes
Unmarked
In the original packaging
You will receive a full refund for returned items to the payment method you used.
If you want to exchange the lenses, you should do it within 30 days of the purchase. If you cross this deadline, you'll need to pay a $3 restocking fee per box. These lenses also need to have an expiration date of a minimum of two years.
EZContacts Return Policy for Eyeglasses and Sunglasses
You need to return eyeglasses and sunglasses within 30 days of the delivery date as well. The frames need to be returned in the original packaging along with:
Authenticity papers
Case
Cloth
Warranty cards
You will receive a full refund for the returned frame to the payment method you used.
You can also exchange the items within 30 days of delivery.
How To Start the Process of Returning Items to EZContacts
You can start the return request process in a few ways. See the table below for more details:
| Can You Initiate a Return Request Via | Yes/No |
| --- | --- |
| Website | Yes |
| Phone | Yes |
| Letter | No |
| In person | No |
| DoNotPay | Yes |
How To Start the Return Request on the Company's Website
You can complete an online form on the EZContacts website to initiate the return. Here are the steps you'll need to take:
Visit the EZContacts Returns and Exchanges page
Locate the form
Enter your order number
Type in your email address
Enter your ZIP code
Click on Locate Order
You will need to wait for a response from the company for further instructions.
How To Start a Return Request Over the Phone
You have the option of contacting the EZContacts customer service to start the return request. Here are the steps you need to follow:
Call 1-800-217-2020
Explain why you are calling
Provide the customer service rep with the necessary info (order number, for example)
Proceed according to the instructions provided by the representative
The EZContacts customer service is available from Monday to Thursday between 9:00 a.m. and 5:00 p.m. EST and on Fridays from 9:00 a.m. to 1:00 p.m. EST.
Return Your Faulty Items to EZContacts Easily With DoNotPay's Help
You can avoid dealing with EZContacts' customer service and request a return faster with DoNotPay. Our app will inform the company that you wish to return a faulty item. Here are the only steps you need to take:
Choose the Return My Purchase product
Answer a few questions about your purchase
Attach photos as evidence (if you have any)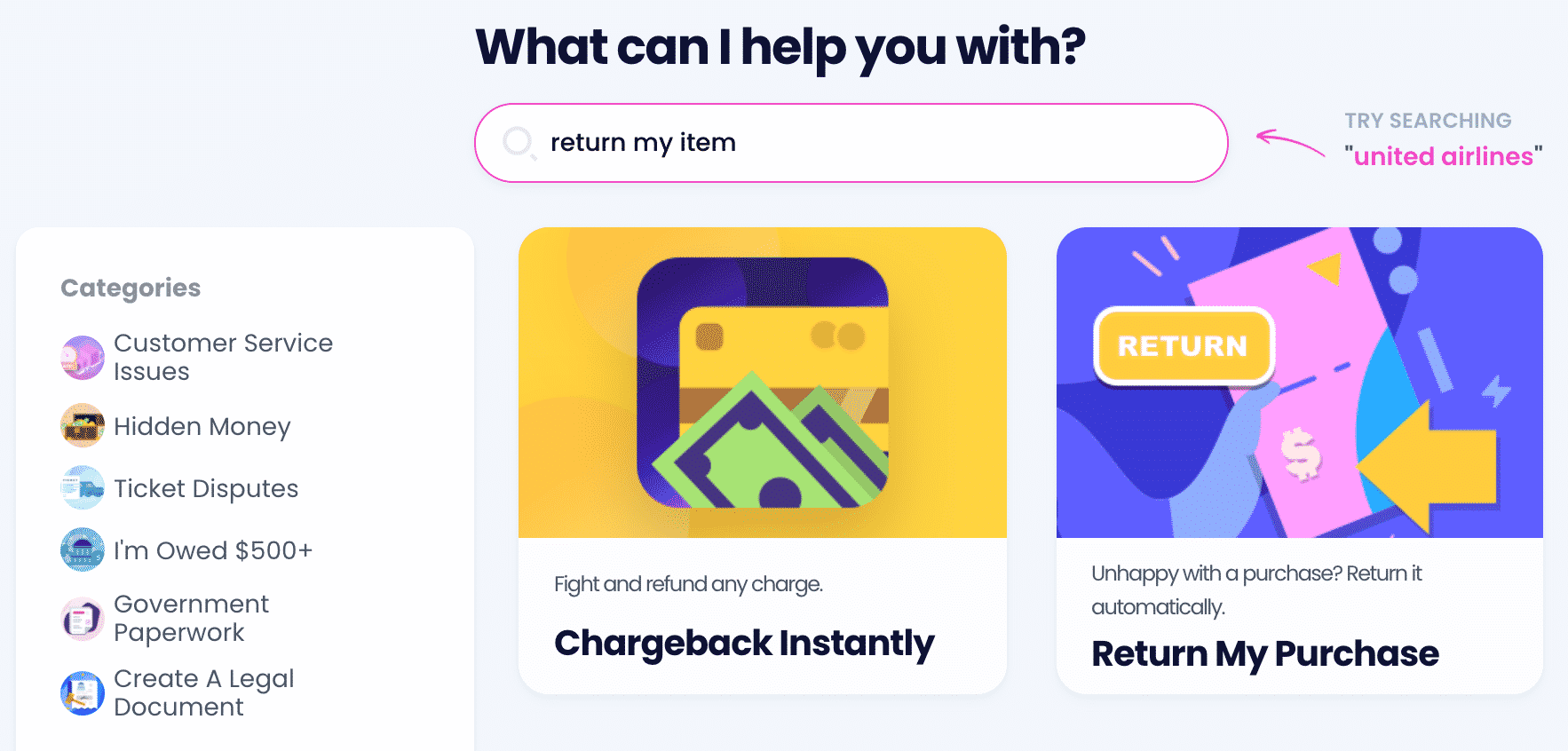 Returning Items Is Easy With DoNotPay
DoNotPay is here to help you return all kinds of products to numerous companies across the U.S. Check out the table below to see some of the most popular companies we can help you with:
Say No to Bad Purchases—DoNotPay Will Help You Get Back What's Rightfully Yours
Have you finally returned that damaged item thanks to DoNotPay's nifty product? Our app's capabilities don't stop there—we can assist you in doing so much more!
Do you believe you have some missing money? Use the world's first robot lawyer before the government claims your assets! Are you feeling lucky and want to enter sweepstakes without purchasing anything? DoNotPay will sign you up for them automatically! Looking for ways to save on property taxes or utility bills? We'll show you the way. Don't want to get charged for free trials that auto-renew into paid subscriptions? We'll help you cancel them on time.
No matter the issue you're facing, DoNotPay is here to resolve it in a split second.
Need Help With Anything Else? Your Robot Lawyer Will Provide!
Aside from sending return request letters to a myriad of companies in your stead, we can also help you get refunds from airlines, earn off robocalls, appeal parking tickets, protect your intellectual property, claim insurance and warranty, and so much more!
Are you dealing with rude neighbors or mean coworkers that discriminate against you? DoNotPay will help you fight for your rights!