Understanding the Sephora Return Policy From A to Z
What's the catch with the Sephora return policy? Can you return or exchange the products if you lose the original receipt? Are there any non-returnable items? Find the answer to all these questions in our guide!
We also offer assistance in starting a return process with Sephora and many other companies, such as Ulta or Macy's, by !
What Is Sephora's Return Policy?
The first detail that makes Sephora's return policy quite complicated is the return window. Typically, you can return the items that didn't meet your needs within 60 days from the purchase date.
If you are quick enough and send or take the goods back within the first 30 days from purchase, you will receive a refund to the original payment method. Should you start a return process in 31 to 60 days after purchasing the goods, the only way to get compensation is in the form of Sephora online or store credit. Sephora won't process any returns started after the expiration of the 60-day deadline.
The company may also refuse to accept your return if it includes:
Almost empty products
Items not purchased directly from Sephora
Products without the Sephora original package slip
Goods that got damaged after you received them
Sephora can also set some restrictions if it believes you are misusing the return option in any way. The company has a special program tracking all return procedures and can easily notice if you take products back frequently.
Can You Return Used Makeup to Sephora?
The answer is—it depends on the level of use. The company usually accepts returns including slightly used products, but it will probably reject half-used items.
How To Start a Return Process With Sephora
Like most companies, Sephora offers two return methods:
Bringing the items to a Sephora store
Shipping the items back to Sephora
Sephora In-Store Returns
Taking products back to the nearest Sephora guarantees a fast-processing refund or replacement. Here's how you can do it:
Search for a Sephora in your vicinity
Visit the shop and bring the items you want to return along with the original packing slip and the credit card you used
An employee should locate your purchase in the company database and process a refund.
Sephora Mail-In Returns
The products purchased in store can't be returned via mail. You can only return the goods bought online this way. There is some good news, though—all mail returns are free.
To start a mail-in return process, proceed as follows:
Go to the Returns page
Enter your order number and ZIP code
Click on Next
Print out the prepaid return label Sephora will send you and stick it to the package in which you placed the goods
Mail the parcel via USPS
Sephora will send you an email confirmation once it processes your return. In most cases, it needs up to 30 days for this.
| | |
| --- | --- |
| Can You Return a Sephora Item Via | Yes/No |
| DoNotPay | Yes |
| Phone | No |
| Email | No |
| In person | Yes |
| Mail | Yes |
Can You Start Sephora Returns Without a Receipt?
Yes, you can, as the company has other ways to confirm your purchase and find you in its database, such as:
Checking your credit card transactions or another payment method you used
Tracking your order via your Sephora Beauty Insider account (if you purchased online)
Note that if you don't have a receipt, you can't get a refund in cash or to the original payment method. The only way Sephora can reimburse you is to offer you store credit in the paid amount.
Return Poor-Quality Orders Swiftly With DoNotPay's Help
You don't need to give up on returning defective items to Sephora just because its return policy is difficult to understand. It's enough to provide the basic purchase information to DoNotPay, and we will create a proper return request on your behalf in less than five minutes!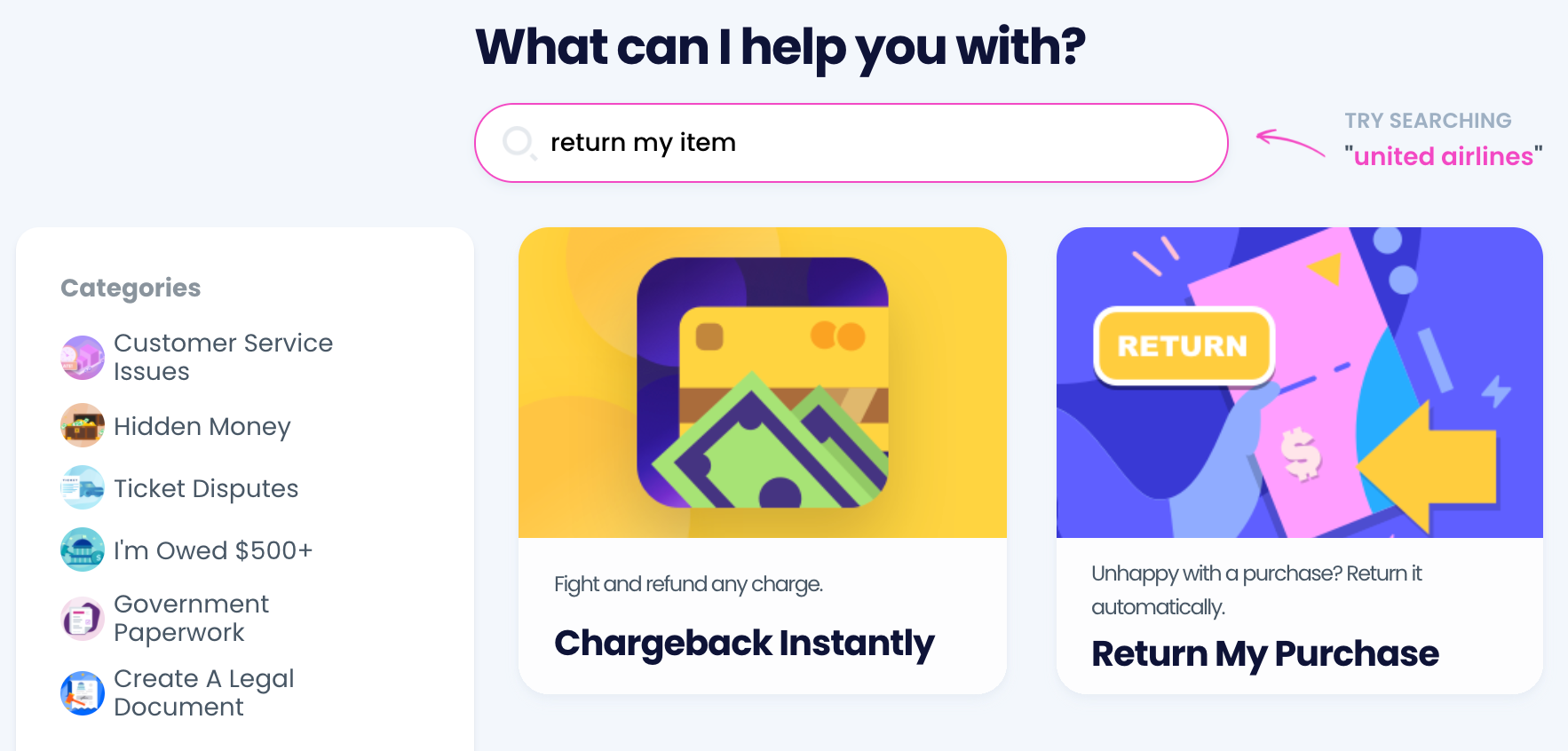 Wondering how? and check out the steps below:
Choose Item Return Request
Tell us a little bit more about your purchase and state the return reason
Attach some pictures if there are visible defects on the product
Add an electronic signature on your claim and submit it
Not only do we generate a return request letter, but we also include a special demand that requires Sephora to solve the issue within a limited period. This will help you avoid going back and forth with the company and prevent it from prolonging the return procedure.
The table below shows other companies we can request returns from in your stead:
If you visit our learning center, you can also: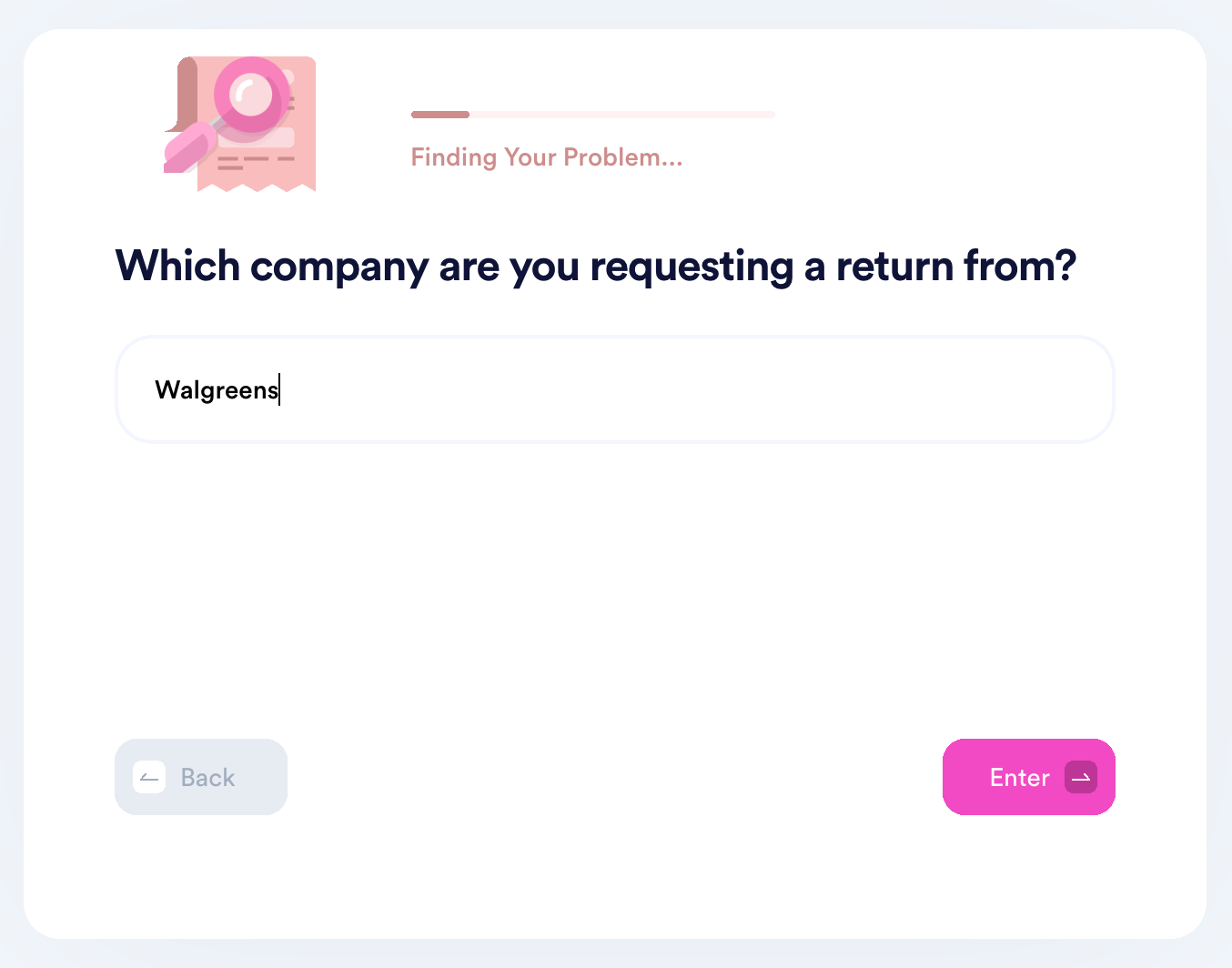 Want To Save Money and Avoid Bad Purchases? Look No Further!
Aside from helping you send a return request to any company, DoNotPay can also assist you in getting a refund in a flash! We can also help you request a refund for any late, missing, or damaged delivery.
Do you want to stop wasting your money on useless services? Our app can help you cancel them and provide you with a virtual credit card that terminates free trials before companies get to charge you!
If you want to discover some forgotten assets you may have, we can help you find them in just a couple of minutes. With DoNotPay, you can both save money and earn it!
Once you sign up, you can report text and email spammers, annoying robocalls, and real-life stalkers and harassers and earn off them. We can also help you sue any company or individual in small claims court if you feel like they did you dirty.
Getting Rid of Bureaucratic Procedures Has Never Been Easier
The process of composing a return request letter is tiring, which is why you should turn to DoNotPay for help. Our app will assist you if you want to avoid similar bureaucratic hassles, such as:
Sign up for DoNotPay to utilize all of our nifty products!