Zzounds Return Policy in a Nutshell
If you are investing money in something, you should have the option of returning the item in case it is faulty. Companies will often try to complicate the return process as much as possible so that you give up on it.
In this article, we will go over the Zzounds return policy and help you start the return request in the simplest manner once you .
What Is the Zzounds Return Policy?
Zzounds offers a 45-day complete satisfaction guarantee after your order is delivered. The company lets you return almost any item for any reason. If you decide to return a product, you can:
Request an identical replacement item
Exchange the product for another product
Request a refund
If you opt for an exchange, you should know that Zzounds requires the original product to be received and processed before they ship the replacement.
Are There Any Exceptions to the Zzounds Return Policy?
Zzounds has a list of items that can only be returned for:
Replacement—If they were damaged in transit or defective
Exchange or refund—If they are sealed (with shrinkwrap and barcode affixed)
Consult the table below for the full list and more details:
Category
Items
Reason
Copyrighted materials

Books
Videotapes
DVDs
Sample libraries
Style disks
Sound expansion boards
Software

Due to copyright laws
All instrument parts

Guitar parts
Amplifier parts
Turntable parts

Due to the possibility that you used them
Blank media

Cassettes
Open reel tapes
ADATs
DATs
CDs
DVDs
Removable memory cards
Hard drives

Due to the possibility that you used them
Items that are used in your ear or your mouth

Wind instruments
Mouthpieces
Guitar talk boxes
Earplugs
In-ear earphones

Due to health laws
Do You Need To Pay for Return Shipping?
Whether you need to pay the shipping depends on the reason for returning the item. Here are the possible scenarios:
If the product was damaged due to a company's mistake, Zzounds will pay all the shipping charges
In case you are returning a product for any other reason in exchange for another product, the company will pay the shipping charges for the product they send to you. You will need to pay the shipping for the product you send back
If you want a refund, the company will repay the full purchase price of the product, but you need to pay the return shipping fee for the product you are sending back
How To Request a Return From Zzounds
If you are unsatisfied with the product you received, you can initiate a return on the Zzounds website. These are all the steps that you need to take:
Navigate to the Returns page on the Zzounds website
Click on Request Return Authorization
Enter your first and last name
Type in your email address
Enter your order number
Include item number
Select a type of return:

Exchange for the same item
Exchange for a different item
Return for refund

Explain the reason for return in the provided field
Click on Send Request
How To Initiate a Return From Zzounds in a Breeze With DoNotPay
DoNotPay provides you with a simple way of initiating a return request. Our app will deal with the tedious part of the procedure, while you only need to complete these steps:
Find our Return My Purchase product
Answer some questions about your purchase
Attach photos as evidence (if any)
We will add a deadline by which the company has to process your request and provide you with a return shipping label free of charge!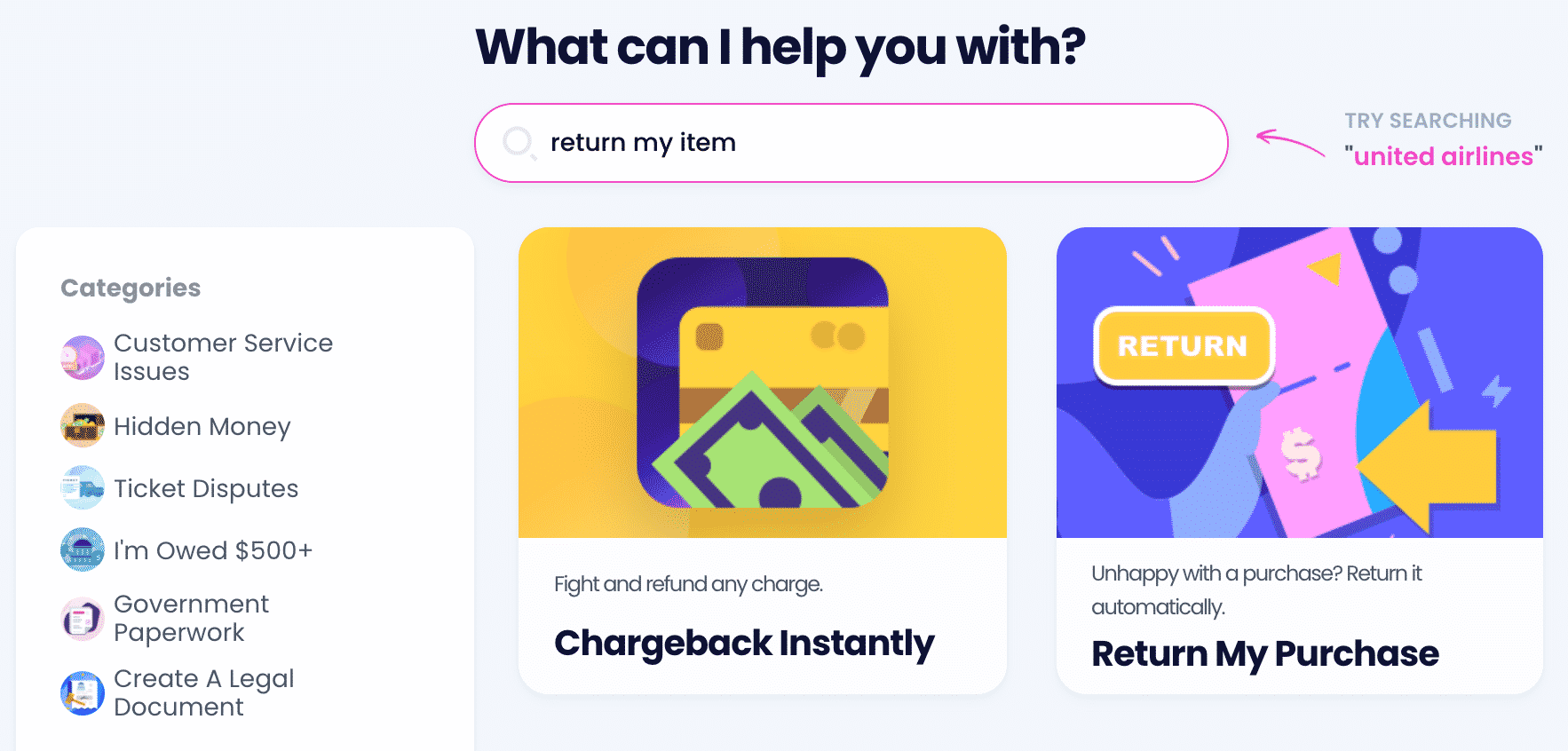 Return a Faulty Item to Any Company With DoNotPay
DoNotPay can help you initiate a return request with some of the most popular brands out there. Consult the table below for more details:
Say No to Bad Purchases—DoNotPay Will Help You Get Back What's Rightfully Yours
Have you finally returned that damaged item thanks to DoNotPay's nifty product? Our app's capabilities don't stop there—we can assist you in doing so much more!
Do you believe you have some missing money? Use the world's first robot lawyer before the government claims your assets! Are you feeling lucky and want to enter sweepstakes without purchasing anything? DoNotPay will sign you up for them automatically! Looking for ways to save on property taxes or utility bills? We'll show you the way. Don't want to get charged for free trials that auto-renew into paid subscriptions? We'll help you cancel them on time.
No matter the issue you're facing, DoNotPay is here to resolve it in a split second.
Need Help With Anything Else? Your Robot Lawyer Will Provide!
Aside from sending return request letters to a myriad of companies in your stead, we can also help you get refunds from airlines, earn off robocalls, appeal parking tickets, protect your intellectual property, claim insurance and warranty, and so much more!
Are you dealing with rude neighbors or mean coworkers that discriminate against you? DoNotPay will help you fight for your rights!