Nectar Mattress Return Policy in a Nutshell—How To Return a Nectar Mattress
Having an uncomfortable mattress that heats up fast is the best scenario when the one-night stand can't read the room and wants to spend the night. What happens when you meet the one, though? Contrary to popular belief, just because you made your bed doesn't mean you have to lie in it—DoNotPay can help you return it!
Our comprehensive Nectar mattress return policy will walk you through the process of returning mattresses to Nectar effortlessly.
Nectar Mattress Return Policy Explained
Nectar has a generous return policy, offering customers to return mattresses up to 365 days after the delivery. You can't submit a return request earlier than the 30-night break-in trial period to give your body a chance to adjust to the bed.
To be eligible for a return, the mattress must:
Be in donatable condition
Show only normal signs of wear and tear
Be used with an appropriate base, bed frame, or foundation
Not have any environmental damage, such as mold, spills, or bed bugs
Once your return request is processed, you have 30 days to provide all the required information and documentation the customer care team will ask for. If you fail to submit them, you'll have to initiate another return.
Note that Nectar mattresses purchased before April 6, 2021, can't be exchanged, updated, or altered. If you bought the mattress prior to this date and you wish to return it because of a manufacturing defect, your return will be processed as usual.
Mattresses that are unopened for more than 90 days after delivery are not eligible for returns or warranty claims as they are considered misused.
How To Return a Nectar Mattress
Unlike Mattress Firm, Nectar offers free returns and exchanges. If the 30-day break-in period has passed and you still can't get accustomed to the Nectar mattress, you can initiate a return by:
Sending an email
Calling customer service
Filling out a return form
Initiating a Return by Email or Phone
To start the return process, all you have to do is:
Email Nectar at return@nectarsleep.com or call support at 1-888-425-4854
Provide the information and documentation the representative asks you for within 30 days
Set up the time and date to have the mattress picked up
If you're returning (not exchanging) the mattress, Nectar will coordinate with a local charity to come and pick it up. In case there's no charity in your area, the company will have a local recycling center do it. All you have to do is leave the mattress by the front door and be present for the scheduled pickup.
How To Fill Out the Return Form and Request a Return
Another approach to initiating a return is by filling out the online return form. Follow these steps:
Access Resident Home Return Request
Enter the email address you used to place your order
Select the website or brand you purchased the mattress from (Nectar, Dreamcloud, Awara, Level, or Resident)
Provide the Order Number for the mattress you're returning
Clarify whether your mattress was opened or unopened
Select the item you wish to return
Explain your return reason in a few sentences
Specify your preferred contact method
Click on Submit
Although not mandatory, Nectar encourages you to attach photos of the law tags on your product. You can also upload an overhead shot that shows the entire mattress, and if there's an alleged defect or damage, attach close-up photos of the area(s) in question.
These are all the ways you can start the return process:
| | |
| --- | --- |
| Can I Initiate a Return Via: | Yes/No |
| DoNotPay | Yes |
| Phone | Yes |
| In person | No |
| Website | Yes |
| Email | Yes |
Product-Specific Nectar Return Policy
Nectar sells a wide selection of products. The terms of the return policies vary depending on their nature. Check the table below for more information:
Product
Return Policy

Mattress protector
Sheets

Have a 50-day return window
Can be returned only if unopened and in the original packaging

Pillow

Have a 50-day return window
Must be clean and undamaged to be eligible for a return

Metal frames
Have a 50-day return window

Adjustable base
Bed frame with headboard
Mattress foundation

Have a 50-day return window
Come with a three-year manufacturer warranty

Promotional items (free pillows, sheet sets, etc.)

Are non-returnable
Are deductible from the refund total if they came as a gift with a Nectar mattress
No Time? No Worries! DoNotPay Will Request a Return on Your Behalf

The Nectar mattress return policy seems straightforward until you contact customer support. The representative may insist that you're missing a document or didn't meet the deadline.
To skip the struggle and return your mattress effortlessly, you can sign up for DoNotPay and:
Navigate to our Item Return Request feature
Answer our chatbot's simple questions regarding your purchase
Submit the request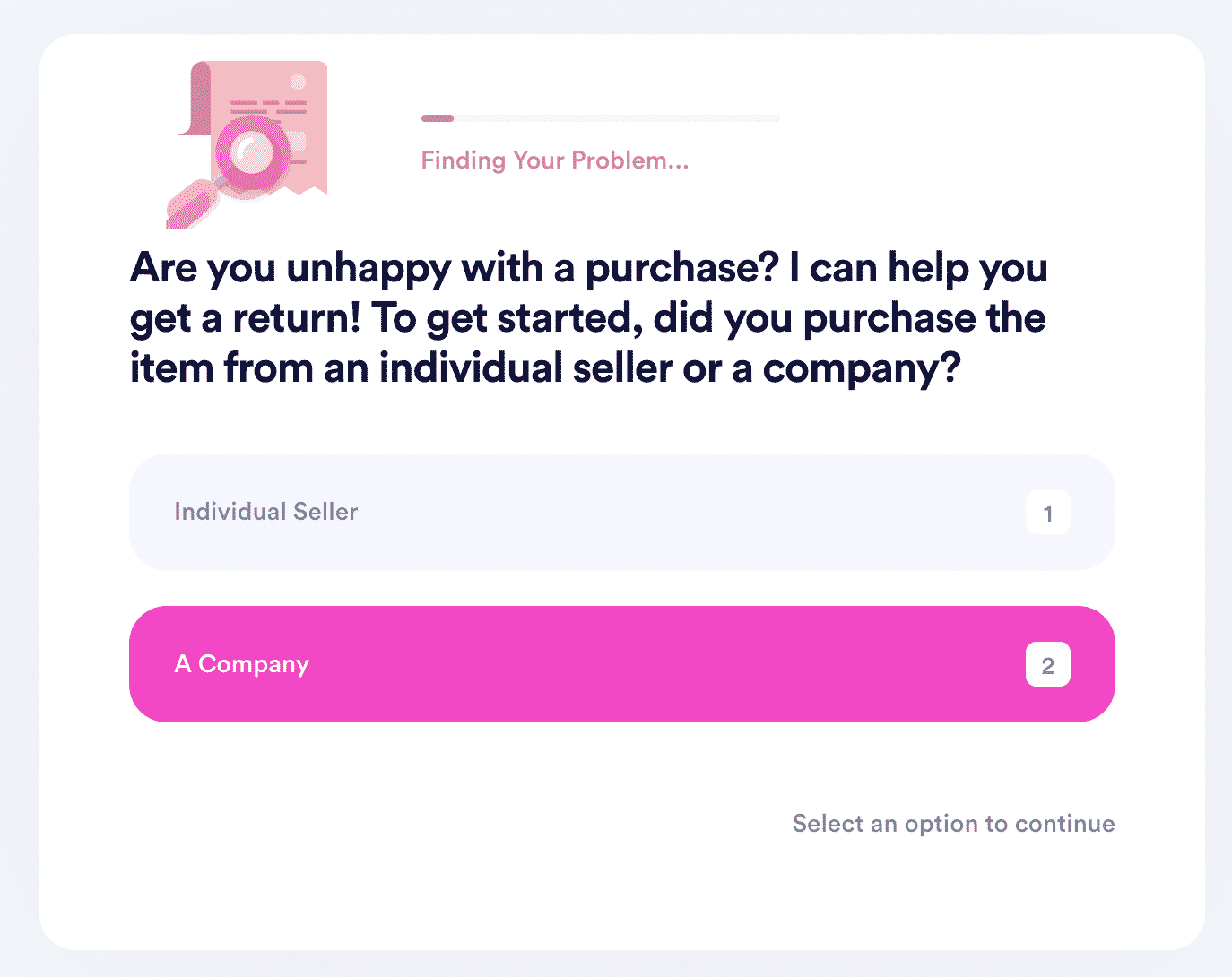 Sit back and relax—we'll take it from there! In less than five minutes, we will draft and send a custom return request letter informing the merchant about your decision and letting them know whether you want a refund or an exchange. We will set a deadline to ensure your request gets processed promptly, and we'll notify you once it's done.
We have deciphered the return policies of other brand names and helped customers get what they asked for hassle-free! Check out some of our guides in the table below.
Is the Company Refusing To Cooperate? We Can Help You Get Justice
Is whatever company you're dealing with not being a good sport? Don't worry—the world's first robot lawyer is here to help. Our app can prepare all the necessary paperwork and provide guidance if you want to sue the company in small claims court.
We can also help you draw up any legal document you need for the case, have it notarized by an online notary, and fax it to anyone in a matter of minutes.
If you want to get revenge on tiresome robocalls or report a stalker or harasser, you can rely on DoNotPay.
Anything Else We Can Do for You?
Our AI-powered app is versatile—you can complete many tiresome, daunting tasks that you wouldn't want to tackle by yourself. You can use DoNotPay to:
If you want to get access to all of our nifty products, sign up now!