Explore the BLICK Return Policy
With more than 90,000 products available online and many daily orders in place, it's not surprising that BLICK frequently encounters customer returns.
The BLICK return policy makes returning art supplies a time-consuming process, especially when multiple items need to go back.
In this guide, we'll show you the ins and outs of the BLICK return policy and offer a more convenient solution to sending any product back—DoNotPay. to streamline the process!
Our vast knowledge base also offers guides to the Office Depot, Sears, Buy Buy BABY, American Eagle, and many other retailer return policies—check them out!
Discover the BLICK Return Policy
BLICK will process a customer return up to one year following the purchase. The company requests items are in original packaging and like-new condition for resale.
Restrictions to the Dick Blick return policy include:
Returns due to customer error incur a 15% restocking fee
BLICK is not held accountable for lost or stolen deliveries
The customer is responsible for returns sent by freight delivery
Overages or shortages in deliveries must be reported within 30 days
The BLICK return policy gives you the option of a refund or product exchange, depending on your preference.
Canceling Your BLICK Order
Sometimes, you know a purchase needs to be returned before it even arrives. If you want to cancel a BLICK order, you will be charged up to 15% in restocking fees. If the item ships before you cancel the order, it must be returned in original packaging within 30 days of receiving it.
BLICK always charges the full 15% restocking fee for orders of $300 or more. This applies to learning institutions and other organizations ordering in bulk.
How To Return Your BLICK Products
Returning your art supplies to BLICK requires you to take the following steps:
Download the BLICK Return Form from the website
Complete the form
Arrange return shipping with your choice of delivery service
Send your faulty items and the return form back to the BLICK distribution center
If you received your BLICK items through factory shipping, you must contact BLICK customer support for separate return instructions.
Once BLICK receives your return package, it will review and process your order. This can take up to two weeks.
Ways To Initiate a BLICK Return
You can initiate a return with BLICK using one of the following methods:
| Can You Initiate a Return to BLICK Via | Yes/No |
| --- | --- |
| DoNotPay | Yes |
| Email | No |
| Online | Yes |
| In person | Yes |
| Phone | No |
In-person returns are only applicable if the product was purchased in store or if the online order is available through retail stores. Otherwise, the item must be returned to the BLICK distribution center it shipped from.
Want to avoid the hassle? Use DoNotPay for a quick and streamlined return!
Avoid Lengthy Procedures and Use DoNotPay Instead
Return procedures are often tedious and time-consuming. With that in mind, DoNotPay created a product that simplifies the whole process and streamlines it to a tee!
If you face a lengthy return process with BLICK, our app is here to reduce the time and energy needed to complete the task—you can do it in just a few clicks!
To use DoNotPay for your BLICK return, follow these steps:
Find the Item Return Request product
Answer questions about your BLICK product and the reason you want to return it
Submit your request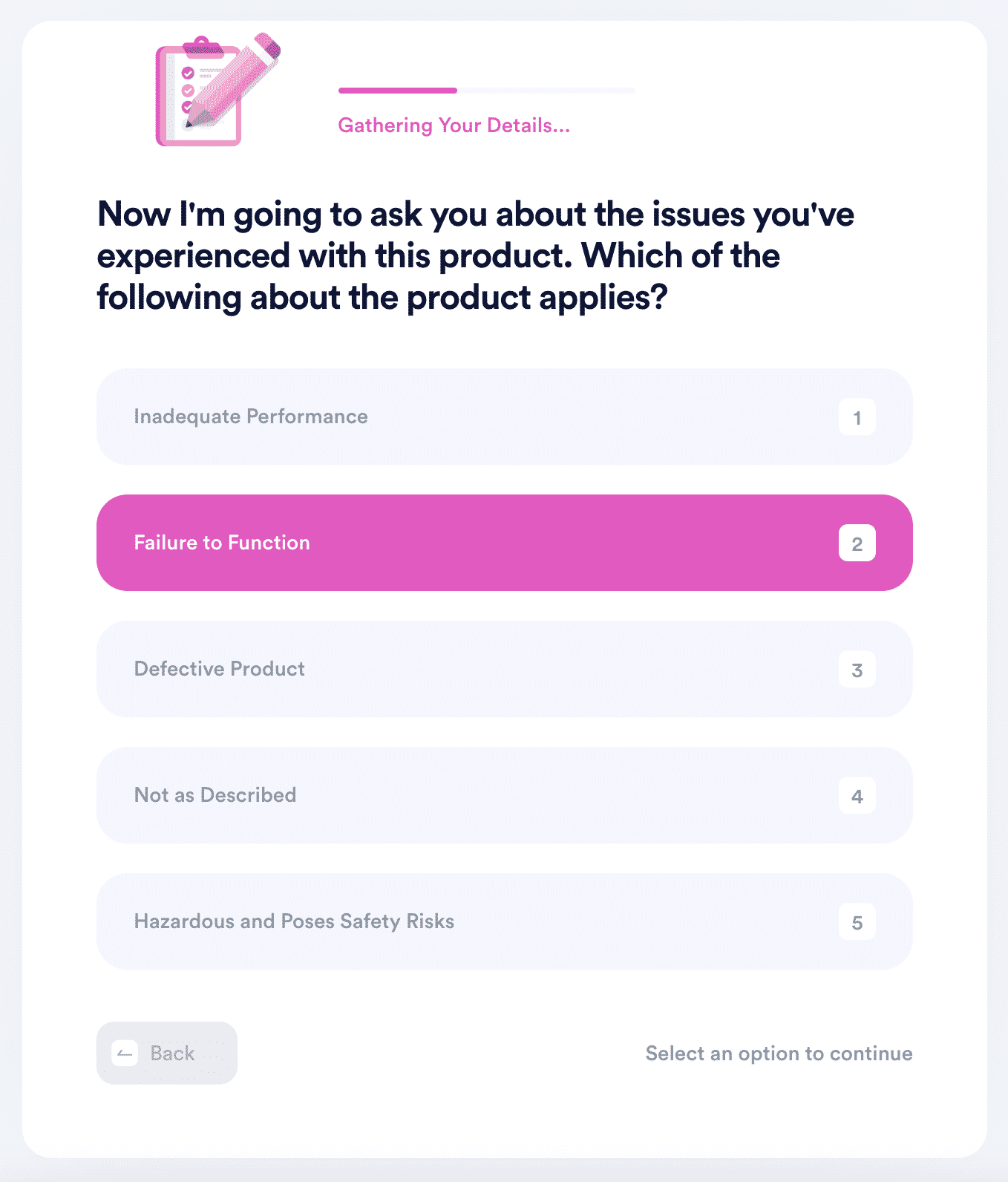 DoNotPay creates a bespoke return letter including an expedited refund timeframe. You also receive a free return shipping label.
You can use our app for more than just BLICK returns—check out how we can help you with Victoria's Secret, Swarovski, UGG, and Soma.
DoNotPay Can Also Speed Up Your Refund
Unsure if BLICK will send you your money back in a timely fashion? Use DoNotPay to demand a refund from the company instantly.
All you need to do is follow these steps:
Log in to our app
Select Chargeback Instantly
Answer our chatbot's questions
Click on Sign and Submit
Once you do that, our app will create an airtight refund request letter that will ensure you get what's rightfully yours in a snap!
Take Legal Action in Small Claims Court With DoNotPay's Help!
Is BLICK pushing back against your return and refund attempts? Has the company disrespected or wronged you in any other way? Seek justice! DoNotPay can help you file a lawsuit in small claims court to fight for your right.
DoNotPay was recognized by the American Bar Association as the world's first robot lawyer. Our app can help with:
Drafting your demand letters
Filling in legal documents
Collecting required forms
Scripting court arguments
Item Returns and Other Annoying Tasks Take but a Minute With DoNotPay
Looking into resolving other tedious bureaucratic tasks with the help of our app? Check out a fraction of our product range that can assist you with:
Don't Stop There—See How We Can Help You Even Further
You can count on our app's assistance if you need to cancel any subscription, demand a refund from a company or airline, get help with utility bills, reduce your property taxes, get a tourist visa, appeal banned accounts, contact embassies, or get cash back on gift cards.
Think you have some missing money? Claim it before the government does it in your stead! Need help preparing for a government test? Skim through our guides! Want to schedule a DMV appointment in a snap? We'll do it for you! Have any other obstacles? We'll get rid of them in the blink of an eye.