What Everyone Ought To Know About the eBay Return Policy
Opening your new parcel from eBay and finding out that the items inside are damaged or incorrect can ruin your mood. You may get even more stressed if you aren't sure what the next step is and how to report the inconvenience.
The good news is—we created a guide that will walk you through the return procedure smoothly. This article will explain how to take advantage of the eBay return policy and take the dissatisfying products back to any company, including Walmart or Target!
How Do Returns Work on eBay?
The first step you should take once you notice that the purchased products aren't what you were looking for is to check the seller's returns rules.
Each seller has the freedom to customize their policy and decide whether they accept returns or not. They can also establish the desired return window—usually 30 or 60 days—and determine who pays for shipping costs. If the seller who sent you the goods allows returns, you must make sure you aren't exceeding the determined return time frame.
One of the biggest advantages of eBay is that it protects you even if the seller decides not to offer the possibility of returning the products. In case you receive an order that doesn't match the description provided or contains damaged items, you still have the right to start a return request. This applies to all cases except for returning the products from the following categories:
Vouchers
Websites
Real estate
Classified ads
Motor vehicles
Specific services
Business for sale
Travel tickets
Heavy machinery
Industrial equipment
How To Start a Return on eBay by Yourself
To request a return, you should:
Sign in to your eBay account
Go to your purchase history
Find the order in question and select the item(s) you want to return
Pick the reason for sending the goods back
Upload the photos showing the damage or other particular flaws of the item
Tap on Send
You can follow the progress of your return request by checking the status updates online or in your purchase history.
| | |
| --- | --- |
| Can You Start an eBay Return Process Via | Yes/No |
| DoNotPay | Yes |
| Phone | No |
| Email | No |
| Your eBay account | Yes |
| Mail | No |
What Happens Once You Start an eBay Return?
The seller has three business days to respond to your request and suggest a fair solution and compensation. If this doesn't happen, you can contact eBay support and ask them to help you tackle the issue. Here's how to go about it:
Navigate to the page with your open requests
Select the item you want to return
Click on Take Action
Select Ask eBay To Step In
If the seller approves your eBay return request, they will probably offer you a few options, such as:
Sending the product back and receiving a full refund
Returning the item and getting a replacement or an exchange
Keeping the item in question and getting a partial refund
How To Return an eBay Item—Explained
When your request gets accepted, the seller will provide you with a return shipping label and tell you the exact date by which you should send the products back. The seller pays for the return shipping costs if they state so in their policy or send a damaged or incorrect item. If their return policy says that buyers should pay for returns or you change your mind, shipping expenses are your responsibility.
You should place all the items you want to return in a box carefully, seal the package, and attach the label to it. Keep the products in their original condition, including the original package and all other additional elements, such as:
Manuals
Free gifts
Certificates
Bonus items
Bundle items
Warranty cards
Cords and remotes
How To Return eBay Products the Easy Way Using DoNotPay
Going back and forth with the seller and eBay support can waste your precious time and be quite nerve-wracking. DoNotPay's Item Return Request feature offers:
Fully customized return request letter generated within five minutes
Free return label to help you avoid paying for shipping
Chance to demand returns from any device without contacting customer care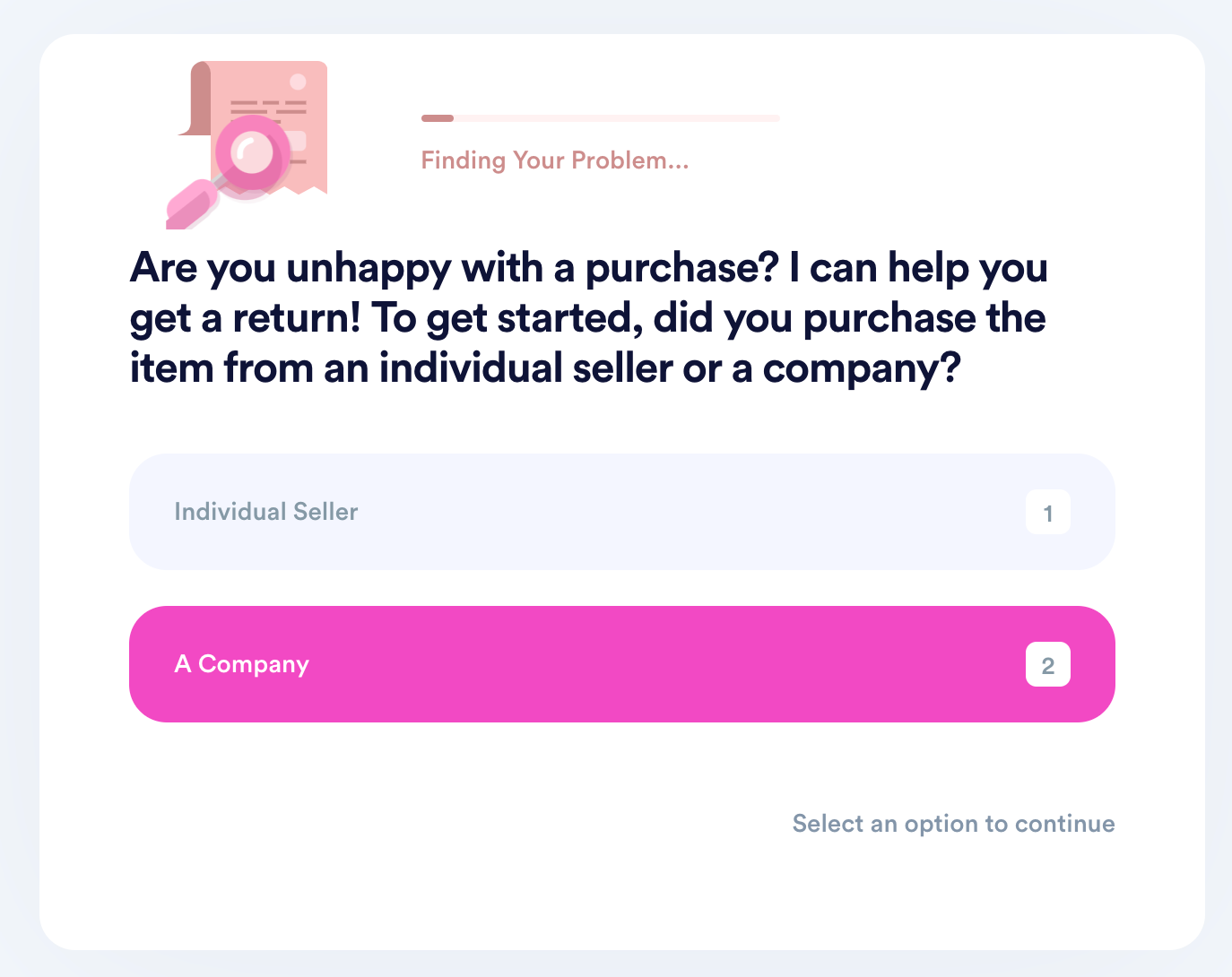 Here's how you can use our product:
Pick the Item Return Request option
Give us more details about the products you want to return
We will send your return request to the company or seller right away and include a demand for your claim to be processed by a specific date.
Not only do we help you deal with eBay returns, but we can also send request letters to various other companies and platforms, such as: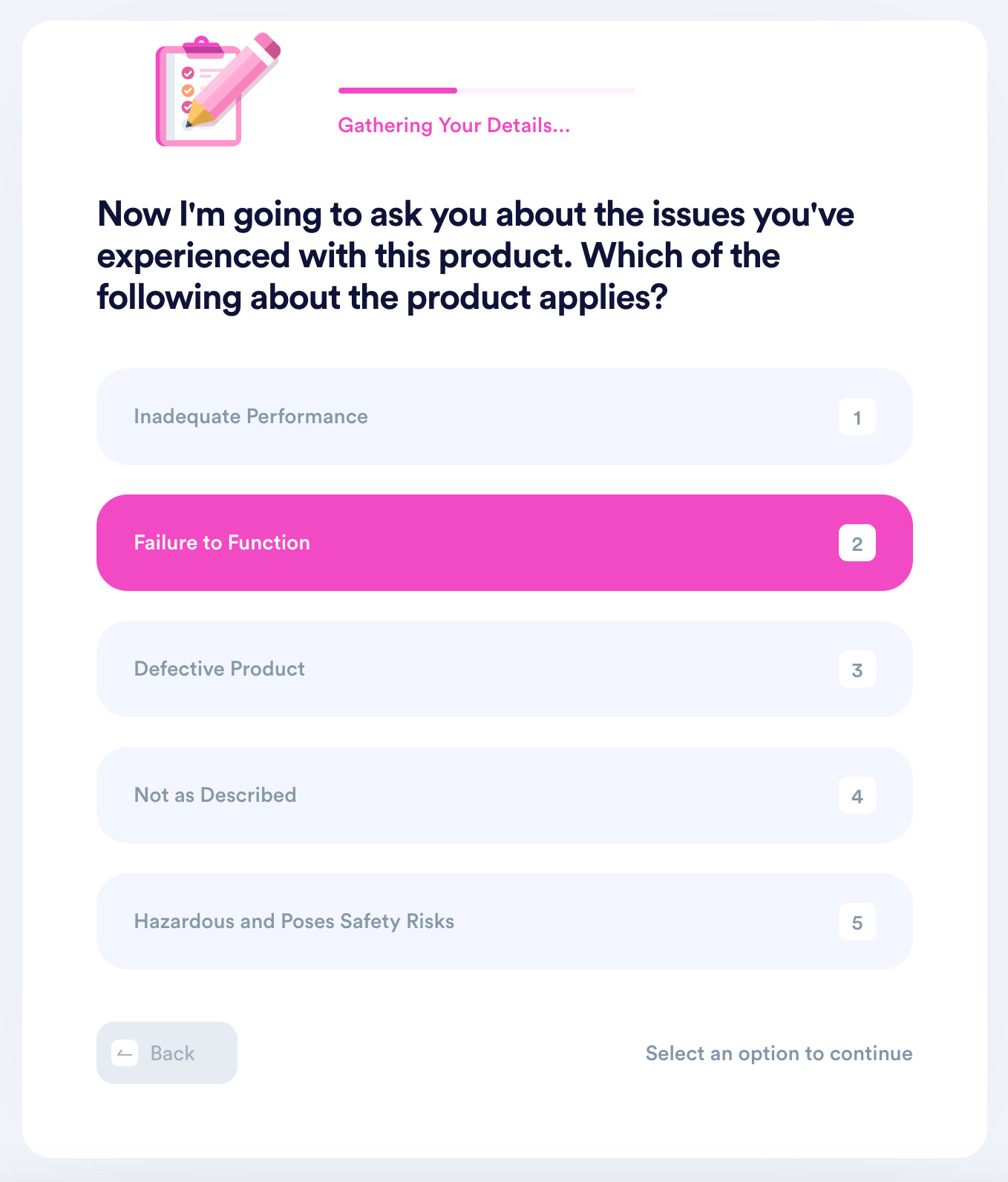 Use DoNotPay To Get a Refund After the Approved Return Request to eBay
Another amazing service DoNotPay features is File a Chargeback—a tool that helps you demand a refund for poor service or the products you aren't satisfied with. We can generate a refund request in minutes, save you time, and help you avoid lengthy procedures and other methods for getting money back.
You can use this feature once you and follow the instructions below:
Navigate to the File a Chargeback product
Select Get Protected
Go through a brief questionnaire with our chatbot
Sign a refund request electronically and submit it
Returned Your Faulty Item? Discover Other Nifty DoNotPay Products!
Apart from being your shortcut through returning your faulty items to merchants, our app can do so much more! From helping you request a refund, get extended warranties, file insurance claims, and find clinical trials in your vicinity to assisting you in creating legal documents, notarizing them, and faxing them—DoNotPay can do it all.
Do you think you're eligible for a victims of crime compensation program? Our app can help you apply for it. Do you want to get revenge on persistent robocalls, report someone for stalking or harassment, or get your noisy neighbors to be quieter? We got your back!
You Don't Have To Waste Time in Endless Lines
Returning an item may require you to wait in endless lines, but if you sign up for our AI-driven app, you will be able to skip all kinds of queues! You won't have to spend ages waiting in lines at the DMV or in customer support phone queues because DoNotPay will provide an easier way to get what you need.
If you want to skip the hassle of waiting on the phone when canceling a service, requesting refunds or compensation from airlines, requesting a college fee waiver, or connecting with a loved one in prison, you can count on DoNotPay to provide easy solutions.