Breaking Down the Lego Return Policy—How To Return Lego Purchases Without a Hitch
Lego is one of the largest toy manufacturing companies on the planet, so customers expect them to live up to their reputation when it comes to customer support and return procedures. In reality, returning those disappointing Lego sets and other items can be a long and complex process.
This guide will address all the questions you may have concerning the Lego return policy. It will also reveal how DoNotPay can help you send your return request in less than a minute.
A Detailed Overview of Lego's Return Policy
Receiving damaged products or incomplete orders are justifiable reasons for requesting a return, but Lego's return policy does not cover all items in its product lineup.
Your purchase must meet the following conditions for you to return it to Lego:
Your order was damaged, incorrect, or incomplete
You have had the item in your possession for 90 days or less
If your purchase meets the two conditions above, it will qualify for a return, but only if it fits under any of the returnable product categories.
The table below shows what categories of Lego products can be returned:
| Lego Items | Are They Returnable? |
| --- | --- |
| Unopened toy sets | Yes |
| Opened toy sets | Yes |
| Software (unopened) | Yes |
| Customized orders | No |
| Gift cards | No |
Returning Your Lego Items by Yourself
If your order is not to your satisfaction and you have not kept it for longer than 90 days, you can:
Return the item(s) via mail
Go to any Lego retail store close to you
Lego Returns Policy—Returning Your Lego Order via Mail
To ship your order back, you will need to use Lego's website. This method is ideal if you purchase your order online. You will need a return label—which you can get for free on Lego's site—and the order number provided at the moment of purchase.
Customers should take these steps to initiate the return via mail:
Visit the Lego website
Log in to your Lego account
Click the Order Status button
Select Return Items
Follow the instructions that pop up
If you checked out as a guest, you will need to contact Lego's customer support to get your return label.
There are several ways you can reach out to Lego's customer service:
Contact Methods
Instructions
Email
Follow the prompts on the official Contact Us page to email Lego
Chat
Fill in the required fields to start a chat with Lego's customer support
Phone
Call Lego's customer service line at 1-800-835-4386. The support team is available from 8 a.m. to 10 p.m. Eastern time on weekdays and 10 a.m. to 6 p.m. on weekends
Mail
Mail Lego customer service at:

P.O. Box 1138

Enfield

CT 06083-1138

USA
Returns made with Lego's return label can be tracked just like the original order. Customers will receive their refund to the same payment method they used during the purchase.
Lego Store Return Policy—In-Store Returns
If you wish to return your order in person, you can visit the nearest Lego store. You will need to show a receipt or an order confirmation email.
If your Lego set is still sealed and you originally purchased it from the same retail store you want to return it to, you will receive a full refund to the original form of payment. For opened sets, you will only receive store credit or product exchange for your return.
Confirm with the store you want to bring your order to first before returning your items—some Lego stores have limitations on the kind of items that they can accept.
Lego Return Rules To Pay Special Attention To
The total value of your Lego order and the used payment method affect the return procedures and outcomes. Here is a list of the rules you should consider when making a return:
Lego items valued at more than $200 cannot be returned to a Lego store
Sealed sets without a receipt or order confirmation email can't be returned or exchanged at a Lego store. Visit Lego's website to initiate a return or contact customer service to help you
Sealed sets paid for using PayPal and returned to the address on the package will be fully refunded as a gift card if the value is above $200
Unopened PayPal purchases less than $200 in value can be returned to any Lego retail store for a full refund in the form of store credit
To receive a refund to your PayPal account instead, you must reach out to Lego's customer service
When replacing items, Lego will charge your credit card for the replacement if they do not receive the returned product in 30 days from the date of shipping the new product
DoNotPay Can Help You Avoid All the Corporate Red Tape and Get Your Refund Faster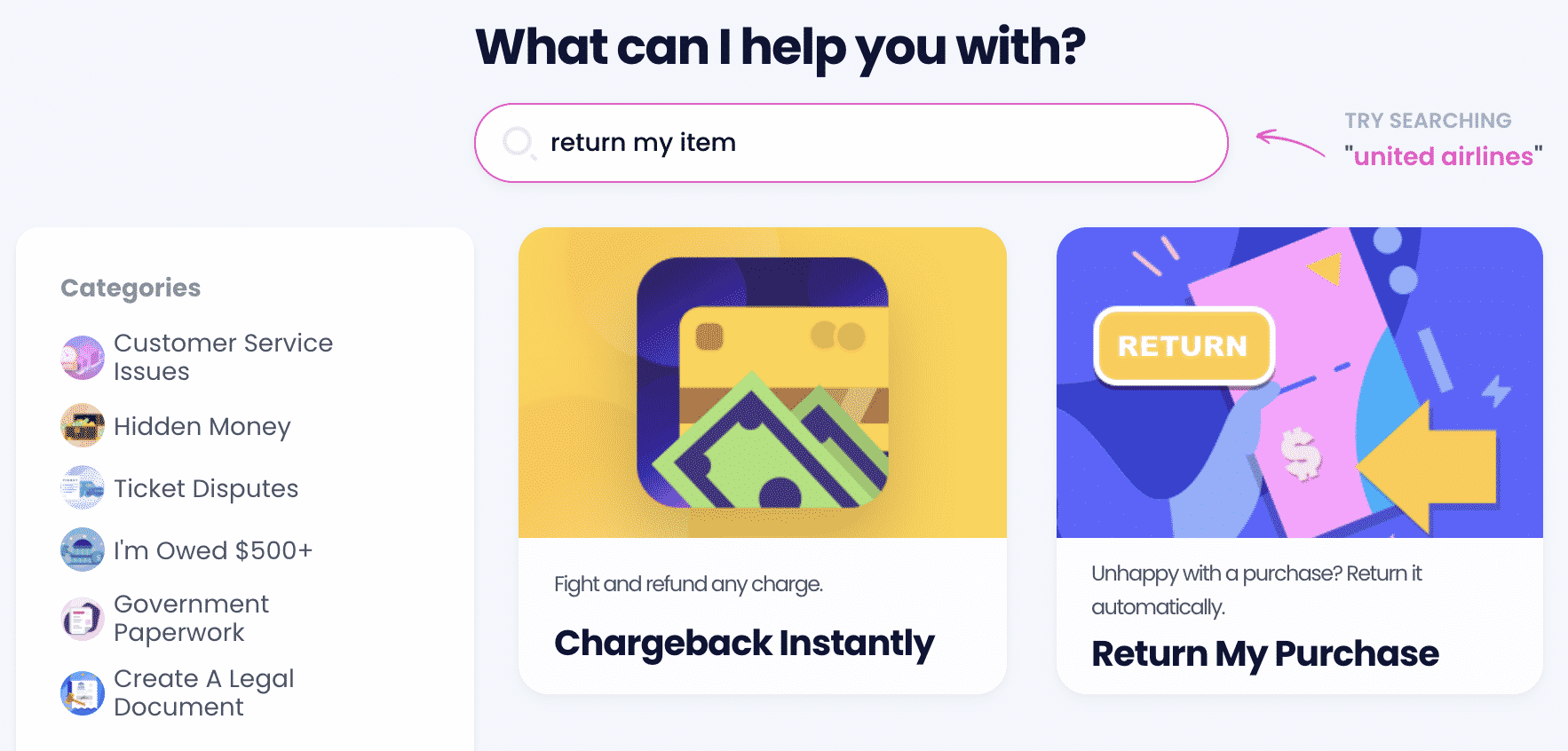 While you can always send a return request on your own, it is a daunting and time-consuming process. It could also be frustrating—complaints by numerous customers on Lego's Trustpilot page are proof of this. With DoNotPay's Item Return Request tool, you're a few clicks away from your successful refund.
To use DoNotPay's AI-powered solution, follow these few steps:
Register for DoNotPay in your web browser
Select the Item Return Request service
Answer a few questions and attach photos if applicable
Tap Submit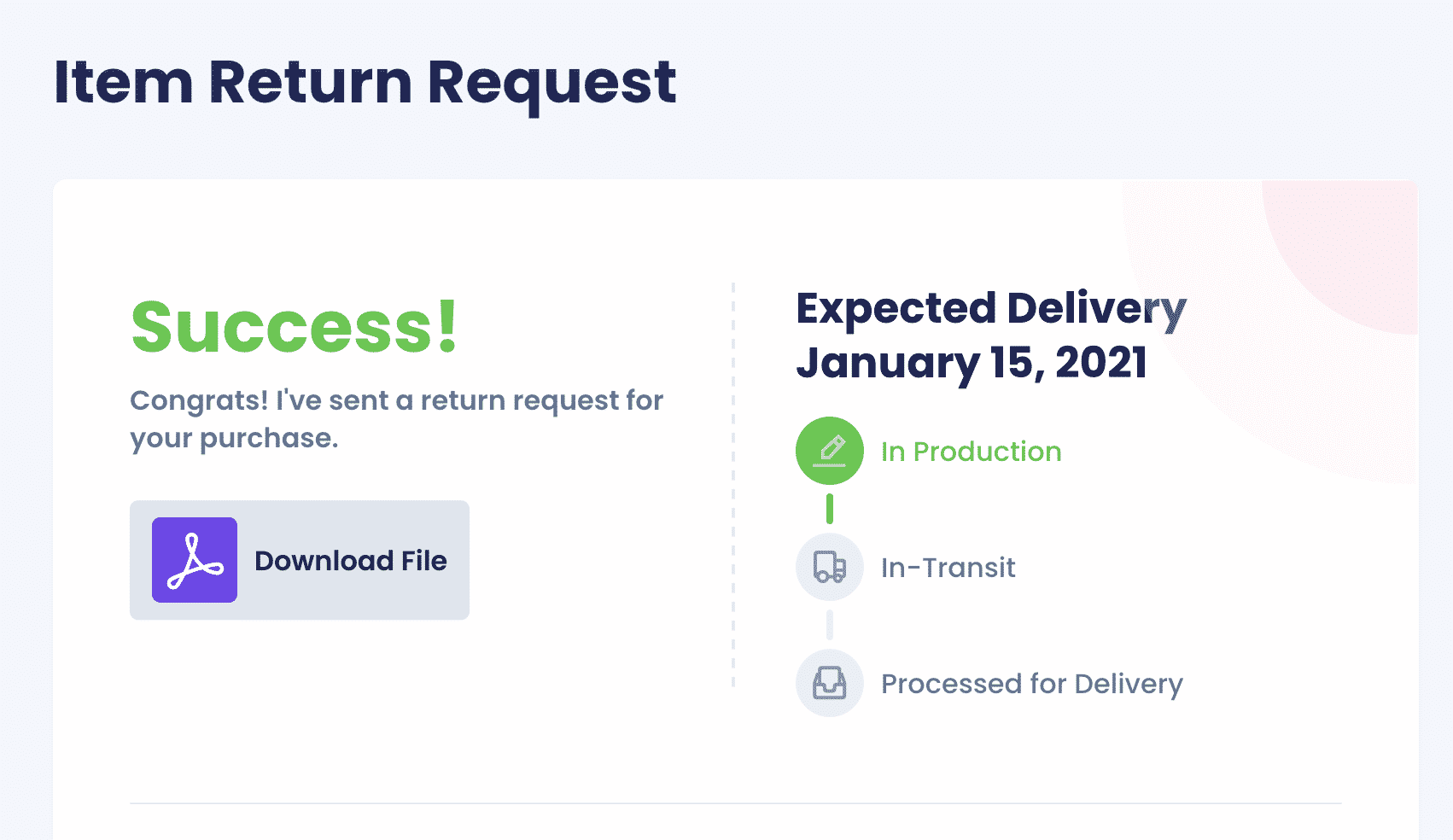 That's all you need to do. DoNotPay will generate a personalized letter detailing the problem with your purchase, specifying whether you want a product exchange or a refund, and setting the deadline by which Lego should respond.
Our tool will also generate a free return label so you can ship your package at no cost. Use DoNotPay, and you will not have to wait long for Lego to respond!
DoNotPay Can Help You Send Return Requests to Other Big-Name Companies
Our services go beyond handling Lego returns. We have helped thousands of our users successfully return items they bought from numerous companies.
Here's a list of some of the companies whose return policies DoNotPay can untangle and simplify for you:
Wasted Your Money on a Non-Returnable Purchase? There Are Other Methods To Earn It!
Don't feel down if the item you got isn't returnable—DoNotPay has many more tricks up its sleeve that will help you earn some money!
From helping you enter sweepstakes, decrease your property taxes, and lower your utility bills to assisting you in earning off email or text spammers and robocalls, waiving your college application fees, submitting a college financial aid appeal letter, and getting a refund from any company or airline, we can do it all!
DoNotPay Is Always at Your Disposal
Our app's mission is to take everyday admin and legal tasks off your plate so you don't have to waste any of your precious time. If you want to appeal your parking tickets, draw up a legal document, get any agreement notarized, get a tourist visa, keep a sex offender at bay, mail anything without waiting in line, or get in touch with a loved one in prison, DoNotPay will resolve any of these with ease.
Too busy to track your memberships? You don't need to worry about canceling your free trial on time before it turns into a paid subscription if you use our virtual credit card.
With DoNotPay, you can tackle any otherwise annoying chore stress-free.