Victoria's Secret Return Policy—Unveiling the Secret and Making Your Life Easier
Are you tired of the secrecy and confusion caused by convoluted return policies? Read our Victoria's Secret return policy guide, and all your questions will be answered. DoNotPay is here to help you decipher the return policies of Victoria's Secret and any other fashion brand, such as J.Crew, T.J.Maxx, and SHEIN. If sending a return request seems too complicated, you can let us handle it for you!
Victoria's Secret Return Policy Explained
You can return any Victoria's Secret item that you don't like, even if it's purchased on a sale, on clearance, or as a gift. The returnable items also include lingerie, swimwear, and UGGs.
When you're returning an item, you don't need to have the original price tag, but bringing it will make the process easier.
Victoria's Secret franchise stores only accept returns on items purchased in their respective locations.
Victoria's Secret Return Policy Restrictions
Here are the restrictions that apply when returning items to Victoria's Secret:
The merchandise with a Required for Return tag can't be returned without the tag
A seven-item limit applies to returns within 90 days, defective merchandise excluded
The items that have a sewn-in garment tag removed will not be accepted for returns
How To Return Victoria's Secret's Products
If you buy Victoria's Secret merch online, you can return it:
By mail
To a Victoria's Secret or PINK store
| | |
| --- | --- |
| Can You Start the Return Process Via | Yes/No |
| Phone | Yes |
| Website | No |
| Email | No |
| In Person | Yes |
| DoNotPay | Yes |
How To Return an Item by Mail
Follow the instructions below to return items by mail:
Pack the unwanted items and the packing slip that came with the order. If you don't have the slip, provide the shipping email copy. You don't have to use the original packaging
Print and attach the free USPS returns label to your package with clear tape. You can find this label on Victoria's Secret returns page
Drop off the package at a local USPS. Use the USPS Locator to find the nearest one
If you don't want to use USPS for Victoria's Secret returns, mail the package with another carrier to this address:
VSD, ATTN: Returns Processing
8695 E. Broad Street, Reynoldsburg
OH 43069, U.S.A.
How To Return an Item to the Store
You can find the nearest Victoria's Secret using the store locator. Reach out to a store representative at any location, and they'll be happy to help you with your return.
When you return an online-bought item to a Victoria's Secret store, you need to bring the order invoice and a copy of the shipping confirmation or your order email.
Victoria's Secret Refund Policy
Victoria's Secret issues refunds to the original form of payment within 90 days of purchase if you return a product with the original receipt. After that, they only refund in the form of store credit.
You can request an in-store price adjustment within 14 days of purchase if you have the original receipt. Price adjustments are credited to the original form of payment.
Original shipping and handling fees are non-refundable.
Victoria's Secret Exchange Policy
You can return up to $250 worth of items without a receipt in 90 days, and you will receive store credit or item replacements.
If you want to exchange a wrong, faulty, or differently sized or colored item, you need to call Victoria's Secret customer support at 1-800-411-5116. They'll place the order for you and ship it for free, and you can return the unwanted order for a refund.
When it comes to gifts, you can only exchange or trade them for store credit—you can't get a refund for them.
Use DoNotPay To Initiate a Return With Victoria's Secret
We know that returning merchandise isn't a cakewalk. Return policies can be confusing, so much that they may make you give up trying. Don't let your money go to waste—request a return and get a refund or exchange the product with our help.
Our Item Return Request feature is exactly what you need, and it's easy to use. Here's what you need to do:
Click on the Item Return Request option
Answer our questions regarding your return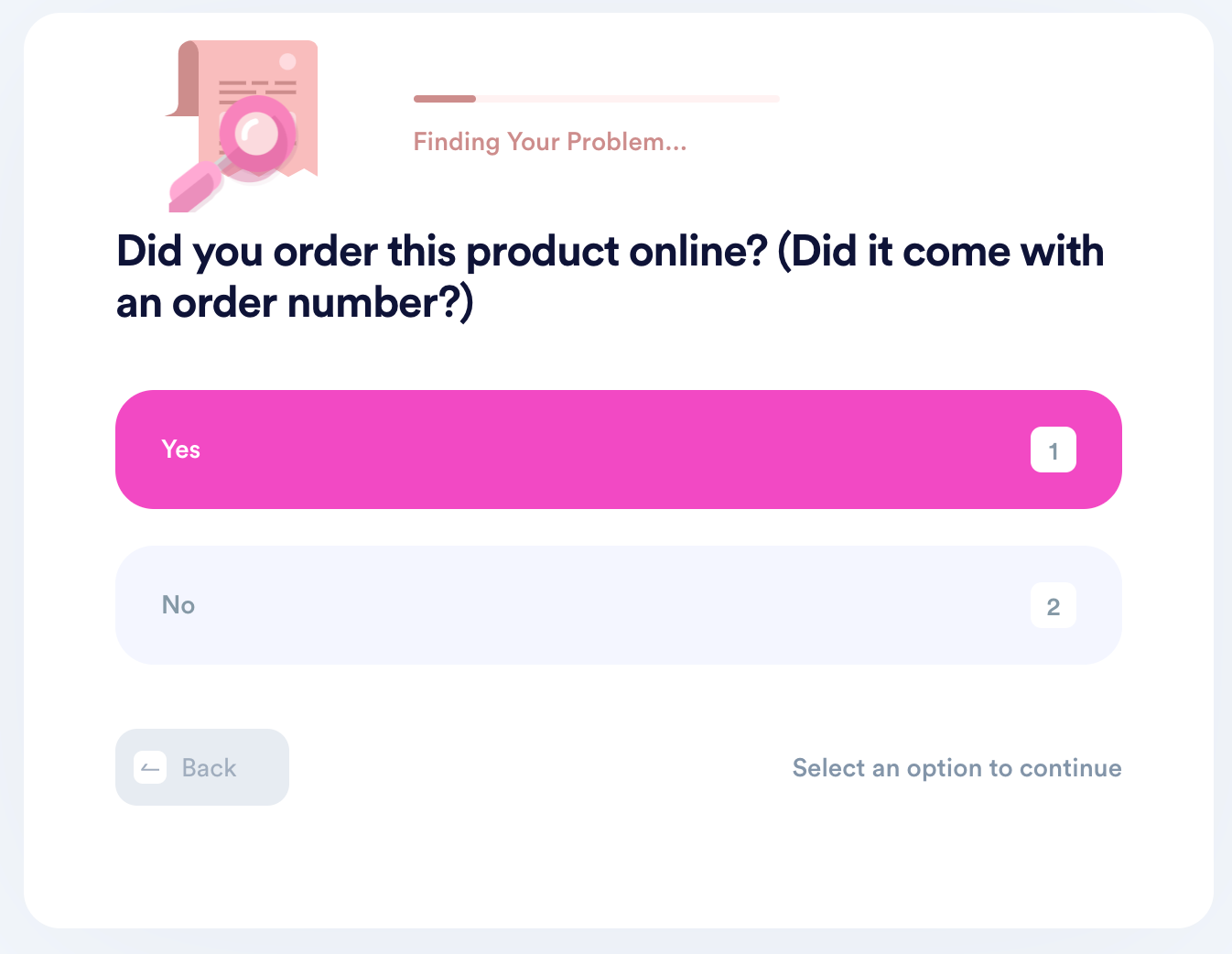 After these three steps, we will generate a custom return request letter and mail it to Victoria's Secret. The letter will include a deadline, describe the returned product, state whether you want a refund or exchange, and it can help with potential legal disputes.
Need Help Returning More Products? Use Our Guides for Other Companies
Returning any product is impossible without knowing the ins and outs of the company's return policy. We'll provide this knowledge, and if you , we'll even request returns in your stead from companies, such as: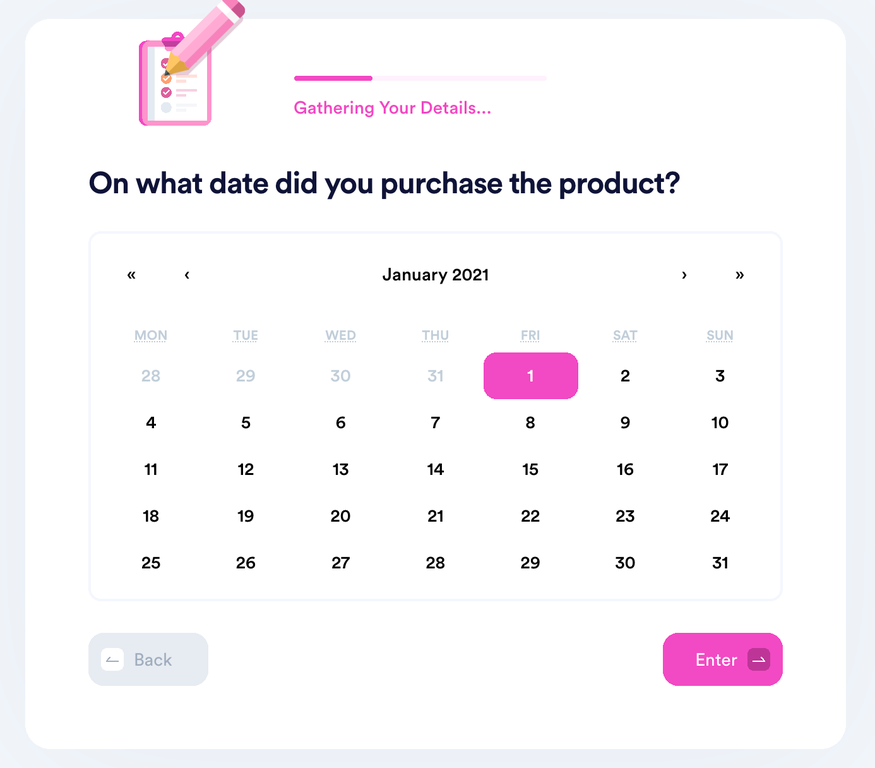 Is the Company Refusing To Cooperate? We Can Help You Get Justice
Is whatever company you're dealing with not being a good sport? Don't worry—the world's first robot lawyer is here to help. Our app can prepare all the necessary paperwork and provide guidance if you want to sue the company in small claims court.
We can also help you draw up any legal document you need for the case, have it notarized by an online notary, and fax it to anyone in a matter of minutes.
If you want to get revenge on tiresome robocalls or report a stalker or harasser, you can rely on DoNotPay.
Anything Else We Can Do for You?
Our AI-powered app is versatile—you can complete many tiresome, daunting tasks that you wouldn't want to tackle by yourself. You can use DoNotPay to:
If you want to get access to all of our nifty products, sign up now!