The Aéropostale's Return Policy in Simple Terms
Have you recently purchased an Aéropostale item, tried it on, and it turned out to be far from what you expected? The chances are you would like to return it, but you lack the time and energy to read through wordy return policy terms.
We broke down the Aéropostale return policy for you and included all the relevant details in this comprehensive guide. We'll also show you what happens if you let DoNotPay initiate the return process.
All About the Aéropostale Return Policy
Like most clothing brands, Aéropostale offers both online and in-store purchases, and the return policy slightly varies based on how you purchased an item.
For both purchase types, Aéropostale allows returns of unwashed, unworn, or defective merchandise within 60 days after the purchase date. Price tags are essential when it comes to swimwear and underwear—without them, the company will reject your return request.
Aéropostale issues refunds to the payment method you used within 30 days of receiving the returned item. The refunds will reflect original discounts and promotions. All items need to have a receipt—an original purchase receipt or a gift receipt.
Online Purchase Returns Explained
According to the Aéropostale online return policy, customers can return items they bought online either via mail or to the store.
Certain items bought online cannot be returned in person:
Online-only items
Room merchandise (e.g., bedding and accessories)
Fragrances
The company will accept returns of the products purchased online only with the return form or bottom part of the packing slip.
When returning your item, you should know that the following costs are non-refundable:
Shipping and handling expenses
Gift-wrapping expenses
In-Store Returns Explained
A customer can return an unwanted item to any Aéropostale store in the U.S.
When returning a product to the store, you need to bring the following:
The unworn items with price tags
The packing slip or the original receipt for regular orders
Mail Returns Explained
To return an Aéropostale product in accordance with the Aéropostale return policy, follow these steps:
Attach the pre-paid label to the packaging (the use of this label will cost $7, and this will be deducted from your return credit)
Type in your order number, billing name, and address, along with the reason for the return on the packing slip
Put the packing slip inside the package
Bring your package for shipping at any of the following locations:
UPS Store
UPS Drop Box
Office Depot
Staples
Track your return in your account on the Aéropostale website
Follow steps 1 and 2 above to return the package to Aéropostale's Return Center if you would like to organize shipping via an insured shipping service.
If any damage to the product is caused during shipment, reach out to the carrier or Aéropostale's Customer Service at 877-289-2376 (option #1).
Return a Faulty Product With DoNotPay's Assistance—We Make It Plain Sailing!
Want to avoid all these bothersome steps and initiate your return request more quickly? Our AI-powered app is at your service. Here's what you need to do:
Log in to your DoNotPay account using any web browser
Look up the Return My Purchase product
Answer a couple of questions about your purchase and include photos if applicable
Submit the request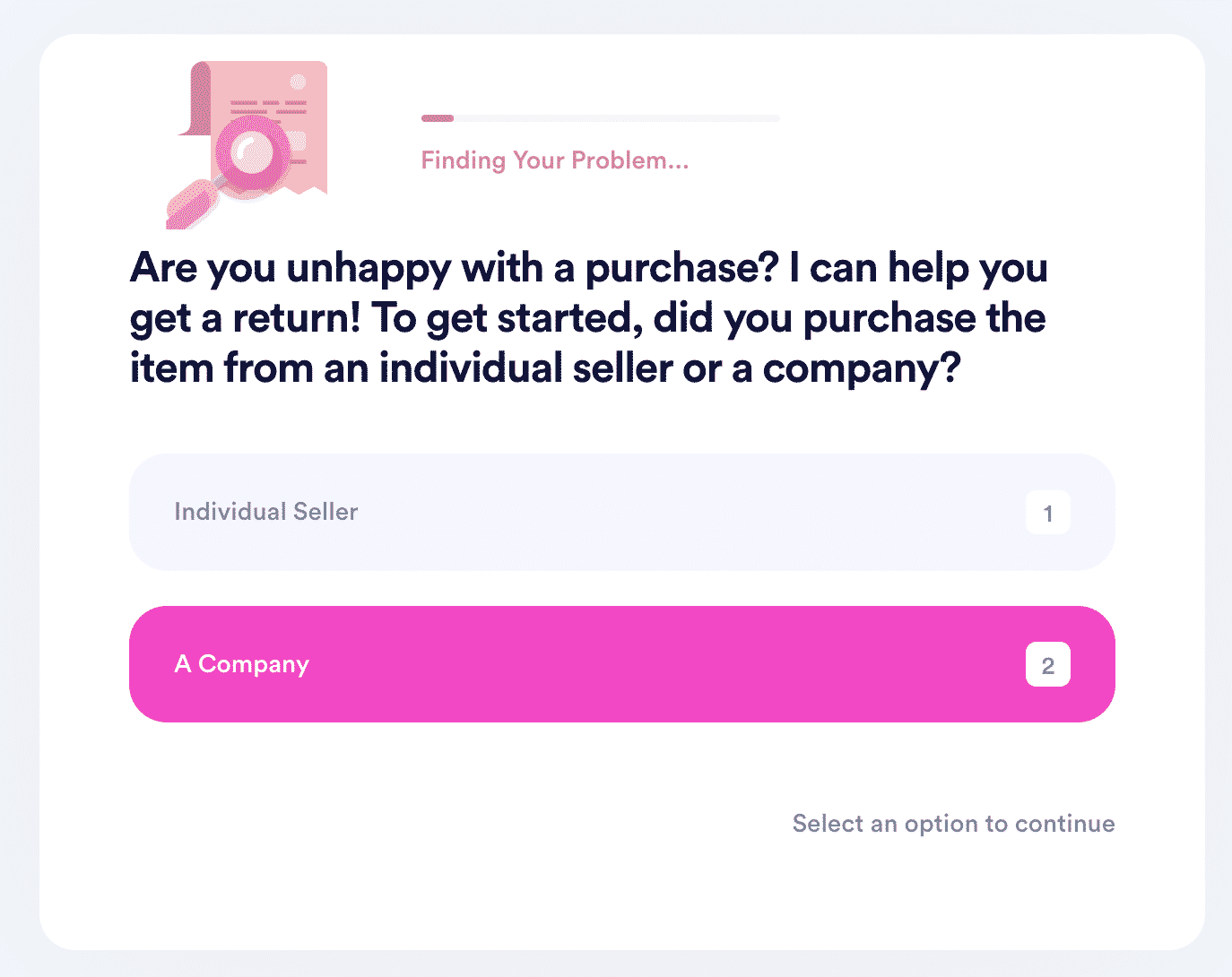 In only a couple of minutes, our powerful app will create a custom return request letter and send it to Aéropostale. The company will get all the necessary details, such as what the reason for your dissatisfaction is and whether you want a refund or an exchange.
To ensure efficient processing of your request, we will provide a specific date for the company to take action by. We will also get you a return label so that you can avoid shipping expenses.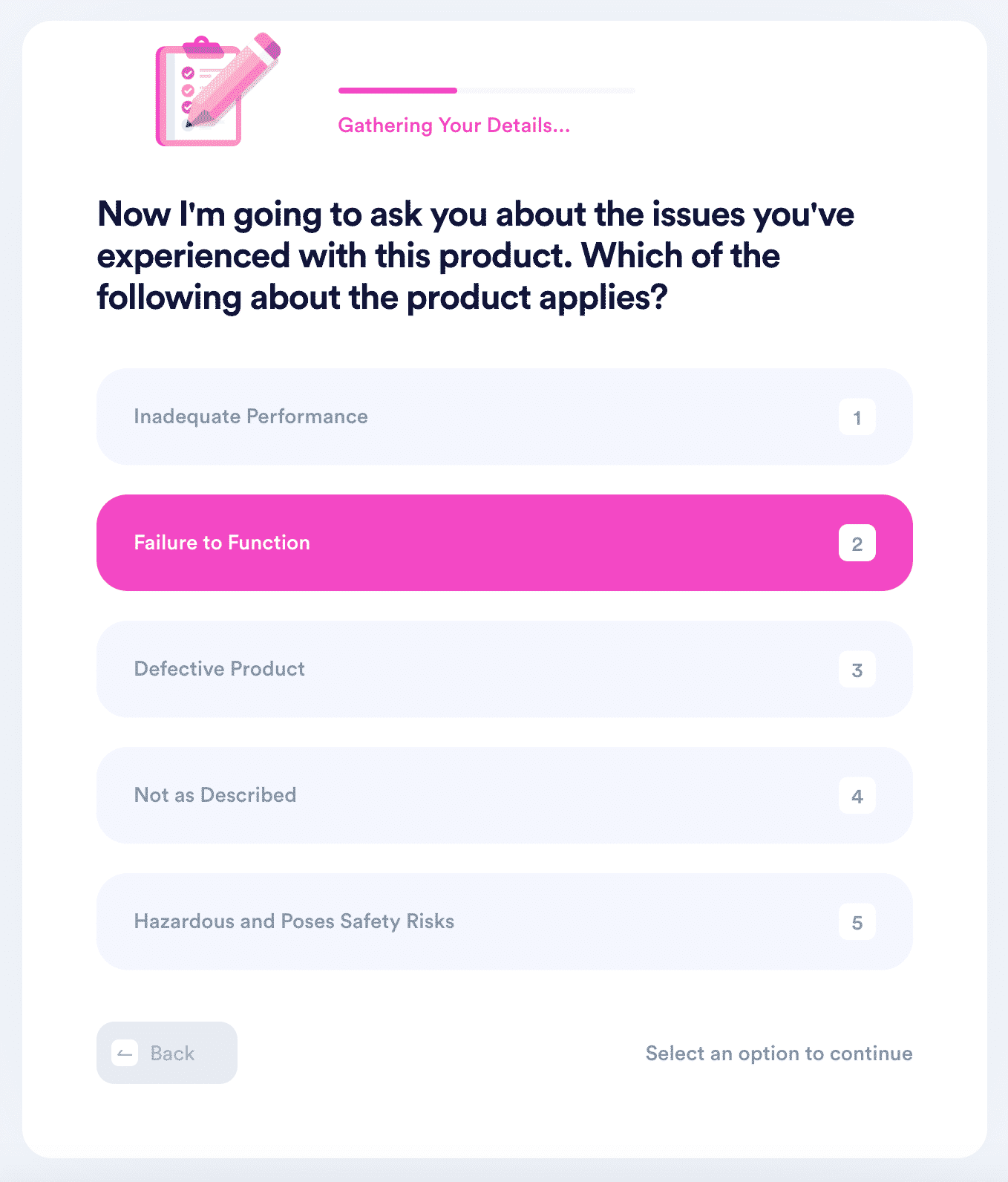 Apart from Aéropostale, DoNotPay's knowledge base contains simplified return policies of other renowned retailers, such as:
Is Aéropostale Being Uncooperative? Reach a Compromise With DoNotPay's Help!
Is the company refusing to refund your faulty product even though the Aéropostale return policy indicates you are eligible? You can lean on our Chargeback Instantly product and get what you are owed in a flash. All you have to do is sign up for DoNotPay!
Is this retailer breaking the rules in any other way? Our app will help you take the matter to small claims court.
What we can assist you with is the following:
Drawing up a demand letter
Completing various court forms
Collecting the necessary paperwork
Filing your complaint
Drafting a script with the best argumentation you can use in court
Sick of Dealing With Companies? We'll Take Over
Companies that don't respect your consumer rights are the reason why DoNotPay exists—our range of AI-powered products is here to help you fight for justice.
If you want to demand a refund for a rescheduled flight, cancel your free trial using our virtual credit card, sue any company or individual in small claims court, appeal your parking tickets, protect your work from copycats, claim warranty and insurance, rely on your AI-driven personal assistant.
Don't want to pay sky-high lawyer fees for simple legal tasks? You shouldn't—use DoNotPay to draw up any legal document, including a child travel consent form, divorce settlement agreement, power of attorney, and many more.
Complete All Tasks From the Comfort of Your Home
As soon as you subscribe to our versatile app, you'll be able to do all of the following without leaving your home: