Understanding the Clinique Return Policy—Return Clinique Products Fast
The Clinique return policy is simple, but you can find almost no information on the website about how to return products to the company. Don't worry, though—DoNotPay will provide you with all the information that you need to return your faulty items stress-free!
Our knowledge base is updated daily with return policy guides, so if you need help returning items to other popular retailers, follow our lead! Alternatively, you can let us handle the whole ordeal!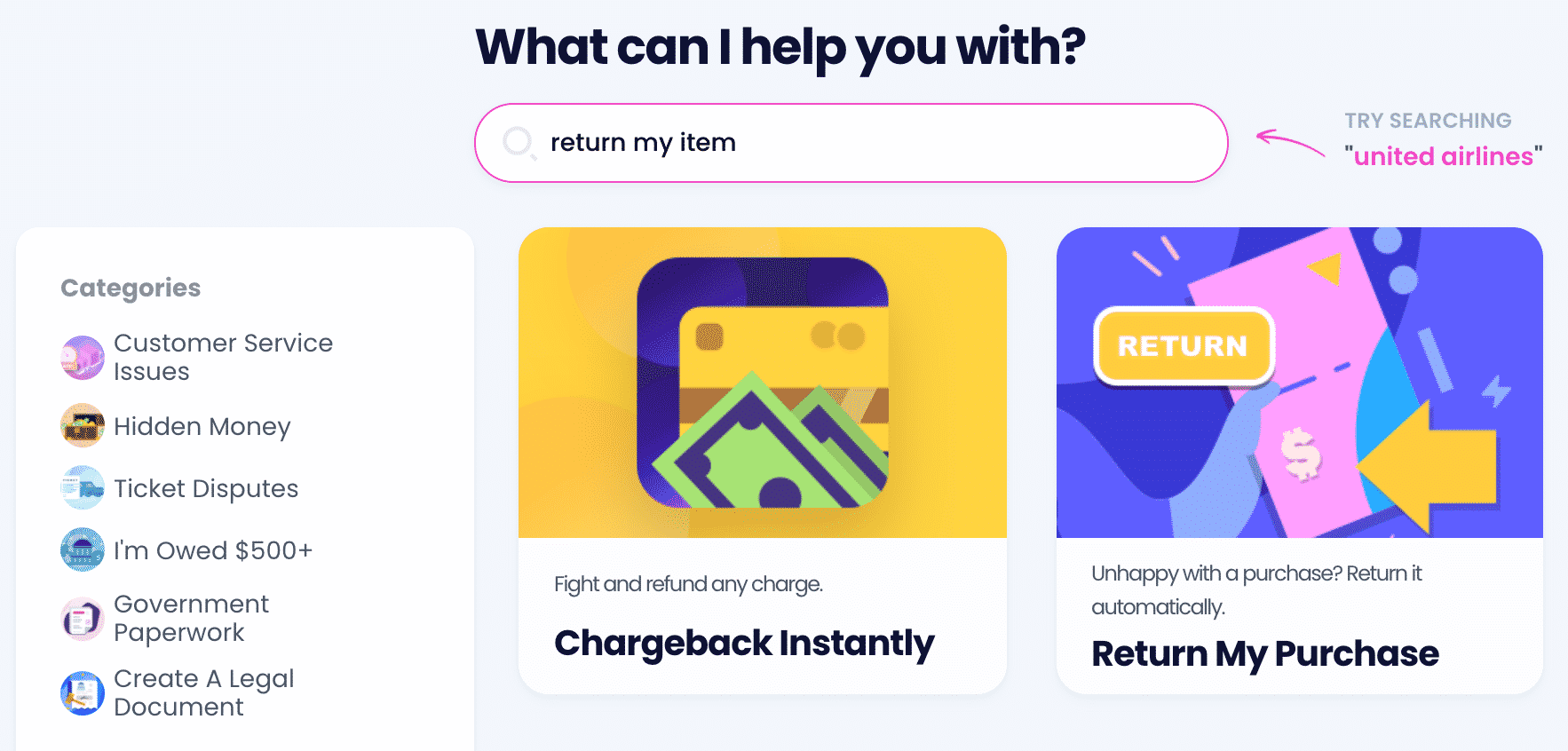 Clinique Return Policy Explained
If you're unsatisfied with your Clinique product for any reason, you can return the unused portion for a refund or exchange the item for another one. Clinique does not define a timeframe of when you can return the product—as long as you haven't overused it, you can send it back at any point.
All products are eligible for returns, except:
eGift cards and traditional gift cards
Promotional items
Products marked as final sale
Products bought from freestanding Clinique locations or specialty retail and department stores can only be returned to those locations at their sole discretion.
Learn How To Initiate a Return to Clinique on Your Own
The only way to request a return to Clinique is by messaging customer support. You have to:
Locate the Live Chat button in the bottom right corner of the page
Type in Hello to get started
Click on Customer Support once the chatbot responds
Select Returns and Exchanges from the menu
Specify where you bought your product
Choose Yes when the chatbot offers assistance from a live chat representative
Provide the email address to which you expect to have the return label sent
Once you're connected with a live service consultant, explain the return reason and provide any further information they might ask for. You can expect to have the return processed in one or two business days from the moment the parcel arrives at the distribution center.
Note that you can't initiate a return to any of Clinique's physical locations over the website.
DoNotPay Can Help You Request a Return From a Plethora of Companies
Unlike Clinique, most companies allow their customers to return products using several methods. If you bought a faulty product from another retailer, you can make good use of our Item Return Request feature. Our AI-powered app can:
Draft and send a return request letter
Set a deadline to ensure your request gets processed promptly
Help you get a refund or exchange in a snap
Lower your shipping costs by providing you with a free return shipping label
All you have to do to use our service is:
Find our Item Return Request feature
Answer several purchase-related questions
Click on Submit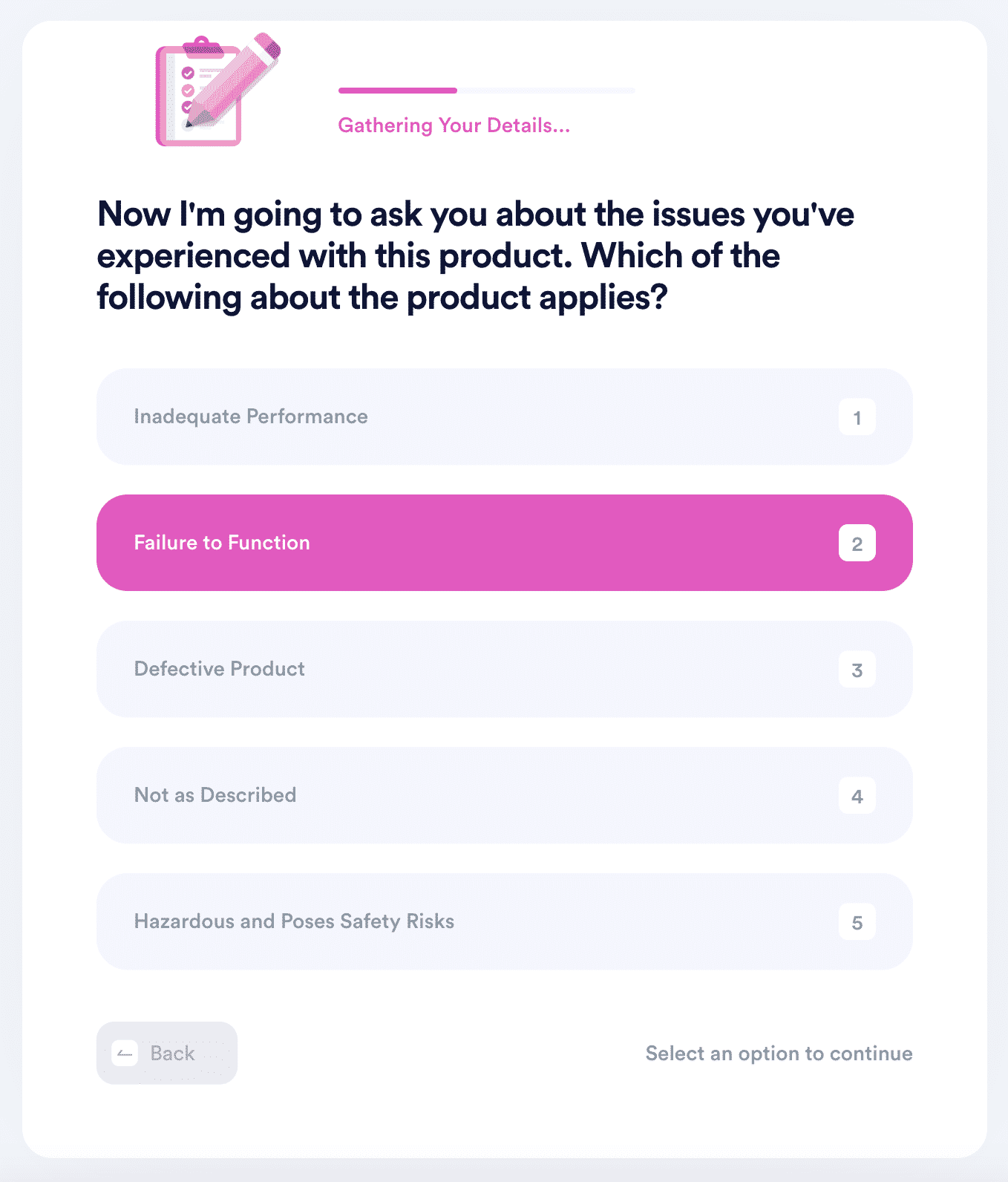 Once you complete the three short steps, we will initiate the return.
The best part of using DoNotPay as your return assistant is that you won't have to spend big bucks and will get back what's rightfully yours in a matter of minutes! Check out some of our other guides:
Are You Still Waiting for Your Clinique Refund? It's Time You Let DoNotPay Take Charge
Once you return your faulty Clinique products, you should get your money back within seven to ten business days. It will be credited to the original payment method.
Is Clinique taking too long to issue a refund? and speed up the process! All you have to do is:
Locate our Chargeback Instantly product
Click on Get Protected
Answer several questions
Click on Sign and Submit
We will fax a refund request to your bank and provide all the evidence needed to strengthen your case.
Is Clinique Refusing To Cooperate? Protect Your Customer Rights With DoNotPay
DoNotPay knows that the customer is always right, and we make every effort possible to prove it to merchants! Being recognized by the American Bar Association, DoNotPay is a mighty ally to have on your side when your customer rights are being violated. If you want to put a stop to the unethical behavior and take Clinique to small claims court, we can help you:
Write a demand letter to Clinique
File a complaint
Fill out all court forms you'll need
Gather all the required paperwork
Create a convincing script to use in court
With DoNotPay, you'll always have the upper hand!
Want To Save Money and Avoid Bad Purchases? Look No Further!
Aside from helping you send a return request to any company, DoNotPay can also assist you in getting a refund in a flash! We can also help you request a refund for any late, missing, or damaged delivery.
Do you want to stop wasting your money on useless services? Our app can help you cancel them and provide you with a virtual credit card that terminates free trials before companies get to charge you!
If you want to discover some forgotten assets you may have, we can help you find them in just a couple of minutes. With DoNotPay, you can both save money and earn it!
Once you sign up, you can report text and email spammers, annoying robocalls, and real-life stalkers and harassers and earn off them. We can also help you sue any company or individual in small claims court if you feel like they did you dirty.
Getting Rid of Bureaucratic Procedures Has Never Been Easier
The process of composing a return request letter is tiring, which is why you should turn to DoNotPay for help. Our app will assist you if you want to avoid similar bureaucratic hassles, such as:
Sign up for DoNotPay to utilize all of our nifty products!