The Jet Return Policy From A to Z
If you received a wrong, damaged, or low-quality item from Jet and wish to return or exchange it, you've come to the right place. This comprehensive guide answers all the questions you might have regarding the Jet return policy.
If you want to save time and effort trying to figure out how to initiate a return, ! Our app can create and send a return request to a variety of different retailers in a matter of minutes.
What Is the Jet Return Policy?
You may return purchased items to a Jet store or exchange them for other items within 30 days of purchase. Your items should:
Be in the original condition
Come in sealed packaging with the original tax invoice
Still have price tags attached
Be unused
For returns, the company will refund you in the same way that you paid for the item.
What if I Received a Defective Item?
You can return defective items within six months of purchase if they:
Are defective due to manufacturing mistakes
Were used for their intended purpose
Were taken care of according to the care instructions
Jet offers either to repair or replace defective items or give you your money back.
If you want to return faulty cellular or mobile devices, or related goods, you must do it within seven days of the purchase.
Make sure you keep the original packaging and proof of purchase for warranty or exchange purposes. To be eligible for a return, your device mustn't be damaged, scratched, or show any other signs of neglect due to mishandling. Devices that are faulty due to software issues will be upgraded free of charge by the relevant network provider.
Why Was My Return Request Rejected?
According to Jet's return policy, not all items are eligible for a return or an exchange. Such items are:
Underwear
Bodysuits
Swimwear
Personal care products
Hosiery
Cosmetics
Piercing jewelry
Hair extensions and accessories
Medicine
Consumables
Baby bottles and baby bottle treats
Baby feeders
Breast pumps
Dummies
Airtime
Giftcards
How To Return a Jet Product
The only way you can return a Jet product is by taking it back to the nearest store. Mail returns are not possible anymore because Jet closed online shopping.
You should:
Find the nearest Jet store
Bring your product back (in undamaged condition)
Ask an employee to return the product
Return a Faulty Product Without Breaking a Sweat With DoNotPay
Did you know that you can count on DoNotPay when it comes to returning unwanted goods to a variety of retailers?
If you want to avoid the hassle of filing a return request and going back and forth with the seller, sign up for DoNotPay. Our nifty app will ensure that the entire procedure goes smoothly.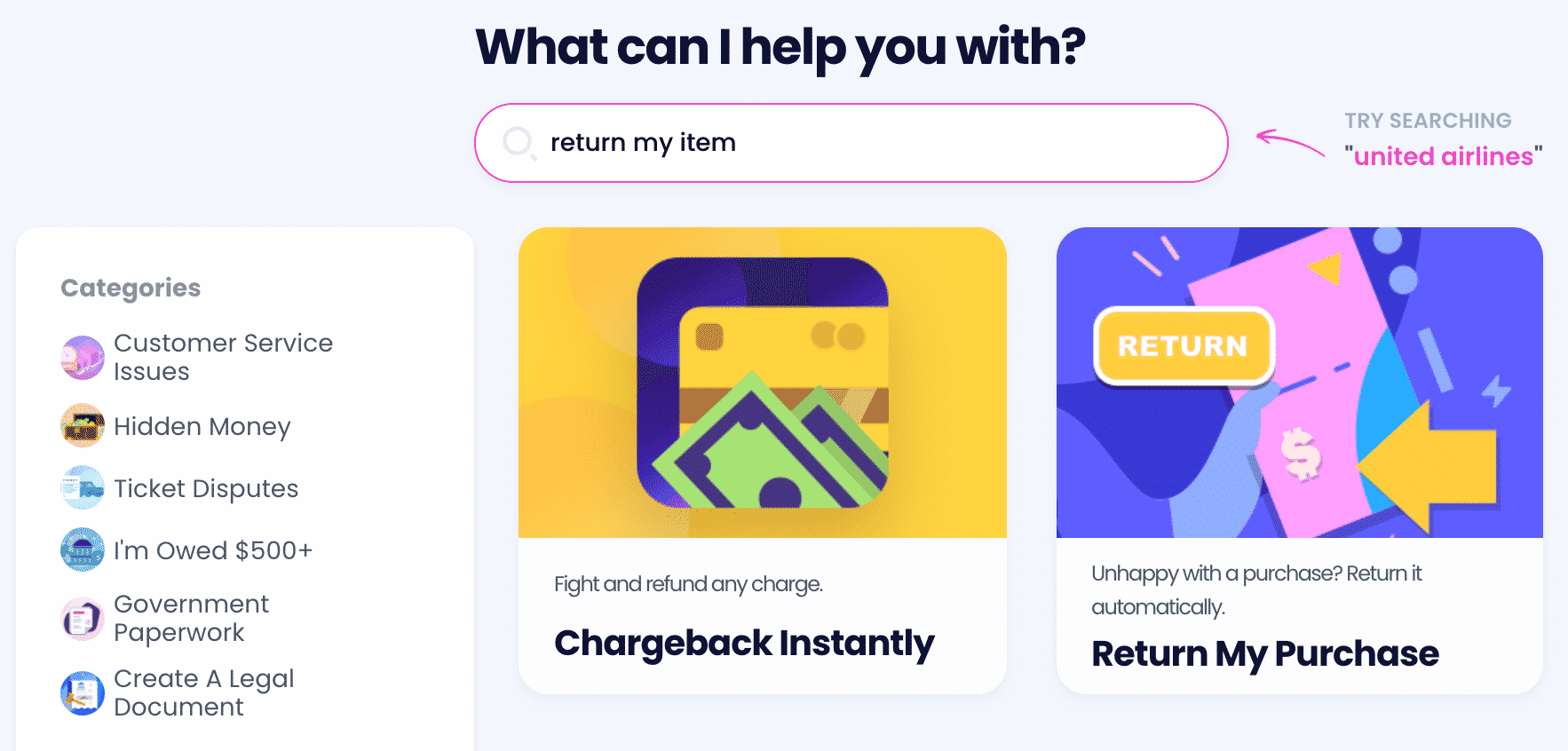 Initiating a return with DoNotPay couldn't be any easier—all you need to do is:
using any web browser
Find the Return My Purchase product
Answer a few questions about your purchase
Attach photos (if applicable)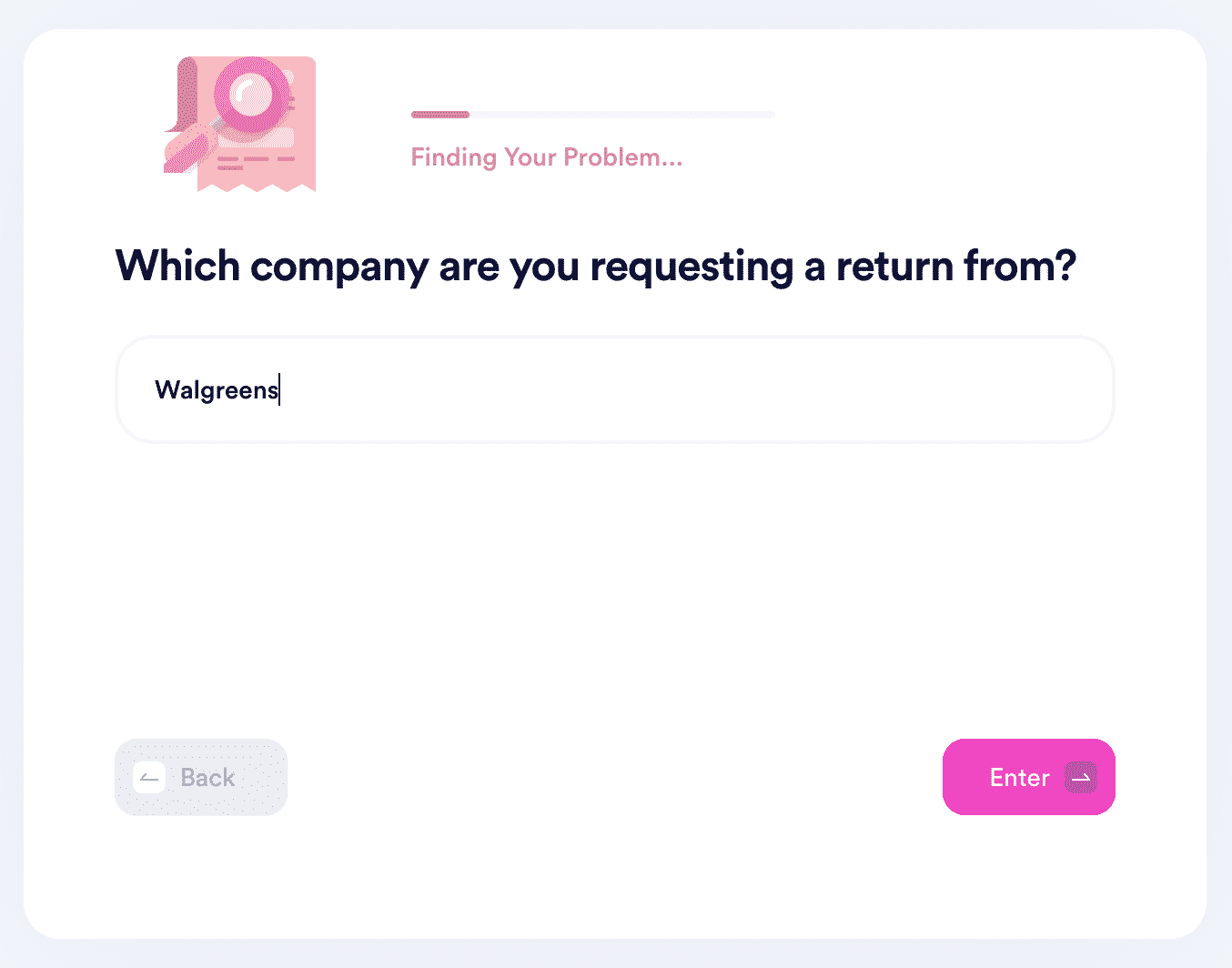 What's left for you to do is to click on the Submit button, and you're done! Our app will generate a custom return request letter and send it to the company in question. The letter will include a deadline for the seller so that your request gets processed as soon as possible.
We've written a number of guides to help you learn more about different retailers' return policies, including the ones listed below:
Put Greedy Companies in Their Place
If being on hold with customer service and requesting refunds and cancellations is your idea of the worst nightmare, we come to the rescue!
When you create a DoNotPay account, you'll be able to do the following with ease:
If worse comes to worst, we can guide you through suing any company in small claims court.
Use DoNotPay To Resolve Numerous Issues
The number of products we offer keeps growing. From simple chores to bureaucratic tasks and serious issues, there's not much DoNotPay won't be able to handle in a few clicks.
Would you like to search for unclaimed money you may not know about? Are you trying to save your work from copyright violations? Do you want to contact government representatives? Once you have a DoNotPay account, you will get everything done in a flash.
Even if you are a victim of stalking or harassment, violent crimes, or workplace discrimination, we can help you out! DoNotPay can also perform a sex offender search in your area and give you weekly updates.
If robocalls and spam are what's bothering you, our app will free you from such annoyances for good. Whether the spam is coming via email or text, we'll know what to do.