Navigating the Ubisoft Return Policy With DoNotPay
Ubisoft Store is one of the most popular stores in the gaming community. With its games, merchandise, and clothing, the store attracts hundreds of customers per day. What happens if you're unhappy with your purchase, though? Are all items eligible for a return?
Our guide will give you the complete rundown of what to expect from the Ubisoft return policy!
If you want to facilitate the process of returning items to Ubisoft, use DoNotPay and leave the hassle to us!
What Is Ubisoft's Return Policy?
You can return most items to Ubisoft within 14–30 days. To be eligible for returns, the items must:
Be in their original condition
Include the original packaging, tags, and booklets
Show no signs of wear-and-tear
Can All Items Be Returned to Ubisoft?
Ubisoft allows the return of almost all its products. The following table shows which items are returnable and which are not:
| Item | Is It Returnable? |
| --- | --- |
| Clothing and accessories | Yes |
| Toys, games, and collectibles | Yes |
| Video games | Yes |
| Sealed collectibles and video game merchandise | Yes |
| In-game purchases | No |
| Downloadable content | No |
| Digital console keys | No |
How To Make Returns to Ubisoft
The Ubisoft return policy can be divided into three parts:
Digital
Physical
Preorder
Returning Digital Purchases to Ubisoft
You can return a digital item within 14 days to Ubisoft and get a full refund. This policy is only applicable to products that have not been launched, meaning you have not used them at all.
To return a digital product to Ubisoft:
Visit the Ubisoft Store website
Navigate to the Order History page
Log in using your credentials
File a return request
Returning a Physical Product to Ubisoft
If you have purchased a physical copy of an item from Ubisoft, you can request a return by visiting the Ubisoft Store website and navigating to the Order History page. You must also include:
Photographic proof that the items are in their original, sealed condition
The order number given to you by Ubisoft
Video games and sealed collectibles become ineligible once their packaging is opened.
Preorder Returns—What Does a Cancellation Look Like?
Preordered items can be divided into digital purchases and physical copies. You can cancel your order for digital items and Nintendo Switch keys as long as you have not received the delivery.
To cancel a preorder for a digital item, head over to the Order History page and click on Request a Refund next to the products you would like to cancel.
For physical products, the cancellation window can range from 15 to 30 days. If the company has already begun the shipping process, you will not be able to cancel the order, but you can return it. There are three ways to return or cancel a physical preordered product:
Contact Ubisoft and request a cancellation
Ship the item back in its original condition
Refuse to accept the delivery when the courier reaches you
The Ubisoft Store Refund Policy
Ubisoft provides full refunds for all eligible returned items. To request a refund, you should:
Log in to your Ubisoft Store account
Hover the cursor over your profile picture and select My Orders
Find the items for which you would like to request refunds
Click on View Order Details
Choose the Request a Refund option
Type in a few details in the form provided
Choose your payment method and click confirm
You will receive a confirmation message. The time for the refund to reach you will vary based on the payment method you selected.
DoNotPay—Making Returns Easier
Returning items can be a hassle. If you are struggling to return a purchase and need help, DoNotPay has got your back! We have a convenient and easy-to-use tool that helps you return items in a few clicks. This is how it works:
Log in to DoNotPay and look for the Return My Purchase product
Answer a few questions and provide some pictures if possible
Submit the request
We will generate a custom return request letter and send it to the merchant. The letter will include details of your order, reasons for returning it, and a deadline to speed up the process. We will also get you a free return label, so you don't have to worry about paying extra!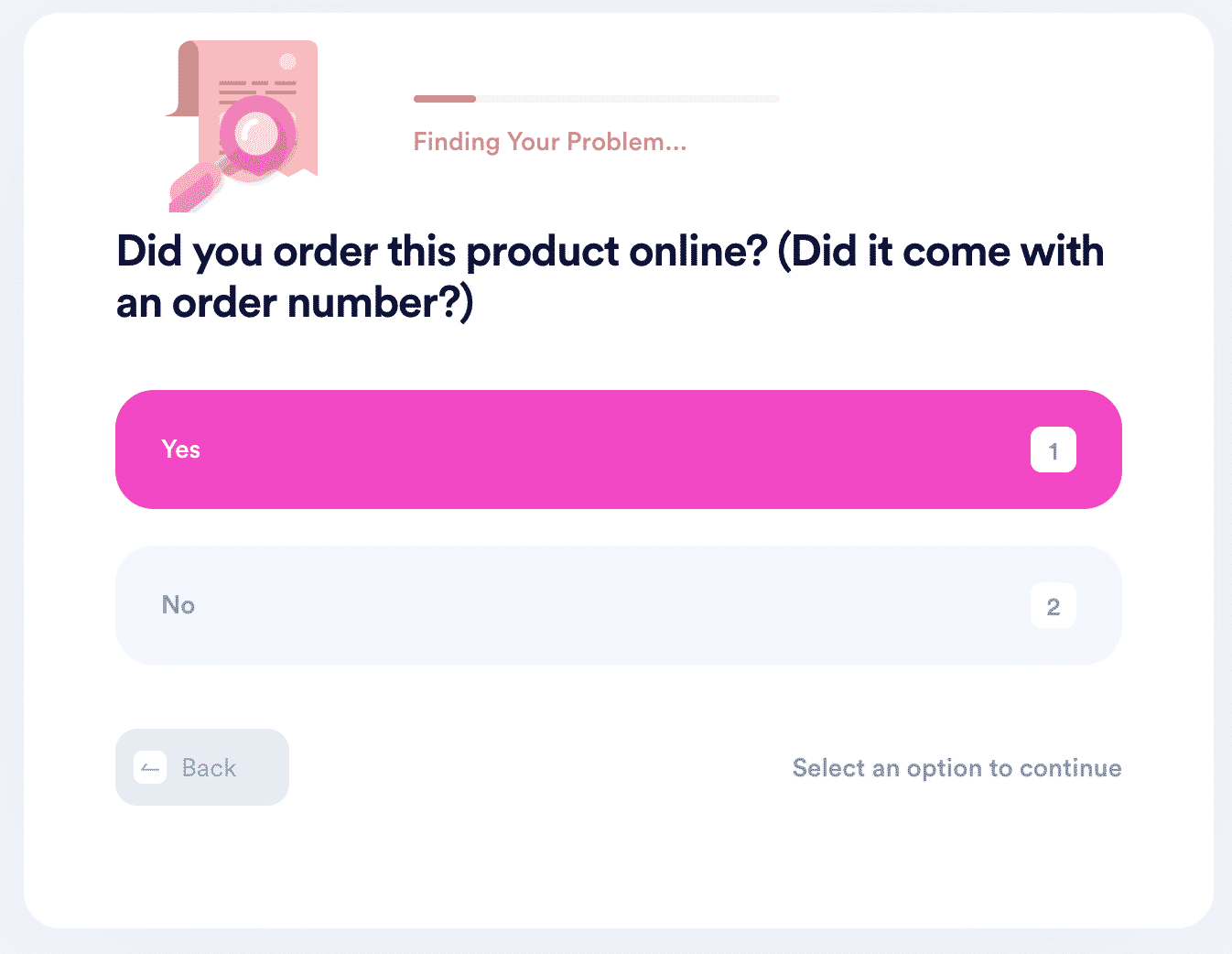 Demand a Refund With DoNotPay's Help
If you have requested a refund but received no answer, you can use DoNotPay to demand one! All you have to do is:
Find the Chargeback Instantly tool
Select Get Protected
Answer a few questions and click on Sign and Submit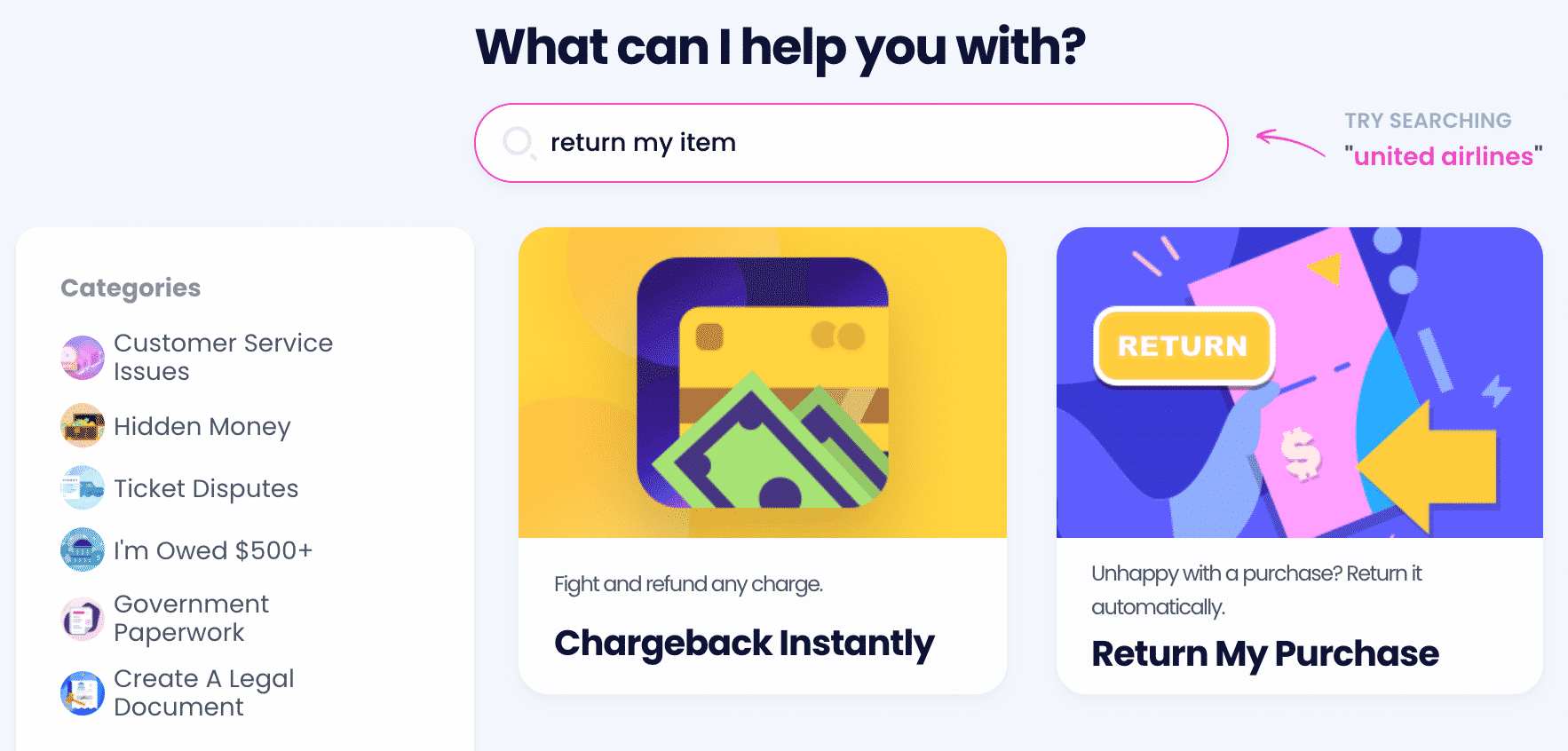 Return Items to Other Sellers in a Few Steps
DoNotPay can help you return items to a bunch of other sellers, including:
Say No to Bad Purchases—DoNotPay Will Help You Get Back What's Rightfully Yours
Have you finally returned that damaged item thanks to DoNotPay's nifty product? Our app's capabilities don't stop there—we can assist you in doing so much more!
Do you believe you have some missing money? Use the world's first robot lawyer before the government claims your assets! Are you feeling lucky and want to enter sweepstakes without purchasing anything? DoNotPay will sign you up for them automatically! Looking for ways to save on property taxes or utility bills? We'll show you the way. Don't want to get charged for free trials that auto-renew into paid subscriptions? We'll help you cancel them on time.
No matter the issue you're facing, DoNotPay is here to resolve it in a split second.
Need Help With Anything Else? Your Robot Lawyer Will Provide!
Aside from sending return request letters to a myriad of companies in your stead, we can also help you get refunds from airlines, earn off robocalls, appeal parking tickets, protect your intellectual property, claim insurance and warranty, and so much more!
Are you dealing with rude neighbors or mean coworkers that discriminate against you? DoNotPay will help you fight for your rights!