Understanding the Essentials of the Kohl's Return Policy
If your dream shopping in Kohl's turned into a nightmare because you realized you purchased a faulty item, don't despair. The Kohl's return policy may seem complicated, but that's not the reason to give up on returning an item that didn't meet your expectations.
Use our guide to get familiar with the company's return terms and conditions. We will also teach you how turning to DoNotPay can help you demand returns from various world-famous retailers, such as REI, Macy's, Nordstrom, Victoria's Secret, and many more!
What Is Kohl's Return Policy?
Kohl's has recently changed its "forever policy," which stated that there are no time limits for returning the products you are unhappy with. The current return rules stipulate that you can send or bring the items back within 180 days from the purchase date. The only exception is Premium electronics, which have a 30-day return policy.
Here are some essential return terms and conditions Kohl's proposes:
Online orders can be returned either to the store or by mail
Items purchased in store can't be returned via mail, only to a shop
No restrictions regarding worn or washed products are in place—you can return them even if you've used them
You will receive the full paid amount back once the company processes your return if you want to return items purchased with Kohl's Cash
Products sold by Kohl's certified partners can be taken back to a local Kohl's store
You can opt for the following after mailing or taking the items back:

Exchange
Replacement
Refund to the original payment method
Refund in the form of store credit
How Does the Kohl's Return Policy With a Receipt Work?
You can choose whether you want to start a return process in person or by mail.
Kohl's In-Store Returns
Returning items in person is quicker than mailing them, and you will receive a refund or be able to exchange the products immediately. Here's what the process looks like:
Look for the nearest Kohl's store by entering your ZIP code in the store locator search field
Bring the products to the chosen shop along with the receipt or the printed packing slip
You can find the order packing slip in your Order History in your Kohl's online account.
Kohl's Mail Returns
No Kohl's stores in your vicinity? Mail the product back to the merchant by following the steps below:
Sign in to your Kohl's account
Navigate to your Order History
Find your packing slip and print it out
Place all the items you want to return in a box
Complete a return form you got in the original package and put it in the box
Attach the packing slip to the closed and sealed parcel
Send the package to the address provided on your return form
Note that you can't request an exchange if you send the goods back via mail. This option is available in stores only.
The shipping costs are also your responsibility since Kohl's never pays for them, nor does the company provide any return shipping labels in general. It might make an exception if the issue was its own fault, but this is rarely the case.
| | |
| --- | --- |
| Can I Start a Kohl's Return Via | Yes/No |
| DoNotPay | Yes |
| Email | No |
| Online | No |
| Phone | No |
| In Person | Yes |
| Mail | Yes |
Can You Return Something to Kohl's Without a Receipt?
Yes, you can, because there are other ways Kohl's can track down your purchases. Here are some documents or pieces of information it can use instead:
Shipping invoices
Credit card statements
Your personal information (for online purchases)
SKU numbers and prices of the items in question
DoNotPay Helps You Return a Kohl's Item Without a Hitch
If you prefer to start a return process with Kohl's from the comfort of your home, DoNotPay is your go-to. Our chatbot will walk you through a brief questionnaire and collect the purchase information in a snap. Once it's done, we will make a return request letter explaining the problem and send it to the merchant in your stead!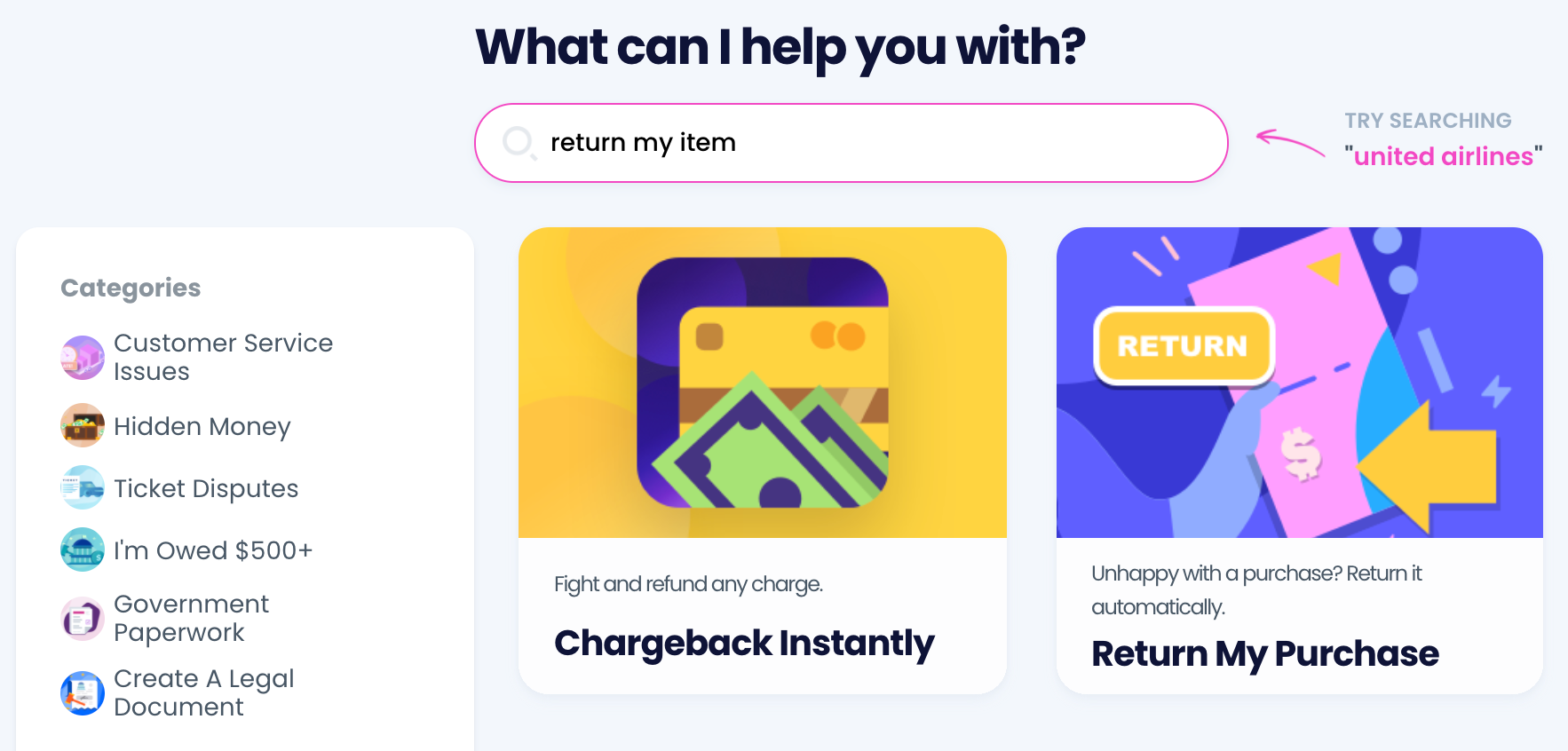 Here's all you need to do:
Choose Item Return Request
Input the required details, such as the company name, item price, and time and date of the purchase
We will also include a special demand so that your request is processed in a reasonable time to prevent the company from prolonging the process.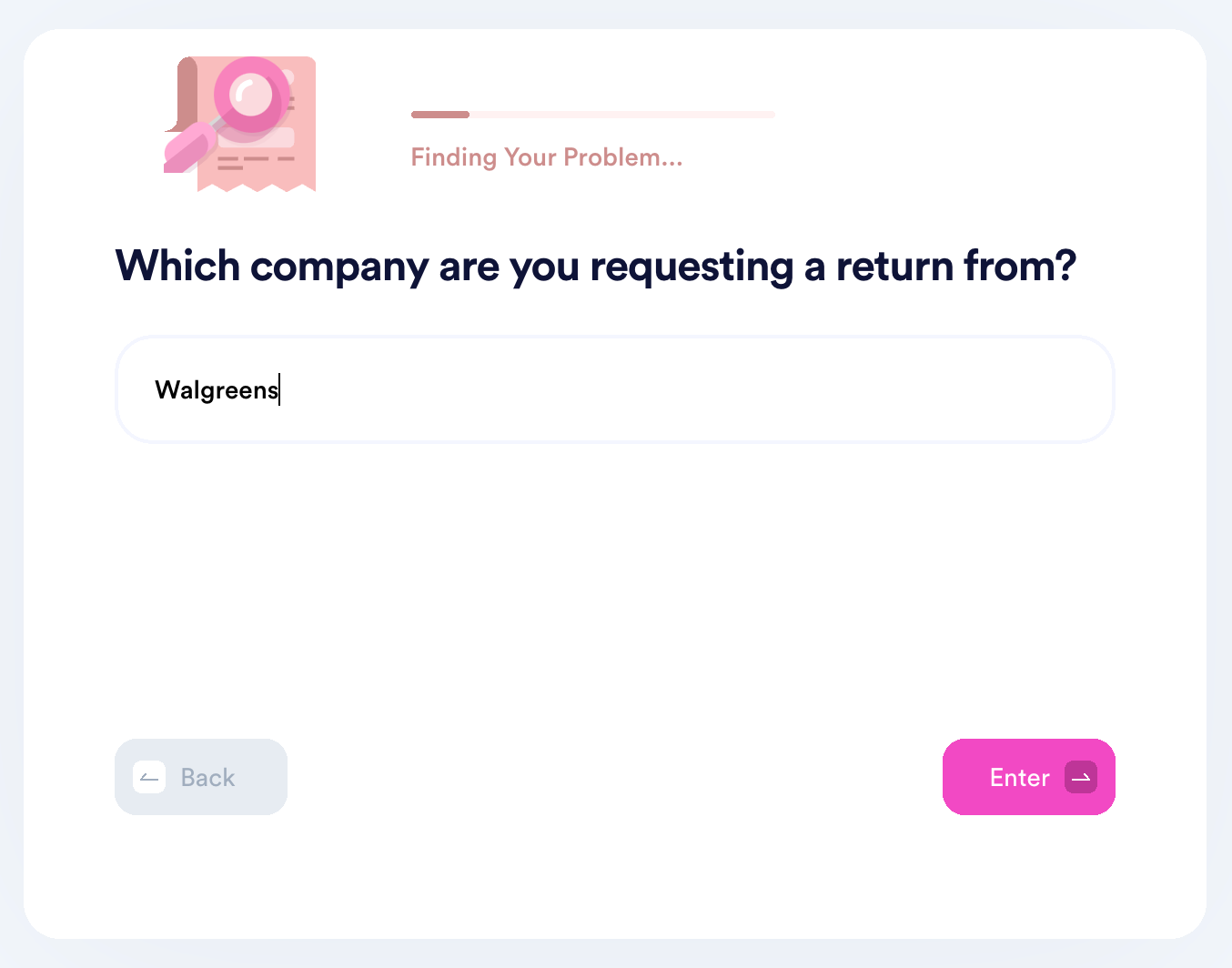 Use our app to generate return requests for numerous retailers and companies, including:
Request a Refund From Any Merchant in a Few Clicks Using DoNotPay
Getting a refund after an approved return request doesn't have to be a drag! Besides assisting you in getting rid of unwanted products, we can help you receive a refund in record time and outsmart the companies that sold you wrong or damaged items. Once you , here are the steps you should follow to demand your cash back via DoNotPay:
Search for the File a Chargeback option
Select Get Protected
Answer a few of our chatbot's questions
Sign the claim electronically
Our app will immediately fax the request to your bank and send a special letter containing various Visa and Mastercard reason codes. This way, we bring you much better chances of getting your money back!
What Else Is DoNotPay Capable Of?
Being your personal AI-powered assistant, DoNotPay can help you get rid of:
Are you sick and tired of big companies not taking their customers seriously? Our app will lend you a helping hand in the process of suing them in small claims court.
Do you want to skip waiting in lines at the DMV, jump the phone queue when reaching customer service, get help with paying your bills, or get copyright protection for your work? Sign up for DoNotPay to complete these tasks and so much more!
Want Your Money Back? Rely on DoNotPay!
The world's first robot lawyer can help you get your hard-earned money back in several ways. Are you dissatisfied with a product or service you paid for and want to request a refund? Do you want to request a late delivery refund? No problem—DoNotPay will do that in your stead! Do you think that you may have missing money and want to claim it? We can assist you in finding it!
No matter the issue, DoNotPay is your shortcut through bureaucratic hurdles. Our AI-driven app can help you dispute your parking tickets, get refunds and compensation from airlines, cancel any subscription service in a flash, and so much more!