The Ultimate Guide to the Macy's Return Policy
Got a wrong or defective item from Macy's? You are not alone—this happens frequently with most retailers and clothing shops. The best way to deal with this inconvenience is to study the return rules and get compensated for a dissatisfying service.
Dealing with returns can be a real drag, which is why we created a detailed guide to help you decipher the Macy's return policy. We will also show you how using DoNotPay can help you report the issue more quickly and request returns from Lulus, Zara, Ulta, or any other merchant stress-free.
What Is the Macy's Return Policy?
The general return window offered by Macy's is 90 days after purchase, but the company proposes numerous exceptions to this rule. The following table shows modified return policies for particular product categories:
Product Type
Return Deadline
Area rugs purchased in a Macy's store
Seven days

Apple products
Tech accessories
Gucci, Tous, and Longchamp merchandise

14 days
Fur
15 days

Lighting
Tech watches
LensCrafters
Maternity clothes
Backstage merchandise
Burberry merchandise
Louis Vuitton merchandise
Last Act merchandise
Area rugs purchased via the Macy's online store

30 days
Finish Line shoes
45 days

Dresses
Watches and jewelry
Small electrics
Personal care items

60 days
There are also a few types of items that can't be returned in any case, such as:
Live plants
Food and drinks
Macy's Beauty Box items
Alexandre London custom products
Worn, washed, or modified dresses
Items without a standard or hygiene tag
Special orders whose size was modified
Bluemercury merchandise from stand-alone stores
Do You Have To Pay for a Macy's Return?
Most returns to Macy's are free. The exceptions include the following:
Lamps
Wall art
Mirrors
Furniture
Area rugs
Gift cards
Mattresses
Gourmet gifts
Items returned by a scheduled pickup
What Return Methods Does Macy's Offer?
Like most other retailers, Macy's allows you to return the items:
Via mail
To the nearest store
The following table shows more detailed explanations of each option:
Method
Details
Macy's returns by mail
Only online orders can be returned by mail. Before shipping them back to the merchant, you should start an online return by doing the following:

Go to the homepage of the Macy's website
Scroll down and choose Returns under the Customer Service section
Click on Easy Returns
Find the How To Make a Return section and select Start a Return
Go to your purchase history and select the items you want to return
Follow the prompts to finalize the online return and print the mailing label you get after submitting it
Print the confirmation page and pack it in a box along with the items
Attach the Macy's return label to the package and bring it to the nearest UPS location to have it shipped

Macy's in-store return policy
To take the items back to the shop, you need to bring them to the nearest Macy's facility along with the proof of purchase (a receipt or an email order confirmation) and the original payment method you used for buying the goods
How Much Time Do Macy's Returns Take?
Macy's will email you to let you know when the items arrive at their location. Once the company receives the parcel back, it will need ten business days to issue a refund to the original payment method.
What Is Macy's Return Policy Without a Receipt?
If you want to return the products to the store but don't have a receipt, it doesn't mean that you won't be able to get what the company owes you. They can use other information or documents to confirm the purchase, including:
Packing slip
Registry number
Return label
Shipping confirmation email
Credit or debit card you used for paying
How To Start a Return With Zero Hassle Using DoNotPay
If the return processes companies propose seem unclear or too hard to follow, rely on DoNotPay and let us solve the matter for you within minutes!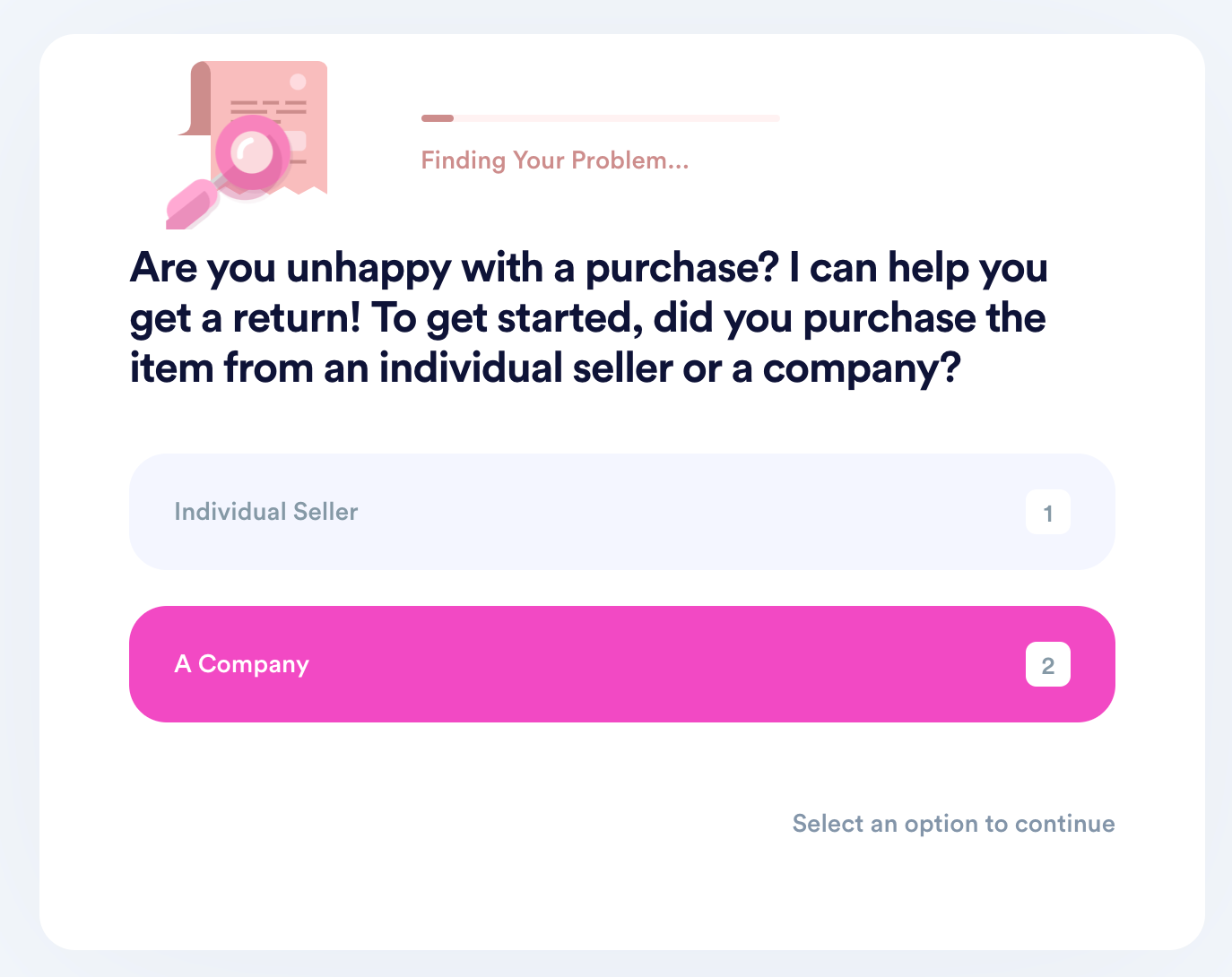 Our app ensures a smooth return without drawn-out procedures and handwritten return requests. Our chatbot will ask you for some general information about the purchase and the items you are unhappy with. Based on the details we get from you, we will compose a unique return request letter and send it to the retailer or company in question on your behalf. In other words, you don't need to lift a finger because we do all the grunt work!
To start a return using our app, follow the prompts below:
Search for the Item Return Request section
Give us more details regarding the unwanted items
Upload some photos for evidence if necessary
The letter we generate will also include a request for a procedure to be finalized in a limited amount of time.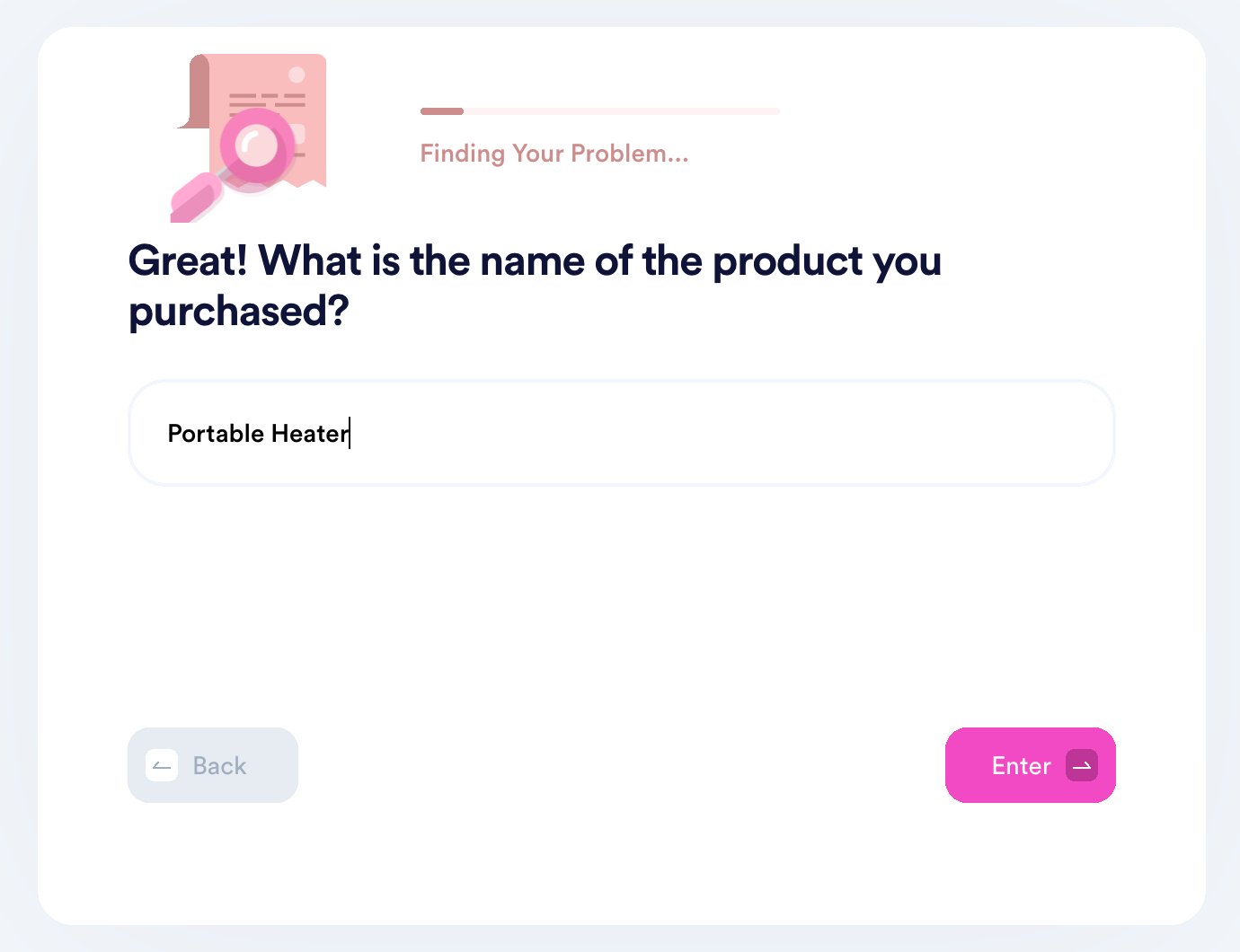 Our app can help you start a return with Macy's but also with a bunch of other famous merchants, such as:
Want To Save Money and Avoid Bad Purchases? Look No Further!
Aside from helping you send a return request to any company, DoNotPay can also assist you in getting a refund in a flash! We can also help you request a refund for any late, missing, or damaged delivery.
Do you want to stop wasting your money on useless services? Our app can help you cancel them and provide you with a virtual credit card that terminates free trials before companies get to charge you!
If you want to discover some forgotten assets you may have, we can help you find them in just a couple of minutes. With DoNotPay, you can both save money and earn it!
Once you sign up, you can report text and email spammers, annoying robocalls, and real-life stalkers and harassers and earn off them. We can also help you sue any company or individual in small claims court if you feel like they did you dirty.
Getting Rid of Bureaucratic Procedures Has Never Been Easier
The process of composing a return request letter is tiring, which is why you should turn to DoNotPay for help. Our app will assist you if you want to avoid similar bureaucratic hassles, such as:
Sign up for DoNotPay to utilize all of our nifty products!