The Ins and Outs of the Ulta Return Policy
Getting excited about a new Ulta purchase can turn into a huge disappointment once you realize the products aren't what you expected them to be. Whether it's a smaller size, the wrong color, or a simple change of mind, the best way to deal with such issues is to return the items on time and get a refund or a replacement.
If the Ulta return policy is a mystery for you, we will help you by dissecting it and explaining the basic rules. We're even going the extra mile by offering you a chance to create and submit a concise return request letter in no more than five minutes using DoNotPay!
What Is Ulta's Return Policy?
Ulta has one of the most flexible return policies among beauty and fashion retailers. If you receive a dissatisfying order or a gift you want to return, you have 60 days to do so and get a refund, an exchange, or a replacement. In most cases, the company will let you take the products back even after this return deadline, but it can refund you only in the form of store credit.
If you use your Ultamate reward points while purchasing the goods, you will receive them back as soon as your return gets processed. Be aware that the amount will be proportional to the price of the particular returned products, not to the entire order.
Another advantage of Ulta's return policy is that you can send or take the items back even after using them—be it clothes, makeup, or cosmetics. The only condition is that all original components must be included.
Despite its accommodating return rules, Ulta can refuse to take the products back if:
They were already in your possession when they got broken or damaged
You purchased them from other dealers or resellers instead of buying directly from Ulta
The company suspects you are abusing the return option with reselling activities, excessive returns, or any other type of fraud
How Do Ulta Returns Without a Receipt Work?
Not having the original receipt with you when returning the product doesn't have to be much trouble if you are an Ultamate Rewards Member. The company's representatives can try to locate your purchase by using your membership number or the information related to your Ulta account.
If the reps can't find the purchase in question, they can provide you with store credit in the amount of the lowest selling price of the product in the last three months. You will also have to show a valid government-issued document, such as:
ID
Passport
Driver's license
Military ID
How To Start Ulta Returns by Yourself
You can return the items purchased in Ulta by shipping them back via mail or taking them back to a local Ulta shop.
In-Store Returns
Returning unwanted products to an Ulta store is a quick and affordable option, as you don't need to pay for shipping. Find the nearest shop by using the store locator on the company's website and bring the product you want to return. Depending on the purchase method, you should have a valid receipt, an email order confirmation, or a packing slip with you.
Mail-In Returns
If you opt for a return via mail, you must pay all shipping costs, as Ulta doesn't provide free shipping labels. Here's how you can do it:
Put the items in their original packaging and place them in a box
Find the return mailing label on the packing list you got in the original shipping package
Seal the parcel and mail it to:
ULTA.com Returns Center
1135 Arbor Drive
Romeoville, IL 60446
The company will email you once it receives the products back, and you will be able to choose if you want to get a refund or a replacement.
| | |
| --- | --- |
| Can You Start an Ulta Return Via | Yes/No |
| DoNotPay | Yes |
| Phone | No |
| Email | No |
| Mail | Yes |
| In Person | Yes |
How Much Time Does Ulta Need To Process Your Return?
Ulta should process the return and provide compensation for the issue you have experienced in seven to ten working days after receiving an email return confirmation.
Start Your Return Fast and Hassle-Free With DoNotPay
We created the Item Return Request feature to help you cope with returns trouble-free from the comfort of your home! Our app will collect all the necessary details about the issue you have experienced with the products and help you file a return request in a few taps.
To use this service, sign up and proceed as follows:
Choose Item Return Request
Answer a few short questions about the purchase
Add the pictures that show the existing flaws or damage if necessary
Provide a digital signature and submit the request
The letter we generate will explain the issue to the merchant and state whether you want to receive a refund or have the goods replaced. DoNotPay will automatically mail your request to the retailer and ask for your return to be processed in the shortest possible time.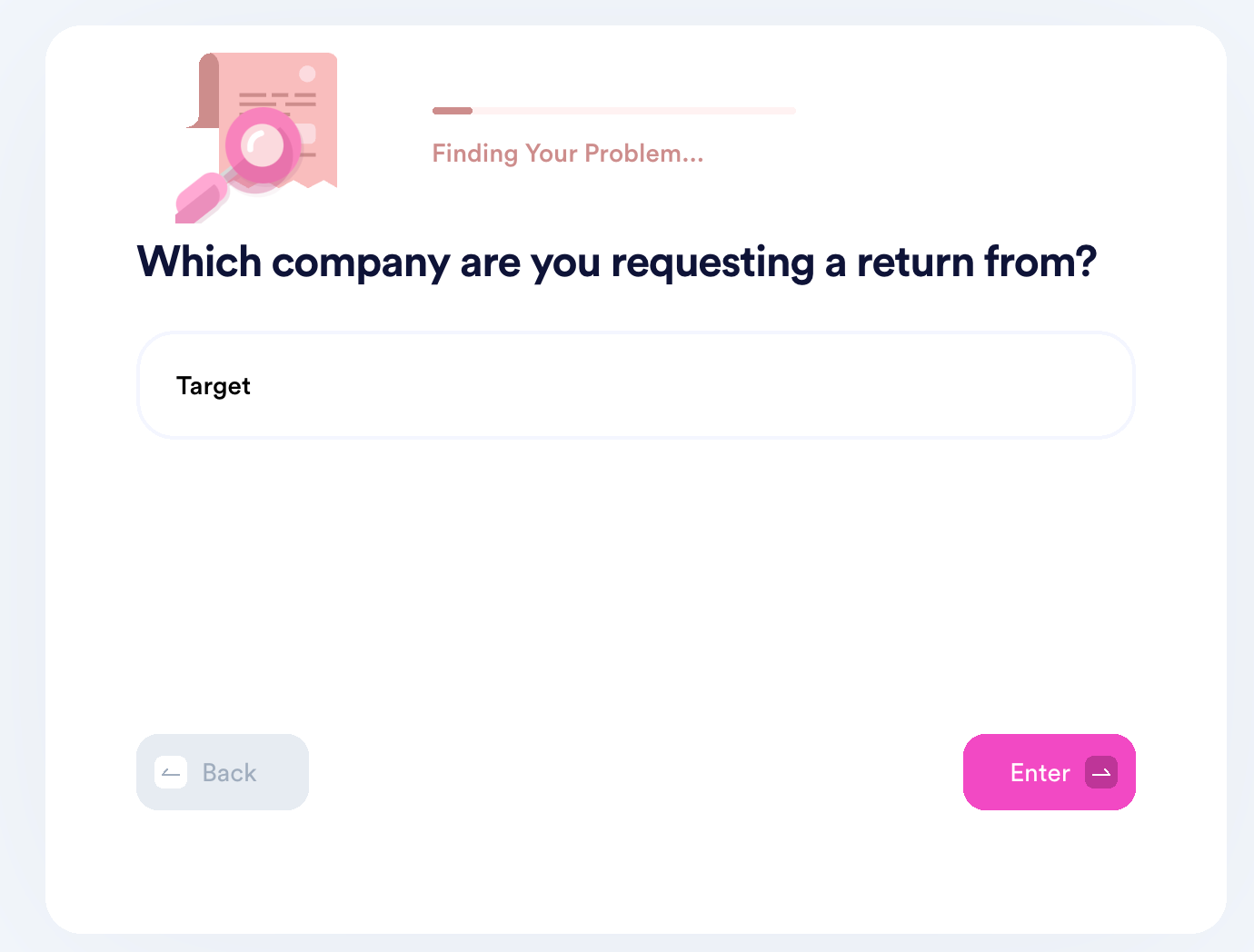 Get our help for returning faulty or wrongly received items to other retailers, including the ones listed in the table below:

Don't Tolerate Corporate Attitudes—Request What's Rightfully Yours
DoNotPay is known for being the champion of customer advocacy because we help our users claim what's rightfully theirs, and we don't tolerate big corporations taking people's hard-earned money.
No matter if you want to request a refund, insurance, extended warranty, or compensation from airlines, our AI-powered lawyer will fight for your right.
If you feel like you're overpaying certain subscription services, we can help you cancel them. Also, if you want to test a subscription before you start paying money for it, don't connect your credit card to the free trial page! You can sign up for free trials using our virtual credit card. That way, companies won't be able to charge you auto-renewal fees because the card has no funds.
Wait! DoNotPay Can Help You in Many Other Ways
DoNotPay has many different areas of expertise—helping you return your faulty items is only one of them.
Check out how our app can assist you in: