The Ultimate Guide to the Nordstrom Return Policy
Have you just noticed a small stain on your freshly arrived Nordstrom shirt or discovered that the retailer sent you the wrong piece? Don't despair—these situations happen quite often in the world of fashion retailers. Informing yourself about the Nordstrom return policy will help you get the necessary instructions and a refund or an exchange for faulty products. We provide you with a step-by-step guide on submitting a return request letter to the company without exhausting disputes with customer support!
What Is Nordstrom's Return Policy?
Unlike many clothing retailers, Nordstrom doesn't propose any time limits for returning unwanted or damaged products. Depending on the way you purchased the item—online or in store—you will need the original receipt from the shop or the confirmation email.
Despite a generally favorable return policy, the company keeps the right to refuse returns on certain occasions. Here are the items you can't send back or take to the store for a refund or replacement:
Washed clothes
Worn or used clothes
Items that don't have tags
Products without the original packaging
Can You Return Nordstrom Items to Nordstrom Rack?
Yes, you can. Nordstrom allows its customers to return any item purchased in Nordstrom boutiques or their U.S. or Canadian online stores to Nordstrom Rack branches.
How To Initiate a Nordstrom Returns Process by Yourself
Once you confirm that the products are eligible for returns, you can decide whether you want to start the return procedure by:
Taking the clothes back to the nearest store
Submitting an online request
Returning the Unwanted Item to the Store
In-store returns are quicker than the ones submitted online, and you can start them by proceeding as follows:
Go to the official Nordstrom website
Scroll down the homepage to find the Stores & Events section
Enter your ZIP code to locate the nearest Nordstrom shop
Visit the store and ask the shop assistant to take the products back and issue a refund or replacement
Starting the Return Procedure Online
Another option is to file a return request online by doing the following:
Navigate to the homepage of the official Nordstrom website
Choose Returns & Exchanges
Click on Get Started
Say whether you purchased the goods online or in store
Enter your order number, the return reason, and all other required details and select Add to Return
Input your contact information
Tap on Submit Return
Once you do this, you will be able to finalize the return procedure in two ways—by:
Returning the product(s) using Curbside Returns—It's a special contactless service available in all Nordstrom shops. This option doesn't apply to designer clothes, unboxed baby gear, and fine jewelry
Sending the goods back by mail—Print out the prepaid return label you received via email after submitting an online request and stick it to the parcel
| | |
| --- | --- |
| Can I File a Nordstrom Return Request Via | Yes/No |
| DoNotPay | Yes |
| Phone | No |
| Email | No |
| In Person | Yes |
| Online | Yes |
Is a Nordstrom Return Without a Receipt Possible?
Providing the original receipt makes it easy for the company to locate your purchase in their database, but don't despair if you don't have it. In case you received the unwanted item as a gift or lost the receipt, you should contact Nordstrom's customer support and explain the issue to the agent. They will ask you to disclose other details, such as the time and place of purchase or the store in which the goods were bought, to be able to find the record of the sale.
Note that if you don't have the proof of purchase, you won't be able to receive a refund in cash or to your original payment method. Instead, you will get a gift card in the value of the returned item(s).
How Much Time Will Nordstrom Need To Process Your Return and Refund?
If you opt for returning the products to the store or using Curbside Returns, your request will be processed right away. In such cases, you must wait for five to seven working days to receive a refund. When it comes to mail returns, they usually take ten to 14 working days to be actioned, and you can expect the money in five to seven working days after processing.
If you use DoNotPay to ask for a return, we will send a special demand for your request to be processed within a reasonable time frame. This way, you don't need to wait for weeks to get rid of the unwanted items and receive your money back.
Return Faulty Products the Easy Way With DoNotPay
One of the biggest problems with retailers is that they often complicate the return process. Lengthy and complex processes and unclear return instructions can easily confuse you or make you give up on sending the item back. You can avoid all these inconveniences and file a proper return request letter in a few taps with DoNotPay!
Our goal is to inform the company about the issue you are experiencing by creating and submitting a return request on your behalf. All we need is a few basic purchase details, and your claim will be ready in no time!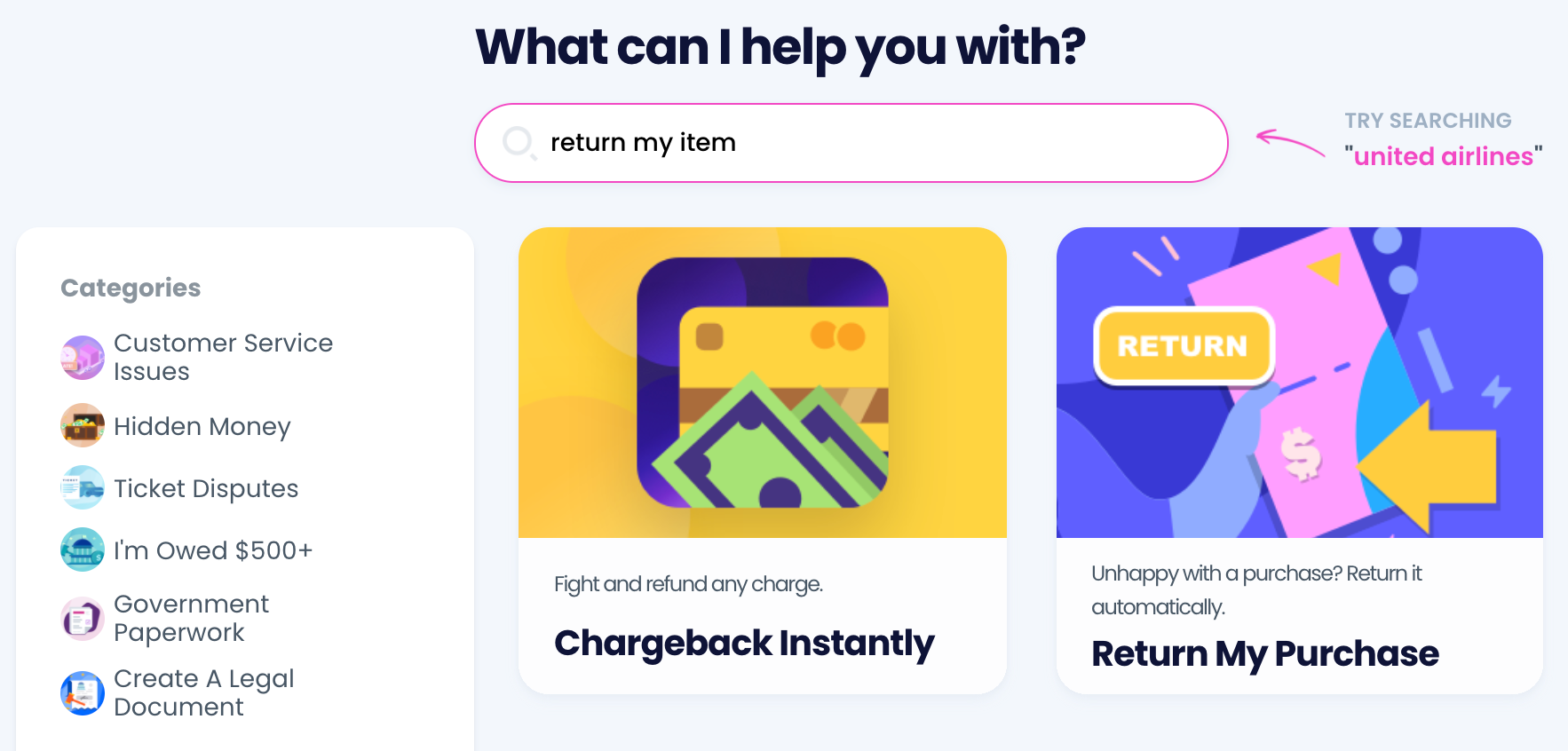 Here are the steps you should follow:
Access DoNotPay from any web browser
Choose Item Return Request
Disclose the essential purchase details and the reason for returning the item(s)
You also get a return label that allows you to ship the goods back for free.
Below is the table showing various other companies we can request returns from in your stead:
| | |
| --- | --- |
| Clothing and Shoe Shops | Other Companies |
| | |

Is the Company Refusing To Cooperate? We Can Help You Get Justice
Is whatever company you're dealing with not being a good sport? Don't worry—the world's first robot lawyer is here to help. Our app can prepare all the necessary paperwork and provide guidance if you want to sue the company in small claims court.
We can also help you draw up any legal document you need for the case, have it notarized by an online notary, and fax it to anyone in a matter of minutes.
If you want to get revenge on tiresome robocalls or report a stalker or harasser, you can rely on DoNotPay.
Anything Else We Can Do for You?
Our AI-powered app is versatile—you can complete many tiresome, daunting tasks that you wouldn't want to tackle by yourself. You can use DoNotPay to:
If you want to get access to all of our nifty products, sign up now!