TGI Fridays Gift Card Balance Check—How To Get Your Cash Back
Do you wish to give a whole new meaning to your Friday outings? Nothing could be better than a wholesome meal at TGI Fridays, especially if you have a gift card to cover the check.
If you have used it a few times already, you should confirm how much you have left to avoid unpleasantries at the restaurant.
In comes DoNotPay, your superhero in a cape! With the complete knowledge of gift card laws by state, we can teach you how to perform a TGI Fridays gift card balance check and collect the remainder in cash.
How Do I Check My TGIF Gift Card Balance?
There are a few ways to check your TGI Fridays gift card balance:
| | |
| --- | --- |
| TGI Fridays - Check the Gift Card Balance Via | Yes/No |
| In person | Yes |
| Contact form | No |
| Phone | Yes |
| Website | Yes |
| Email | No |
TGI Fridays—Gift Card Balance Check on the Website
The best way to check your TGIF Gift Card balance is by visiting the official website and searching for the Balance Inquiry link. Once you click on it, you'll need to provide two pieces of info:
Gift card number
Security code
Unless you have both numbers, you won't be able to see your balance.
TGI Fridays Gift Card Balance Check in Store
Alternatively, you can visit a local TGIF restaurant to check your balance. You'll need to:
Show the employee your gift card
Provide any further information they may require
Check Fridays Gift Card Balance Over the Phone
One of the most convenient ways to check your gift card balance is by phone. To do so, you'll have to:
Call TGIF customer support at 888-284-5544
Explain that you want to know the remaining balance on your gift card
Can I Get Cash Back for My TGI Fridays Card?
TGI Fridays gift cards may only be used for online or call-in purchases at TGI Fridays locations. The company's gift card policies stipulate that you can't return them for cash or use them for other purchases. You should also note that these gift cards are not reloadable.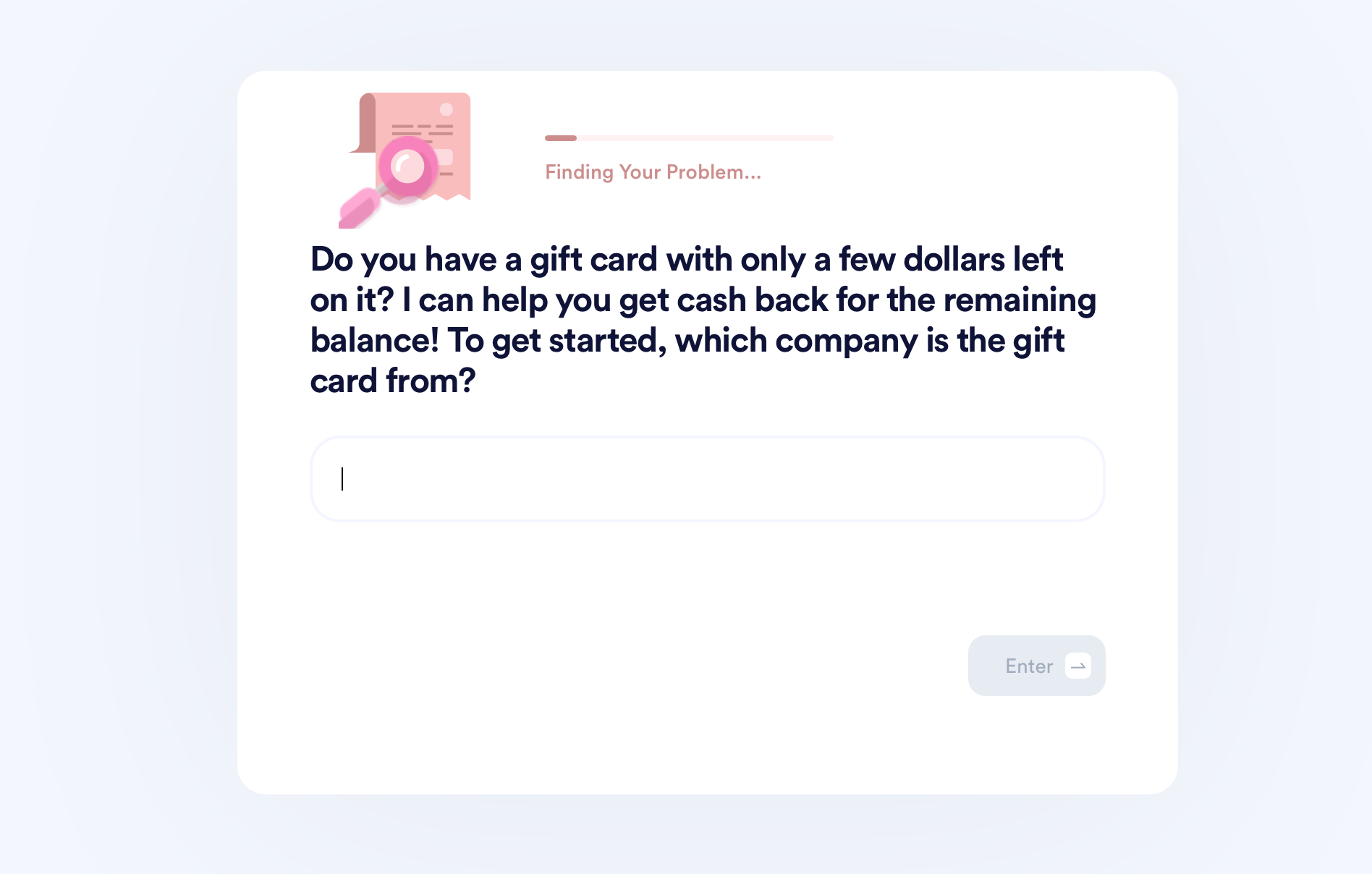 There are several ways to turn your gift card into cash:
Fridays to Friyays With DoNotPay's Gift Card Cash Back Feature
When you manage to reach TGI Fridays, they instantly tell you that you can't return your gift card for money.
DoNotPay has your back! We are proficient in fighting for consumer rights and can help you cash out what's left on your used gift card. You should do the following:
Open your DoNotPay account from any web browser
Click on the Gift Card Cash Back feature
Enter information about the card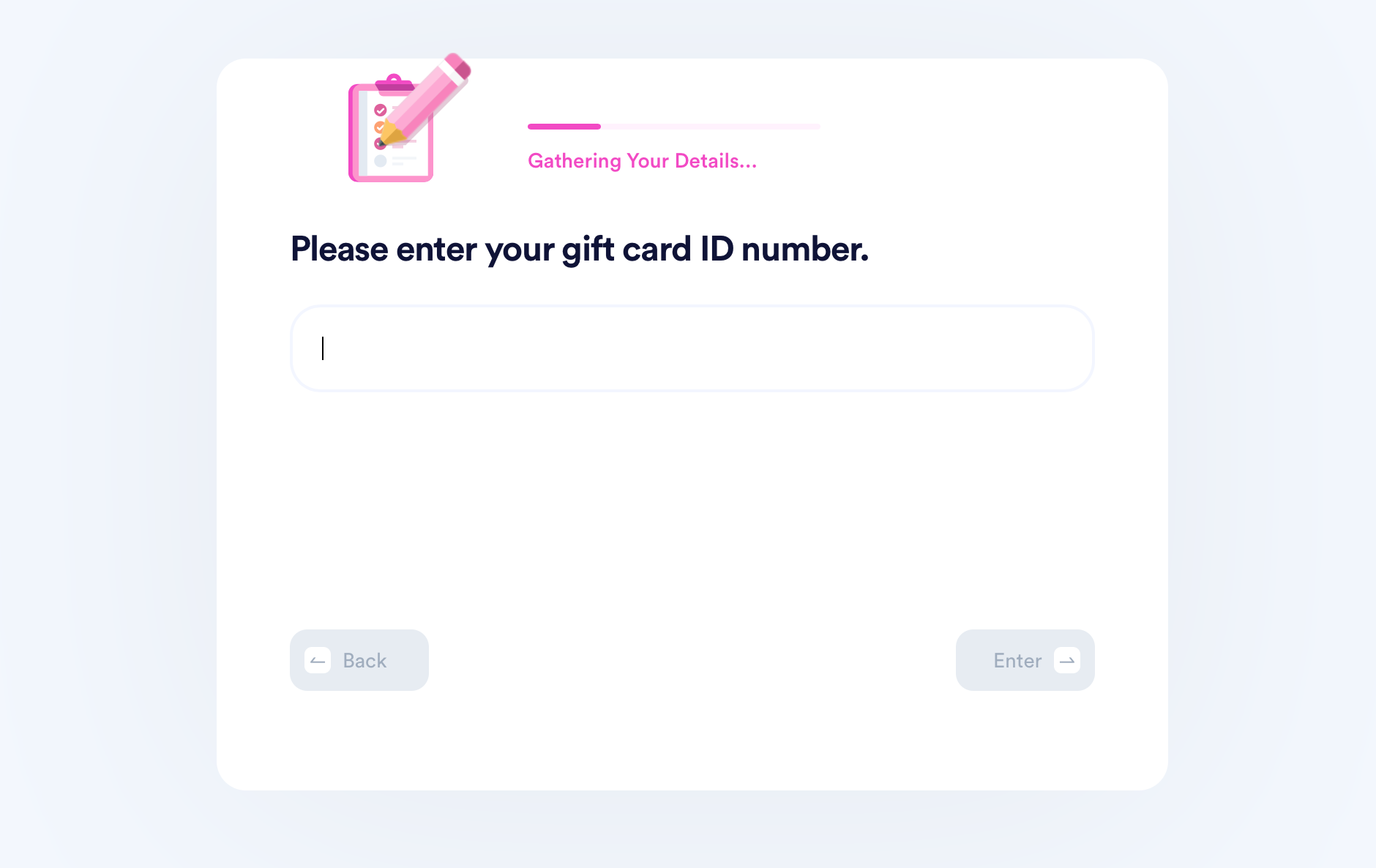 Even if your state doesn't have a cash back policy, we will check whether TGI Fridays has an office in Puerto Rico or any of the following 11 states (and they most certainly do):
California
Colorado
Connecticut
Maine
Massachusetts
Missouri
New Jersey
Oregon
Rhode Island
Vermont
Washington
DoNotPay will send the request to that office, and in about 14 days, you will receive your cash or check by mail.
We can help you check the balance and collect the leftover funds from various gift card issuers, including:
Types of TGI Fridays Gift Cards
With TGI Fridays, you have endless opportunities to enjoy a free meal, and there are different types of gift cards you can choose from. You can customize an e-card, give it to a loved one, and still stay within budget as you're in charge of how much you spend.
Ready-made gift cards come at different preset values including $10, $25, or $50. Corporate gift cards are an efficient way to boost productivity levels at any office. They're also a fun giveaway item! Ready-made and corporate gift cards can be purchased in bulk.
Save Some Coins With DoNotPay
Are various subscriptions and memberships burning a hole in your pocket? DoNotPay can help you cancel all of your memberships in a matter of minutes without having to contact customer service reps.
Next time you want to register for a free trial, prevent unexpected costs with our virtual credit card. Once the trial is over, you'll be unsubscribed right away because our virtual credit card doesn't contain any money. We will also generate a random email address you can use if you want to protect your privacy and avoid spam marketing emails.
Do you need help claiming warranties and insurance policies? DoNotPay can help with that too.
Should you need assistance returning an item or requesting refunds for purchased products, canceled flights, or late deliveries, we've got your back!
Avoid wasting money on lawyers—DoNotPay is here to help you sue anyone in small claims court and create numerous legal documents in the blink of an eye!
DoNotPay Can Help You Earn Money Too
DoNotPay users can save hundreds of dollars thanks to our app, but did you know that we can help you earn a few bucks as well? Our app enables you to claim missing money under your name or file your application for paid clinical trials in less than five minutes.
You can even get compensation for reporting robocalls or apply for a crime victims compensation program in your state by signing up for our app and following a few simple steps.