You're Sure There's Money Left on Your J.Crew Gift Card? Check Its Balance ASAP!
Did you use your gift card but don't want to throw it out because you are certain there's some money left? You're right not to do it! Three billion dollars worth of gift cards end up unused every year—we won't let yours go to waste.
Not sure how much money you have left on your J.Crew gift card? Check its balance using one of the methods we'll provide in this article. and get the leftover money in a breeze!
How Does a J.Crew Gift Card Work?
J.Crew gift card is a typical gift card that you can purchase in every J.Crew store or online via their website. There are two types of gift cards:
Classic (physical) gift card
Digital or eGift card
The amount on the J.Crew gift cards can go from $25 to $500.
You can use your card:
On phone orders
Online at:
On in-store purchases at:

J.Crew
J.Crew Factory
J.Crew CrewCuts
J.Crew Mercantile
How To Check Your J.Crew Gift Card Balance
There are several ways to find out the balance of your J.Crew gift card. In the following table, you will find the steps you need to take to check the amount of money you have left on the gift card:
Ways To Check Your J.Crew Gift Card Balance
Explanation
In person
To check your gift card balance in person, go to the nearest J.Crew store and provide the cashier with the number of your card. They will tell you the exact amount of money you have left on your gift card
Via phone
Another way to check the amount of leftover money on your gift card is to dial 800 562 0258 and give the J.Crew representative your name and the number of your card
On the website
Here's how you can check your J.Crew gift card balance online:

Go to the J.Crew website
Scroll down to the bottom of the main page
Select the Gift Cards option
Navigate to the Gift Card Help section
Choose the Find Gift Card Balance option
Enter your card number and PIN
Pass the robot verification
Tap the Check Card Balance button
What Can I Do With the Extra Balance on a J.Crew Gift Card?
After checking the amount of money you have left on the gift card, you should figure out how to use the remaining balance. If you don't have enough money for another purchase, you can add extra money—up to $1,000—to your gift card in the nearest J.Crew store.
In case you were wondering whether you can sell the gift card for cash or transfer it to your bank account, you can't. What can you do with the leftover money on your card if you don't want to purchase anything? See if you can turn the gift card into cash!
Is It Possible To Get Cash Back From My J.Crew Gift Card?
The store's policy is that you cannot exchange your gift card, get a refund for it, or redeem it for cash. There is an exception to this rule, and it refers to the states with gift card laws. In states with the cash back policy, stores are required to reimburse the customers for the leftover money below a certain amount—usually below five or 10 dollars, depending on the state.
What can you do if you don't live in one of the states with the said policy? Use DoNotPay and get the same treatment!
J.Crew Gift Card Balance Check Discovered Some Money? Redeem It Fast With DoNotPay!
If your J.Crew gift card balance check uncovered some money, you shouldn't let it go to waste. No matter if it's two or three dollars, you should redeem that cash before it goes back to the bank or the retailer. There's even an easy way to do it! DoNotPay's Gift Card Cash Back feature will get you that money back even if you live in a state without a cash back policy.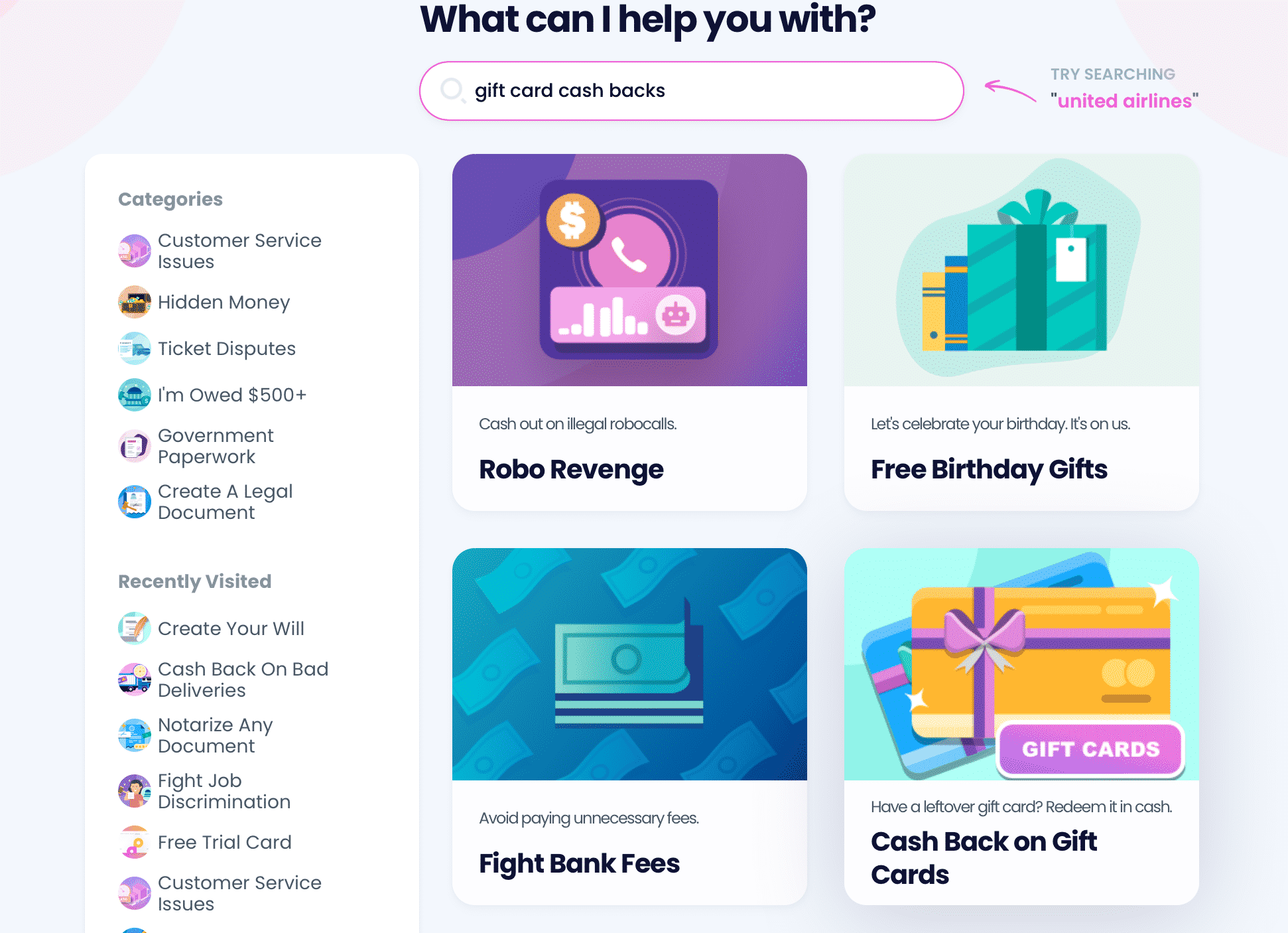 Here's what you should do:
Choose the Gift Card Cash Back product
Provide the gift card information, like the name of the company, gift card number, and remaining gift card balance
We will check if your state has the cash back policy, and if it doesn't, we'll find out whether the company has a store in one of the 11 cash back states or Puerto Rico. Once we send them a request, you can expect to receive cash or a check via mail within 14 business days.
DoNotPay doesn't stop there! You can learn how to get free gift cards or redeem the gift card cash from places like:
Do Not Let Companies Burn Your Pocket—Fight Back With DoNotPay
In the golden age of consumerism, it's easy to fall for greedy corporations' tricks and waste your money, sometimes without even knowing it. We are here to nip the money-grabbing techniques in the bud!
With your DoNotPay account, you'll be able to sign up for free trials without worrying about losing money once the trial expires. Are you also concerned about your privacy since most free trials require credit card info? With DoNotPay's virtual credit card, your privacy will remain intact.
Say goodbye to drawn-out refund and cancellation processes with the virtual assistant extraordinaire by your side.
If you need help returning an item or claiming its insurance or warranty, we'll help you throughout the entire procedure.
Need Some Extra Money? Find Unclaimed Funds or Get Compensations
Whether you need help with bills, you're strapped for cash, or you just want to get your money back but you can't bear dealing with customer service, we know what to do!
DoNotPay can help you overturn your parking tickets, apply for a college fee waiver, lower your property taxes, and get free raffle tickets. We can also show you the best way to discover your unclaimed money and obtain different types of refunds and compensation involving airlines, gift cards, and late deliveries.