Check a JCPenney Gift Card Balance and Turn Quality You Can Count On Into Money You Can Count
Too often, gift cards lie forgotten, and their unredeemed value goes to waste. This is an opportunity to get some cash that you shouldn't miss out on!
DoNotPay can help you check a JCPenney gift card balance and claim any unspent value in cash.
JCPenney Gift Cards Explained
JCPenney (JCP) offers gift cards in standard denominations of $10, $25, $50, and $100, with custom amounts available between $5 and $500.
You can get JCPenney gift cards directly from JCPenney—either in-store or on their website—or from a range of online merchants.
JCPenney gift cards can be redeemed against online or in-store purchases in any of the store's 689 locations, and they do not expire or lapse.
How Do I Do a JCPenney Gift Card Balance Check?
Checking the balance on your JCPenney gift card is quick and easy using the following methods:
Checking Method
Explanation
In store
Any JCP cashier will be able to swipe your card and tell you your outstanding card balance
By phone
You can check a JCP gift card balance by doing the following:

Call 1-800-294-8804
Have your gift card and PIN handy
Follow the voice prompts

Online
On the JCP website, you can check a JCPenney gift card balance online by entering the card number and PIN that are located on the back of the card
Once you have checked your balance, you can decide what you are going to do with any unspent amounts you still have.
Can I Redeem My JCPenney Gift Card for Cash?
JCPenney states in its terms and conditions that you cannot get cash back for your gift card except where required by law.
This refers to legislation in 11 U.S. states and Puerto Rico that allows you to redeem certain amounts on gift cards from the vendor. Most states set a limit of $5 on cash back payments, but some allow amounts of up to $10 to be redeemed.
What Can I Do With My Unspent JCPenney Gift Card Money?
The easiest option is to use any remaining balance on your JCPenney gift card against your next purchase at the store.
If you want other ways of redeeming the value of your card, you have a few options:
Redeem the card for cash at a JCPenney store
Exchange the card
Sell the gift card at a kiosk
Sell the card online
Redeem the Card for Cash at a JCPenney Store
If you live in one of the states that allow you to redeem cash on gift cards, you can try going to a JCPenney store and asking for cash.
You may find that the cashier does not know the law, so the process may become complicated and time-consuming.
Exchange the Card
Several websites offer a gift card exchange service for swapping unwanted gift cards for ones of similar value from vendors you like. You will only be able to swap your card for a percentage of its value, though, and the availability of worthwhile swaps may be limited.
Sell the Gift Card at a Kiosk
In many states, you can find kiosks that will make you an instant cash offer for your gift card.
Insert your card into the machine—which can be found in many grocery and department stores—and you will receive a cash offer that will normally be equivalent to 85–90% of the true remaining value on the card.
Sell the Card Online
You can find several websites that will buy your plastic or eGift card online. These sites are in business for profit, so they will only offer you between 85 and 90% of the true value on your card.
Your most lucrative way to redeem the full outstanding balance of your JCPenney gift card is to claim cash back from the vendor directly. This is where DoNotPay comes in—we can !
Get Cash Back From JCPenney With DoNotPay

DoNotPay is the expert at making your life easier. Redeeming your unspent gift card amounts is the latest service we offer!
We can help you claim your cash back on your JCPenney gift card—all you need to do is:
in your web browser
Go to our Cash Back on Gift Cards product
Fill in the details we need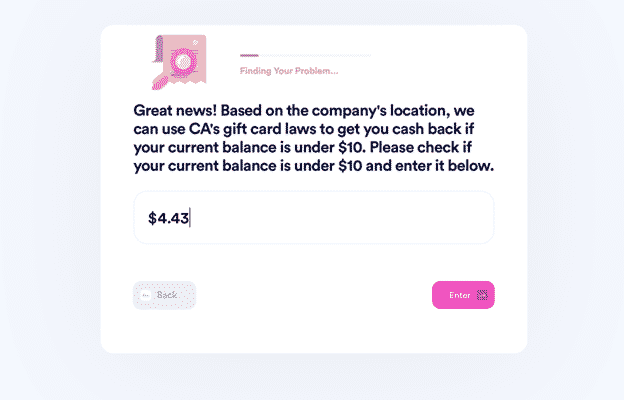 We will forward your claim to JCPenney and start the process of getting your reimbursement.
We can even help if you don't live in one of the states which allow you to redeem cash on gift cards. We will search for an outlet in one of the mentioned states and send your claim there. You should receive your money within 14 days.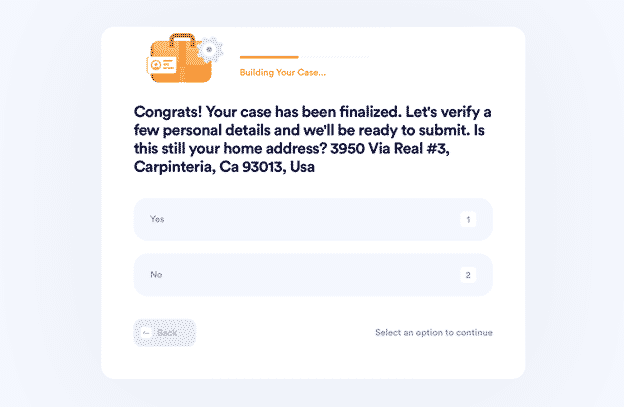 If this sounds exciting, DoNotPay can also help you with getting free gift cards that you may be able to turn into cash. Yet again, DoNotPay makes life better for you!
More Gift Card Options From DoNotPay
DoNotPay is constantly expanding the list of gift cards we can help you get cash back from. Here are a few more examples:
Money Troubles Got You Down? Use DoNotPay To Get What You're Owed!
If you need help paying bills, you could benefit from our hacks for saving and earning money.
Our app can help you get free trials with no hidden charges, thanks to DoNotPay's virtual credit card. If you want to get rid of a service, we can assist you in canceling it or requesting a refund. We'll get everything done so that you don't have to deal with customer service. In case a company is playing dirty, our award-winning app can help you take it to small claims court.
A slow bureaucratic process shouldn't stop you from getting your money back. This is where DoNotPay comes in! We provide the fastest way of:
Rely on DoNotPay To Manage Different Tasks and Issues
DoNotPay is a multifaceted app making your life easier in numerous ways. Here's how you can benefit from your DoNotPay account: