How To Perform a P.F. Chang's Gift Card Balance Check
Getting a gift card is great—but once you use up most of the balance and have only a few dollars left, you may think that it's unusable and want to throw it away. No need to do that, though! After filling yourself up with Asian cuisine, find out how to do a P.F. Chang's gift card balance check and use your remaining balance.
How Do P.F. Chang's Gift Cards Work?
P.F. Chang's offers two types of gift cards:
eCards
Plastic gift cards
You can send someone a P.F. Chang's eCard online, or if you prefer the original gift card:
Purchase it online and get it mailed to someone
Purchase it in person
The company's terms are the same for both types of cards:
They never expire, and P.F. Chang's won't charge you any maintenance fees
You can load any amount from $5 to $500
P.F. Chang's will issue a replacement card of the same value if your card gets lost, damaged, or stolen
The gift cards come pre-activated and ready to use
Note that P.F. Chang's and Pei Wei stopped sharing common ownership in 2019. If you have a P.F. Chang's gift card, you can't use it at Pei Wei and vice versa.
How To Check P.F. Chang's Gift Card Balance
Here are all the ways to check how much money you have left on your P.F. Chang's Gift Card:
Call P.F. Chang's
Ask a P.F. Chang's staff member to check for you in person
Check on the company's website
The following table explains how to check your P.F. Chang's gift card balance:
Checking Method
Process
Call P.F. Chang's

Dial 1-866-732-4264
Ask for a gift card balance check
Provide necessary information to the employee

In person
Go to your nearest P.F. Chang's restaurant and ask a staff member to check your gift card balance
Check on the P.F. Chang's website
To check your gift card balance on the P.F. Chang's website, follow these steps:

Visit the Check Balance page
Enter your gift card number
Enter your gift card PIN
Click on Check Balance
What Can I Do With My Leftover P.F. Chang's Gift Card Balance?
The company states that you can redeem your gift card balance in cash only in states that allow that. There are 11 of them plus Puerto Rico, each with its specific cash back limit. The following table shows the states grouped by the maximum cash back amount:
| | |
| --- | --- |
| State/District | Cash Back Limit |
| California | $10 |
| Colorado, Maine, Massachusetts, Missouri, New Jersey, Oregon, Washington, and Puerto Rico | $5 |
| Connecticut | $3 |
| Rhode Island and Vermont | $1 |
Cash back is an excellent option for those who live in one of the listed states. If you don't reside in one of these 11 states or Puerto Rico, traveling that far only to visit a P.F. Chang's restaurant for a small amount of money is not the best idea.
Here are other ways to turn your P.F. Chang's gift card to cash:
Sell your gift card—You can sell your unused or partly used gift card from P.F. Chang's on various websites
Trade your gift card—You can trade your P.F. Chang's gift card with leftover balance for another gift card of the same value from a different vendor
Trade your card in a card kiosk—Visit a grocery or department store that has a vending machine that can exchange your P.F. Chang's gift card for cash
These methods require extra effort and are often not worth it. Why sell your gift card for cash to random strangers or waste time looking for kiosks when you can let DoNotPay in no time!
Get Your P.F. Chang's Gift Card Cash Back Using DoNotPay!
No matter the state, DoNotPay can get your P.F. Chang's gift card cash back!
All you need to do is:
in your preferred browser
Select our Gift Cards Cash Back product
Provide the necessary information—your gift card number, vendor details, and the remaining balance
We will find a P.F. Chang's office in a state that offers cash back and forward your request there. You will receive your money from P.F. Chang's within 14 days.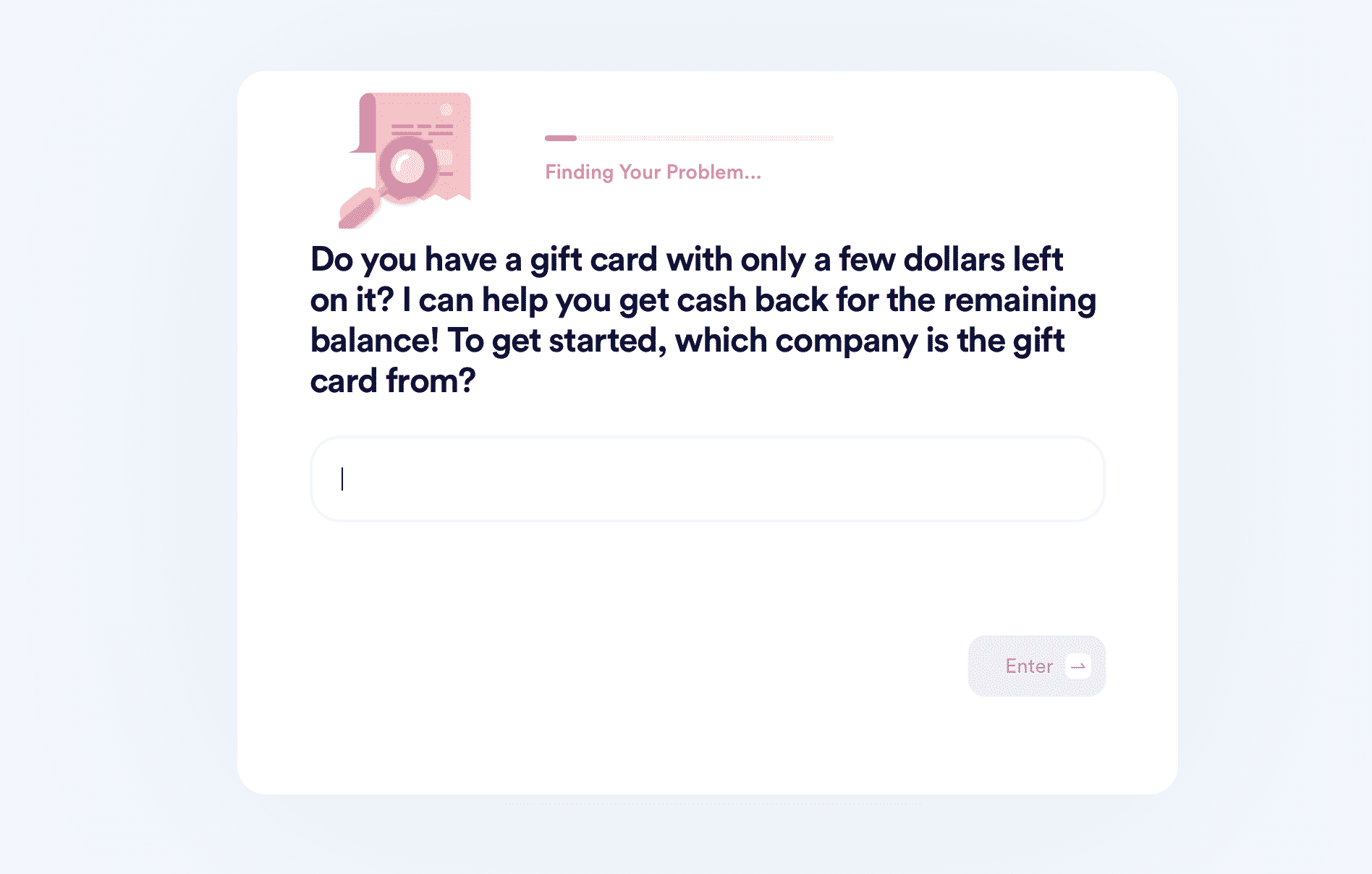 If you have more gift cards with leftover balances, you can turn them into cash using DoNotPay! Here are commonly used gift cards we can help you with:
Need more information about gift cards? Our knowledge base offers handy tips on:
Need Some Extra Money? Find Unclaimed Funds or Get Compensations
Whether you need help with bills, you're strapped for cash, or you just want to get your money back but you can't bear dealing with customer service, we know what to do!
DoNotPay can help you overturn your parking tickets, apply for a college fee waiver, lower your property taxes, and get free raffle tickets. We can also show you the best way to discover your unclaimed money and obtain different types of refunds and compensation involving airlines, gift cards, and late deliveries.
Do Not Let Companies Burn Your Pocket—Fight Back With DoNotPay
In the golden age of consumerism, it's easy to fall for greedy corporations' tricks and waste your money, sometimes without even knowing it. We are here to nip the money-grabbing techniques in the bud!
With your DoNotPay account, you'll be able to sign up for free trials without worrying about losing money once the trial expires. Are you also concerned about your privacy since most free trials require credit card info? With DoNotPay's virtual credit card, your privacy will remain intact.
Say goodbye to drawn-out refund and cancellation processes with the virtual assistant extraordinaire by your side.
If you need help returning an item or claiming its insurance or warranty, we'll help you throughout the entire procedure.