Check Your Michaels Gift Card Balance and Use the Gift of Creativity
If you are into knitting, arts and crafts, or scrapbooking, a gift card from Michaels is a highly desirable addition to your wallet.
If you want to know just how much you can indulge in your hobby, DoNotPay shows you how to check your Michaels gift card balance and decide what to do with your remaining cash!
Get Creative With a Michaels Gift Card
Michaels gift cards can be used to buy products from the huge range of hobby products available at the 1142 Michaels outlets in the U.S. and online.
They are available in any denomination up to $100 and can be purchased in the following ways:
Online
In store
Through merchants
How To Do a Michaels Gift Card Balance Check
If you want to know how much value is still on your used gift card, you have three easy options:
| | |
| --- | --- |
| Balance Check Method | Explanation |
| Online | The Michaels website features a balance checking facility. You need to type in your card number and PIN (found on the back of your card) |
| In store | Any member of the Michaels team will swipe your card and give you your remaining balance |
| By phone | You can call Michaels on 1-800-MICHAELS to check your balance—remember to have your card handy when you make the call |
Once you have found out how much is still on your card, you can decide whether to treat yourself, wait and buy something later, or convert your Michaels gift card to cash.
What Can You Do With the Remaining Balance on a Michaels Gift Card?
Depending on the amount still left on your card, you have several options to use it.
If there is still a significant amount left, you may decide you want to spoil yourself with a purchase.
If you are stocked up with arts and crafts supplies, you may prefer to convert your remaining balance to cash. Here's how you can do it:
At a kiosk
Through an online merchant
Through a card exchange
At a Kiosk
Many grocery and department stores have vending machines that offer cash for part-used gift cards. If you insert your card, you will receive an instant cash offer and payout if you accept.
Through an Online Merchant
Several websites buy and resell gift cards. Depending on the desirability and value of your card, these merchants will make you a cash offer for your Michaels gift card.
Through a Card Exchange
Instead of selling your card for cash, you can swap it for a more attractive card of a similar value on several websites. The exchanges available will depend on how popular your Michaels card is and how much remaining balance is left.
All the above methods allow you to turn your Michaels gift card into cash or an alternative gift card, but you will not get the full face value of your card.
These merchants buy low and sell high, so the offer you get will probably only be for 80–90% of the true monetary worth of your Michaels card.
What if You Only Have a Few Dollars Left on Your Michaels Card?
If you have a single-digit dollar amount left on your card, you may be able to get cash back for it from Michaels.
Michaels says they do not offer cash backs on their gift cards, but legislation in 11 states and Puerto Rico states that you can return gift cards with small remaining balances for cash back. The states where you can do this are as follows:
| | |
| --- | --- |
| State | Cash Back Limit |
| Washington | $5 |
| Oregon | $5 |
| California | $10 |
| Colorado | $5 |
| Missouri | $5 |
| Puerto Rico | $5 |
| New Jersey | $5 |
| Rhode Island | $1 |
| Connecticut | $3 |
| Vermont | $1 |
| Maine | $5 |
| Massachusetts | $5 |
There are a couple of drawbacks to be aware of. To do this, you have to:
Be in one of these states to benefit from its cash back policy
Go to a Michaels outlet and present your card for a refund
Explain the law to a cashier, a supervisor, and a manager before your request is granted
Getting cash back on your Michaels gift card can be difficult if you attempt to do it yourself, but DoNotPay is here to help. No matter where you are, we can ! We can even show you how to get free gift cards to use for cash backs.
DoNotPay Gets Cash Back for Your Michaels Gift Card

As always, DoNotPay knows how to make your life easier.
Regardless of whether you live in a state with a cash back policy, DoNotPay can get cash for your card—here's what you need to do:
in your web browser
Click on our Gift Card Cash Back product
Fill in the details of your card (vendor, date of purchase, and remaining balance)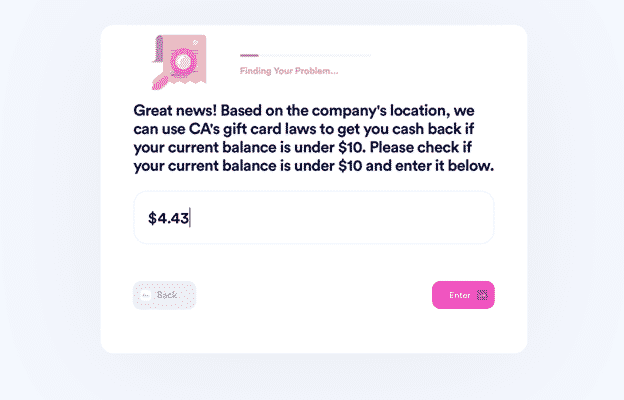 DoNotPay will send your request to the nearest Michaels outlet for processing. If you live outside the 12 legislations with cash back policies, we will find the most convenient Michaels outlet in one of these areas and send your claim there. Your money should arrive within 14 days!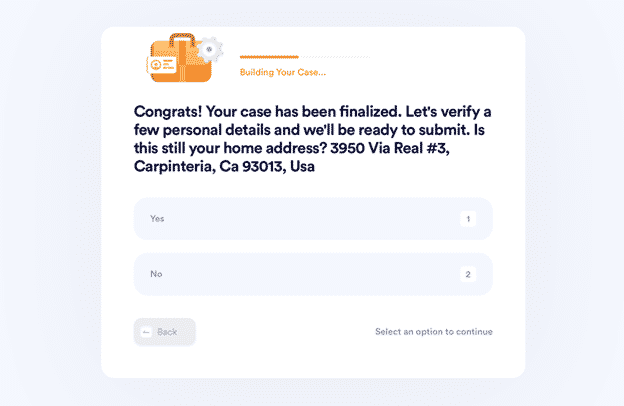 DoNotPay's Huge Range of Gift Card Solutions
We can help you with a rapidly growing range of gift cards—here are some of the big-name cards we can get cash back on:
Money Troubles Got You Down? Use DoNotPay To Get What You're Owed!
If you need help paying bills, you could benefit from our hacks for saving and earning money.
Our app can help you get free trials with no hidden charges, thanks to DoNotPay's virtual credit card. If you want to get rid of a service, we can assist you in canceling it or requesting a refund. We'll get everything done so that you don't have to deal with customer service. In case a company is playing dirty, our award-winning app can help you take it to small claims court.
A slow bureaucratic process shouldn't stop you from getting your money back. This is where DoNotPay comes in! We provide the fastest way of:
Rely on DoNotPay To Manage Different Tasks and Issues
DoNotPay is a multifaceted app making your life easier in numerous ways. Here's how you can benefit from your DoNotPay account: