IPIC Gift Card Balance Check Explained by DoNotPay
Do you have a used IPIC theaters gift card that you forgot about? Want to check how much money you have left on it? Turn to DoNotPay for professional assistance!
We'll show you how to do an IPIC gift card balance check and get cash for your card swiftly.
What Are IPIC Gift Cards?
IPIC gift cards can be used for purchasing tickets, food, and beverages at IPIC theaters all over the country. They only come in physical form and can be loaded with any amount between $25 and $500.
How To Check Your Remaining IPIC Gift Card Balance the Hard Way
IPIC offers a few ways to check the remaining balance on its gift card. Turn to the table below to see your options:
Balance Check Method
Details
Online
Go to the company's website and:

Click on the slide-out menu on the right side of the screen
Type in Gift card balance in the search bar
Find the How do I check my gift card balance? FAQ section
Click on Check Balance
Enter your gift card number
Complete the Captcha
Hit on Check Balance

In person
Use the IPIC Locator, and:

Visit a theater near you
Give your gift card to an IPIC representative
Inquire about your remaining funds

Via phone
Dial 630-378-8035 and:

Tell the customer service representative your gift card number
Ask them to check your remaining balance
The Most Effective Way of Performing an IPIC Gift Card Balance Check Is With DoNotPay
Checking your IPIC gift card balance doesn't mean that you have to deal with their customer service or waste time navigating the company's website.
You can always turn to DoNotPay for help! We've developed a feature that turns the process of performing balance checks into a piece of cake. Here's the drill:
Select the Check Gift Card Balance
Upload photos of both sides of your gift card
Give us your email address
We will contact IPIC immediately and check if you have any remaining balance on your card. Why do it yourself when you can leave all the work for us? DoNotPay can also help you check the balance on gift cards from other companies, such as:
How To Use Your Remaining IPIC Gift Card Balance
Once you've checked your IPIC gift card balance, you'll probably want to know how to use it. You can:
Spend the remaining balance
Exchange the gift card
Sell your gift card online
Get your cash back with DoNotPay
How To Spend Your Remaining IPIC Gift Card Balance
If you have enough money on your IPIC gift card, you can spend it in one of their theaters or treat a loved one with a movie ticket!
IPIC gift cards don't expire, so if the movie you want to see is not playing right now, you can hold onto your card for as long as you want.
Exchanging Your IPIC Gift Card
Find a gift card exchange kiosk near you and convert your gift card to cash. Keep in mind that you'll only receive a small amount of the remaining balance.
Sell Your IPIC Gift Card Online
In case you're patient enough and content with getting around 80% of your remaining balance, you can sell your card online. Either:
List it for sale on a marketplace—Visit Craigslist, eBay, or Facebook marketplace and put your used gift card up for sale. You'll have to wait for the potential buyer and pay for the shipping fees
Sell it to a reseller website—Find a reseller website and sell your gift card for cash quickly
Get Cash Back for Your IPIC Gift Card With DoNotPay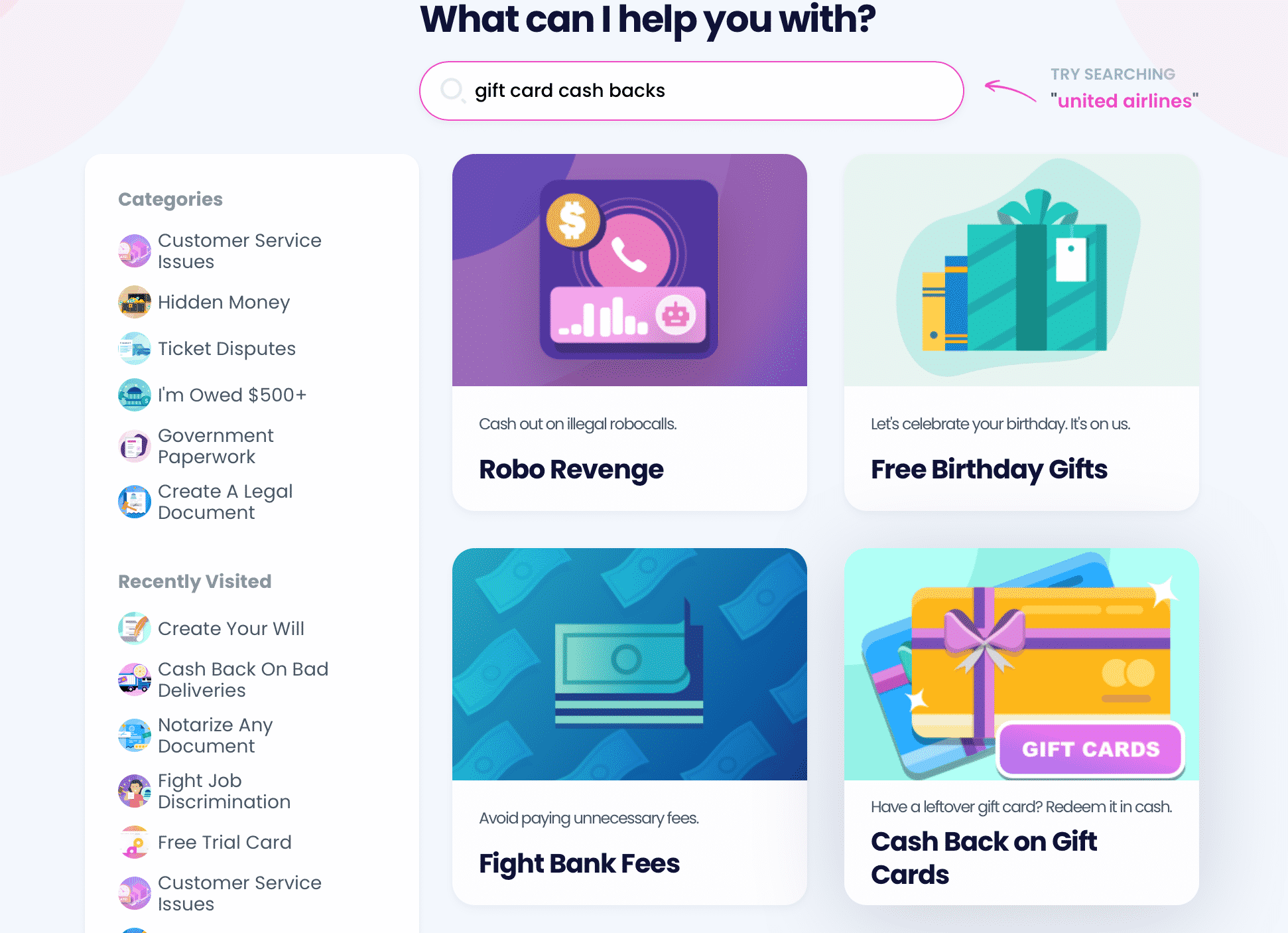 Depending on your state's laws regarding gift cards, you might be able to get cash for your gift card. If you live in Puerto Rico or one of the 11 U.S. cash back states, you can contact your local IPIC theatre, explain the state law to an employee, and ask for a gift card cash back.
Do you really want to waste time explaining cash back rules to a customer service rep? There is a simpler way to get your money back!
Our Gift Card Cash Back product allows you to claim money for your gift card regardless of your place of residency!
Here's what you need to do:
Select the Gift Card Cash Back feature
Give us details about your gift card, including:

The date it was issued
Where you bought it
Card number

Click on Sign and Submit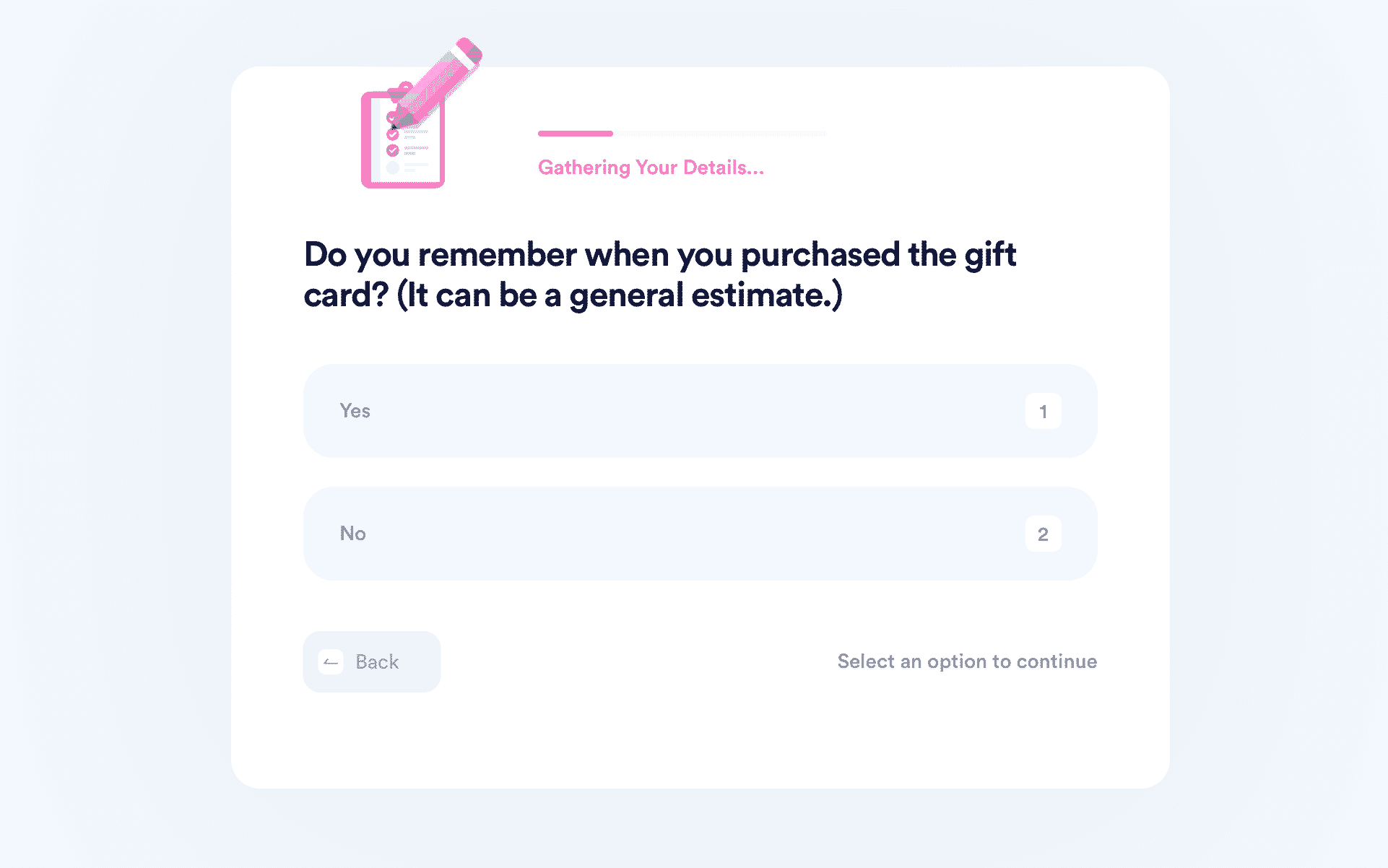 We'll send your request to an IPIC office located in a cash back state. Expect to receive your money via mail within two weeks.
Check out DoNotPay's learning database and discover how to get free gift cards or return gift cards for cash!
DoNotPay Makes All Issues Go Away in Several Clicks
Using DoNotPay comes with plenty of advantages, the main one being that you can resolve just about anything in a matter of clicks. It doesn't get any easier than that!
Do you need to fax a document, draw up an agreement, submit a FOIA request, get a contract notarized, file a warranty or insurance claim, get a burner number, schedule a DMV appointment, or appeal a parking ticket as soon as possible? Sign up now and clear out your schedule because we'll handle it all!
Are you looking for your missing money? Do you need help with your utility bills or property taxes? We're here to help!
Get Rid of Paperwork With Your AI-Driven Assistant
Even though paperwork belongs in the past, we have to keep dealing with it almost daily. To avoid this annoyance, you can just use DoNotPay!
If you need to compose a demand letter to a rude neighbor, submit a claim for a late or missing package, request compensation from an airline, or sue any company in small claims court, we have your back!
All you need to do is sign up, tell us what you need, and resolve any issue in a matter of minutes!