How To Check Your Applebee's Gift Balance and Find Hidden Money
Don't you love it when you find $10 in an old jacket? You may feel the same way if you check your Applebee's gift card balance. We'll teach you how to do it and show you how to return gift cards for cash.
Once you see how easy it is to turn gift cards into cash, go through your junk drawer to find more used cards and to get the most of the remaining balance!
How Does an Applebee's Gift Card Work?
You can buy Applebee's gift cards of any value, but typically, they range from $5 to $250. Before you check your balance and decide how to spend it, here's what you should know about Applebee's gift cards. They
Are available at any Applebee's Neighborhood Grill & Bar location (the U.S. or Canada) or online
Cannot expire or decrease in value
Cannot be reloaded or added to another gift card
Won't be replaced if lost, stolen, damaged, or used without authorization
Cannot be used to purchase more gift cards
Get void if they are resold or transferred for value
Can be used to purchase goods or services on the Applebee's website or in any Applebee's Neighborhood Grill & Bar location
How To Check Applebee's Gift Card Balance
Applebee's offers a few ways you can check the balance on your gift cards. Check out your options below:
Online
In person
Via phone (if you need help)
Via email (if you need help)
Check Applebee's Gift Card Balance Online
To view your gift card balance online, you should follow these steps:
Visit Applebee's website
Click on Gift Cards in the top right corner
Scroll down and tap on Check Your Balance
Hit Continue
Enter your 19-digit Applebee's gift card number in the box
Type in a valid security code (the four-digit PIN)
Click on I'm Not a Robot (if it appears)
Tap on Check Balance
Check Applebee's Gift Card Balance in Person
You can visit the nearest Applebee's and ask a staff member to check your gift card balance or tell you who can help you do it. Make sure you:
Bring the card with you
Check whether the gift card number is visible
Know your security code or PIN
Check the Balance on an Applebee's Gift Card via Phone
If you want to check your gift card balance by phone, you can call Applebee's customer support at 1-888-592-7753 or eGift card customer support at 855-772-9098 from 8 a.m to 8 p.m. EST any day of the week. Prepare your gift card and ask a customer service rep to assist you.
Perform an Applebee's Gift Card Balance Check via Email
If you're having trouble checking your balance and need help, you can send an email to applebeesgiftcardsupport@cashstar.com. Ask a customer support rep for assistance or additional info.
Does Applebee's Allow Gift Card Cash Back?
According to Applebee's terms and conditions, the restaurant's gift cards are not redeemable for cash unless it is required by law. The states that allow getting cash back on your gift cards are the following:
California
Colorado
Connecticut
Maine
Massachusetts
Montana
New Jersey
Oregon
Rhode Island
Vermont
Washington
If you want to know more, check out our article on gift card laws by state.
Applebee's Gift Card Check Done? Use DoNotPay To Get Ahold of Your Cash
If you have a few bucks left on your Applebee's gift card and you want to get the cash, you don't have to talk to a confused staff member not familiar with the law or travel across the country to a state that allows redeeming gift card money. This is where DoNotPay swoops in!
You can use our AI-powered app to:
Check whether your state permits gift card cash back
Verify there's an Applebee's in a state that allows getting money from the gift cards
Send a cash request
Here's how it works once you :
Search for our Gift Card Cash Back product
Provide the necessary info:
Company's name
Your gift card number
Remaining balance
DoNotPay will check the info on Applebee's or any other company whose gift card you own. That's it on your end! We will send your cash request right away, and you can expect to receive your cash or check in the mail within 14 business days.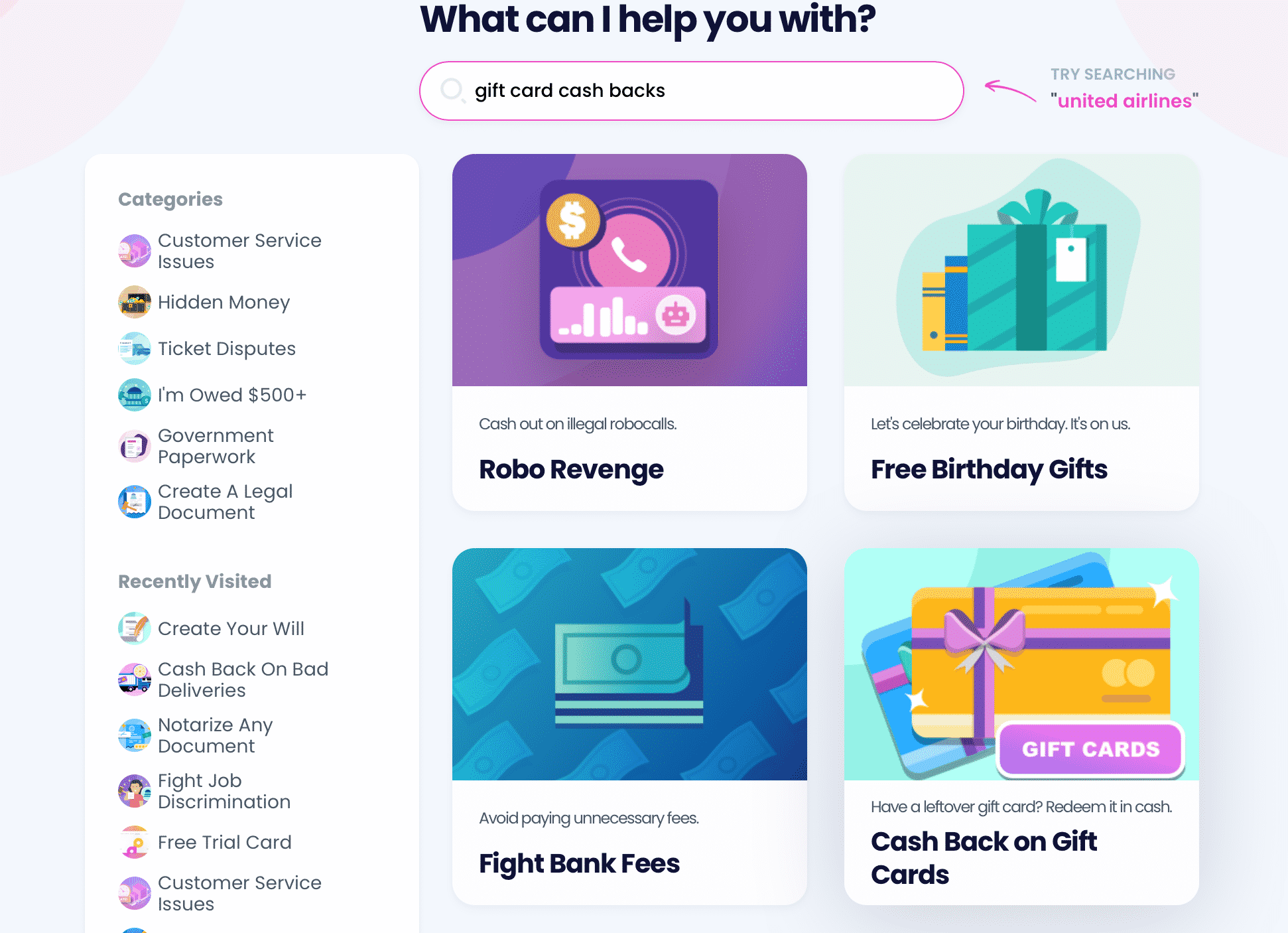 If you have more gift cards and you're not sure how to check the balance or what to do with them, our learning center provides all the answers. Here's a fraction of what we can help you with:
| | |
| --- | --- |
| General Questions About | Check Your Gift Card Balance |
| | |
DoNotPay Can Help You Solve Pesky Issues Stress-Free
Dealing with everyday issues can become overwhelming, especially if they include bureaucracy. DoNotPay can help you handle numerous problems in a few minutes. With us, you can schedule your DMV appointments, get documents notarized remotely, and create various legal documents—including child travel consent statements and demand letters for neighbor complaints—in a snap.
Do you need help paying your bills, disputing parking tickets, or getting cash back for your gift cards? Once you register for DoNotPay, you'll be able to manage all of these and many more issues in no time.
What Else Can You Use Our App For?
Besides helping you handle tedious administrative hurdles, DoNotPay can do much more for you! You can use DoNotPay to:
With us, you can send online faxes or mail letters from the comfort of your home. Do you have friends or family members who are serving time? We can help you connect with inmates in a flash by enabling you to locate them and send them letters.