How To Check a Starbucks Gift Card Balance Before You Can Say Venti
A Starbucks gift card is an appropriate present for any coffee enthusiast. If you own and use a Starbucks gift card, you should know how to check the balance so you can decide what to do with the leftover money. One of the most appealing options is to get cash back for the remaining amount.
DoNotPay will explain how to check a Starbucks gift card balance easily. We will also help you retrieve the remaining balance on your used gift card in a few simple clicks!
How Does a Starbucks Gift Card Work?
Starbucks has an extensive offer of gift cards. You can get them online, in stores, on the Starbucks app, or via an iPhone text message. Starbucks gift cards can be loaded with amounts from $5 to $500.
You can use Starbucks gift cards to purchase food, drinks, and merchandise in participating coffee shop locations. While most Starbucks coffee shops in North America accept gift cards, a few locations—including those in bookstores, grocery stores, or at certain airports—may not accept them. Your best bet is to find a coffee shop using a store locator and check if it lists "Digital Rewards" as one of the amenities.
If your card was purchased in the U.S., that doesn't mean you can't use it in other countries, such as Canada or the U.K. When you use the card in a different country, the transaction amount will be converted from the local to the base currency and deducted from your Starbucks card balance.
How To Check the Balance on a Starbucks Gift Card
You can use four available options to check a Starbucks gift card balance. Check out the table below for more details:
Methods
Steps
Asking at a local coffee shop

Visit your local Starbucks
Provide the employee with the necessary gift card details
Get the information about your balance

Visiting the Starbucks website

Visit the Starbucks card balance page
Scroll down to the bottom of the page
Find a section called Check Balance on the bottom left
Enter your card number and the security code
Click on Check Balance

Signing in to your Starbucks account

Access your Starbucks account
Go to the My Cards section
Select your Starbucks gift card

Using the Starbucks mobile app

Download the Starbucks mobile app on your phone
Select Cards
View the balances of all your Starbucks cards, including those associated with your Starbucks Reward account
I Performed a Check of My Starbucks Gift Card Balance! Now What?
Once you check your Starbucks gift card balance, you have a few options to use the remaining money. You can choose to:
Spend the money from the card—You can either recharge the card and continue using it as before or assess if you have enough balance to make one more purchase
Transfer the balance to somebody else—If the amount on your gift card is not enough to make a purchase, you can transfer it to someone else's card in one of the three ways:

In one of the participating Starbucks retail locations
By selecting the option Manage on your Starbucks account
Via the mobile app, by choosing the face icon in the upper right corner and clicking on the Starbucks Cash and Payment under the Profile header

Combine multiple cards—You can open the Starbucks mobile app, choose the Gift option at the bottom of the home page and follow further instructions to transfer funds from multiple cards onto the main card
Get a cash reimbursement for the remaining money—While Starbucks officially doesn't offer cash reimbursement for the leftover funds on your card, you can and get the remaining balance in cash with zero effort
DoNotPay Can Help You Get the Money From Your Starbucks Card Without a Glitch
When left with $2 or $3 on their gift cards, people often choose not to do anything about it and let the money get transferred to the bank or the retailer. With DoNotPay, you have the option of getting the reimbursement in cash!
DoNotPay knows all about different state laws regarding gift card reimbursements and can help out even if you live in a state where that is not a legal requirement.
All it takes is to:
in a web browser
Select our Gift Card Cash Back feature
Provide basic information about the company—such as the name, remaining gift card balance, and the state where the card was issued
Wait for DoNotPay to check if your state has a gift card cash back policy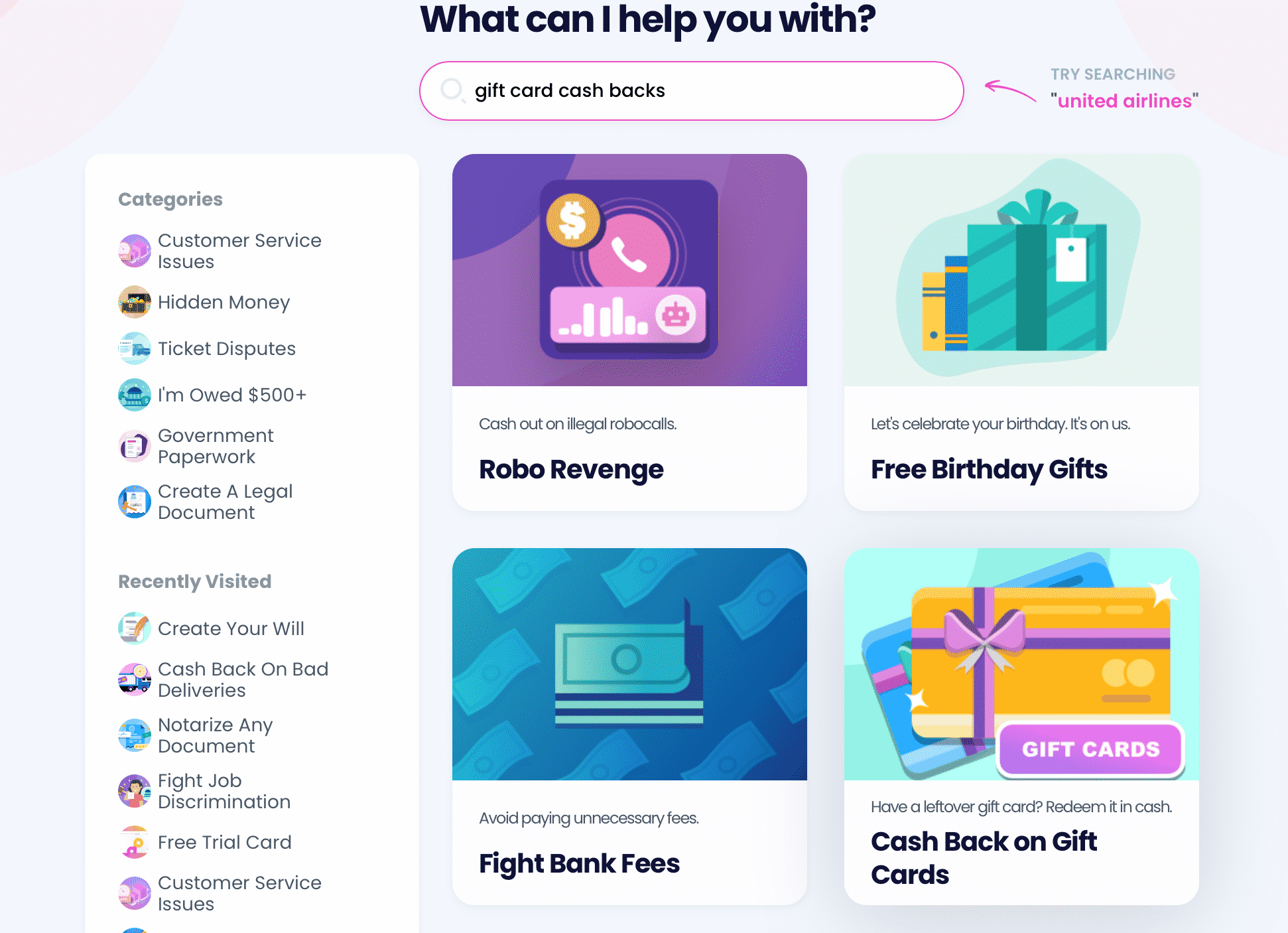 If you don't live in one of the gift card cash back states, we will check if Starbucks has branches there. If it does, we will send a request to their office in one of those states. You can expect to receive the cash or check by mail in the next 14 business days.
That's not all! You can use DoNotPay to get further information on the following: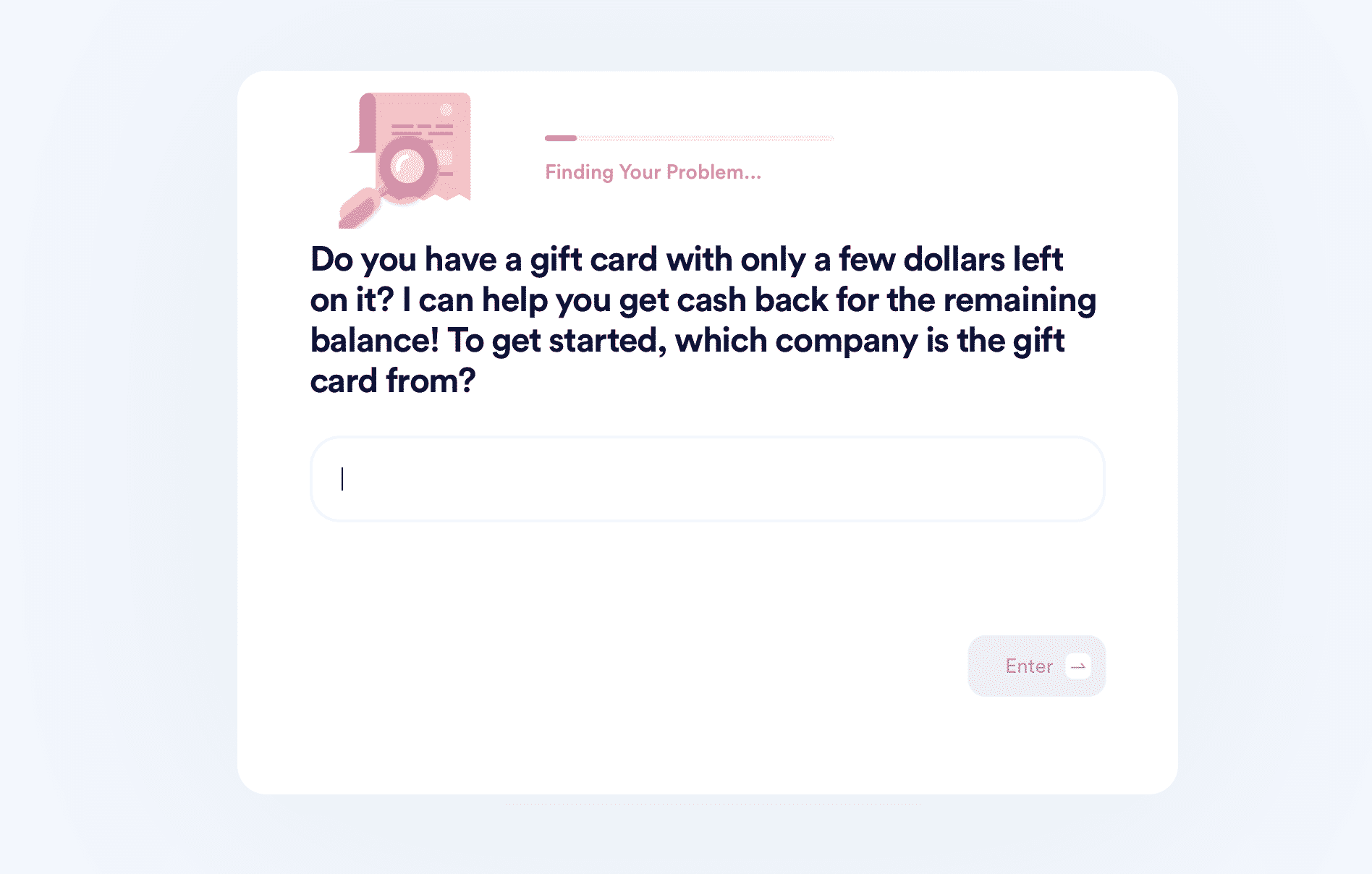 Learn About DoNotPay's Awesome Products!
DoNotPay is a multifunctional app that can solve numerous everyday challenges swiftly.
You can use our app to protect your work from copyright violations, schedule your driving exam or any other appointment with the DMV, reduce your property taxes in a few steps, and similar.
We have created many useful products to help our users take care of their issues through the same app. With us, you can:
DoNotPay Connects You With Your Loved Ones
Sending letters to inmates can be difficult since you have to follow certain rules to a T to avoid having your letter rejected. The situation is even more complicated if you don't know where your incarcerated loved one serves time. DoNotPay's app can help you locate prisoners and correspond with them without worrying whether you're breaking any rules.
Do you want to send a letter, but you don't feel like heading over to a post office? By using our mailing service, you can mail as many letters as you want from the comfort of your home. With DoNotPay, you can also send online faxes in under five minutes!
Email and text spam is something that everyone experiences at least once in their lives. DoNotPay has a solution for that too. Access your DoNotPay account and count on us to help you block spam and get compensation by reporting pesky robocalls.