Crucial Aspects of a Gift Card Exchange
Receiving a gift card from your favorite store is exciting since you might have already had your eye on a few items. While your close friends and family members probably know you well enough to purchase presents from the right shops, mistakes can happen.
Did you receive a gift card from a place you don't like? If you're wondering what to do with a card you know you won't use, DoNotPay can help you out.
We are here to tell you all about a gift card exchange. to learn how to trade your card for money and get the best out of this tricky situation!
Can You Exchange Gift Cards?
Getting a gift card you have no use for can be a bummer, but you have a few solutions to overcome this issue. Instead of placing the card in a random drawer and having it go to waste, you can exchange it for cash or another card or:
Return the gift card to the store—Some retailers accept gift card returns, but you might have to provide a receipt of purchase. Note that you will probably receive only 90% of the card value
Give the card to someone else—Do you have a friend or a relative who would use the gift card? You should save the card and gift it to that person for his or her birthday or another special occasion
Purchase a product from the retailer and sell that item online—If you don't mind putting in more effort, you can choose a product from the store and sell it on eBay, Amazon, or any other similar platform
Make a donation—Certain charities might benefit from the gift card in question, so consider contacting your preferred organization to make a donation
Ways To Exchange Gift Cards
Consult the following table to check out the popular gift card exchange methods:
| | |
| --- | --- |
| Ways To Trade Gift Cards | Explanation |
| Visiting the nearest gift card exchange kiosk | To sell your gift card in person and get cash quickly, you should look for an exchange kiosk in your area |
| Selling your gift card online | You can register for a website dedicated to the sale and purchase of gift cards. Make sure to do thorough research before deciding which website to use—some platforms offer better payouts than others |
| Trading your gift card for a different one | Various online platforms enable you to trade the gift card in question for another one (from a different store). You can also head over to your local Target or Walmart and check if they offer store credits in exchange for your gift card |
Have Some Extra Cash on Your Gift Card? Find Out Whether You Can Get That Money Back!
Besides getting money for unwanted and unused gift cards, you can claim your cash for the used ones as well.
Purchasing one or multiple items whose total price matches the value of the gift card isn't always possible. Once you buy the desired product(s), check the balance of your card. If you end up having some extra cash you can't spend, you shouldn't throw the card away. You can claim that money before it gets sent back to the retailer.
In some states, the law requires companies to provide cash reimbursement for cards under a certain balance. For example, you can get up to $10 if you request gift card cash back from companies in California.
The process of filing a cashback request for a used gift card is different in each company. This means that you have to get in touch with the retailer and follow their instructions to a T. If you'd like to bypass complex and time-consuming procedures and get your money in a few clicks, you should rely on DoNotPay.
Get Cash for Gift Cards in a Few Clicks With DoNotPay!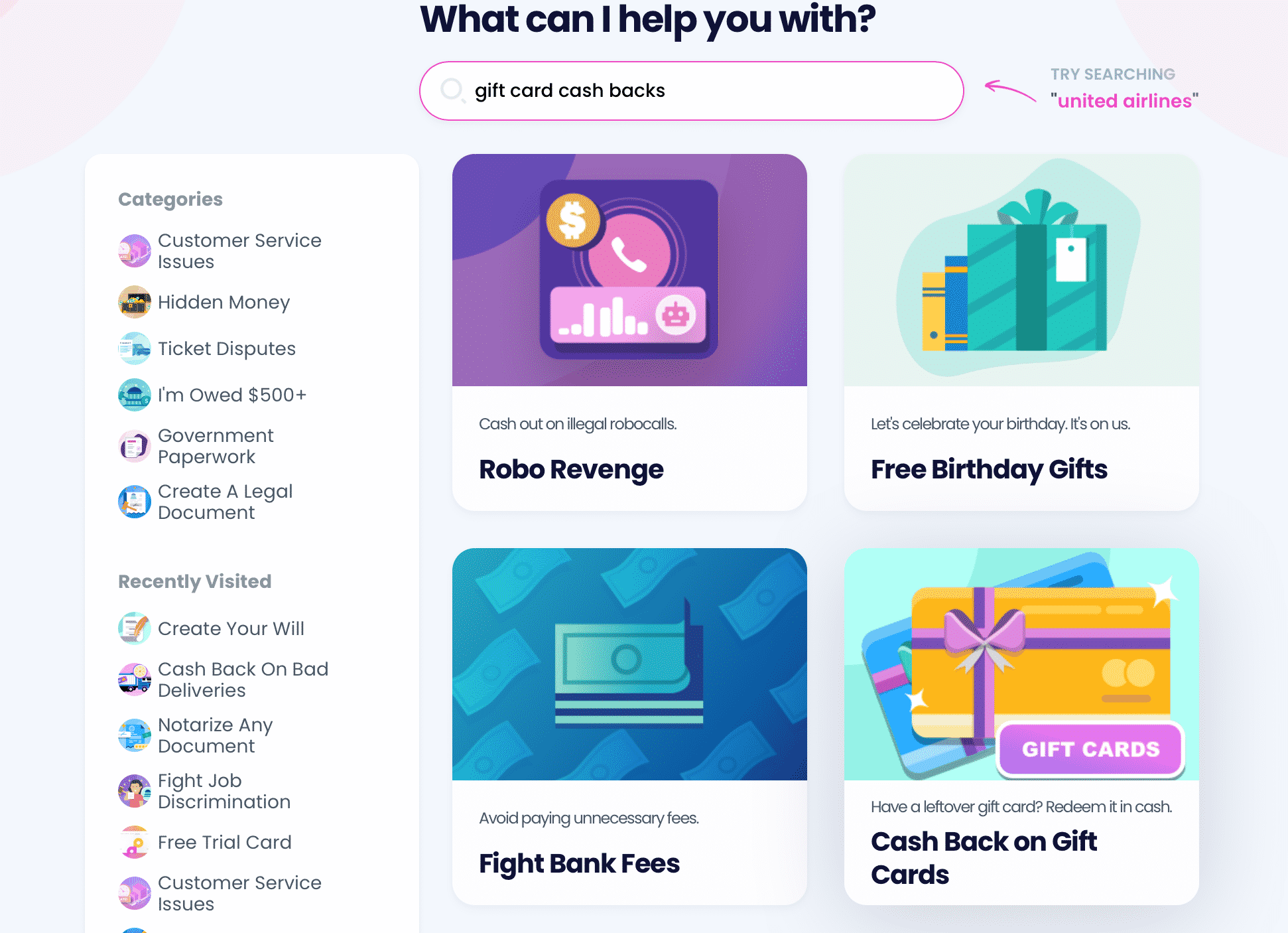 DoNotPay can help you get your gift card cash back in under five minutes. These are the steps you should complete:
Choose our Gift Card Cash Back product
Provide the necessary information regarding your card
We will send your request after checking whether:
The state you live in has a cashback policy
The retailer in question has an office in one of the states that offer cash back
Some of the companies DoNotPay can help you with are:
Can You Get Cash Back From Free Gift Cards?
Companies such as Netflix, Amazon, Starbucks, and American Eagle often give out free gift cards to people who:
Participate in various surveys
Send referral links for certain services to their friends
Shop through various apps and websites (e.g., Drop, Ibotta, and CapitalOne Shopping)
If you received and used a free gift card, but you didn't spend all the money, you can rely on DoNotPay. You don't have to lose time trying to figure out how to use the remaining balance on your gift card. We will help you claim extra cash in a matter of minutes so that you can spend it someplace else.
Save Some Coins With DoNotPay
Are various subscriptions and memberships burning a hole in your pocket? DoNotPay can help you cancel all of your memberships in a matter of minutes without having to contact customer service reps.
Next time you want to register for a free trial, prevent unexpected costs with our virtual credit card. Once the trial is over, you'll be unsubscribed right away because our virtual credit card doesn't contain any money. We will also generate a random email address you can use if you want to protect your privacy and avoid spam marketing emails.
Do you need help claiming warranties and insurance policies? DoNotPay can help with that too.
Should you need assistance returning an item or requesting refunds for purchased products, canceled flights, or late deliveries, we've got your back!
Avoid wasting money on lawyers—DoNotPay is here to help you sue anyone in small claims court and create numerous legal documents in the blink of an eye!
DoNotPay Can Help You Earn Money Too
DoNotPay users can save hundreds of dollars thanks to our app, but did you know that we can help you earn a few bucks as well? Our app enables you to claim missing money under your name or file your application for paid clinical trials in less than five minutes.
You can even get compensation for reporting robocalls or apply for a crime victims compensation program in your state by signing up for our app and following a few simple steps.