Check Your IKEA Gift Card Balance and Get the Remaining Few Bucks Back
Have you used your IKEA gift card for a few purchases already? Then it is time to see what the current balance is before placing that new order.
This article presents options to check the IKEA gift card balance easily. Besides valuable gift card information available on our website, DoNotPay provides an easy yet efficient way to collect the remaining amount from your gift cards in no time!
How To Check Your IKEA Gift Card Balance
If you would like to make sure you have enough funds on your IKEA gift card before finishing your online purchase, you can do it:
Online
At a store
Via phone
Check the IKEA Gift Card Balance Online
While on your computer or phone, you can check your IKEA gift card balance online. All you need is the IKEA card for the card number and four-digit PIN. You can find the PIN in the gray scratch-off area on the back of your card.
Here is what you should do to see the remaining balance on your gift card:
Go to the IKEA Gift card page
Enter the last 13 digits of your card in the Check the balance of your gift card box
Click on the arrow
Provide the required information
Hit the arrow after completing each step to proceed to the next one.
Check Your IKEA Gift Card Balance in a Store or by Phone
You could ask a shop assistant to check the balance on your gift card in IKEA stores across the United States. This way, you will know how much money you need to add to cover the planned purchase.
Another option is to call a customer service representative by phone. The reps are available at 1-888-888-4532 during business hours, i.e., 9 a.m.–10 p.m. ET.
Can You Get the Remaining Amount on Your IKEA Gift Card in Cash?
IKEA's refund policy may be generous for returns and recall reimbursement, but when it comes to gift cards, you cannot return or exchange your card unless required by law.
According to the policy, you cannot convert the remaining balance on your used gift card into cash, but you should not give up that easily!
Should You Forget About a Few Dollars Left on Your Gift Card? We Say No!
You do not have to give up on those few remaining bucks on your gift cards! Some states mandate gift card providers to reimburse the value of up to $5 or—as in California—$10.
If you would like to request your cash back, you should:
These steps will take lots of time, and you should arm yourself with patience as the company will likely try to avoid reimbursing you for the remaining amount.
The good news is that there is an easier and faster way. Subscribe to DoNotPay and finish the procedure in a matter of minutes!
DoNotPay Is the Easiest Way To Get Your Money Back!
Our app helps you solve your gift card cash back issues. DoNotPay runs all the required legal checks and sends your money back request to the right address.
If your state does not have the gift card cash back policy, we will check whether IKEA has offices in one of the states that do. Our app will automatically direct your request there.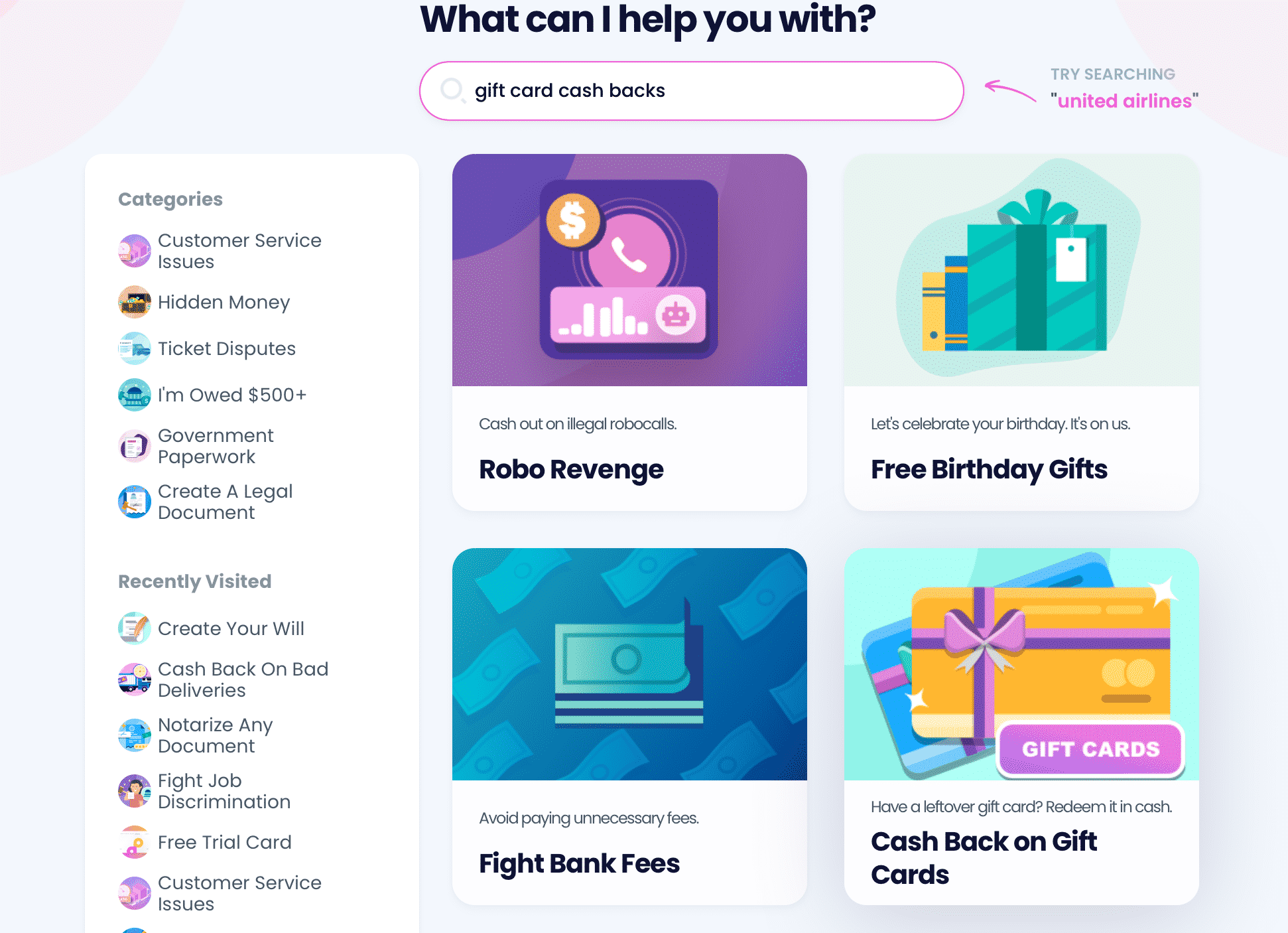 What should you do to make this happen? Sign up for DoNotPay and complete these two steps:
Choose our Gift Card Cash Back product
Provide details about your gift card, e.g., the company name, card number, and remaining balance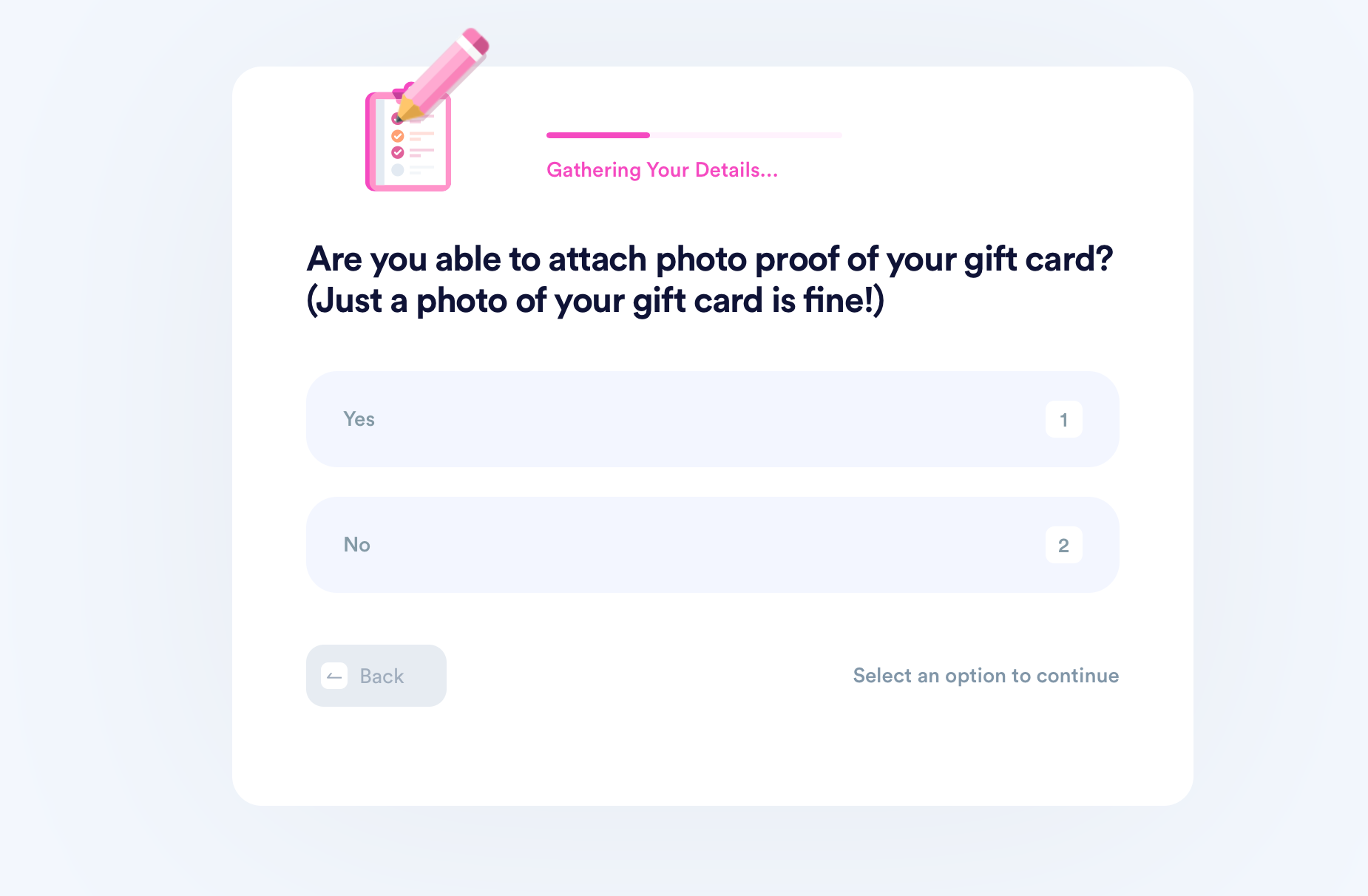 Does this sound too easy? That's because it is! DoNotPay deals with your gift card issues and ensures you get those few dollars back in cash or as a check within 14 business days.
Explore DoNotPay's Products and Guides
Here are but a few handy articles to help you solve your gift card related dilemmas:
The above-listed companies are only examples of what we can help you with. We have a plethora of different products that can help you solve everyday bureaucratic tasks in an instant! To find out more, browse through our website as we post new helpful info regularly.
DoNotPay Helps You Deal With Various Problems Worry-Free
DoNotPay has developed a wide variety of products you can use to manage numerous tasks.
Do you want to get a refund from a company? Are you wondering whether you can request compensation from airlines for poor Wi-Fi or canceled flights? Is hiring a lawyer to draw up legal documents too expensive for you? Sign up for DoNotPay and solve your issues in a matter of minutes!
Use our AI-powered app to get rid of robocalls, spam emails, and text messages.
Need help locating and canceling all your unused memberships? DoNotPay has a product for that too!
Prepare for your driving test using our Government Tests Prep feature and schedule a meeting with the DMV to take the test through the same app. We can even help you claim your car insurance or warranty and contest parking tickets in a flash!
Learn How To Protect Your Privacy With DoNotPay
Protecting your personal info online can be challenging but not impossible. The next time you come across a service that requires phone verification, make sure to use our Burner Phone product and have us generate a fake phone number you can use.
Our virtual credit card can help you sign up for free trials without having to disclose your name, email address, or credit card info.
Are you thinking about connecting with an inmate pen pal? Make sure to keep your real address a secret by relying on DoNotPay. Besides helping you send letters to inmates, we can also receive mail from the prison on your behalf, scan each letter, and send it to your email address.