H&M—Check Your Gift Card Balance and Get Cash Back in a Heartbeat
Gift cards can be considered as ultimate presents because you can choose a gift to your heart's desire. The problem arises once you use the gift card and are left with a small amount of cash on it and don't know how to use it.
If your gift card is from H&M, you can check your gift card balance with ease. DoNotPay can show you how to check the balance and inform you about the best way to get cash back from the card without trouble!
How Does an H&M Gift Card Work?
An H&M gift card can only be used in the country it was purchased, and you can make full or partial payments with it.
The minimum value of an H&M gift card is $15, and the maximum is $300. You can increase the balance on your gift card—to do so, you need to buy additional credit in any of the H&M stores in the U.S. You can use the gift card until the balance on it is zero. When the balance on your card is zero for three months, it becomes invalid, and you can't use it again.
Learn How To Check the H&M Gift Card Balance
To see the remaining amount of cash on your H&M gift card, you may do so in three ways:
How
Why It Is Convenient
Online

Fast
Simple
No interaction with people

In person

Good option when you are already at the store

By phone

Quick and effective
Good choice if you have any additional questions for the customer service rep
How To Check Your H&M Gift Card Balance Online
If you wish to learn how much money you have left on your H&M gift card, you can do so online easily. Follow these steps:
Visit the H&M website
Open the Gift Card page
Click on the Check Your Gift Card Balance link
Enter your gift card number in the provided field
Type in the PIN code in the text box
Click on Check Balance
To find your PIN code, you will need to scratch the gray box on the back of the card to reveal it. Once you've entered all the details, you'll be able to see the remaining balance on your card and its expiration date.
How To Check Your H&M Gift Card Balance in the Store
To see what amount of money is left on your H&M gift card in person, proceed as follows:
Find and visit the nearest H&M store
Approach an employee
Tell them you want to see the remaining balance on your gift card
Provide them with the info they ask for (e.g., your gift card number and PIN code)
How To Check Your H&M Gift Card Balance Over the Phone
You may see the remaining balance on your H&M gift card by contacting the store's customer service team. Follow these steps:
Call 855-466-7467
Tell the rep that you want to check your gift card balance
Give them the info they need, such as the PIN code and gift card number
H&M customer support is available 24/7, so you won't have trouble reaching them at any time.
Can You Get Cash Back From Your H&M Gift Card?
According to H&M, the store's gift cards are not redeemable for cash except as required by law. This means that it is possible to get the remaining amount of money from your gift card in the state with the cash back policy.
The process of finding this out is tiring and complicated, but the good news is that you won't have to deal with it on your own! You can use DoNotPay to find out whether you can get cash back from an H&M gift card in a heartbeat!
Use DoNotPay To Get the Extra Cash From Your H&M Gift Card Balance
DoNotPay will check if the state you live in has a cash back policy. In case it doesn't, we will check other states that have cash back policies H&M has an office in. This way, you'll be able to get the money from the used gift card back. You only have to follow these steps:
in any web browser
Open our Gift Card Cash Back product
Enter the info about the card—the card number, company name, or remaining balance
Our app will send your request to H&M. Your check or cash should arrive by mail in the next 14 business days.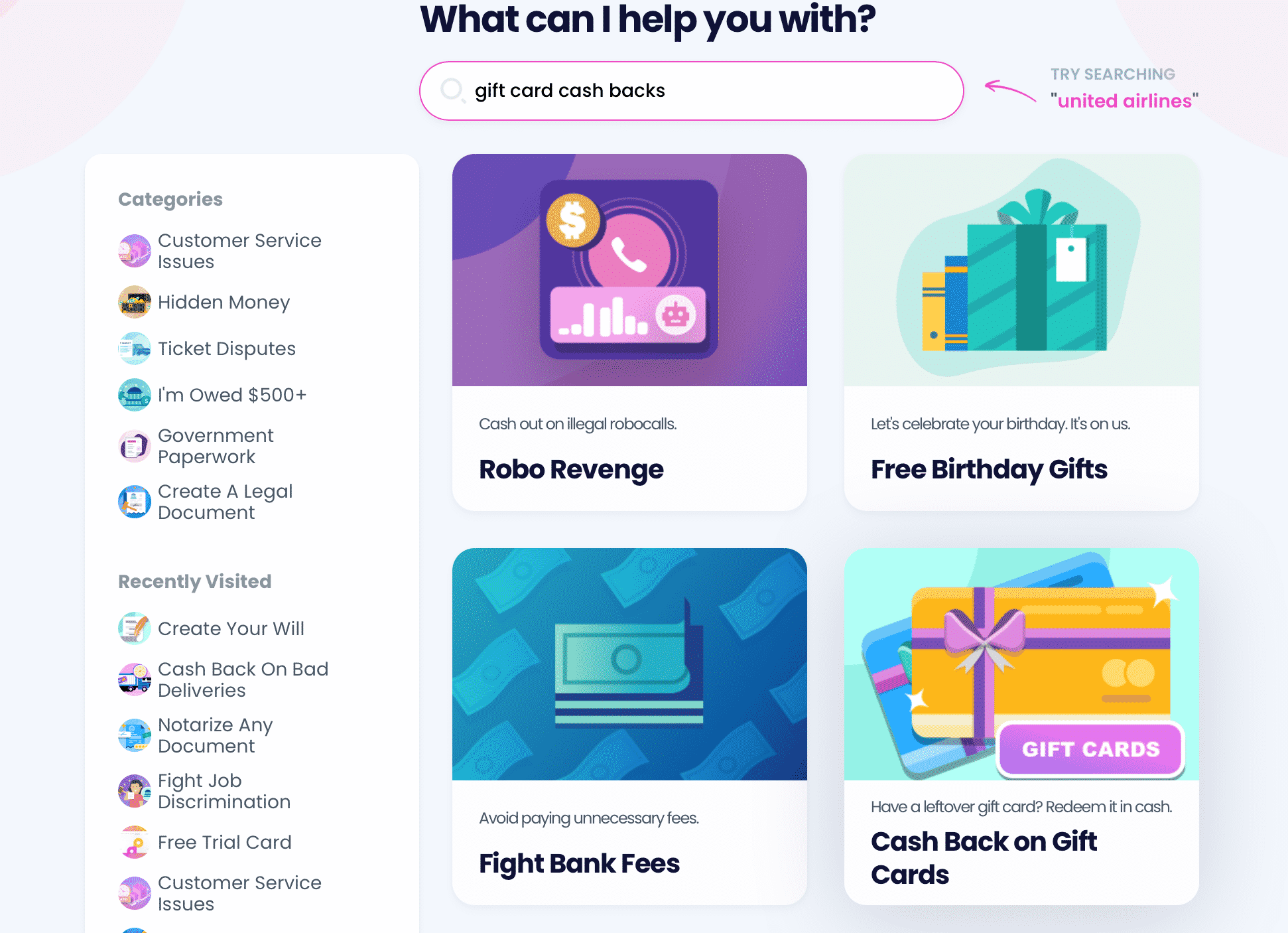 has all the info about exchanging gift cards and can help you find out how to check your gift card balance for many other companies, such as:
We can also tell you if you can get free gift cards from these companies and whether it is possible to return them for cash. You should always consider these options rather than sell your gift card.
Say Goodbye to Administrative Issues—Rely on DoNotPay
Are annoying procedures—such as canceling memberships, disputing parking tickets, filing warranty and insurance claims, requesting refunds for purchased products or services—giving you headaches? Do you dread calling an airline's customer support to request a refund and compensation for a canceled flight? You're not alone! The good news is—DoNotPay can help you solve these issues stress-free!
You can use our app to prepare for your driving test or other government exams and schedule an appointment with the DMV in minutes.
Are you wondering whether you're paying too much for your property taxes? Make sure to try out our Property Tax feature and learn about the best way to reduce your property tax bill.
Annoyed by Spammers? DoNotPay Can Help!
With DoNotPay, you can get rid of spam emails and text messages and report robocalls in one fell swoop. Our Burner Phone feature will generate a fake phone number that you can provide upon registration for any service!
Besides helping you enjoy free trials without the risk of being charged, DoNotPay's virtual credit card has another advantage. It will provide a random email address you should use when signing up for a free trial. That way, you'll avoid pesky marketing emails and email notifications.